Where to buy NFTs: Our top three NFT marketplaces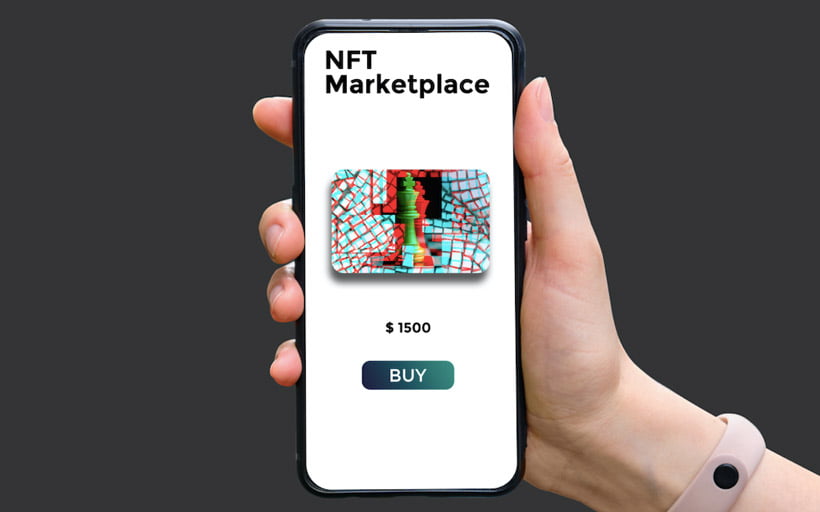 Tags
Interested in joining the world's leading print on demand platform?
POV: You've just got your head around what NFTs actually are, and now you're trying to figure out how you can get in on the non-fungible token action. Well, the good news is you're in the right place, because we're about to give you the low-down on some of the best online platforms for buying NFTs. Read on for our take on the top three NFT marketplaces.
OpenSea
Marketed as "the largest NFT marketplace" on the planet, OpenSea is a great platform for NFT collectors, regardless of whether you're an NFT rookie or OG. And with a current all-time trading value of $12.57bn, it's arguably one of the most thriving NFT marketplaces out there.
OpenSea sells all kinds of NFTs — art, music, trading cards, virtual worlds — you name it, it's got it. And while the majority of NFT marketplaces have specific cryptocurrency requirements, that's not the case with this platform. To quote OpenSea, just "bring what you've got, and we'll make it work". The platform also gives you royalties for every subsequent sale after the first one and lists the entire trading history of each NFT.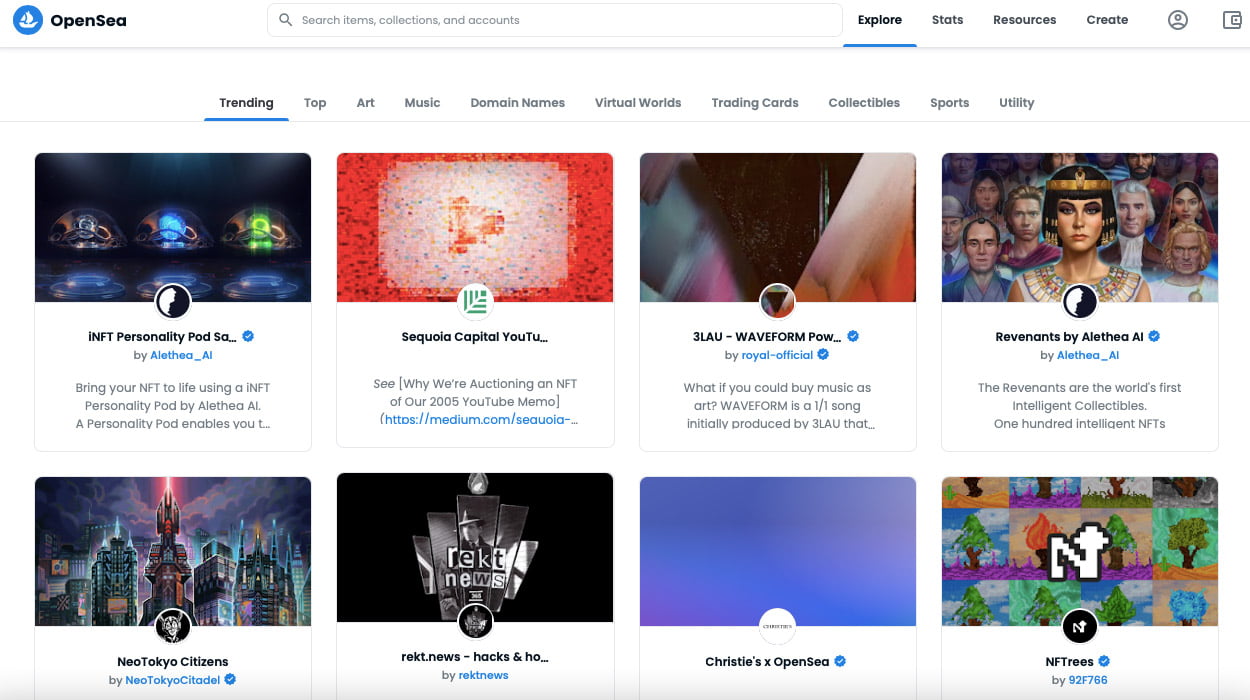 Image source
To buy an NFT on OpenSea, you'll first need to open and fund your own Ethereum crypto wallet in which you can store cryptocurrency and NFTs. There are a number of crypto wallet providers that you can connect your OpenSea account to, but MetaMask is one of the most popular. Once you've installed your crypto wallet, it's just a matter of adding your preferred cryptocurrency. Again, there are lots to choose from and OpenSea isn't fussy, however the most common one used on the platform is Ether (ETH)/Wrapped Ethereum (WETH). You can add cryptocurrency to your crypto wallet by registering for an account at Coinbase.com and buying the cryptocurrency you want to use. It's also worth noting that all purchases on OpenSea are subject to a 2.5% transaction fee — also known as a gas fee — which is paid by the buyer.
Buying an NFT on OpenSea is pretty straightforward. Simply browse through the NFT marketplace's selection of NFTs and choose the one you want to own. From there, you can either buy it outright if the option is available or make an offer if it's up for auction. If you choose to buy it outright, the transaction will take place right after you've signed for it and your NFT will then be added to your crypto wallet. If you bid on an NFT, you'll need to wait until the seller either accepts or rejects your offer.
SuperRare
The clue's in the name. Selling NFTs created by a select number of handpicked artists, NFT marketplace SuperRare enables users to collect and trade single-edition digital artworks on its platform.
The perfect NFT marketplace for digital art collectors, SuperRare has generated over $90mn in sales for artists all over the world since it launched in 2018. It benefits from a user-friendly interface, allowing you to easily check out the range of crypto art on offer and even follow your favourite artists. Fun fact: DJ Don Diablo used the SuperRare platform to sell his NFT, DΞSTINATION HΞXAGONIA — an hour-long audio-visual experience that sold for 600 ETH ($1.2mn), breaking the platform's primary sale record in the process.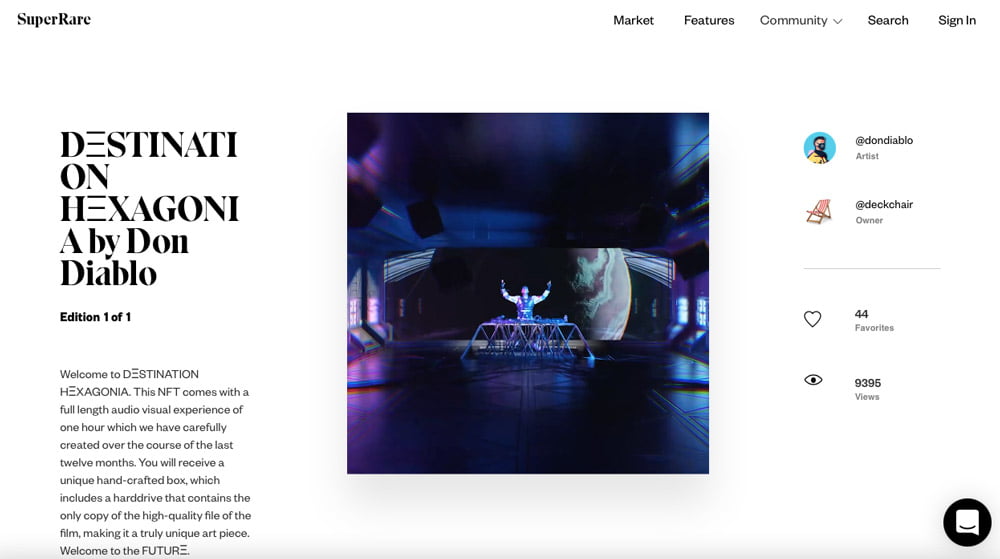 Image source
Just as you would if you wanted to buy an NFT on OpenSea, you'll need to connect your SuperRare account to an Ethereum crypto wallet if you want to own a piece of SuperRare crypto art. However, unlike OpenSea, SuperRare only accepts cryptocurrency ETH as payment. As mentioned above, you can buy ETH and add it to your crypto wallet by heading over to Coinbase.com and registering for an account. Collector royalties are also currently being trialled on SuperRare, which is a nice incentive. And at 3%, SuperRare's gas fees are only slightly higher than OpenSea's.
Depending on the NFT you want to buy, you'll either be able to purchase it for a fixed price or make an offer if it's being sold at auction. Once you've bought an NFT artwork on SuperRare, you'll become known as a "collector" — fancy. As a collector, any crypto art you purchase on the platform will automatically be displayed in your virtual art collection.
CryptoPunks
The digital art project that changed the world of collectibles, CryptoPunks is the brainchild of software company Larva Labs. Widely regarded as spawning the crypto art movement, CryptoPunks refers to a 10,000-strong, randomly generated collective of pixelated punks. We're talking everything from chain-smoking human punks to the lesser-spotted red-eyed zombie punks, blue-skinned alien punks and featureless Genesis punks.
When this group of misfits first went on sale back in 2017, anyone with an Ethereum crypto wallet could claim a CryptoPunk NFT for free. Unsurprisingly, it wasn't long before all 10,000 punks were snapped up — not a bad move considering CryptoPunk #7523 recently sold for a cool $11.8mn eyes proceed to water. Fast forward to 2021 and the only way you can own a CryptoPunk NFT now is to buy it from a verified seller on the CryptoPunks NFT marketplace. As we type, the cheapest CryptoPunk NFT for sale is CryptoPunk #3453, which has a price tag of 72.99 ETH ($315,345k).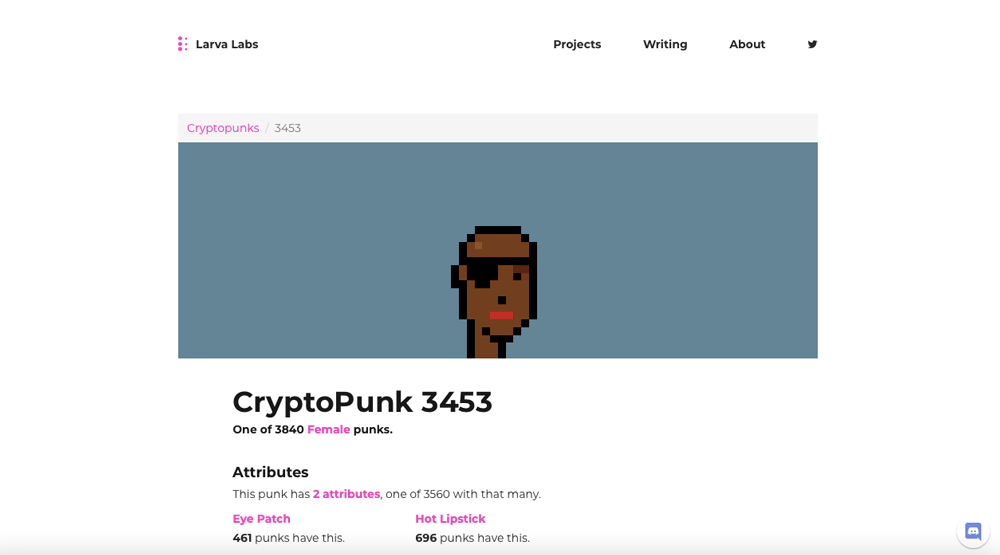 Image source
Visitors to the CryptoPunks NFT marketplace are met by a photo collage of all 10,000 punks, which doubles up as a colour key. Punks with a blue background aren't for sale, punks with a red background are for sale and punks with a purple background have an active bid on them. If you click on a punk, you'll be taken to a page that lists all of its attributes and full transaction history. In terms of transaction costs, the CryptoPunks NFT marketplace doesn't charge any gas fees other than the ones charged by Ethereum.
Admittedly, CryptoPunks aren't the most affordable NFTs going, but they're definitely deserving of a spot in our top three. And if you are in the market for a CryptoPunk NFT, here's how you become a punk owner. First, download and install the MetaMask Chrome browser plug-in, then buy some ETH cryptocurrency to add to your MetaMask crypto wallet from Coinbase.com. Once your crypto wallet is installed and funded, you'll then be able to bid on or buy CryptoPunk NFTs on the CryptoPunks NFT marketplace. There's also a Discord chat that CryptoPunks users can join, in which all CryptoPunk NFT bids, offers and sales are announced in realtime.
To sum up…
It's really all about personal preference when it comes to where to buy NFTs. There are dozens of online NFT marketplaces out there, each with their own niche. Our top three NFT marketplaces have something for everyone, from NFTs that appeal to a wide audience and collectible crypto art to investment-worthy NFTs. You might also want to consider whether an NFT marketplace offers royalties or not before buying an NFT, as well as factoring in the platform's gas fees.
Bought your own NFT? Print your NFT with Prodigi and turn it into a physical piece of art, or contact our sales team to find out how to sell and dropship physical NFT art around the world via our global print network. Try your NFT artwork out on a wide range of print on demand products before you print with our free mockup generator.