How to start an online t-shirt company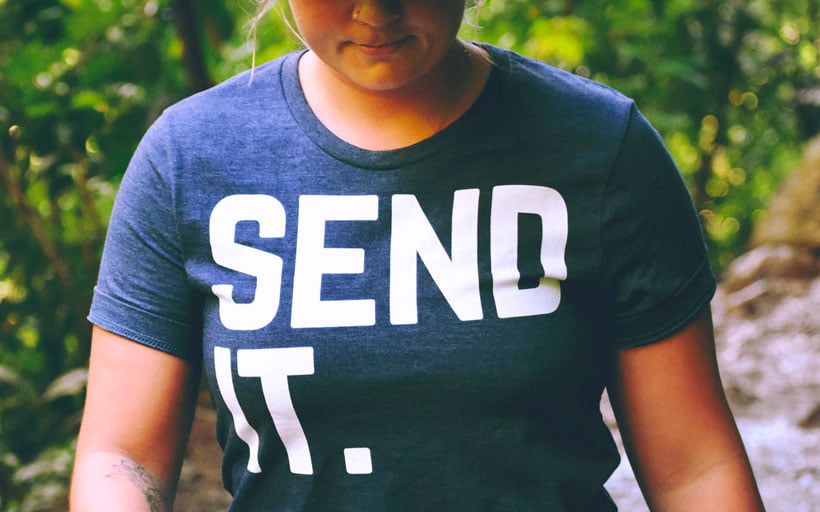 Interested in joining the world's leading print on demand platform?
The t-shirts and singlets segment is worth US$154,144m.
And with print on demand, anyone can get a piece of the pie. T-shirts continue to top the charts as the most-sold merchandise item. They are bought, worn and loved by everyone. So why not try your hand at running an online t-shirt company?
Here's a brief guide to help you discover what's what in the world of t-shirt ecommerce.
Find your niche
There is a lot of potential revenue in t-shirt ecommerce. But you certainly are not the only one trying your luck. Your ecommerce store will be a tiny fish in an enormous pond.
If you want to stand out in this extremely competitive space, you'll need to find your niche. The simplest way to do this is to consider your own interests and communities.
Creating a t-shirt brand to serve a niche category of which you're already a part will give you some good insight when it comes to marketing your business. You have the inside scoop on their behaviours, pain points and where they congregate online.
Before diving head first into your niche, make sure it's profitable. Great designs won't get you anywhere if your target market are not willing to fork out for a t-shirt. And you've got no hope if they don't do their clothes shopping online!
A good place to start your research is looking at other online sellers that are catering to your target niche. Look at their pricing and reviews to get a feel for the market.
If your target market tends to purchase cheap and cheerful tees, you'll need to opt for a volume strategy and keep your margins low. But is your niche wide enough to make this strategy feasible?
Use Facebook's Audience Insight Tool to gain insight on your prospect audience. You can gauge the size of your audience, their online behaviour, interests and demographics.
Once you've gathered enough information, it's time to test the waters. The great thing about print on demand is that you can get a new t-shirt up on your store in a matter of minutes. Test different products and prices and sniff what sells.
Choosing your canvas
When it comes to choosing what t-shirt blank to print on, prioritise quality over striking the best bargain. Budget t-shirts will look and feel exactly that. And it only takes a handful of bad reviews to wreck your reputation in the early days.
Consider the fit and style too. Who are your target audience?
If you're targeting millennial women who are athletic and fashion conscious, look out for trends in clothing like racerback tanks. If you're targetting suburban Dads, you may want to keep it classic and go for a high-quality crew-neck tee.
So what types of t-shirt printing are available?
1. Screen printing
Screen printing is best for large orders as you'll get volume discounts. It is not suited to print on demand.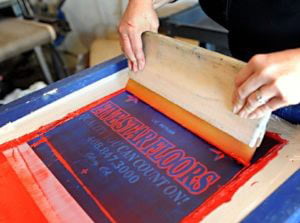 Pros
Cons
Durable and long lasting.
Labour intensive setup.

Printing complex designs and colours cost time and money.

Not available for print on demand.
2. Heat transfer
Solid colours work great with this method. Ideal for knock-out gym wear.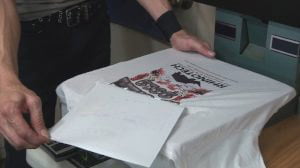 | Pros | Cons |
| --- | --- |
| Easily personalised. | Not as durable as DTG or screen printing. |
3. DTG (direct to garment)
With DTG, it's all about the cotton count. Don't skimp on the cotton count as this will affect the quality of the final product.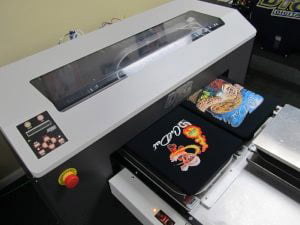 Pros
Cons
Cost effective for print on demand.

No colour limits.

No setup costs.

Great for details.

Perfect for on demand printing.
The printable areas on the garment tend to be somewhat limited.
4. Sublimation
For sublimation tees, make sure your design is suitable for all over printing. Sublimation t-shirts are always printed on a white t-shirt.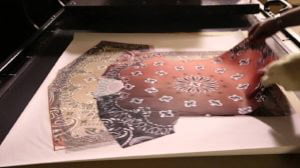 Pros
Cons
Allows for an all-over print, which is great for patterned designs.

Available through print on demand.
Tends to be a more expensive manufacturing process.

Lends itself to more premium products.
We offer sublimation and DTG printing on a wide range of t-shirts. These methods offer the best combination of quality, price and durability when printing on demand.
On demand or bulk orders?
In the t-shirt business you can take one of two routes when it comes to running an ecommerce store.
1. Buying in bulk
This means buying your entire inventory up front, across all sizes and colours that you intend to sell. The big advantage is that the more you buy the cheaper the cost per unit, allowing for significantly higher profit. If you know your audience inside out and can predict exactly what they'll purchase — bulk buying may be the way to go.
However this does come with some fairly obvious risks. Firstly, you'll need somewhere to hold your stock. And if you're buying a lot, this may require renting some warehouse space. There is also the risk that your designs don't sell. In this case you can end up with a lot of overheads and leftover stock. So you need to be confident on the numbers.
2. Print on demand
With print on demand, you hold no inventory. Your t-shirt doesn't exist until your customer orders it. And you only pay on a per order basis. It gives you the flexibility to put any new designs in your store immediately. If you are new to ecommerce or just want the ability to change your apparel collections at will, this is for you.
Despite its benefits, print on demand does come with a price premium. There is no production line firing out hundreds of prints of your t-shirt design. Therefore the labour costs in producing each order will be higher. This also leads to slightly longer lead times for order dispatch as each item is printed on a per order basis.
For most people, it makes sense to kick off with print on demand. Further down the line when you have accurate sales data from an extended period — it becomes easier to put in large orders and bulk buy. This will undoubtedly increase your profit margins. But it's important to bear in mind that you'll lose flexibility in reacting to trends. You'll also have to take on the responsibility of supply chain management and fulfilment. So it's important to weigh up your business objectives.
Design
If you're a design whizz and already have your artwork ready to go then simply upload your images to Prodigi. You can use our mockup generator to see what they will look like on your chosen products.
If you've got the ideas but not the creative hand to bring them to life — not to worry! We've created a complete guide to sourcing a designer for your merchandise.
Capitalise on trends to stay ahead of the game with your designs:
Use Google Trends to see what people are searching for
Set up Google Alerts for your niche
Look out for seasonal trends and popular culture
Once you spot something, get a design out as quickly as possible and strike while the iron's hot!
Remember it's an ongoing process. You will learn as you go. The more research and testing you do, the better you will understand your audience. This will help not only the design process but your marketing efforts too.
Next stop → Shopify
So you know what you want to sell, who you want to sell to and you've got your designs at the ready.
It's time to set up your online store.
If you're not a web developer, do not fear! There are plenty of great ecommerce platforms to choose from to get your website up and running simply and quickly.
We recommend using Shopify. It's easy to use — with tons of well-designed themes to choose from and powerful management tools. With Shopify you can create beautiful, scalable websites for a reasonable fee and no technical knowledge is required.
Once you've opened your store, you'll need to set up your products.
If you download our Shopify app you can push products straight from the app to your store with no additional configuration required. Simply upload your artwork, set your prices, write your product descriptions and click publish.
Orders will be automatically fulfilled with white label dropshipping to customers worldwide.
Making your first sale
Congratulations. Your online store is set up with your t-shirts ready to go. Next is the question of driving sales. This is where the initial research on your target audience will come into play.
Influencer Marketing
Influencer marketing is a great quick win to help drive your fist sales. Get your t-shirt in the hands of an influencer in your specific niche. If they like it, you could get your brand in front of the very people your t-shirts are made for. This will help increase awareness and raise the status of your product for your potential customers.
For more information, read our guide to help get your merchandise in the hands of influencers.
Recruit the help of friends and family
People are far less inclined to buy from a seller who has no reviews. It's important to get some initial reviews up on your shop and boost your credibility. Recruit the help of friends and family! Ask them to order a product and leave a review. This will also help get some useful insight into the shopping experience. Use this information and make any necessary improvements before a less forgiving customer comes along!
Facebook Ads
Facebook advertising is a great way to dip your toes in the water of online advertising. It's easy to create targeted audiences, set a budget and try out a few different adverts. Use the information you gathered from Facebook Audience Insights to create targeted ads aimed at people interested in your niche.
For more information, read our 7 top tips for facebook marketing print on demand merchandise.
Start your t-shirt business today
The world of t-shirt ecommerce is fast and fierce but with the right tools and dedication it makes a great entrepreneurial venture. With resources available to outsource design, build your website and print and fulfil your orders — all you need is the vision and ambition to bring your business to life.
So, what are you waiting for? Check out our Shopify App and our Shopify product range.