Smart ways to get your print on demand custom merchandise in the hands of influencers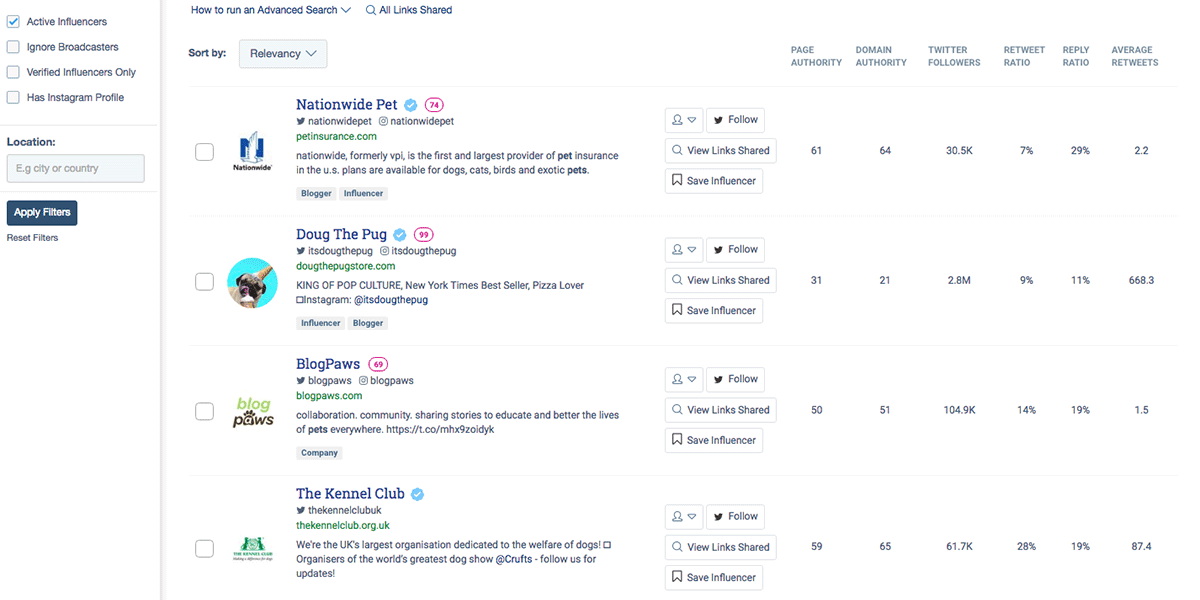 Tags
Interested in joining the world's leading print on demand platform?
When you were a kid and you told your parents you wanted to be an astronaut, or a footballer, or a dinosaur park ranger, they probably stifled laughter and gently advised you to get serious about your career prospects.
Little did they know that we'd grow up into a world where influencers like Karina Garcia bank around $2 million a year creating slime videos.
A world where, when discussing her success, an actual self-made millionaire can say without a trace of irony: "Slime is a big part of my life."
The point is, this isn't the world we were promised, and in many ways, it's more fun and exciting than anything we could have imagined.
At its heart? Influencers like Karina, paid creators, who build huge audiences (7 million subscribers, in her case) through doing what they love and sharing their personalities with the world.
With that audience comes trust. These people are recognised as — well, people. Real individuals, without an axe to grind, who care about their audience. It's probably unsurprising that brands have tapped into that level of trust and authenticity, with top social influencers regularly cashing in five-figure sums in exchange for promotional posts.
As a print on demand marketer, one of your key success factors pretty much boils down to getting your products in front of the right people.
Influencers, with their enviably enormous audiences and huge levels of trust can play a key role in doing exactly that.
Of course, if you're fortunate enough to be an influencer yourself, then you're already in a great position.
But for other merchandisers, getting your products into the hands of influencers, and encouraging them to promote those products, can be a slightly intimidating task.
In this article, we'll talk about some smart ways to do it.
Identifying influencers in your niche
First things first, you need to know who you're targeting within your niche, and you need to be sure that you can get maximum impact out of working with them.
There are two parts to that question; firstly, who are they? And, secondly, what's the scope of their influence?
For example, how many followers do they have? And, more importantly, how engaged are their followers?
'Micro-influencers' with smaller audiences often have highly engaged audiences and shouldn't be dismissed. But of course, their following needs to be large enough to be worth your investment.
There are some great tools that can help you find influencers in your niche. Our personal pick for ease-of-use would probably be BuzzSumo, which has the added benefit of being free to get started with.
Head to the 'Influencers' section and search for your niche keyword. You'll get a list of the top picks from your niche and some metrics that give you a rough idea of the size of their audience.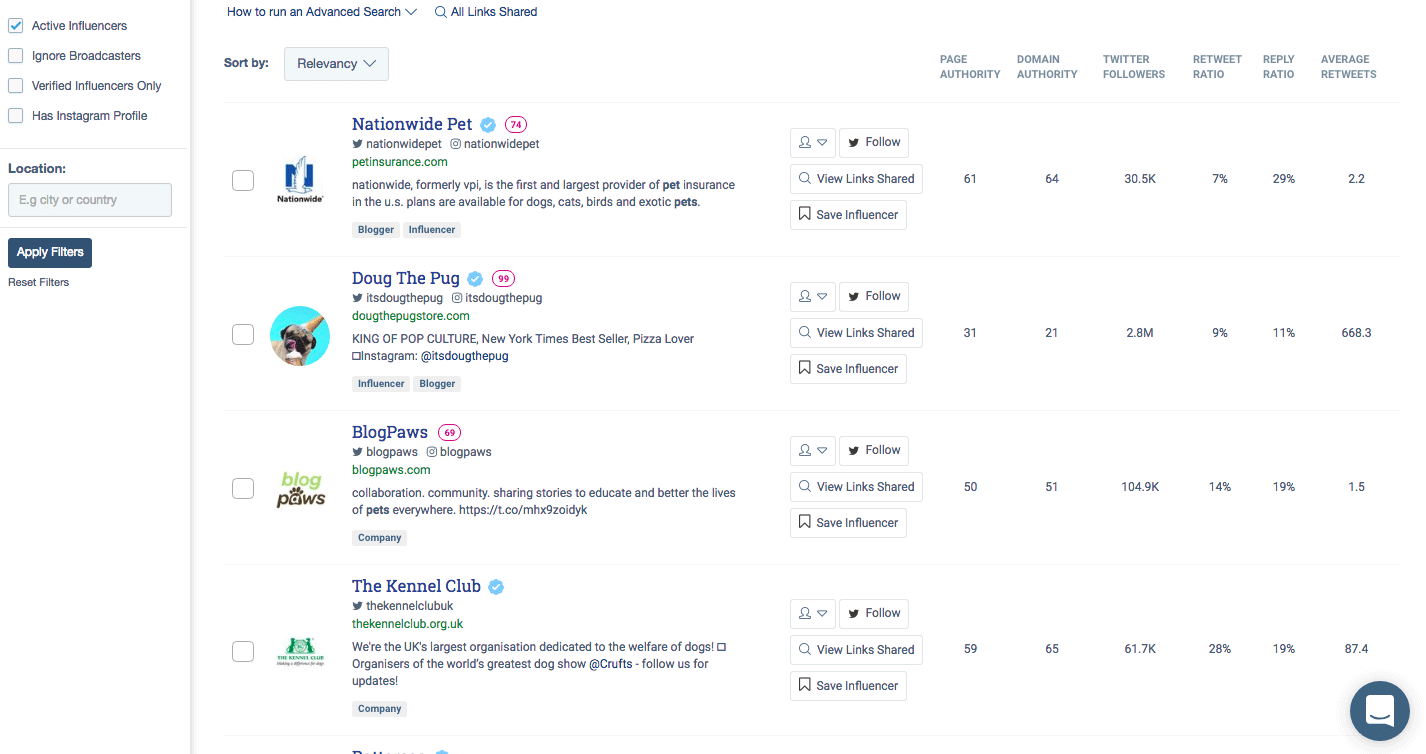 This is often enough to form a shortlist and decide on some influencers who are a great fit for your brand, and who you should definitely reach out to.
Some influencers will make it easy to contact them — it'll be as simple as a contact button on their website, or a DM through a channel like Twitter or Instagram. Others will require you to do a little detective work, or even reach out through an agency.
Bottom line, though — if you don't try, you don't succeed. Our advice is simply to give it a whirl and see what sort of response you get. If you don't get a reply, you've lost nothing but the few minutes it took to draft your message.
Be specific
It's almost a statement of the obvious, but you'll have a much better chance of success if you reach out to an influencer with a product or design that really makes them smile when they see it.
One of the great things about print on demand merchandise is the flexibility it gives you to experiment and try things. You don't have to order print on demand products up front or pay for stock. So there's nothing stopping you ordering one-off samples, or creating limited product ranges to send to an influencer.
In fact, it could be well worth the effort if you manage to get them to wear your product in a post or video. For 'bigger' influencers with highly engaged audiences, it's sometimes worth taking a risk.
Even if you don't make products specific to the influencer in question, you should still make sure that the products are relevant to the audience and would be valuable to them. Credibility and authenticity are phenomenally important for influencers. Understandably, they will avoid any propositions that undermine that connection with their audience or seem overly promotional or salesy.
Building relationships
When talking about influencer marketing, a lot of people will advise you to build 'real' relationships with influencers in your niche. There's no denying that this is, broadly speaking, good advice. It just isn't a great starting point. It's looking a little too far down the road.
The reality is that every journey begins with a first step. Don't worry about the 'real' relationship for now — focus on the first step, introducing yourself, and actually initiating the partnership with a clear offer. This gives you an 'in' for next time if a long-term relationship is in everyone's best interest.
Define mutual benefit
It goes without saying that you benefit from a relationship with an influencer — generating valuable extra exposure that helps you reach new people.
But you need to be realistic; any commercial deal has to suit everybody. It's naive to think that an influencer will promote your product 'just because.'
You need to work out what they're getting out of this; the best deals work for everybody involved.
This will form the basis of your first contact and the model you use could take a variety of forms. What are they getting?
If you have a reasonably big audience, it could be that you simply offer reciprocal exposure in return — they share your content, you share theirs. This is often called 'cross-promotion.'
It could be an arrangement where, for example, the influencer wears your merch in their next YouTube vid (with a link in the bio) and, in return, you'll share the video with your audience via a few social shout-outs and a link in your next email newsletter. If the numbers are right, this can work well for everybody.
It could, of course, also be a financial arrangement. Despite how well trusted influencers are, it's a pretty open secret that they're essentially 'for sale' when it comes to (appropriate) advertising. A simple promotional fee is often enough to get the job done when it comes to getting them to wear or endorse your products, and the conversation is generally pretty simple. You ask how much…they tell you…you decide whether it's worth it.
In this case, it's really important to be clear about how much you're willing to pay, and be willing to politely decline if necessary. Don't get seduced by the 'vanity' angle of this transaction. Say you're making £4 per shirt — and you approach an Instagram celeb with 10,000 followers — you really need to factor those financials into any demand the influencer comes back with. How many people will see the post? How many will fully engage with it? How many will like the design or product? How many will click through to your store page? How many will complete their purchase? What could their future value be to your business?
There's no exact science to this (unfortunately) but at least go into it with your eyes open and you can avoid making expensive mistakes. Exposure is great, but exposure alone won't recoup the cost of your advertising.
Of course, you could simply offer a free product to an influencer. Incredibly, in some cases this is all it takes. Everybody loves a freebie. Define what you're willing to offer and be crystal clear when you set it out, including what you expect in return.
Finally, you could create an offer that helps the influencer add value to their own audience. At the risk of sounding cynical, their audience is the whole reason you're reaching out to an influencer in the first place, and they know that. Influencers live and die by their audience engagement figures. Their ultimate success metric depends on the value their audience gets from following and engaging with their content.
With Shopify & BigCommerce (and most other ecommerce platforms) you can create bespoke discount codes. So, let's say you're reaching out to an influencer called Prodiguy — you could easily create an exclusive 15% discount for ALL Prodiguy's followers, with the discount code PRODIGUY15.
Alternatively, you could offer some free product to be given away via a contest. We all like to win free stuff. So, let's say you're willing to offer 10 free t-shirts in a random prize draw. This can help build further buzz and add extra value to both influencer and audience.
Finally, you might consider offering them a cut of the sales generated by their promotion. You could track this using the discount code we mentioned above, or with a piece of affiliate sales software.
Making contact
Reaching out is your next step, and the way you do this is possibly the most important factor in whether you're successful.
Popular influencers are highly sought after and will often receive multiple requests per week similar to the one you're sending.
Our top tips are:
Respect their time.
Be short and sweet. Don't worry about any more than… "Hey, I'm trying to promote this range of merch that I think will make your audience smile. If I send you some free products, would you be willing to wear it on your channel? If so let me know what's the best address to send it to." If you've decided to include any of the above 'mutual benefits' from above then include these as well. But get to the point, don't waste words.
It may require persistence if you don't initially hear back. Consider contacting their agent (if applicable) or trying a different contact channel.
Track (and optimise) results
While online analytics isn't the most exciting area, it's incredibly important when it comes to evaluating the ROI of your various marketing and promotional techniques. Consider checking out tools like Google Analytics, Crazy Egg, ClickTale and SessionCam to understand where your traffic really comes from, and how it performs.
This will allow you to scale up the stuff that does work — and cut back on the stuff that doesn't.
Thanks for reading!
When it comes to tapping into large, engaged audiences — influencer marketing is the real deal, and it's here to stay.
Go in with your eyes open, do a deal that's right for your brand and your business, and you can enjoy not just a quick snap of exposure — but hopefully long-term customers who can continue generating results for your business for months and years to come.
Good luck!
Interested in setting up your own print on demand merchandise store? Check out our Shopify app.