What are the real success factors to selling custom merchandise?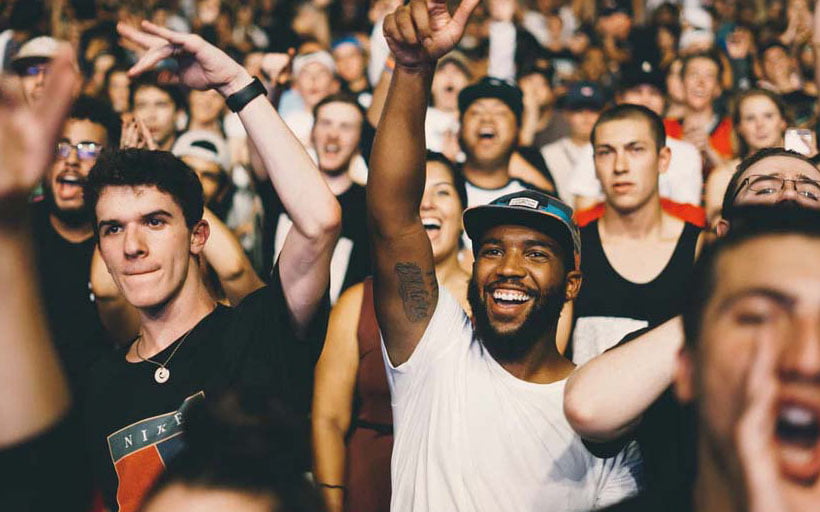 Interested in joining the world's leading print on demand platform?
In 1975, Richard Branson was already on top of the world.
He'd made his first million, and was still only halfway through his twenties. If anyone could have been labelled an overnight success, it was Richard Branson – and many did exactly that.
Branson himself, though, would disagree. "There are no quick wins in business," he observes. "It takes years to become an overnight success."
The reality is, when success came to Branson in the mid 1970s – yes, he was only 25. But he also had nearly a decade of relentless hard work under his belt, and it had been anything but plain sailing.
This construct of 'success' has been debated at length. It's something we all seek – but our perception of it is so often warped and distorted. You've probably seen the image below, or some variation of it, and it's very true.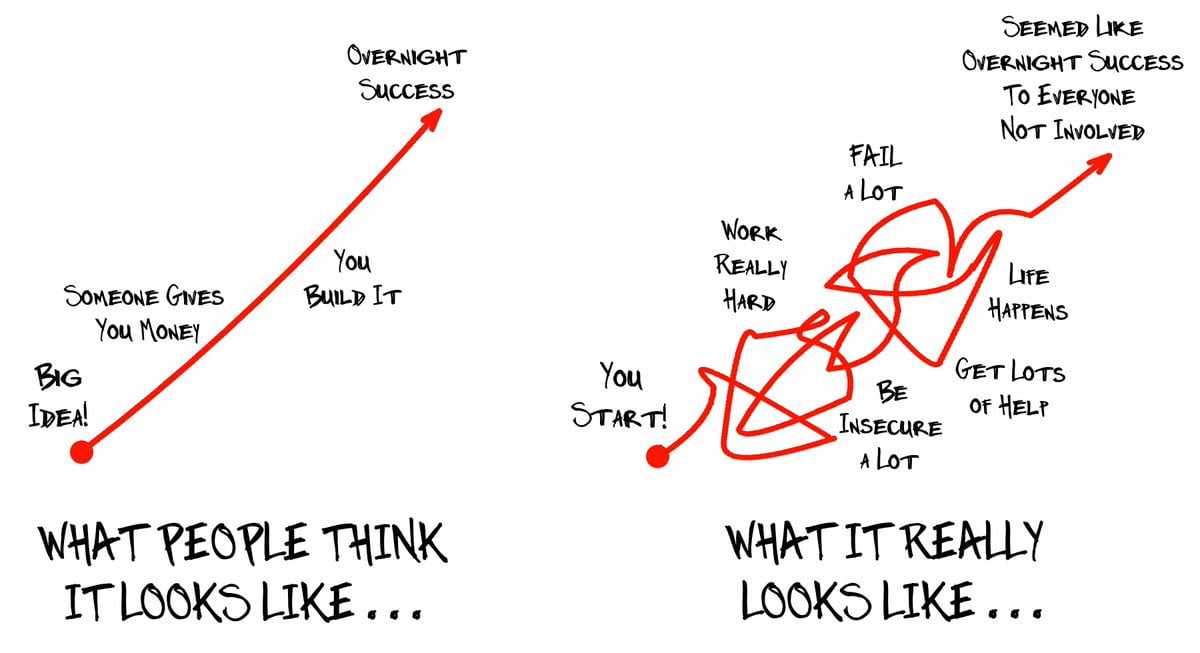 It's exactly the same across a wide variety of industries, niches and walks-of-life – and custom merchandise is no exception.
A lot of people get into the business of selling custom merchandise. They do so with high hopes, great ideas and the best intentions. But a warped sense of what success looks like can hold them back from the hard work, hustle, creativity and perseverance required to actually achieve that success. In this article, we're going to look at the real success factors when it comes to selling custom merchandise. Of course, success is never a given – and where would the fun be if it was? – but these are the things that we see, time and again, contributing to custom merch success stories.
A large enough audience
It's pretty much impossible to overstate the importance of a large audience to successful custom merchandise businesses.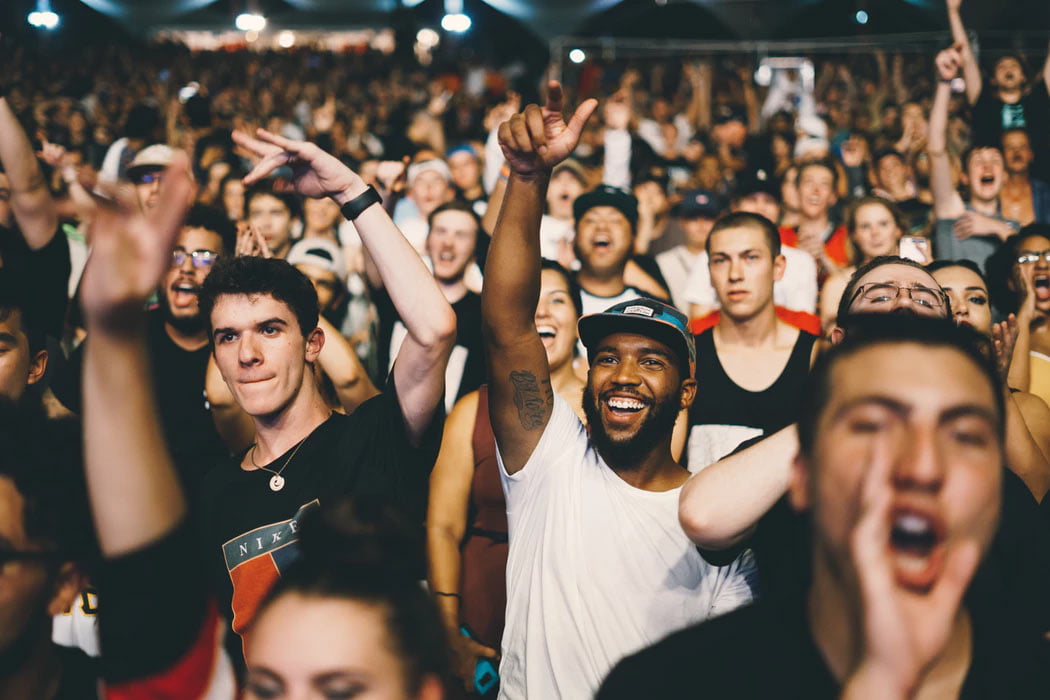 "Who wants to buy a t-shirt?!"
Those who start with an existing audience have an enviable head start. Influencers such as YouTubers, musicians, artists, photographers, illustrators and Insta-celebs, or brands that have built a following on social media, invariably tend to gain quicker results due to the fact that they already have that engaged audience.
It's easier for them to reach these potential customers on the channels they already engage through, where they've already established a sense of trust and brand recognition. Again – not a guarantee of success – but if you're an influencer or a brand with an already engaged audience, then you're in a great position when it comes to selling custom merchandise, and stand an excellent chance of being successful.
If you don't start with an audience, you have your work cut out – but success is still possible. It will just take more work, since you need to identify and tap into an existing audience. This means doing a fair amount of research in advance to find and validate that audience, identifying a common theme, idea or topic that can be highlighted throughout your merch range. Of course, identifying your audience isn't necessarily easy, and, as ever, there's no 'one-size-fits-all' approach. However, here are a few starting points that we suggest:
Start with you. There's a lot to be said for imagining yourself as your perfect consumer. Firstly, that's because we're always willing to get more excited and devote more time to our own interests and passions. But also, you'll be able to communicate authentically – which is more important now than ever.
Open your eyes and ears. Listen to what people are talking about around you. What are your friends and family passionate about? What are their interests and hobbies? What are the beliefs they hold that are strong enough that they'd carry them around with them?
Latch onto trends. What are people searching for on Google? What's trending on social networks? What's hot on Reddit and Know Your Meme? These are all great barometers of things that lots of people find interesting or engaging.
Get a helping hand. Really struggling? Check out this list of 1999 profitable niche markets. You can choose one or simply use the list to inspire you further.
Validate the idea. It's always a mistake to simply assume that an audience or community exists purely based on your gut feeling. Avoid assumptions; search for that audience. Try and isolate where these people are, and what they do online. Search social media channels. How are the numbers for Facebook Groups? How widely used is the hashtag on Twitter and Instagram?
Use Keywords Everywhere – a free Chrome or Firefox Extension – to validate how many people are searching for your keyword on a monthly basis, and how difficult it might be to rank for that keyword. Search Google for <your keyword> forums to find online communities where these people hang out. These are all ways of validating that the idea has potential – and give you a very simple roadmap for places to start promoting your product range once it's live.
Great designs
However great the quality of a plain t-shirt, hoodie or mug — they're essentially blank canvases. So it almost goes without saying that your design or slogan carries phenomenal importance. This is the secret sauce that makes your products unique.
Of course, when we talk about great designs – it doesn't just mean designs that look great to you. It means designs that look great and resonate with your audience, to the extent that they're convinced to part with their money!
A lot of this comes down to listening. Let's say you host a podcast, or a YouTube channel; it's much less about what you find funny about your shows, and more about what your audience enjoys.
This means combing through the comments (and upvotes!) and social mentions to see what people are enjoying. You might have made a throwaway line in one of your episodes that you instantly forgot – but that develops a life of its own among your viewers or listeners.
Just as those with an engaged audience have a great head start when it comes to promoting their products – artists, illustrators, photographers and graphic designers have a considerable advantage when it comes to securing great designs for their merch range.
Those with both – the audience and the designs – are in the strongest possible position to do extremely well.
Trial, error & perseverance
One of the great things about print on demand as a business model is the flexibility it gives you to experiment with designs. You can get creative, take chances and play around to see what works with your audience. If the designs don't sell, it's no big deal – all you lose is any money you might have spent promoting that particular design.
In the words of Winston Churchill:
Success is the ability to go from one failure to another with no loss of enthusiasm.
This is often the spirit required for successful custom merch sellers. You have to accept that some designs won't work as well as others. To put it bluntly – some designs are going to fail. Being willing to accept that failure, and try again with renewed enthusiasm, is a key driver of success. Don't give up just because one thing didn't work!
Equally, you should be willing to keep trialling new things even if what you're doing is working already. Don't allow your product catalog to grow stale; keep expanding with new products, new designs and new ideas. But, of course, keep the next point in mind…
Promotion and communication
Getting your products in front of the right people is absolutely mission-critical.
We recommend creating a simple checklist of promotional techniques that you work through every time you release a new product or design.
If you're an influencer, there are a few things you have to include on this list:
Commit to a certain number of social mentions for your new product and/or consider putting a link in your social bios.
Maybe you could wear the product yourself during some of your content or appearances.
Consider setting up time-limited discounts to create scarcity and urgency among your audience.
Send an email to your mailing list promoting your new product.
Leverage your network and fellow influencers to see if they'd be interested in co-promotion.
These are all incredibly simple steps that can all add up to a pretty sizeable jump start.
If you're looking to tap into an audience beyond your own, you should at least think about putting some ad budget behind your products. In some cases, you can generate organic traffic by editing your product descriptions and optimising your product pages for SEO – or creating content like blog articles to help strengthen your SEO claims. But the reality is, that's rarely enough to make a real splash.
Setting up ad campaigns on Google (including YouTube) and most of the popular social channels is pretty easy – and there are powerful targeting options that allow you to showcase your products to exactly the right categories of people. As well as targeting your existing followers, you can expand your reach and target users based on their age, gender, location, hobbies, interests, browsing activity and more.
Facebook and Instagram are two must-use platforms for custom merch advertising, and – to get you started, we wrote comprehensive guides to both.
Whichever channel you choose to advertise through, just be careful to limit your spending. Remember that, for a variety of reasons, not all the people who interact with your ad or view your product pages will actually buy.
Using on-page analytics tools like Google Analytics, ClickTale and SessionCam will help you understand where your traffic comes from, and how that traffic converts. This all allows you to make better decisions when it comes to future ad spend.
Dedication and hard work
Last, and by no means least, it's so important to remember that – as we discussed at the beginning of this article – the route to success is a scribbly, squiggly, blurry, messy one.
Many people are attracted by the perceived ease of print on demand merchandising, and, indeed, you can have a store set up and populated with amazing products in a matter of minutes.
But the truth is, there just aren't any shortcuts to success in business. Getting set up is only a fraction of the hard work. Once you're up and running, you need to live and breathe your business, and really work hard to make it a success.
Thanks for reading!
The legendary cosmetics entrepreneur Estée Lauder had it right when she said
I never dreamed about success. I worked for it.
There are many reasons why custom merchandise is an attractive business model for influencers and entrepreneurs alike – particularly when that's combined with print on demand, which makes it even easier to get started.
But success is about more than quick setup and that initial push. It's about utilising or finding a viable audience; serving that audience with great, resonant designs; being willing to try out new designs and products; promoting them properly to your audience; and, above all, working hard, persevering and never giving up.
Just as Richard Branson said – there are no shortcuts!
Think you could make a success of print on demand selling?
Check out our Shopify app