How to sell your print on demand products through YouTube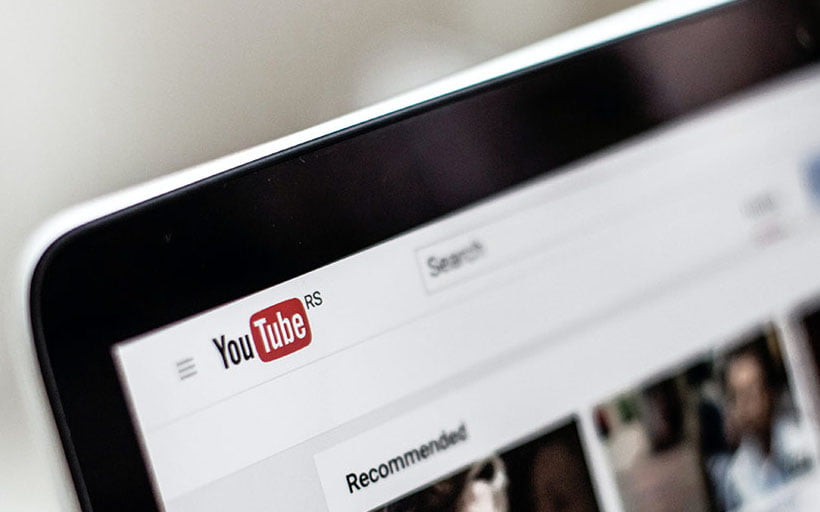 Interested in joining the world's leading print on demand platform?
Cute pet fails. Drag queens. ASMR. Conspiracy theories.
Whatever you're searching for online, we all know that YouTube hits mean big business. Each day people watch over a billion hours of video on the platform and generate billions of views.
According to Amazon's Alexa, YouTube is the second most visited site on the Web. So it's no wonder that you are able to build a career from engagement on online videos.
But as with every great venture, there is often a plight that follows.
In the case of YouTube revenue, it was the dawn of the 'Adpocalypse', which saw YouTube changing their monetisation rules for ad revenue. It's become increasingly difficult to make big money from YouTube ads alone.
Read our post: How Reliable is Your YouTube Ad Revenue?
Luckily, there are ways to get around this if you're an avid influencer. Increasingly, one of the most lucrative, long-lasting ways to increase revenue is by creating and selling merchandise.
Enter print on demand.
With print on demand, YouTubers can sell custom merchandise without having to worry about product sourcing, holding stock, product pricing, managing the supply chain or delivery and fulfilment of products.
Everything is taken care of. All you need to do is create winning designs and promote them to your audience.
The bottom line is that if you've built an engaged audience on YouTube, then with the correct approach you can make a profit through selling products.
In this article, we'll take you through 6 steps to do exactly that.
1. Create your videos
When looking at the most successful YouTube influencers and their content, you might notice a theme: the more interactive the video, the more attention their video seems to generate. There's something to be said for actively engaging your audience here: answering questions about your products in the comments, or using a Q&A video can be a great way to get your users involved.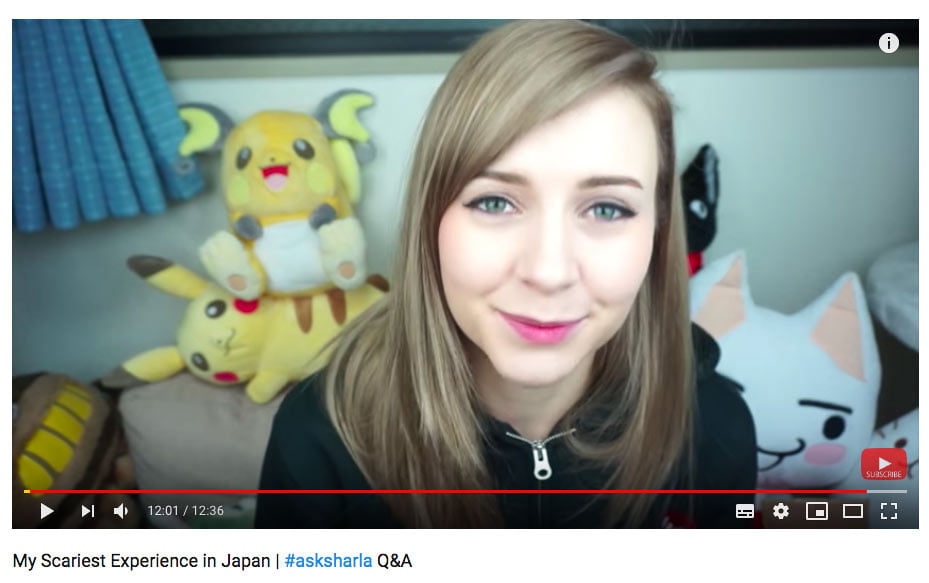 Listen to your audience. They're often vocal about the types of content they want to see next, so it can be useful to go with the consensus. Taking into account individual requests and one-off suggestions can also be useful to give you ideas for future content.
Another tip is to always give your audience more. They are inherently curious (i.e. nosey!) so a great way to peak their interest is to show the design/manufacturing process through a behind-the-scenes video.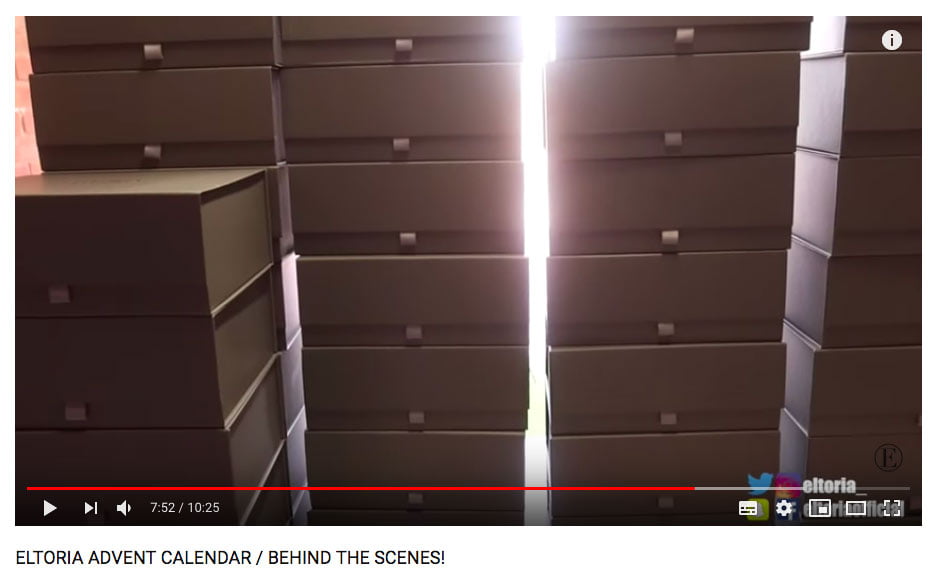 Next, it's time to consider sharing reviews of your products. Actions, or in this case reactions, speak louder than words. Reaction videos have been having a bit of a moment on YouTube: testimonials are a great way to enhance your brand. Not to mention the added bonus that product reviews make great videos from a content perspective.
Next, focus on making topical videos. And always tailor content to your viewers. So if you're releasing a clothing range, film a 'What I wear in a Week' video.
It's no secret that as a YouTuber, you're under a lot of pressure to come up with completely fresh and exciting content every week. And there's no reason you can't apply some of this creativity to your merchandise too. A great example of creative merch is American YouTuber Jenna Marbles, who sold custom plush toy versions of her dog to her online followers.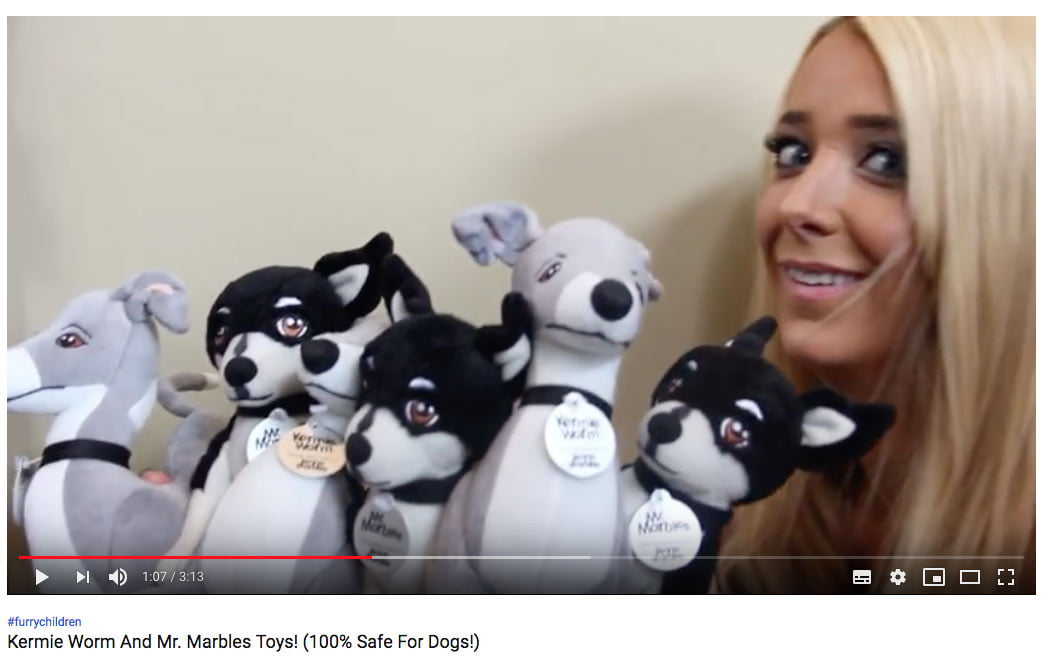 2. Get traffic to your site
So you've established your audience and done the groundwork to get people watching videos about your products. But next comes the all-important part: getting them to your website to buy the products.
Linking direct to your online store from a YouTube video is a very effective way to showcase your products, and the use of video annotations makes it simple for users to click straight through with no fuss.
For a detailed how-to on setting this up for your current videos, try this guide from Selz. However, it's also worth bearing in mind that video annotations don't work on mobile devices.
Next up, don't forget to include links in your video descriptions. Sure, it sounds obvious, but the viewer should never be left guessing where they are being directed to next. The perfect way to encourage viewers to head to your ecommerce store is by including links directly to the product page in the description.
Applying interactive cards at the end of your videos is a great way to enable increased engagement and interaction. Play with the formatting and you can ensure that you're left with a sleek call to action when your video ends.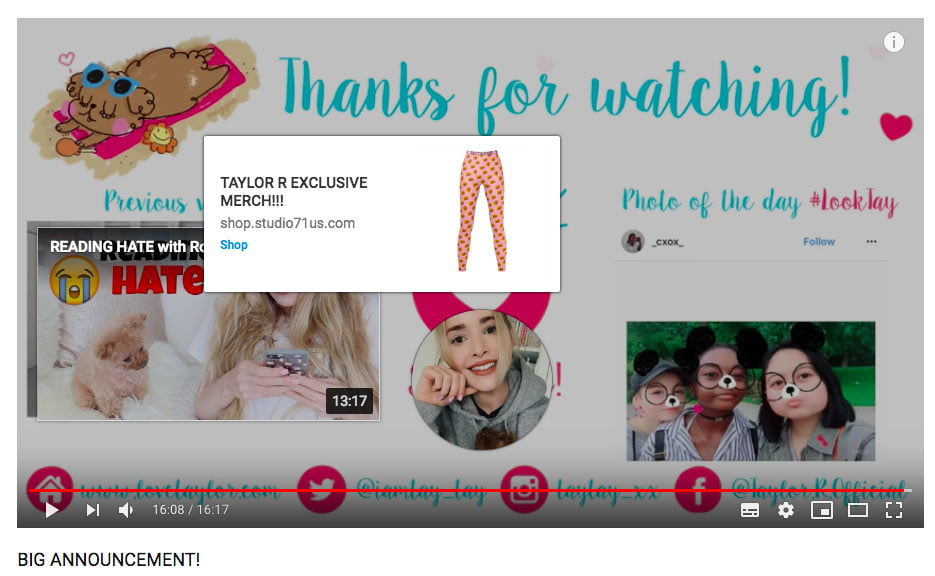 3. Marketing your YouTube videos
An engaged audience is a loyal one. Creating an open dialogue with your online community can go a long way in promoting your brand. Reply to mentions and messages on social media, share your followers posts and be active in your comments section.
You can't ignore search engine optimization (SEO). Keywords play a major role in SEO ranking on search engines. And YouTube is no different. Put some time aside to invest specifically in YouTube SEO by doing the following:
Always include a detailed description and multiple links to your landing page, along with an actual description of the video.
Use keywords in your video title
Add keywords as tags to your video
Use SEO optimised video descriptions
Brush up on the YouTube ranking factors
4. Promote outside of YouTube
It's important to share and embed your content across all of your social media channels to maximise reach.
Consider the potential added value of the blogosphere. Look for blogs in your niche and reach out to them. You could build mutually beneficial relationships by sending them your products or sharing each others content.
It may also be worth starting a blog of your very own for your YouTube channel. If you have a following, then you can already be confident that people are interested in what you have to say. Writing a blog could be another avenue for sharing your content and building your audience.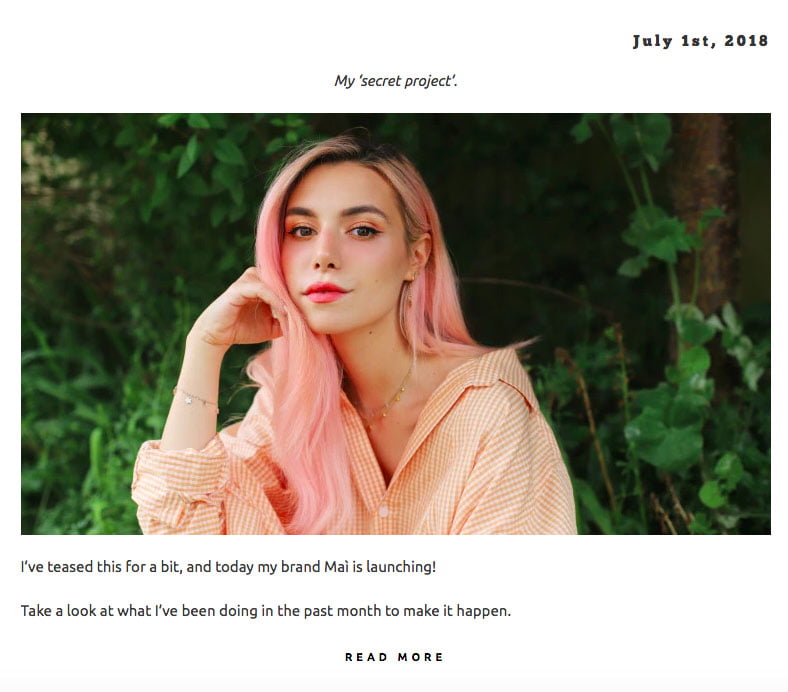 5. Run campaigns to get YouTube channel subscribers to sign up to your email
list
Email is still one of the top converting channels for ecommerce, and it can sometimes be difficult to consistently achieve positive ROI using paid social and PPC. Building your email list is a high priority to take your marketing to the next level.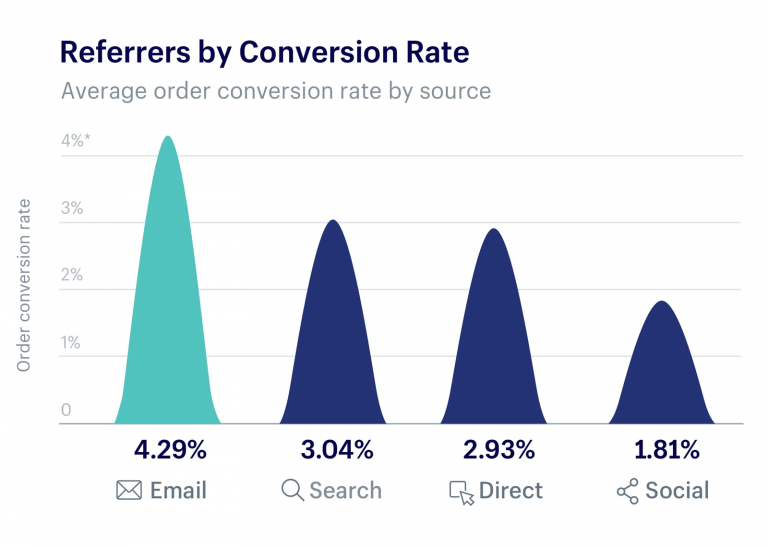 Image source
Organic leads are harder to come by, but often have a much better payoff. Rather than paid advertising for advertising's sake, try running campaigns to build your email list. Once you've got these all important contacts, you can use them for personalised and direct promotion, time and time again.
Offer giveaways in return for subscribing to your email list. Include a call to action in your videos and descriptions encouraging viewers to subscribe. In the long run an email list that you own and control could become your top converting channel.
Example by True Crime Garage (podcast):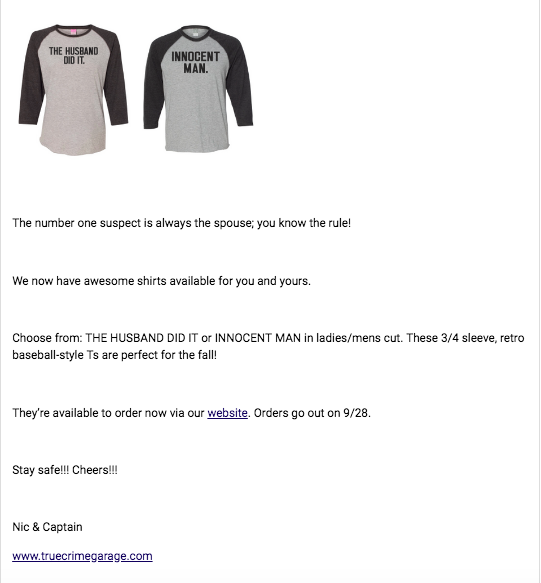 6. Run remarketing ads on Google targeting on YouTube channel views.
Recently, influencers are acknowledging the power of remarketing. With remarketing, you show personalised ads to the people who have previously interacted with your YouTube channel.
So how does it work? By linking your YouTube channel to a Google Ads account you can create remarketing lists based on various actions taken by viewers. This means you can show personalised ads to viewers depending on which of your videos they've watched.
Ultimately, this allows you to improve your ROI and only target the people who are most interested in your products. It provides the perfect opportunity to hone in on certain viewers, be more creative and personal, and take the time to explain why your products are beneficial to them as individuals.
Top tip: by having the Facebook pixel on your ecommerce store, you can also build an audience for remarketing on Facebook.
People who are retargeted are 70% more likely to convert on your website than first-time visitors. The best YouTube influencers are known for producing high-quality products that have been designed especially for their audience, so nurture your audience's interests and reap the benefits.
Conclusion
YouTube is a fantastic platform for building a loyal following, eager to see your next video. With the right approach and tactics, you can use YouTube to help promote your very own range of custom merchandise.
Interested in running your own print on demand store? Check out our Shopify App today.