Ten simple tips to grow your Shopify store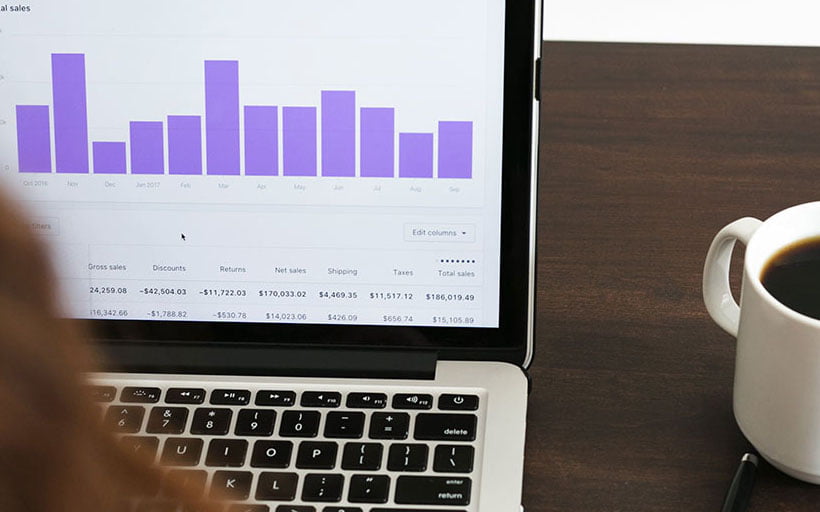 Interested in joining the world's leading print on demand platform?
With over 1,000,000 online stores now using Shopify, ecommerce is officially the most effective and democratic way of getting your product on the market
As of February 2020, around 20% of all retail sales in the UK happen online. And with online sales revenue growing year on year, the evidence is there that online shopping is more ubiquitous than ever.
That's why it's important to find the right platform to market your product, and Shopify offers the quickest and easiest way of competing with the big boys to make yourself a profit.
But with so many users, what's the best way to get your product noticed in the first place? And once you've started to gather steam, how do you continue to grow?
Here are 10 ways to get noticed and keep your brand relevant.
1. Sell a range of different products
OK, so it's obvious you aren't going to be able to sell everything. Amazon seems to have pretty much cornered the market on that, and hiring a bookkeeper good enough to keep on top of $280 billion worth of annual net sales might be tricky.
There is evidence to suggest, however, that learning a bit about how Amazon works might be beneficial. They employ what's known in the trade as the 'long-tail strategy', which is basically management speak for 'give the people what they want'.
This isn't to say that if you specialise in selling print on demand reproductions of Impressionist paintings, for example, that you should turn your hand to electronics. It just means that you might want to consider researching what your competitors offer and adjust your brand according to what your customers want.
Branch out from reproductions of Impressionist paintings into poster art. Or if your niche is selling picture books for coffee tables, how about branching out into general book sales or introduce a complimentary range of cushions?
Know your market. If you're going to stick to your niche then try to increase your range of products within that niche. Diversify!
The key to any successful business is standing out from the crowd, and the best way to make sure that you get noticed quickly is to brand yourself.
What most people don't realise about print on demand is that it's actually a pretty cost-effective way to build up your brand aesthetic. You just choose a product, upload your design and customise how it looks. When your customer has fulfilled their order, you hand it over to the print on demand service and they handle the rest.
You don't hold any stock. Print on demand uses a dropshipping business model. So you don't have to deal with the headache of orders or quantities. You just find your audience, let them make their order, and when it's been fulfilled you take a cut of the profit without handling or printing any of the stock. Beautiful, right?
3. Market your merchandise using Facebook
You've read the statistics before. Over 2 billion monthly active users. Nearly 70% of US adults are now Facebook users. You're on the cusp of a potentially limitless market, and you don't know where to start.
What you should be aware of is that if you decide to share your merchandising content the traditional way, "organic reach" on Facebook is limited. That's why it's important to keep your posts short and sweet, and post content from other interesting sources where you think there might be a quid pro quo in order.
If you have a better idea of who your ideal demographic might be, then there are custom options which you can use to target your audience more precisely.
4. Be old fashioned (use email marketing)
In terms of ecommerce, email marketing can sometimes seem a bit… 2004. But the reason it remains so effective is because it's essentially the one guaranteed constant about the Internet. Facebook, Twitter and (especially) Instagram are only useful if you're trying to target certain demographics. Google traffic is too heavily weighted on SEO and if you don't have the technical know-how, it can be daunting.
But email remains an ever-faithful and effective way for getting your message across to a large number of people at any given time. And a good way of building a database is by capturing details through targeted opt-in forms.
Of course, the content you send out thereafter has to be pithy and colourful enough to grab the attention of whoever decided to hand over their email address!
5. Optimize your store for people buying on-the-go
So, we know that in the US mobile devices account for around 44% of all online sale traffic. And we also know that in 2018, around 80% of adults in the US accessed the internet through their mobile phone.
The question is how to capitalise on this. With an easy-to-use app like Shopify, the answer is, of course, that you make your store as easily accessible, colourful and user-friendly as possible. And Shopify has the right template tools at your disposal to make this an easy transition.
This super-helpful Shopify article lays out 5 hacks to help you optimise your store for mobile – it's well worth a read!
6. Keep your regulars happy
You've diversified your product range, you've developed a coherent brand aesthetic, you've even mastered the fine art of finding your demographic. But how do you keep all these new customers loyal?
Stay in regular contact with your customer base. A good way to do this is to engage in regular email communication. These make the customer feel valued, and can take the form of anything from new offers, personalized messages based on marketing information, seasonal offers and announcements about new products.
7. Make sure your content is attention grabbing
It should be obvious by now that in today's online market, the most effective way to encourage people to purchase your product is to frame your brand with engaging content.
But knowing what kind of content to produce in an ever evolving ecommerce market can be tricky. That's why you should be focused on these four key areas to bolster a product's ROI:
Video
Image Content
Reviews and Recommendations
Product Description
According to Forbes, nearly two-thirds of all online buyers are more likely to purchase your product after watching a well-crafted information video. Image content has been proven to effectively shape customer perceptions about a given brand, and product descriptions and reviews.
8. Make it personal
Everyone likes the feeling of opening a personally addressed letter. The primary thing to remember about your customers is that they're human beings, and as humans that little touch of well-thought-through sentimentality goes a long way.
Ever purchase anything off an indie designer on Etsy and they send you one of those cutesy little postcards? Doesn't that make you feel special? Now imagine combining that personal touch with the kind of slick packaging offered by some larger corporate competitors. Wouldn't that make you think that the brand behind your purchase is somehow both caring and professional?
That's the image you need to harness.
9. Don't be afraid to invest in paid ads (where appropriate)
Nobody hates shelling out unnecessary money more than the big industry players do. But they didn't get to where they are today without investing a little along the way. Sometimes paying out early can reap dividends later.
Taking the US as an example, 64.6% of people click on Google Ads when they are looking to buy an item online. That's massive. And depending on how popular your industry is, that could mean a lot more customers and a lot fewer headaches.
10. Get interactive
We live in the age of interactivity, and interactive content can be a great way to engage your audience. But, you're probably thinking, isn't that expensive? Well, it can be. But Gleam.io shared an example of interactive content which could really work, even if you're on a shoestring budget.
They wrote about an opticians company called Zenni Optical, in which users can take an interactive quiz (9 simple questions) to identify their perfect frame. They reckon this helped them generate over a million dollars in revenue – not bad!
A final word. Now that you're up and running and (hopefully!) bringing in some revenue, consider giveaways. Be as responsive as you can on social media. If you can, give loyal customers discounts on certain products. And importantly, engage with your audience in a way which makes them feel welcome.
All of this pays off.
Ready to grow your Shopify Store? Check out our print on demand Shopify app.