Top 7 tips for Facebook marketing print on demand merchandise
2 April 2020
Tags
Marketing your e-commerce business on Facebook is a no-brainer.
With 2.32 billion monthly active users and statistics suggesting that 74% of Facebook users visit the site daily — Facebook offers a huge audience for you to tap into.
With that all said — Facebook isn't easy. You need the right information and the right strategy to make sure you get the best bang for your buck. Here are our top 7 tips to help you promote your print on demand business through Facebook…
1. Share great organic content
Due to changes in Facebook's algorithm, the organic reach of Facebook content is severely limited. Facebook is prioritising meaningful interactions with friends and family — and your sales may be feeling the effects.
However, that doesn't mean you should ignore sharing content that will be of interest to your audience nor should you ignore organic promotion of your products. It's still a valuable way to reach a small portion of your audience – for free. There are also plenty of things you can do to boost your organic reach so more people see it.
Try sticking to posts that are short and catchy. As users, we tend to scroll pretty quickly through our Facebook timeline — and it's the posts that catch our eye and quickly deliver value that drive the most engagement. Short, sweet, visually appealing and action-oriented are the order of the day.
Don't feel you can only share your own content and products. Sharing interesting content from other blogs and websites in your niche can add even more value to your audience.
What you can do:
Boost content from FB page to page followers
Advertise your most successful boosted content to an audience with interest in what you are selling e.g. skateboard t-shirts -> interest "skating"
2. Facebook Shop
Facebook offers a 'Shop' feature that sits right on your page. It's totally free to add, and you don't have to pay any commission on the orders you take. You simply enter your product images, descriptions, etc. and they display within the 'Shop' area of your page. Customers are then linked out to your website to browse further and (hopefully!) complete their purchase.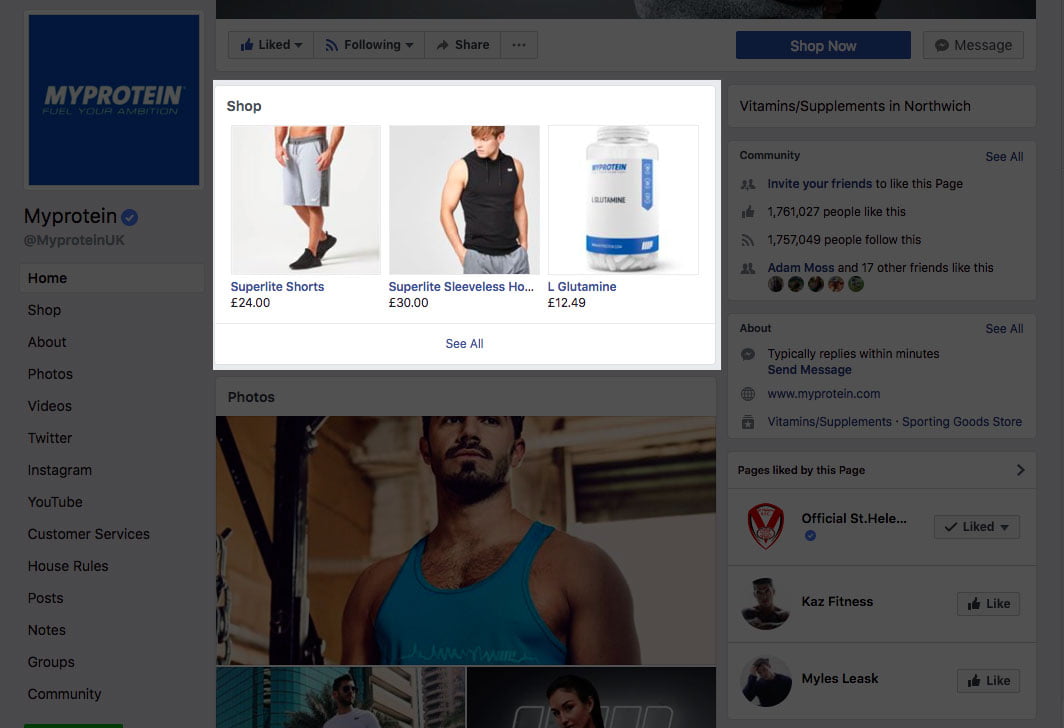 As you can see, the 'Shop' feature appears within the left navigation menu on your Facebook page, so it's really easy to find.

The process differs for setting up Facebook Shops in US and non-US pages, so be sure to check Facebook's guide on setting up a shop.
3. Retargeting
You know how much effort it takes to generate traffic to your store. So it can be truly disheartening to know that the vast majority of your traffic won't buy or convert. For a variety of different reasons.
That's where retargeting comes in. By setting up a custom audience (which we'll cover in more detail shortly) you can run ad campaigns that specifically target people who've already visited your store or had your products in their baskets.
This is one of the most important marketing tactics you can utilise. After all, it's always easier to advertise to people who know who you are — and the numbers prove it.
The CTR of a retargeted ad is 10x higher than the CTR of a typical display ad .
People who are retargeted are 70% more likely to convert on your website than first-time visitors.
With retargeting, the percentage of users who return and complete the check-out increases to 26%
Facebook's dynamic adverts feature lets you personalise your ads so you can be deeply tailored to your audience. This means you can show them the exact products or designs they were considering purchasing.
It's a good idea to offer something 'extra' to entice them into buying. Maybe it's a discount, or the offer of free shipping. Retargeting campaigns are often effective when they harness a sense of urgency, like the below example.
Telling people that the time is running out for them to get a particular product or offer is a great way to give your customers the impetus to come back and complete their purchase.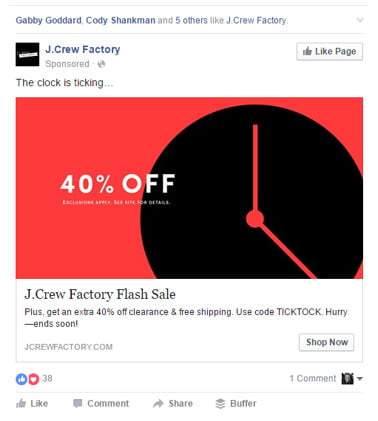 The below example from Expedia (courtesy of Wishpond isn't retail-centred, but it does illustrate how retargeting can work at different stages of your buyer journey.
The customer here had visited Expedia to browse last-minute deals, informing the first retargeting campaign…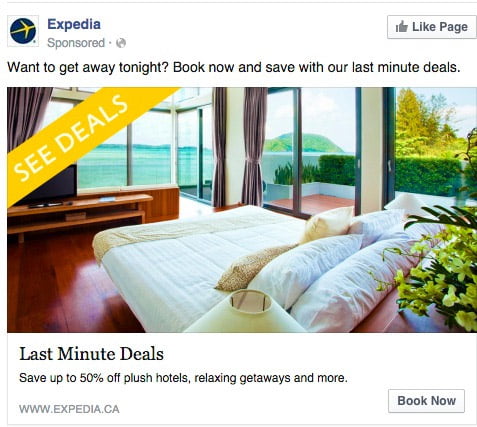 Following this, they logged back onto Expedia and browsed hotels in Whistler, in particular the Aava Whistler Hotel.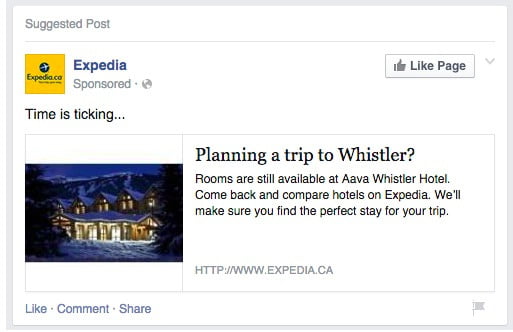 The retargeting campaign used this data, and served up an ad that again relies on a real sense of urgency, with messaging and imagery tailored to the user.
As you gather more information about your customers — the products they're interested in, the ones they've browsed, the ones they've added to their cart — you can use Facebook retargeting to rejuvenate their interest, create urgency, and offer sweeteners to get that sale over the line!
4. Facebook 'Audiences'
One of the best things about advertising on Facebook is that the targeting options are incredibly granular. You can get really specific about the type of people you want to see your ads, drawing the right audience to your brand.
We just touched on one really powerful use case.
Custom Audiences let you reach audiences who've already shown interest in your product, for example visiting your website or signing up to your mailing list.
Check out the Shopify article, The Beginner's Guide to Custom Audiences to find out more.
Lookalike Audiences let you reach new people who are similar to your existing audience. This involves setting up a Custom Audience, in the first instance — from a customer file, website traffic or engagement with your social posts. Facebook then identifies the common qualities of those people in this audience, and targets your ads to people who fit that profile.
 5. Pay attention to your ad creative
Making sure your audience sees your ad is one thing. But making sure that they're engaged by what they see is the real challenge.
We live in the age of 'banner blindness,' which means that consumers have become quite good at subconsciously skimming past adverts.
So your ad creative really needs to catch the eye. This means paying real attention to everything from the images you choose, to the length and substance of the copy you write. There's a lot to be said for incorporating humour and fun into your ad creative.
Let's start with images, which are proven to make a huge difference. Our brains respond more quickly to images and color in comparison to other types of information. So the image you use is important. This guide is a good starting point.
Copy is also incredibly important. 'Short and sweet' is almost always the right way forward.
A/B Testing is a good way to test your copy, imagery and various other aspects of your campaigns.
 6. Tap into seasonality
One of the huge upsides of print on demand merchandise is that, since you aren't committing to holding stock or ordering up-front, you can be really agile in your designs and slogans.
This also means you can tap into various seasonal trends: Halloween, Easter, Christmas, Thanksgiving.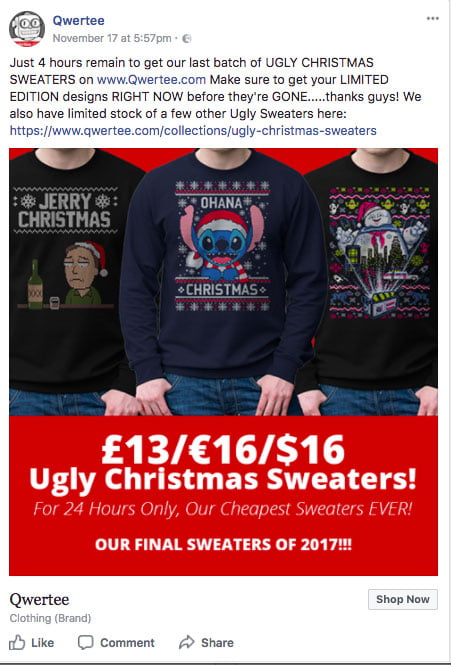 7. Make sure landing pages are relevant to your offer
Whether you're posting organically or boosting your content via Facebook Ads, one thing is absolutely crucial; you need to make sure the landing page matches the ad.
We live in a world of easily distracted consumers with limited attention spans. If something isn't easy to do, you can't realistically expect them to do it!
So, let's say you're promoting your new t-shirt design.
Your user clicks the ad, demonstrating at least a partial interest in buying it. Imagine how frustrating they'd find it if they simply landed on your home page. And imagine how much more convenient it would be if they landed right on the product page for that exact design. You don't need us to tell you which one would likely be more successful!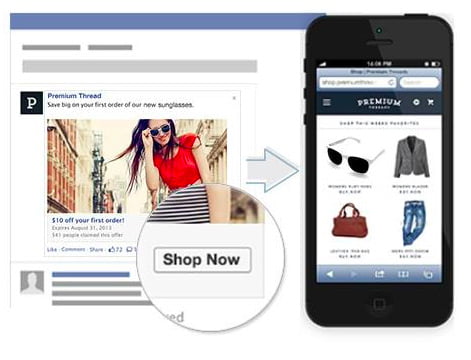 Closing Thoughts
Facebook can be a veritable goldmine for e-commerce sellers
Harnessing the marketing power of Facebook to promote your print on demand merchandise range in the right way can be a huge win for you, opening up a healthy revenue source without any of the up-front cost, risk and hassle associated with 'traditional' merchandising.