Five Halloween marketing ideas to boost your print on demand sales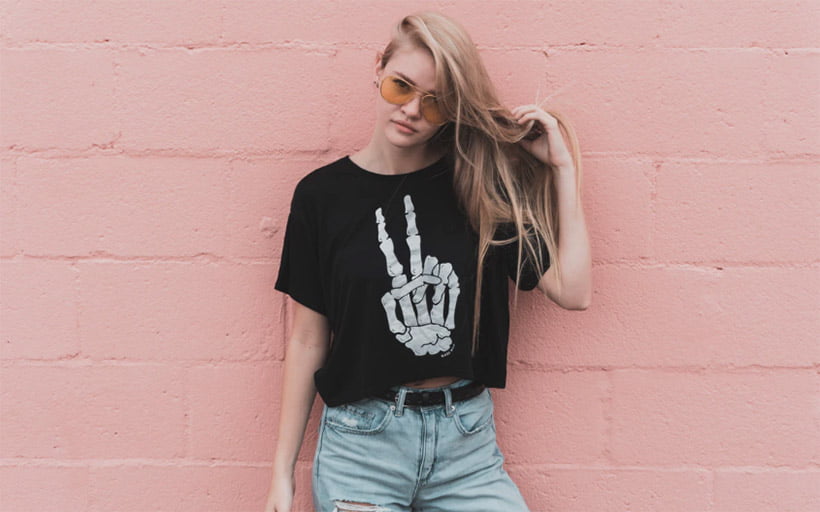 Tags
Interested in joining the world's leading print on demand platform?
There are two types of people: those who celebrate Halloween and those who don't. But whether you're the type to stock up on supplies for trick-or-treaters every 31st of October or the type to turn off all the lights and pretend you're not home (we've all done it), there's no getting around the fact that Halloween is big business for ecommerce.
Recent statistics suggest that Halloween shoppers intend to spend an average of $92.12 on marking the occasion, with decor, candy and greetings cards among the most-purchased items. The statistics also found that over 148 million adults in the US expect to take part in some form of Halloween-related activity, including decorating the house, carving pumpkins and dressing up pets — naturally.
And if those figures don't inspire some Halloween campaign ideas, this blog post definitely will. Read on for five Halloween marketing ideas to boost your print on demand sales.
1. Sell Halloween-themed products
Halloween goes hand in hand with print on demand, and capitalising on seasonal periods like Halloween is a proven marketing strategy. For print on demand sellers, having the flexibility to tailor your product offering to take advantage of seasonal trends — even if just for a short time — is a huge benefit. In fact, selling limited-edition products is a great Halloween marketing idea for creating hype, whether through Halloween promotions or giveaways.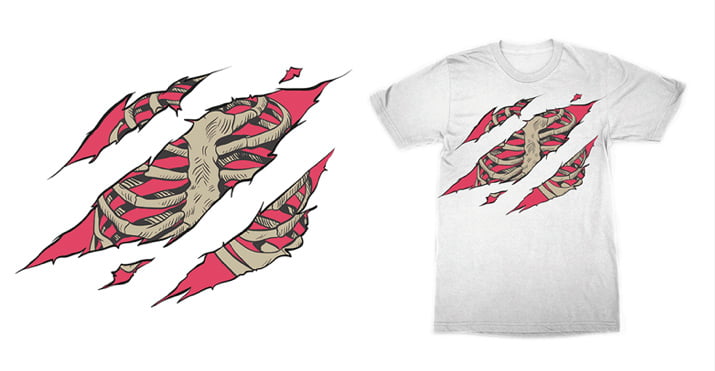 Source
Our print on demand range features over 500,000 products that can be customised with any design to create personalised Halloween gifts &Mdash; think custom printed t-shirts, face masks, greetings cards, dog bandanas and more. From spooky slogans and all-over prints to gory graphics, the possibilities are endless. Dogs wearing Halloween-themed bandanas? Take our money already.
2. Host a Halloween giveaway
We've already touched on the benefit of running giveaways as a Halloween marketing idea, but it's a tactic well worth considering if you're looking for a quick and effective way to increase your sales — because, let's face it, who doesn't love a freebie?
And if you're wondering how giving away your products for free is in any way profitable, stay with us. To kick things off, all you need is an event to base your giveaway on (in this case, Halloween), a decent prize (something worth the effort of entering the giveaway), clear and straightforward instructions on how to enter (follow our page, like this post, tag two friends, etc) and a platform to run it on. Instagram is a good social media platform for running giveaways, as you can use hashtags to promote your giveaway to a wider audience.
A really strong giveaway can help attract a larger social media following — and the more followers you have, the more likely they are to see and engage with your content. Simply put, more followers means more potential customers. As far as Halloween marketing ideas go, this one's incredibly impactful.
3. Run a Halloween flash sale
Flash sales are another great marketing idea for motivating people to shop. A flash sale typically consists of heavily discounted goods being sold for a very short period of time, which is exactly why they work so well during seasonal celebrations like Halloween.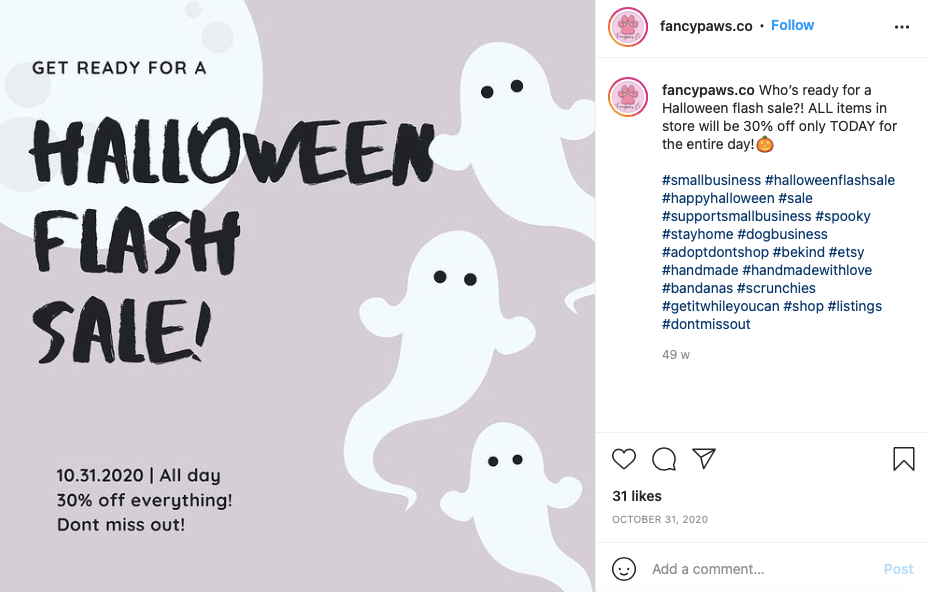 Source
A sale is always pretty exciting, but throw in a countdown clock and you've got yourself the perfect Halloween marketing idea laughs in evil genius. To seal the deal, you can create an even greater sense of urgency by encouraging customers not to miss out, as demonstrated by the brand above.
The closer the offer gets to expiring, the more appealing it starts to look. After all, an impulse buy is better than missing out entirely, right? And that's exactly why you should never underestimate the FOMO (fear of missing out) as a powerful marketing technique.
4. Give your online store the Halloween treatment
Just because you don't own a physical store, doesn't mean you can't get in on the fun this Halloween — which is just as well, since 90% of US consumers finding marketing personalisation very or somewhat appealing.
And if you run your online store on Shopify, you're in luck. In case you didn't know, the Shopify app offers a range of Halloween plug-ins for customising (or Halloweenifying) your Shopify store. We're talking apps that do everything from adding 3D Halloween effects to your storefront — bats, frogs, pumpkins, spiders, you name it — to playing Halloween music whenever a customer lands in your store.
If Shopify isn't your ecommerce platform of choice, don't worry. There are still plenty of Halloween marketing ideas you can try. For example, you could incorporate some Halloween imagery into your branding across your website and social media channels, or even just add some Halloween emojis to your product descriptions. Seriously, can anyone resist this little fella? 👻
5. Come up with a Halloween email marketing strategy
As far as Halloween advertising ideas go, you really can't go wrong with email marketing. Research shows that personalised emails deliver six times higher transaction rates than non-personalised emails.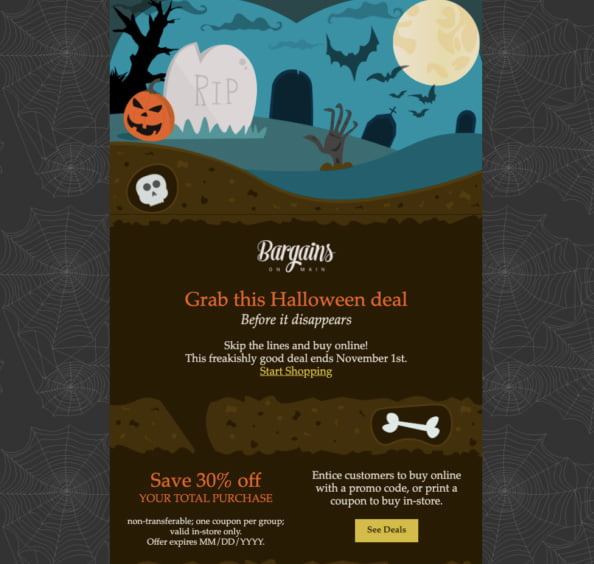 Source
And with email marketing companies like Mailchimp and Constant Contact offering professionally designed email templates to help you capitalise on seasonal holidays such as Christmas and Halloween, creating customised Halloween marketing campaigns has never been easier.
Complete with ghoulish animations, orange and black colour themes and drag-and-drop functionality, you can tailor your template to complement your brand's promotion — whether it's a Halloween discount code or Halloween-themed bundles.
---
That concludes our blog post on five Halloween marketing ideas to boost your print on demand sales, but there's really no limit when it comes to brainstorming Halloween promotion ideas. Just remember to keep sight of your end goal when planning your campaigns and make sure you have the budget to implement them. Happy Halloween!
Interested in setting up your own print on demand store in time for Halloween? Check out our Shopify app.