Building a product photography set-up to sell more merch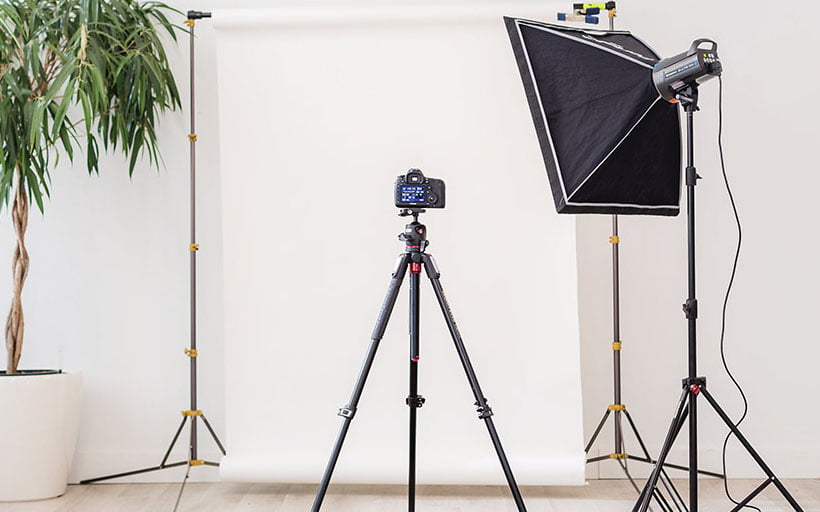 8 April 2020
Updated 12 September 2023
Tags
Interested in joining the world's leading print on demand platform?
"A picture is worth a thousand words". But what if a picture can be worth some money for you as well? Ecommerce is more dependent on product photography than any other sales channel.
In 2023, 2.64 billion people worldwide are buying goods and services online. According to Adobe, 63% of online consumers consider visual appearance to be the key deciding factor in a purchasing decision.
People shop with their eyes first, so poor quality product photography can lead customers to assume the quality is also bad.
In this article we look into exactly what you need to have and do in order to build a product photography setup to supercharge your sales.
Equipment
When it comes to choosing equipment, it's important to remember a couple of points:
Speed Have a setup that allows you to move through multiple angles quickly, and also adapt quickly to change products.
Versatility A setup that can stay consistent for similar products is the main goal. But a setup that can also remain flexible to quickly shift is ideal.
So what exactly do you need to get your products sold? Let's take a look.
Cameras
Don't stress yourself out if you can't afford the 'best on the market' camera. The lighting and setup tips we are going to go through will be more important in the grand scheme of things.
Firstly try what you have at home, before going on a shopping spree. But if you're set on buying a new camera, it should have, at least:
Manual exposure
Aperture settings
There are lots of cameras out there. We've narrowed our list down to three, to suit different budgets.
The middle of the road budget: Canon EOS 250D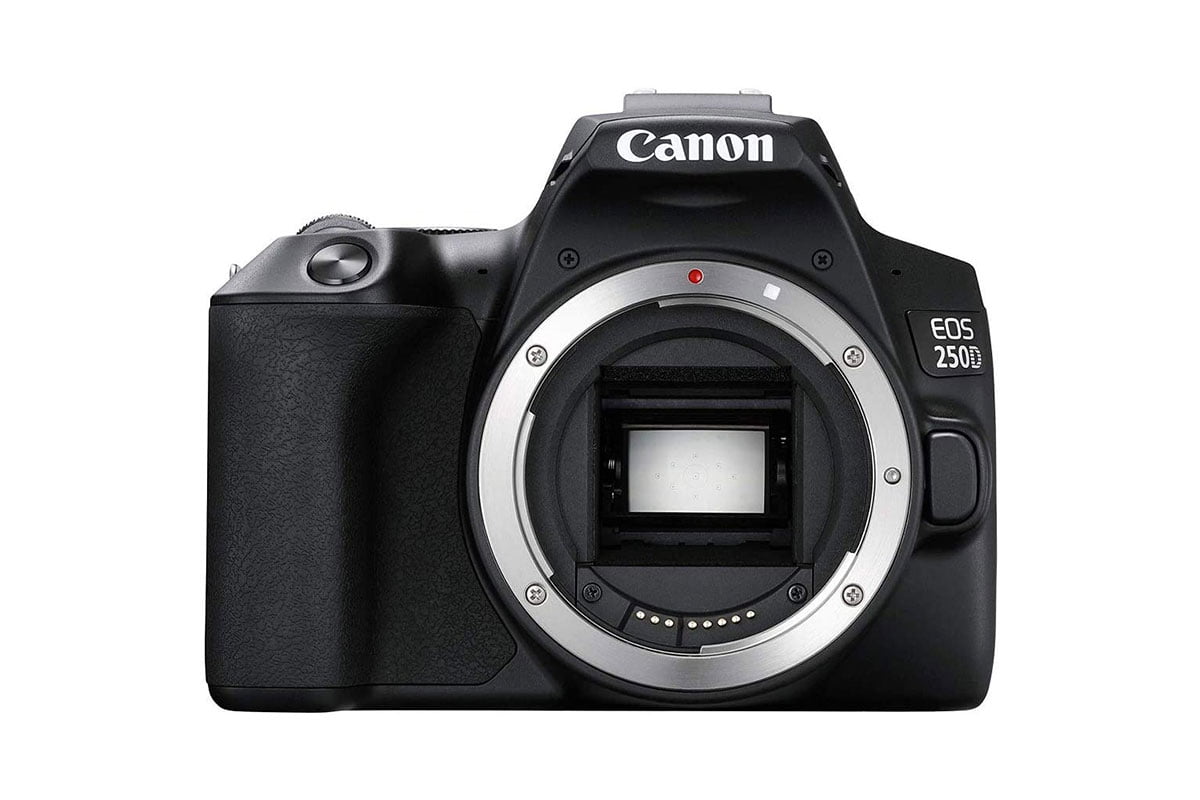 | | |
| --- | --- |
| Model | Canon EOS 250D |
| User level | Beginner/enthusiast |
| Price | £459.00 (body only) [Amazon] |
| Pros | Touchscreen, Canon's top APS-C sensor, 4k video & very good Live View autofocus |
Read a review of the Canon EOS 250D
The bigger budget: Canon EOS 5D Mark IV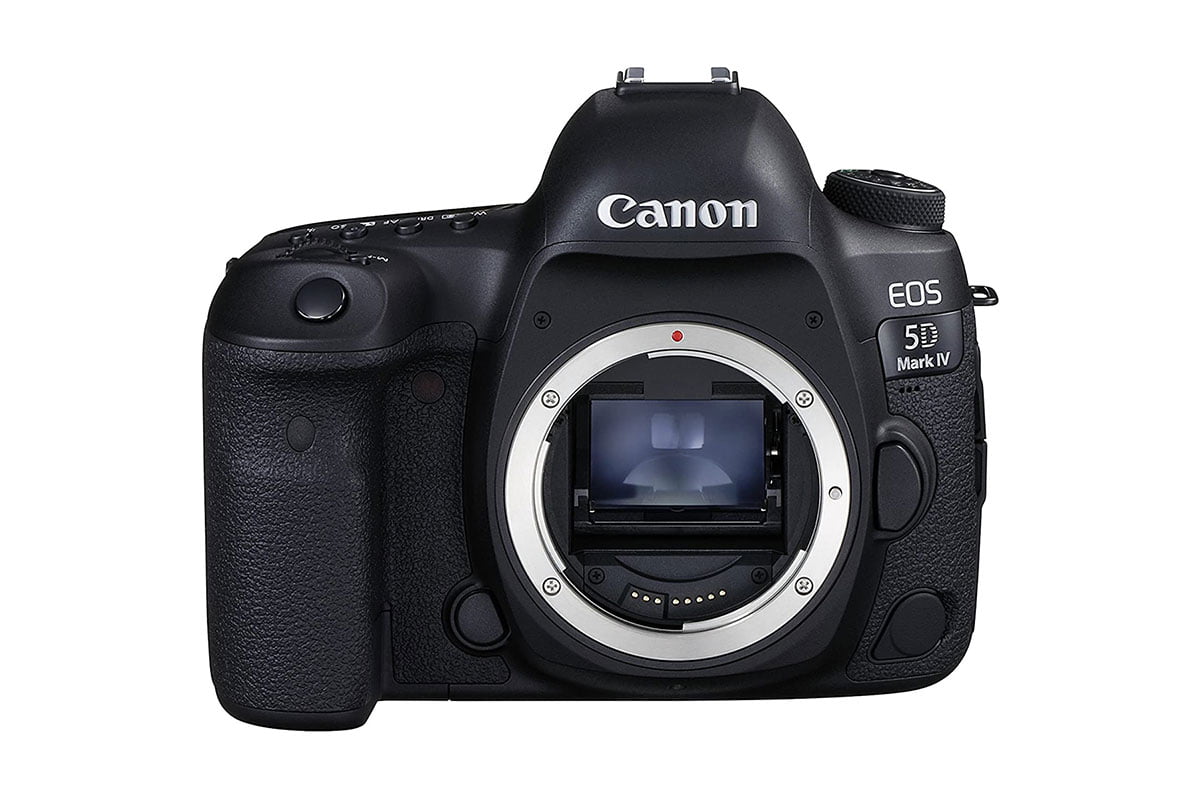 | | |
| --- | --- |
| Model | Canon EOS 5D Mark IV |
| User level | Expert |
| Price | £2499.00 (body only) [Amazon] |
| Pros | Incredible images & advanced auto-focus system. |
There's a button for almost every setting you're likely to want to change frequently, but you can also press the Q button to change anything you see highlighted on the main display. The main menu is where you'll make less regular changes, but this is organised sensibly to help you find whatever you're looking for with ease.
Read more of the review of the Canon EOS 5D Mark IV
The smaller budget: Canon Powershot SX430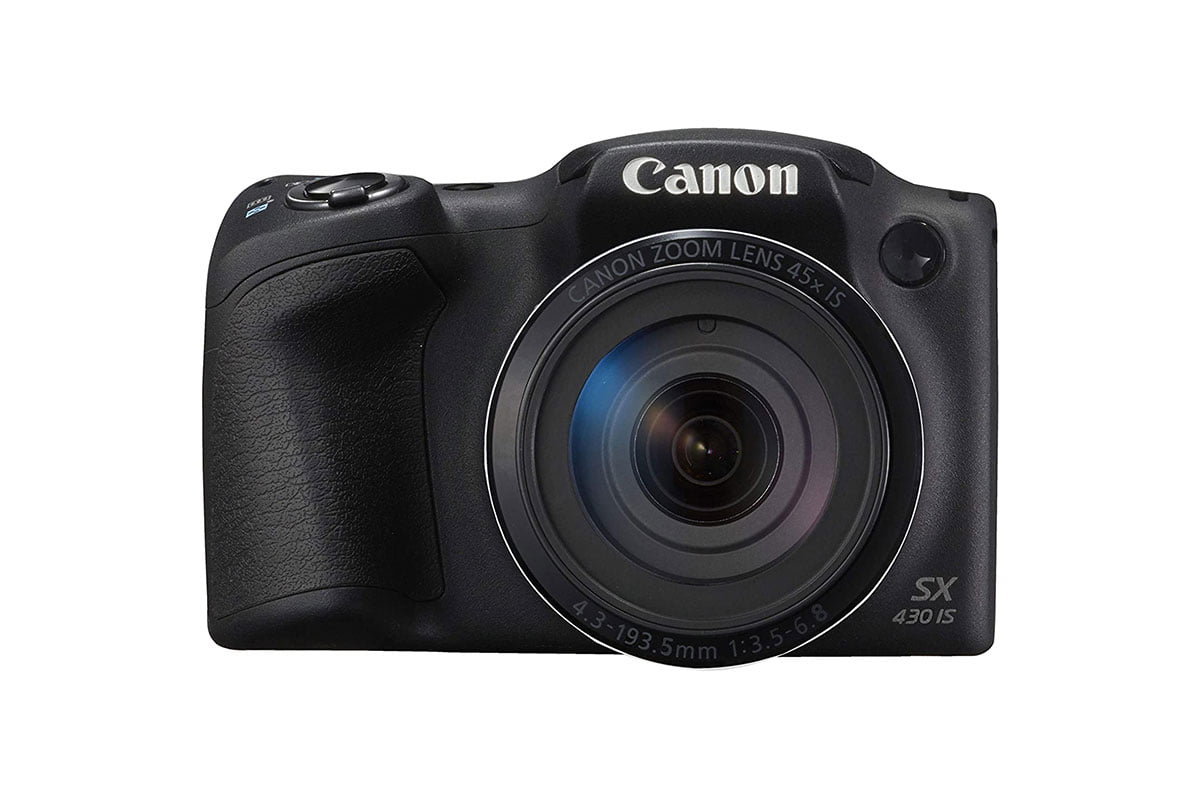 | | |
| --- | --- |
| Model | Canon Powershot SX430 20MP 45x Zoom Bridge Camera |
| User level | Beginner |
| Price | £173.99 [Amazon] |
| Pros | Good image quality & comprehensive guide mode. |
This is the perfect camera for beginners, so easy to you use, and the zoom on it is good too, plus connects to your smartphone via WiFi which is a bonus.
Read more about the Canon Powershot SX430
Extra tip You can always buy second hand to save some money, but make sure you shop around and be wary with your choices! There are price comparison engines for pretty much everything you'd want to buy online these days.
What about smartphones?
Is purchasing a camera out of the question? Nowadays you can get some pretty great shots on a smartphone. Follow these steps to help get the quality right:
Get yourself a smartphone mount, this will help you to stabilise your camera.
Make sure you use the focus function properly. This quick tutorial shows you exactly how to do so.
Avoid using the flash if possible, it can make your photos look overexposed.
Tripods
It's tempting to go freehand in the interest of saving some money. But a solid tripod is essential for eliminating camera shake and capturing great photographs.
Manfrotto tripods get great reviews, and their prices aren't too steep either if you shop around. You can get this one from Amazon: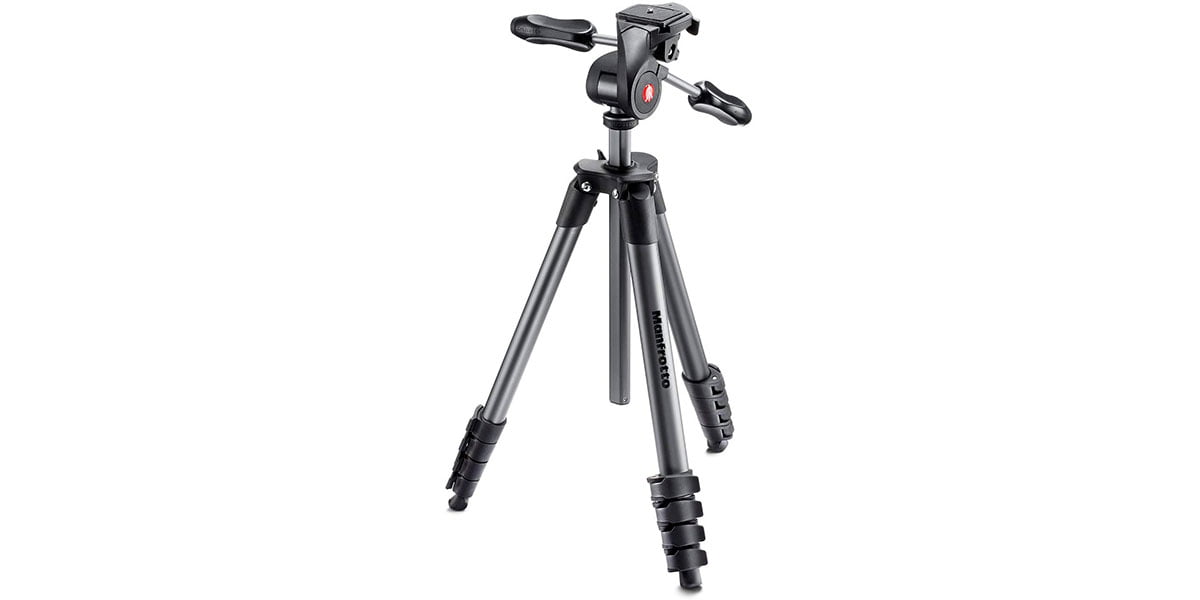 It sounds simple, and you'd think it's just about following the instructions on a tripod box. But for product photography, there are a couple of things to consider:
A ball head tripod is not the best choice for photographing products, they aren't very steady! Choose a positioning head like Induro PHQ-3 instead.
Remember to choose a suitable size tripod for your shooting space, if your tripod is too big, it will limit the angles you can shoot from.
Backgrounds
If you want to shoot on a plain background, white backgrounds are widely seen as the best way to go.
As the seller, it's your responsibility to show the product as accurately as possible. White backgrounds provide the least amount of distraction for your product.
Secondly, it's more media friendly! If a blog or magazine sees your product and wants to feature it, a product on a white background is basically ready to go.
If you're planning on doing lots of regular product photography, you're best investing in a white sweep from Amazon.
A paper sweep works the best for convenience because if it gets dirty, you can just roll a clean piece down.
A sweep allows you to place a product down, and have a completely white background. There won't be a crease in sight, like this example from fstoppers: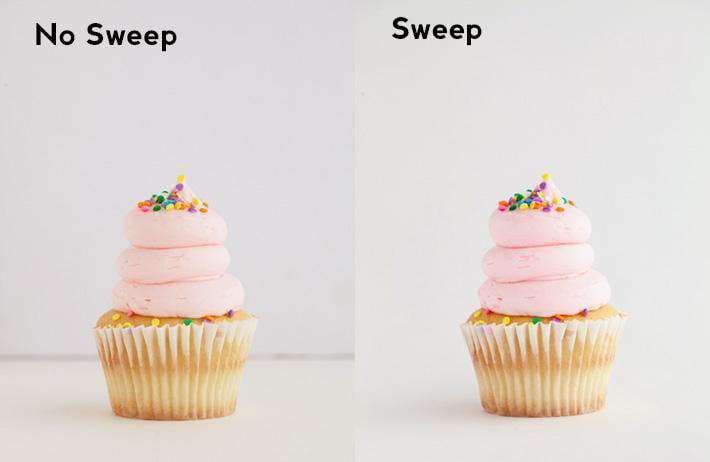 If you're looking to do this on the super cheap, you can go to your local craft store or stationery supplier and pick up some poster board. Remember to always look for 'pure white', not 'off-white' or 'cream'. Then make sure to set it against the wall without creasing it.
Plain white backgrounds are a good start, but they aren't the only way to go.
Showing your product in the setting it's going to be used, creating a background scene, and freeze frames are just some of the options.
White bounce cards
In addition to your background, you're going to need white bounce card, ideally made from foam board.
When you're lighting your shot (especially with natural light) there will be a side where the light is striking the product.
There will also be a shadow side, which will nearly almost always be too dark. So you're going to need something white to reflect the light back into the shadows to make it brighter
Foam board works best, because of how rigid it is, and you can get it in a really, really bright white. Order it from Amazon or search your local arts and crafts store.
Extra tip If you're all set up, and the only thing you're missing is a bounce card, a piece of white printer paper, or poster board will work until you can get your hands on some foam board!
Tape (or clamps)
Whether you've already got it laying around, or you've got to go out and buy some, you're going to need some tape.
Just imagine, you've got your lighting spot on, your product looks immaculate and you're behind the camera ready to shoot. Then, your background falls down. Infuriating, right?
The solution is simple, get yourself some good quality duct tape and fix everything in place before you begin. If you want more of a permanent solution, you can purchase some photography clamps.
These can be used over and over again if you want to make the investment.
Table
You can invest in a shooting display table like this one from Photogeeks: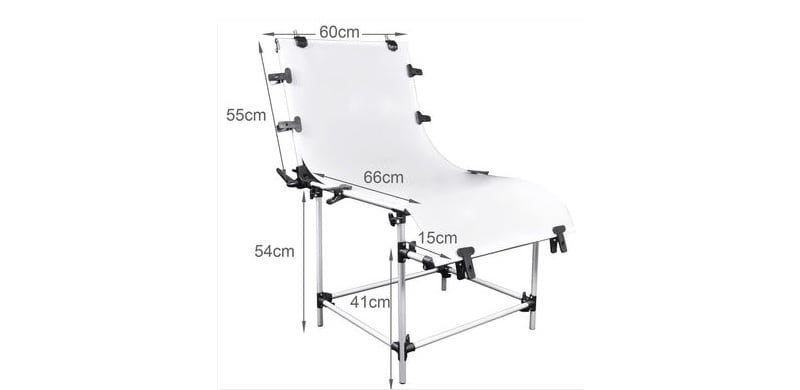 This will allow you to adjust to suit whichever product you are shooting at the time, and comes with matching clamps and a handy travel bag or… A standard folding table works great, just make sure you pick a table that is suitable for the size of your product.
Lighting
Natural light
You can go a couple of ways when it comes to lighting your shot. The first option is to just simply use a window with lots of natural light. If you've got access to one, you've hit the jackpot!
Things to take into account are:
The bigger the window is, the better your product will look.
Adequate space around the set up to be able to move it around and adjust.
Time — this is only going to work if you can shoot your products in the daytime!
When using natural light, you can't control it, but to make it work for you, pick your time of day wisely:
Morning — the light is often warm and can produce a softer image.
Lunchtime/middle of the day – the light can be harsher, and bring a blue tinge, this can affect the colouring of your product.
Afternoon — Similar to the morning, soft and warm, most photographers preferred time to shoot.
Extra tip Do some practise shots at different times of day, with different types of products and keep a master list of what works where. This will be a great reference point and save you tons of time!
So, you've picked your spot, and time of day, here's what you'll need:
A table
A big window
Your background
Tape
Foam Board
Now, let's go through the process, step by step:
Place your table close to the window.
Turn off any lights in the room.
Set up your white background- lay it down so it curves, and tape to the wall.
Place your product in position.
Score your foam board with a craft knife, so it folds to form an open book shape.
Place your foam board on the side of the product, furthest away from the window.
Set your camera to manual and autofocus.
Start by taking a picture at the same height as your product, but then experiment with other angles if you wish!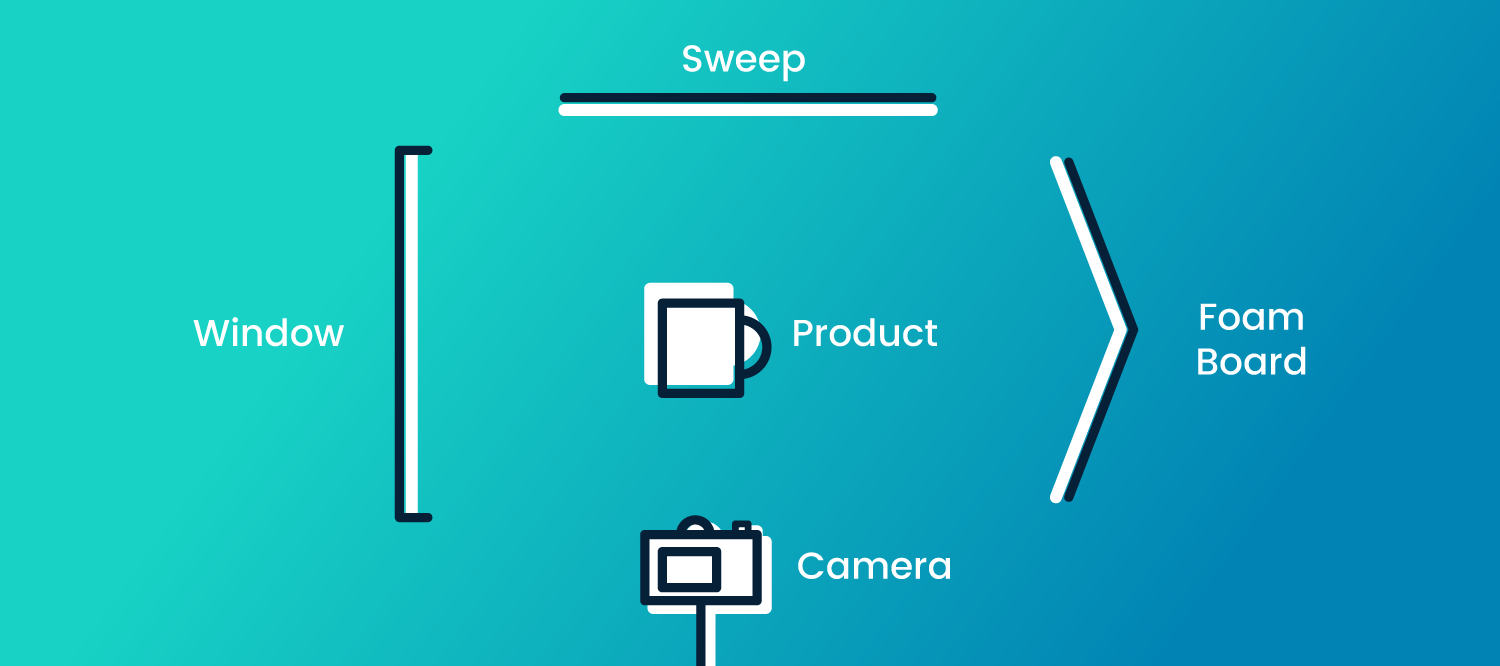 Artificial Light
If natural lighting isn't going to work for you, you can build yourself a pretty cool light setup, for a pretty reasonable price, by following these steps:
What you'll need:
A shower curtain? Clothes pegs? Read on and we'll explain!
Let's go through it step by step:
Pop your product on your table and in front of your background (using the steps above).
Depending on the product you're photographing, place the light above, just below or directly in front of the product.
Is your lighting looking way too harsh? Take shower curtain, cut a piece out to fit over the light, and attach using the clothes pegs.
To get rid of any shadows, place another light behind your background and product.
Take your photo using your DIY lighting setup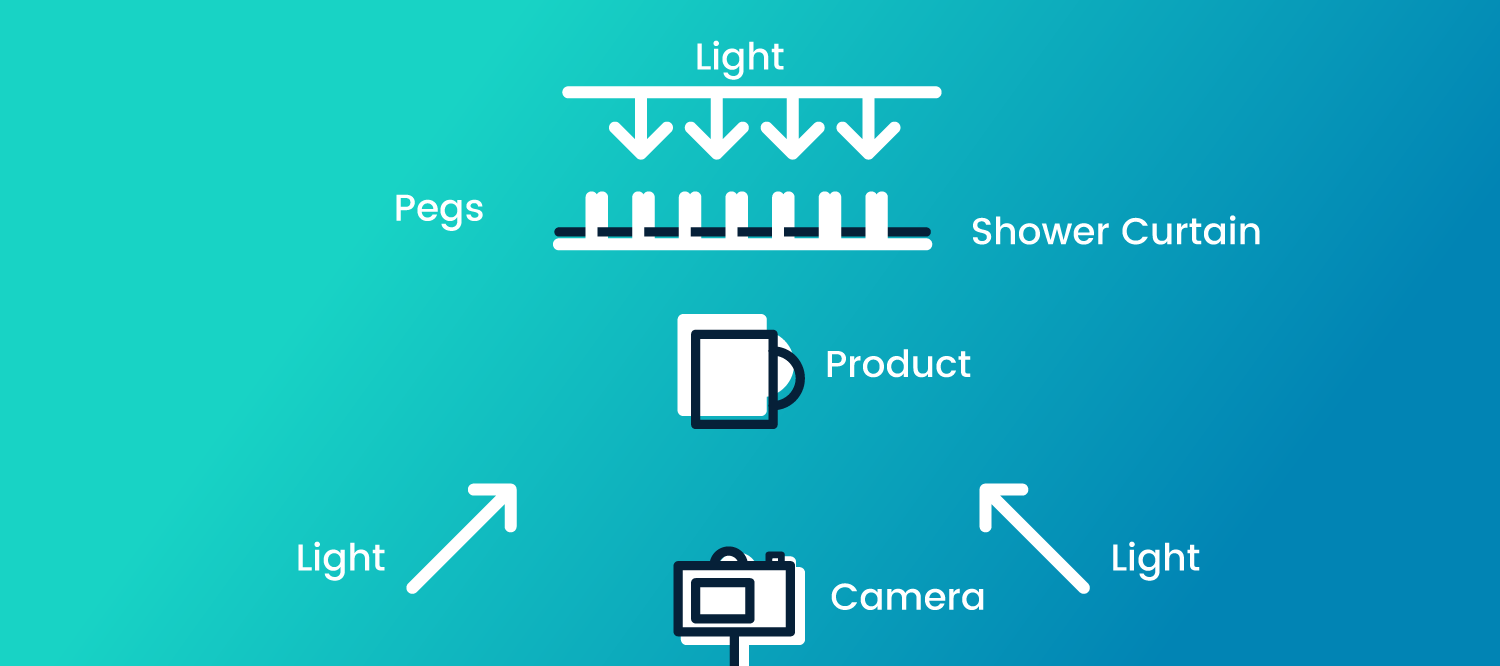 Where to shoot product photos
The room you shoot in needs to be spacious and have lots of natural light if you aren't planning on using any lighting equipment.
If you can choose a room in your house or workplace (if permitted), it can work particularly well. This is because you can set your space up safely and securely and leave it set up for as long as you need it.
Also, choose a space where you can work undisturbed and can replicate the setup easily if you need it multiple times.
If you need to go a bit further afield for some space, check out these studios for hire.
Framing the shot
Keep the perspective consistent, even if you're taking pictures from different angles
By taking shots from different angles, you can see which one makes your product look best. Try out a few before deciding on one.
It may sound obvious, but you need to get the whole product in the shot, it can make a huge difference. For example, in this comparison by clipitquick: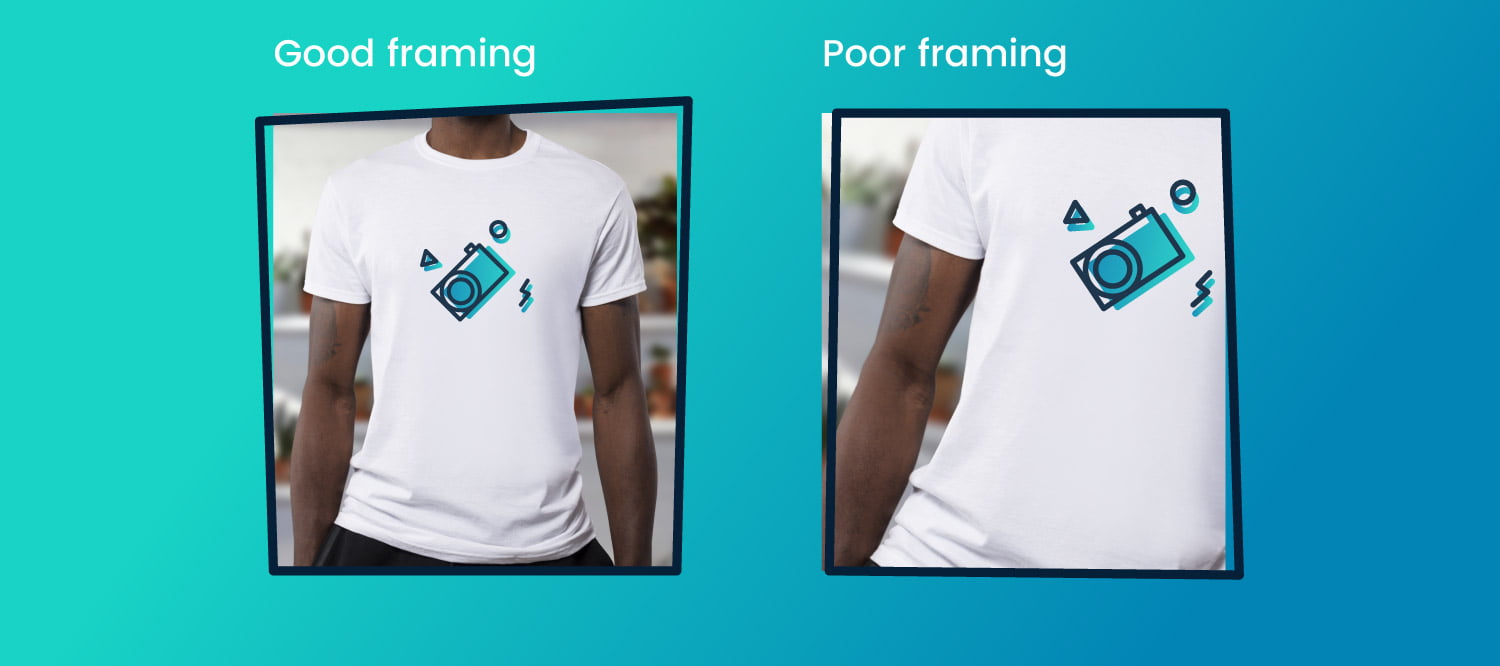 Editing product photography
It's important to not just leave it there, editing your photos will elevate them even more.
You may notice a few issues with your photos, colour problems, size, or background issues. Whether you choose to do it yourself or outsource the job to a professional, your edited photos will look more consistent and impressive.
Software
Free
Pixlr – this software can be compared to photoshop, but be realistic with your expectations. This free, online program doesn't have as many options, but there is enough to get the job done.
GIMP – this software is available to download to your computer than working online. It offers a wide toolset, and is often quicker to use than using an online editor. It has lots of useful tools for editing product photography, but can be a little harder to use and navigate- so keep this in mind.
Adobe Photoshop Express Editor – This express version of the editor is an excellent option for product photography. It obviously doesn't offer as many options than the paid version, but has pretty much the features you'll need to make your products look great.
To Buy
Adobe Photography Plan – A combined subscription of Photoshop and Lightroom for which you pay monthly. Having both of these programs mean you have all of the tools you could possibly need
Serif Affinity Photo – This is a great alternative to Photoshop, it is easy to get used to and is cheaper than most alternatives.
Capture One – described as a 'high-end rival to Lightroom' it has an internal database for your photos and a great range of tools. One downside is that the changes you make are only made permanent when you export the image as jpg or tif.
Outsourcing
Retouching photographs taken with a white background can be a hard task, especially if you haven't had any training.
This final step can really ruin the effect of your photos if not done properly. So don't waste all the hard work you have done so far on your photos by doing a shoddy job on the editing.
So, did you know, you can outsource this? It's also a lot more affordable than you think.
Pixelz is a great option for anybody looking to outsource to a professional retouching company.
Their software allows you to upload and manage your retouching from beginning to end. You get 3 free test photos, before paying a price per photo.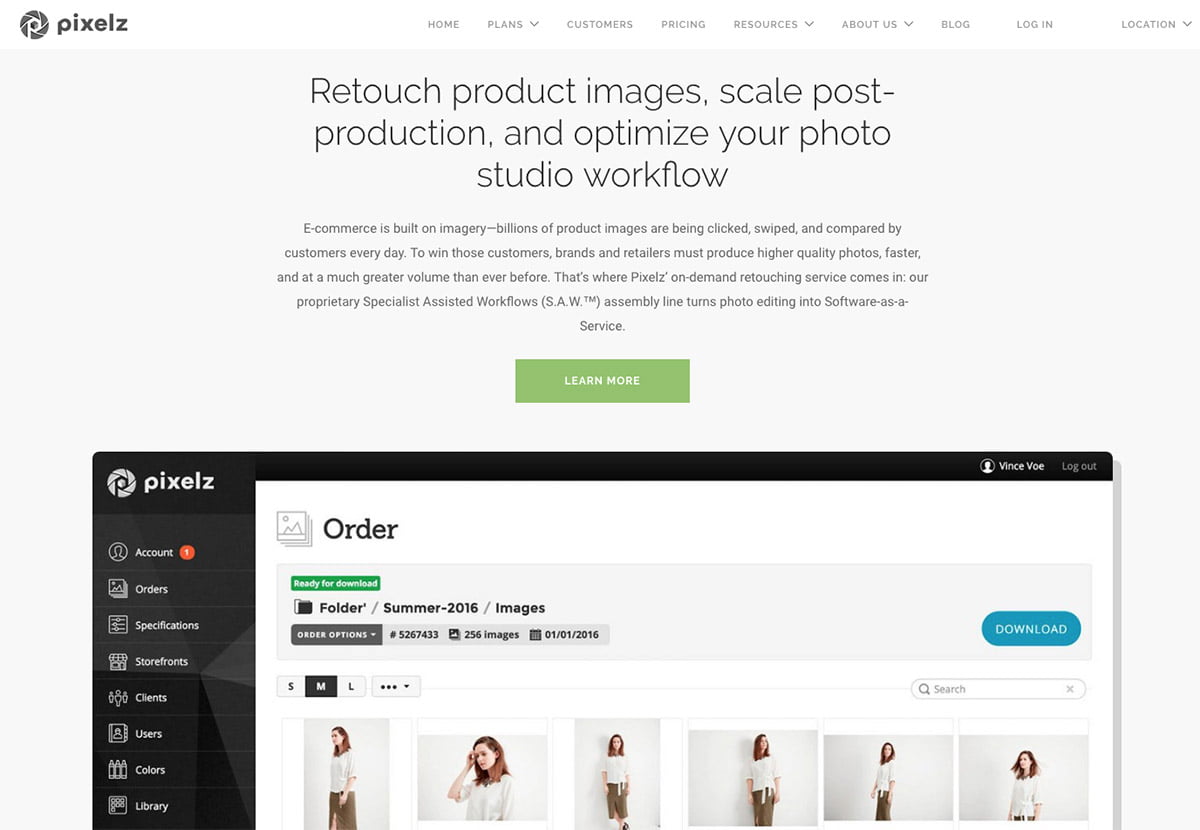 Now it's up to you…
Take all of the tips and recommendations from this post, add in your amazing products, and shoot beautiful product photos!
Sometimes, it might feel like a lot of work to get the perfect photo, but honestly, it's worth it!
Once you have got the steps above mastered, it's time to get creative!