How to sell print on demand products on Etsy
24 March 2020
Updated 18 July 2020
Tags
Automate your Etsy order fulfilment with Prodigi
Nowadays it's trendier than ever to shop for custom made or vintage items. Artsy, personalised and craftsy is the name of the game!
The online encapsulation of this trend is Etsy - 'the global marketplace for unique and creative goods'.
But if you've always thought Etsy is just an online store for crafters and vintage sellers it's time to revisit those preconceptions. There are now tonnes of print on demand sellers offering their unique designs on a range of products.
Etsy was founded in 2005 and has grown immensely quickly. By 2019 it boasted 2.5 million active sellers and 39.4 million active buyers.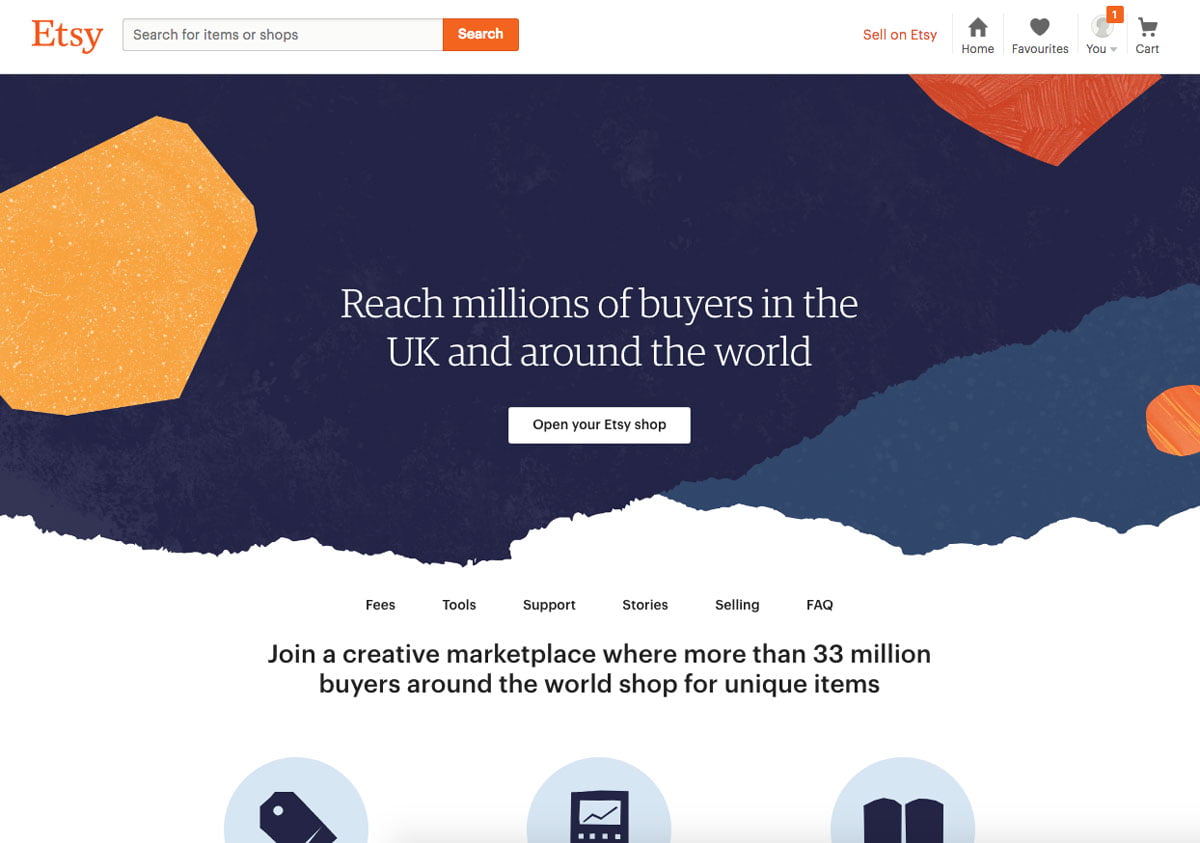 Its popularity can be attributed to the fact it gives consumers an easy way to find items that aren't sold anywhere else.
Etsy connects artists with customers around the world, the focus of the platform is selling unique products that aren't available in big-name retail stores.
Amongst the handmade gifts and vintage items, there's plenty of room for print on demand products. Here's why:
People are shopping for unique designs
Quick and easy shipping
A good range of products
In this article, we'll walk you through the whole process of selling print on demand products on Etsy and cover how to make it work for your products.
Why Etsy?
In 2013, Etsy expanded their definition of 'handmade' and started allowing sellers to offer products made by outside manufacturers, with a few T&Cs of course:
The outside manufacturer must meet Etsy's standards.
Sellers must create the designs for their products.
Sellers need to prove their involvement in the creative process.
Sellers must be transparent about their products and how they're made.
These T&Cs shouldn't stop any legit print on demand merchants, because any proof Etsy needs on the authenticity of your designs you should already have.
Etsy makes positive steps to ensure all the products sold on their platform are authentic, so nothing is copied or mass produced. Providing proof of your involvement in your designs just helps to combat anyone else being able to take them.
Setting up an Etsy store is free, and there are no monthly or memberships costs (there are fees for creating and updating listings, but we'll get into that later on!)
Selling on Etsy gives you access to a new audience, all of whom are already looking for unique, custom products.
One of the biggest reasons to choose Etsy is that you can sometimes get away with selling at a higher price point. Etsy customers can reasonably expect to pay a bit more, because they're already shopping for a custom or handmade item.
How to Etsy?
The very first thing you need to do is register an Etsy account, once you're set up, you'll be able to sell pretty much straight away! Visit etsy.com and click to sign up.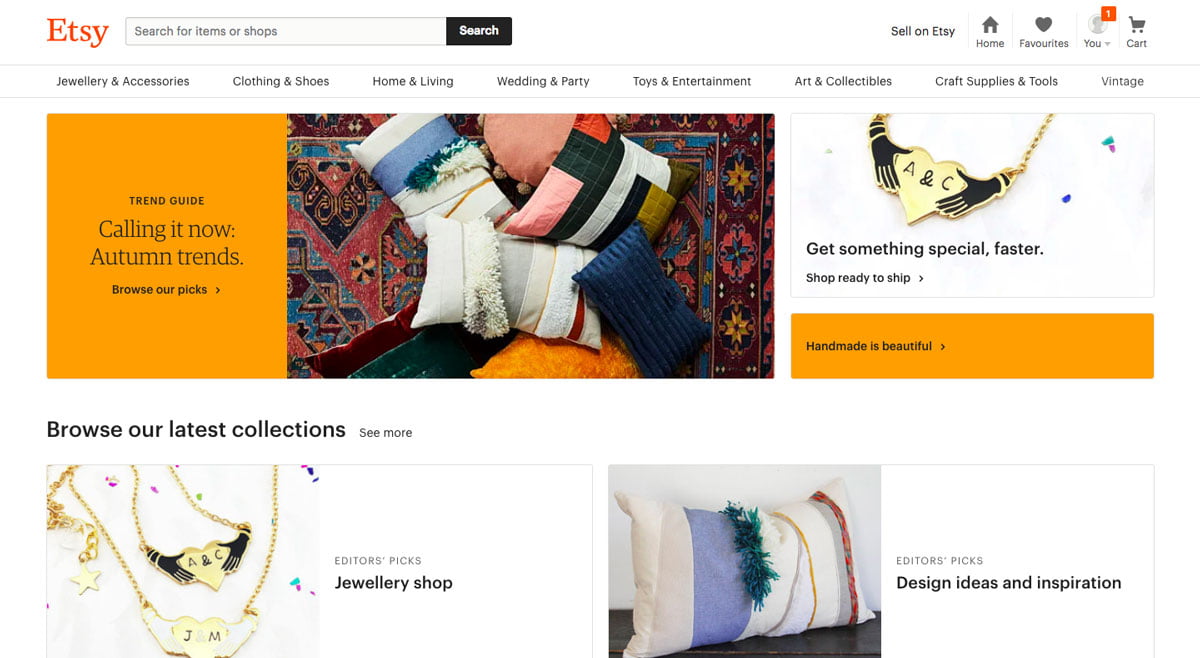 To create your profile, you'll be asked for your personal details, and to setup your email and password.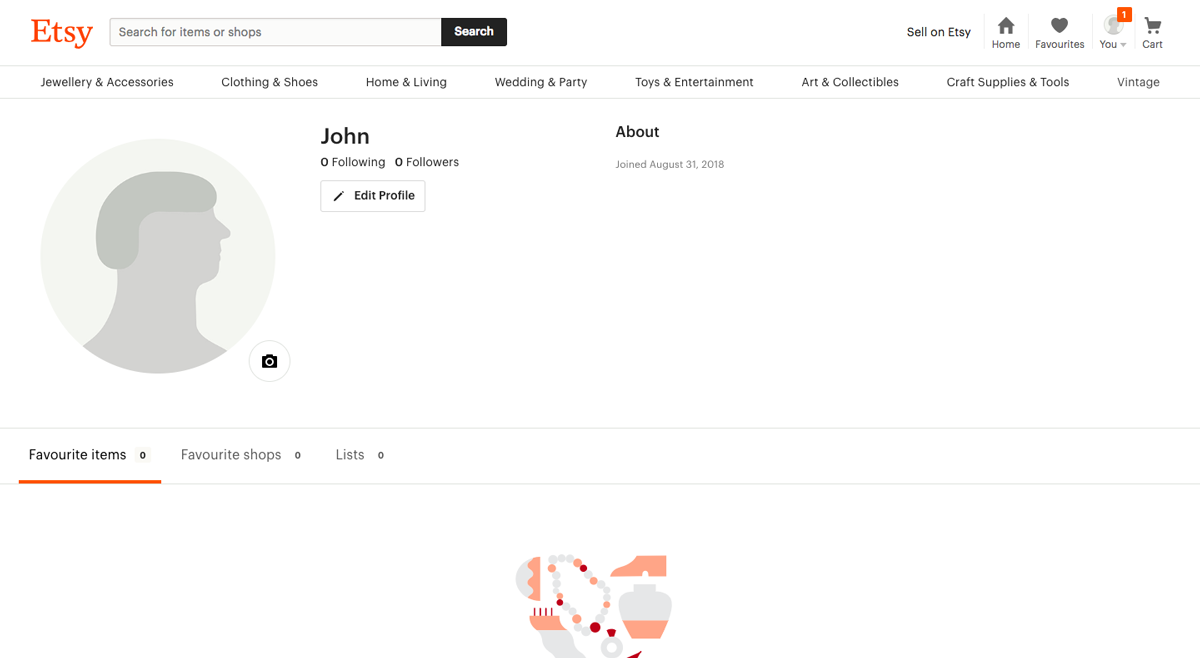 You'll then be given the option to upload a profile picture, add your location and an 'about me' blurb.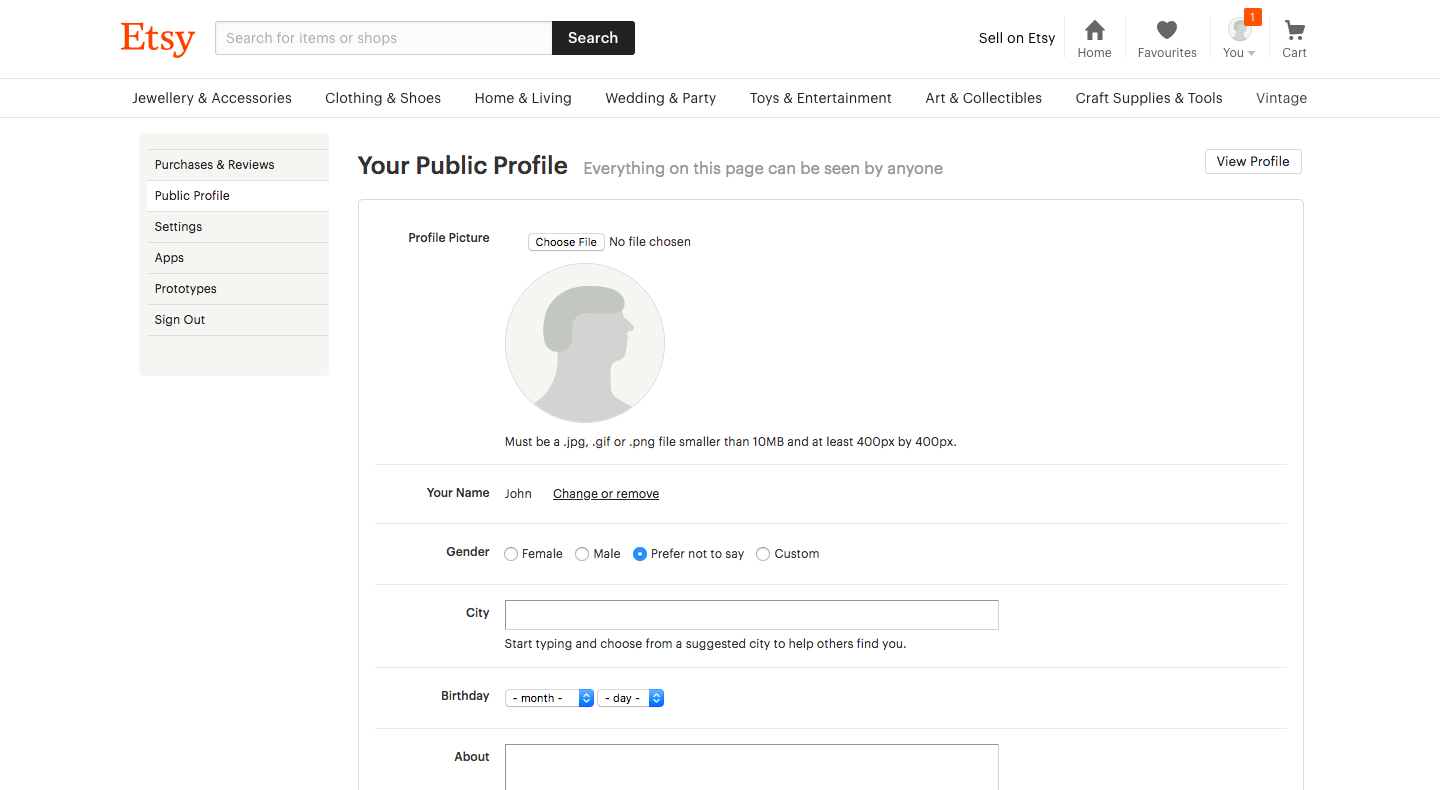 Voila! Your profile is created!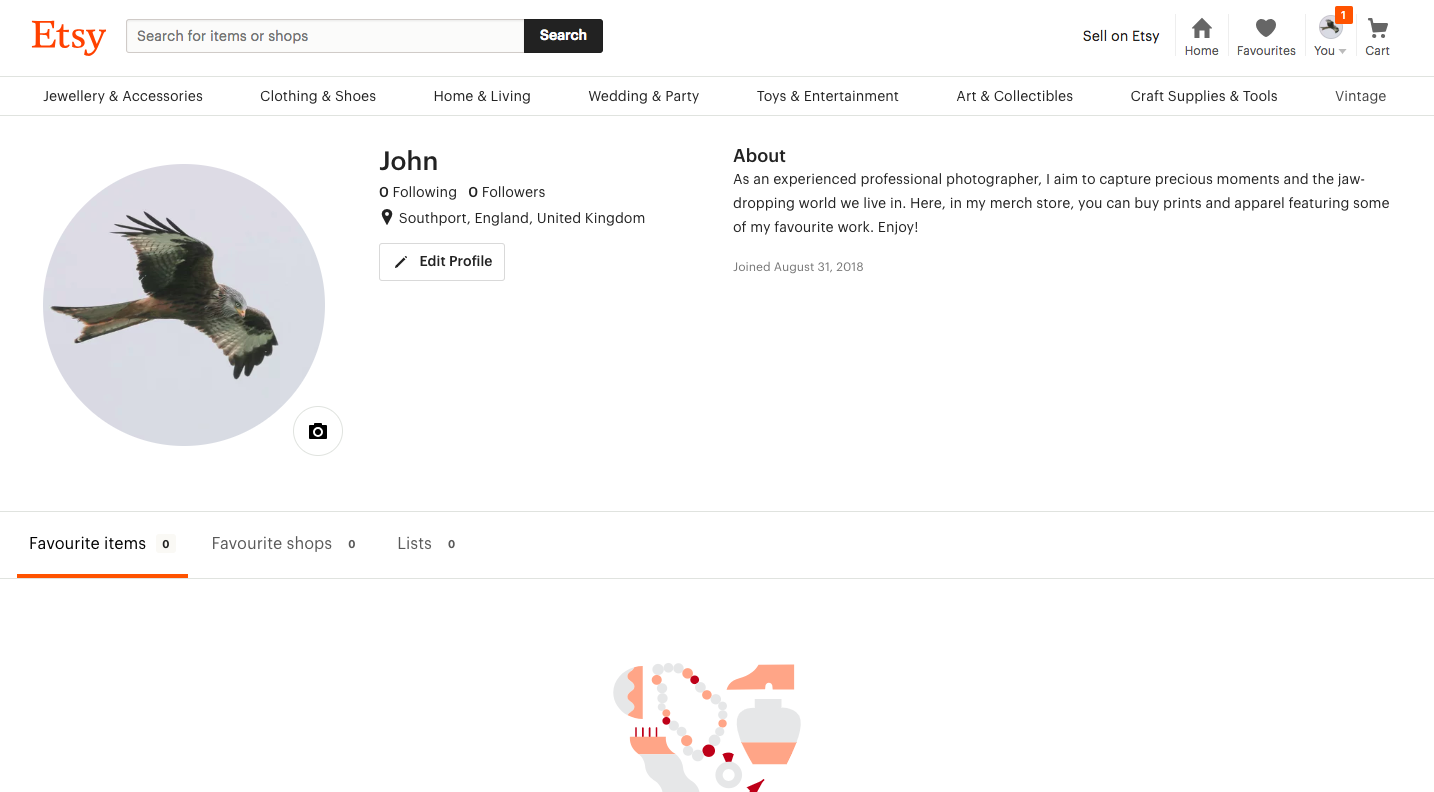 So you've created your Etsy account, now you just need to get your shop up and running.
Firstly, you need to name your store. Then upload your first product. You can either do this manually, or you can connect to an existing Shopify store if you're running your business with Shopify too.
Firstly, you need to name your store. It's best to keep it on brand with your Shopify store to stay recognisable.
Then to get going you'll need to upload one product. (You can delete this later, you just need at least one item in your store to be able to connect your Shopify account).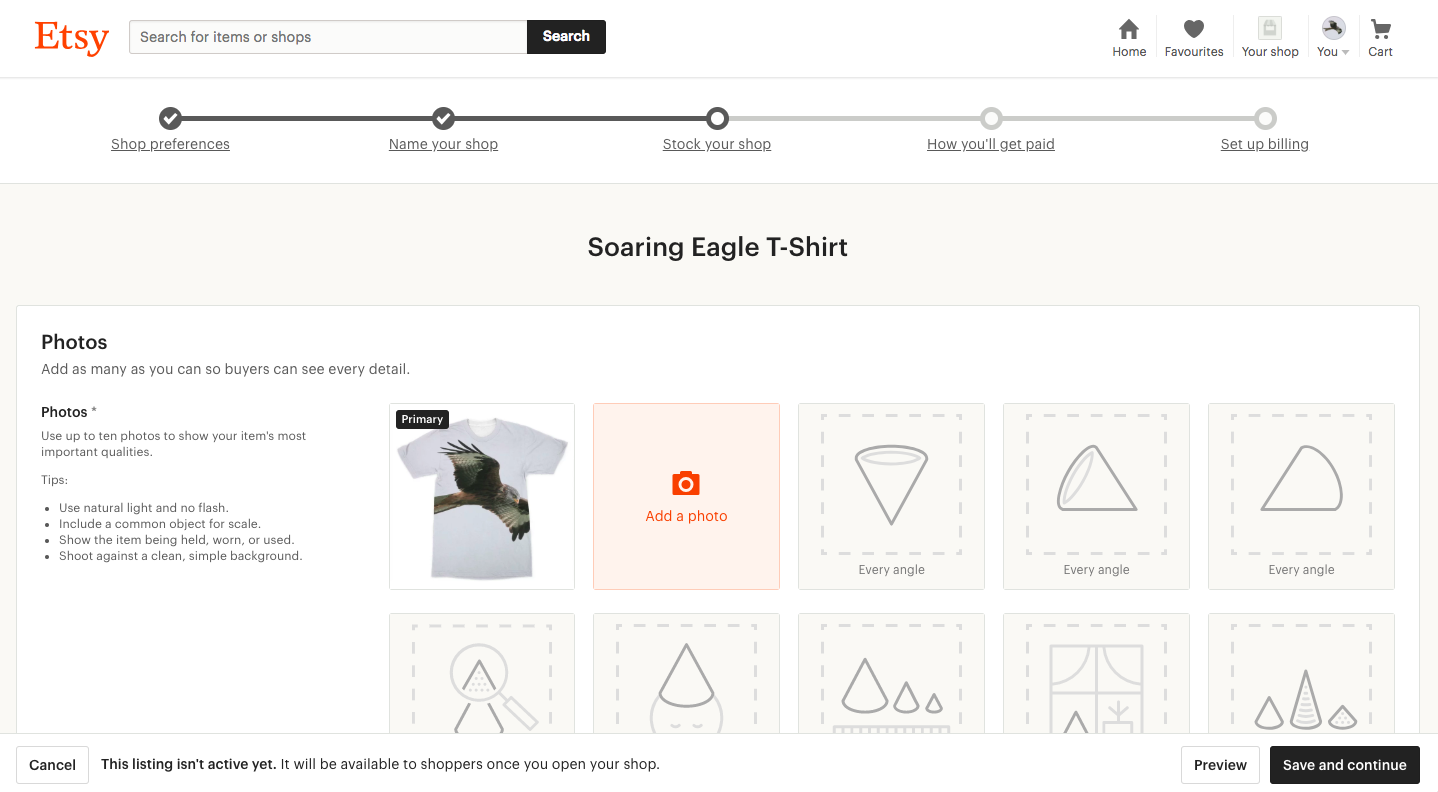 You'll need to add details about the product, shipping and pricing.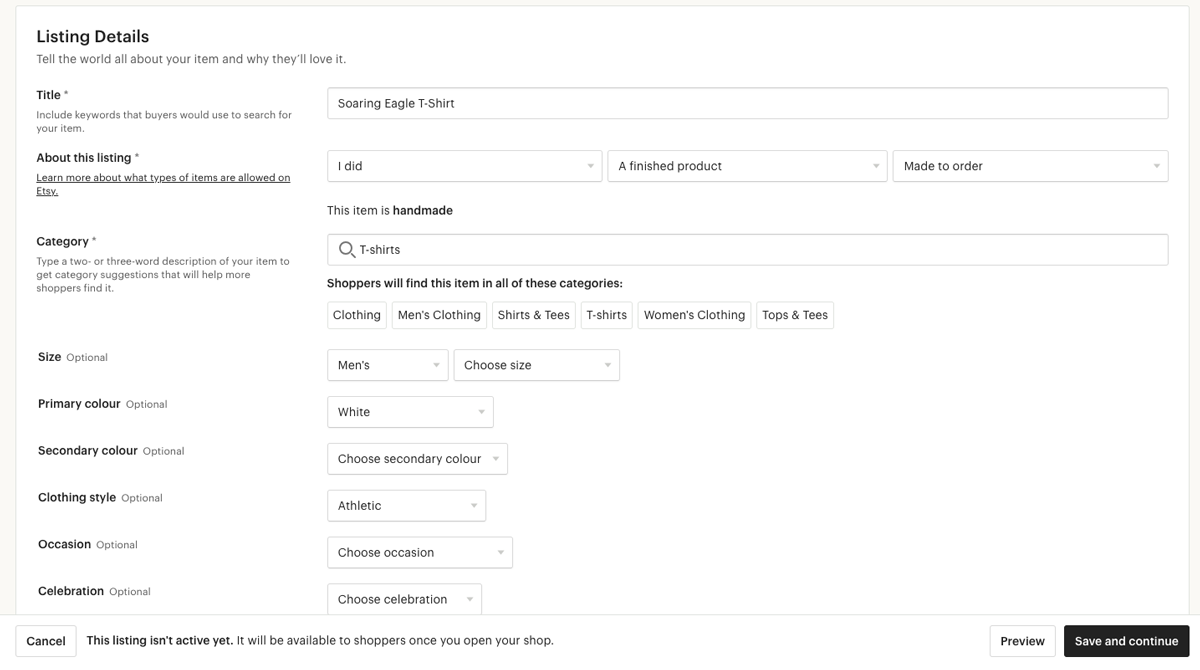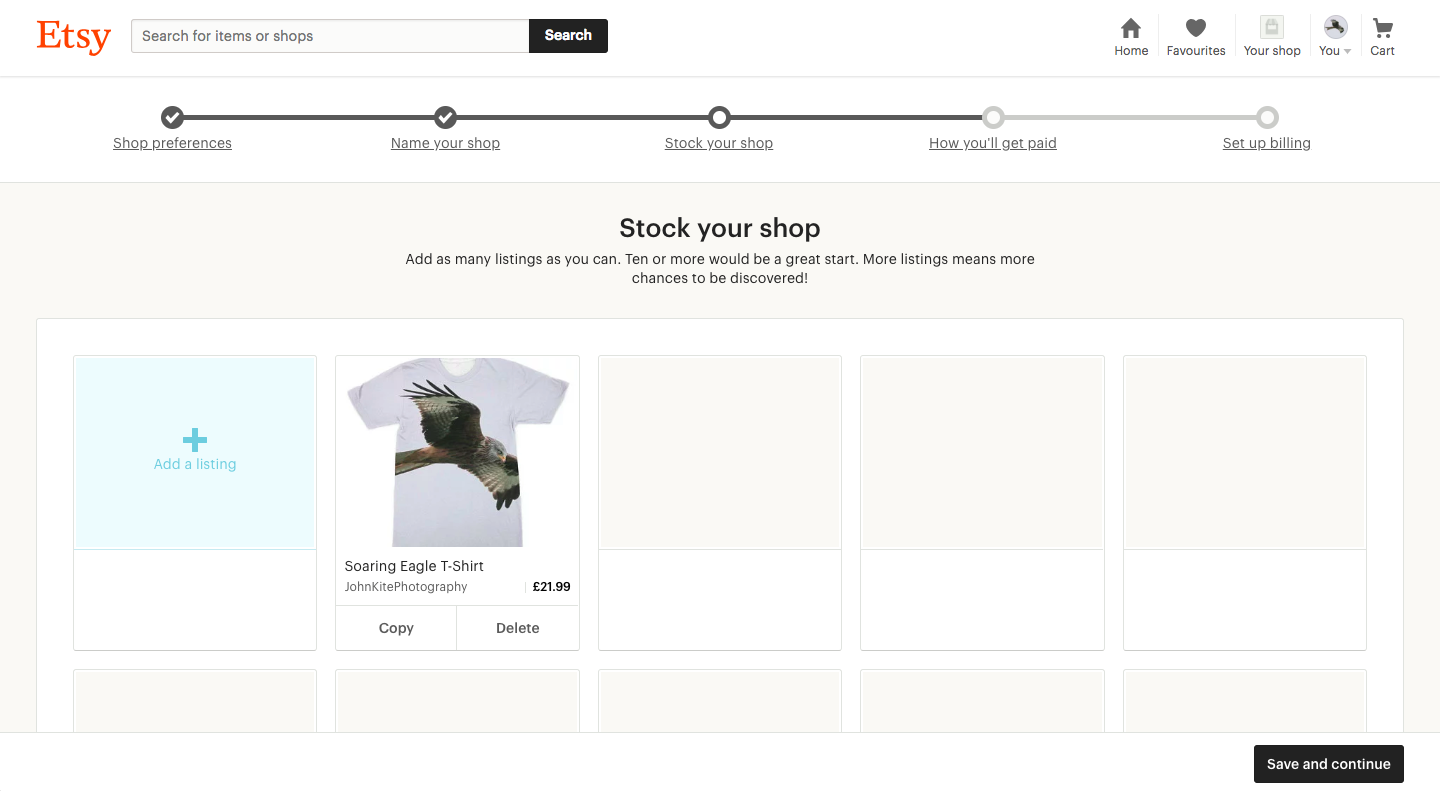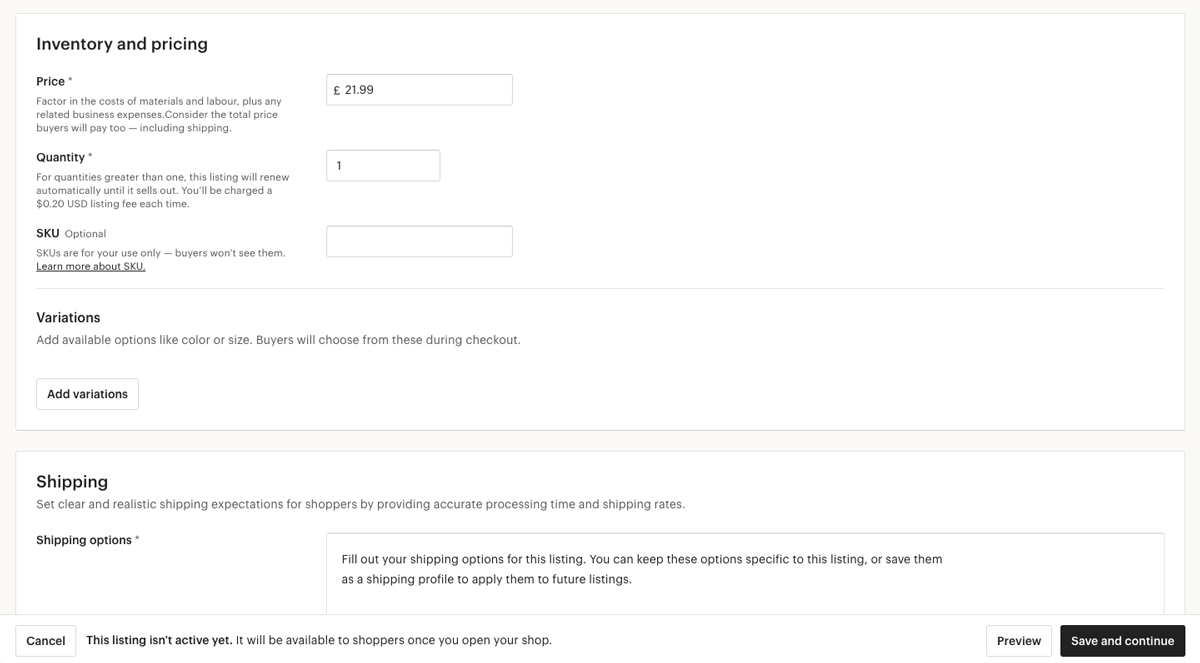 Then add your billing information, so you can accept payments.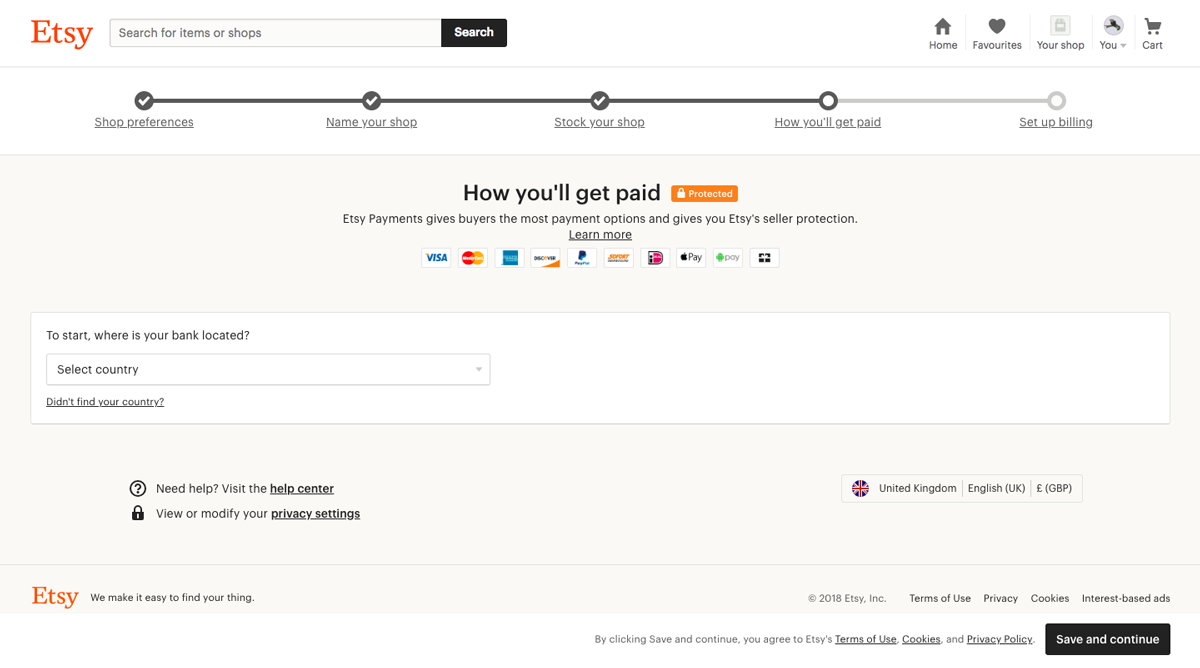 Once this is set up — your shop is open and ready to start accepting orders!
Next, we'll move on to how to connect your Shopify store to Etsy if this is something you want to do. This will enable you to export all of your products to your Etsy store.
Integrating with Etsy
Our Etsy integration automatically routes orders for our print on demand products to our global print network, streamlining the Etsy order fulfilment process. Simply connect your Etsy store to Prodigi, and tell us which products to fulfil. We'll take care of everything else, including printing, packing and dropshipping your Etsy orders.
For more information on how to integrate your Etsy store with Prodigi, check out our Etsy integration guide.
Etsy Seller Fees
Etsy listings last up to four months, or until the product is sold. Once your item is sold, Etsy takes a 5% transaction fee (per item) on the sale price plus the shipping fee you have set.
If you accept payments through Etsy Payments, another 4% is taken as a payment processing fee. We advise opting into Etsy payments despite the processing fee. It makes it a lot easier for your customers to pay. With Etsy payments, your buyers can pay by credit card, debit card, Etsy gift cards, Apple pay and Android pay.
Note: Etsy Payments is only available in certain countries. To be eligible, you must have a credit card, bank account and a residential address in one of these countries.
Top tips to make Etsy work for you and your print on demand products
Like all ecommerce platforms, it can be a hard slog at first. You'll have to work hard to get sales going and build yourself a brand.
1. Product photography
How you present your product is going to make a huge difference to your sales.
With Etsy, you get multiple photo slots, with recommendations on how to use them. They suggest getting a photo from every angle and a zoom in shot of important details. It's also recommended to show your product in use, show the scale of the product and present your product in a styled scene.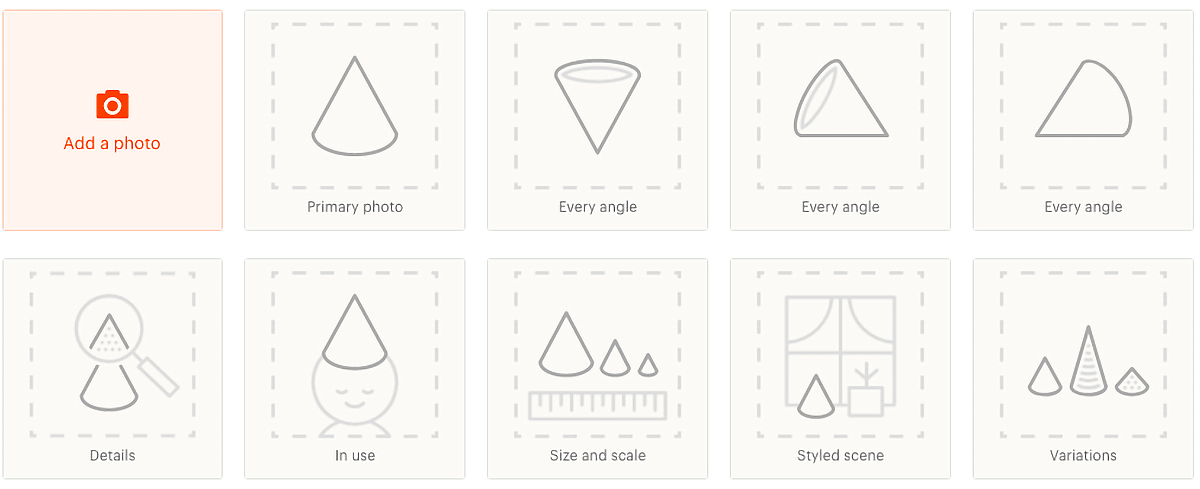 2. Product descriptions
Writing good product descriptions is necessary on any ecommerce platform but is especially important on Etsy. Customers are shopping for unique items so they want accurate, informative descriptions.
3. Utilise social media
Sell on Etsy, but build your reputation on social media. It's important to have a strong presence on popular social media platforms such as Facebook and Instagram. That way you can not only lead people to your Etsy store but also start building your brand reputation.
4. Provide great customer service
You don't necessarily have to provide anything fancy to create a good customer experience, just be clear about your shipping times, be responsive to messages and provide good quality products!
Pros & cons of selling on Etsy
There are many pros to selling on Etsy, but the main print on demand specific pro is the community feel. Because of how Etsy started, it's a very supportive environment, with shoppers who genuinely want to support artists and designers.
So in turn, you get a friendly supportive marketplace, with customers who are generous with their reviews!
Etsy is also easy to set up, cheap to run and it's a sleek, good looking platform.
Now to be balanced, the cons! Your Etsy listings do expire after four months if they haven't been sold. So if your product doesn't sell you will be required to pay to renew your listing.
A few minor cons are that you have to pay if you want to customise your store front, there isn't a blog platform included and Etsy owns your customers information.
Why selling through multiple channels is essential
More than 50% of sellers on Etsy, sell on other platforms as well, so it's not unheard of for items on Etsy to appear on other sites.
Setting up multiple sales channels can seem like a lot of hassle, but in reality it's quite simple. With the likes of Etsify making it simple to export products that are already in your Shopify store to another platform, it's almost a no brainer.
Over 90% of customers want a cross-channel shopping experience. When it comes to ecommerce, it's all a numbers game so if you're not growing your online presence, you're limiting your success.
Multi-channel selling is said to increase buyers' trust, 35% of consumers are uncomfortable buying from merchants they haven't heard of before. So connecting with larger, more well known platforms can help attract more buyers.
Instead of trying to lure customers to you- you're meeting them where they already are! Multi-channel selling simply allows you to reach an audience that may already be looking for your products.
Final thoughts
Etsy works for millions of people around the world, and there is no reason it shouldn't work for print on demand sellers as well. With a huge range of products to choose from, designers can easily create unique items — exactly what Etsy customers are looking for.
If you use the step by step guide in this article, you will be up and running with your Etsy integration in no time.
Looking for an Etsy dropshipping provider? Integrate your Etsy store to automate your Etsy print on demand orders through Prodigi.