What's the best business niche for print on demand success?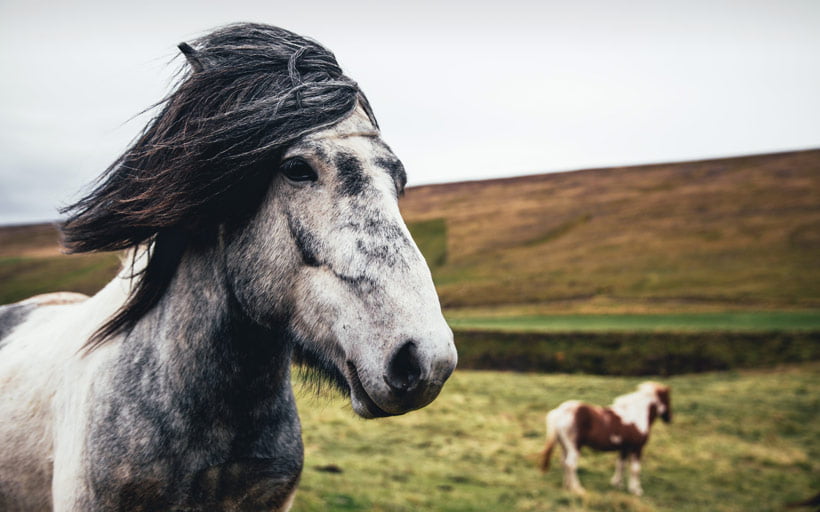 Interested in joining the world's leading print on demand platform?
As the old maxim goes, always write what you know. Lois Bujold has a point, and it isn't just a truism for authors.
For any entrepreneur starting out in print on demand, it's always easier if you know your audience. And ideally, your audience should be easy to identify and easy to reach. In short, they should make a great niche!
What exactly is a niche?
A niche (most commonly pronounced "neesh") is a specific target audience for your ecommerce store. They are a group of people who all share certain characteristics or who all have a common interest — from the mums of newborn babies to cycling enthusiasts.
Why sell to a niche and not just everyone?
With the exception of big brands with bigger budgets, generalist online stores tend to lack cohesion. It's very tempting to think "the more I offer the more chance I have of making a sale" but whilst having a diverse product offering might drive more traffic to your online store, remember the all important measure of success is generating revenue. Critical to this is making the customer journey as simple as possible.
If a customer is looking for a cool mug for their bike mad dad's birthday, and they follow your ad to a site where they see a bike mug, t-shirts for Halloween, flowers, soaps and gin; they feel lost, like they are in the 'wrong' place. Ultimately, they just wanted to peruse a few mug options for bike enthusiasts, and now, they are irritated. The bounce rates — the number of people who land on a webpage and immediately leave — are much higher for stores that are not well targeted and lack a common theme.
When you speak to everyone, you speak to no-one
Generalist stores are also challenging to advertise; if you are selling everything, where do you place your Facebook ads, which online magazines will you promote to? In theory, you are selling to everyone, therefore you have no focus to guide your strategy. Your shop needs a common theme to ground it.
Finding your winning niche
So now that we've sold you on the importance of a niche, how do you find yours?
It cannot be overstated enough that audience insights are critical to business success. For example, if you're already madly passionate about horses, and actively engaged in online equestrian communities, then you are your own audience. Not only do you already know what might potentially appeal to horse lovers everywhere, but chances are, you also already know all the media 'channels' to reach your potential audience, from online Facebook forums to Instagram fan pages.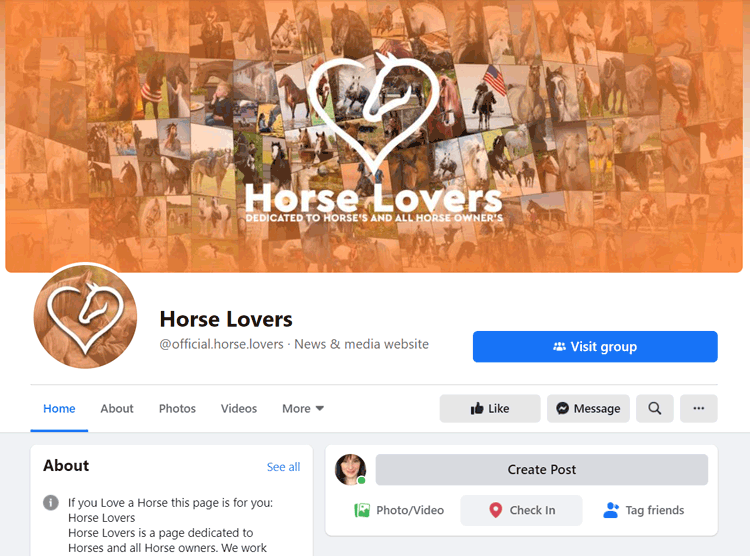 Horse Lovers, Facebook
If your niche ideas fall outside your current scope of knowledge, it doesn't mean you can't be successful, but you do need to take the time to research your target market, getting to know your audience and what might appeal to them.
How saturated is your niche?
Competition is also an important consideration. How saturated is your niche with products similar to yours? If you plan to sell t-shirts with equestrian slogans on Etsy, for example, how many others are doing the same? Look at their products and their sales strategy — for instance pricing — and marketing approach. Can you do better? If yes, great, you may have stumbled on your winning business idea.
In the example below, we can see a good quality print on demand t-shirt design, with a well rated store. The t-shirts and related apparel are clearly selling well — with nearly 50,000 sales in a year.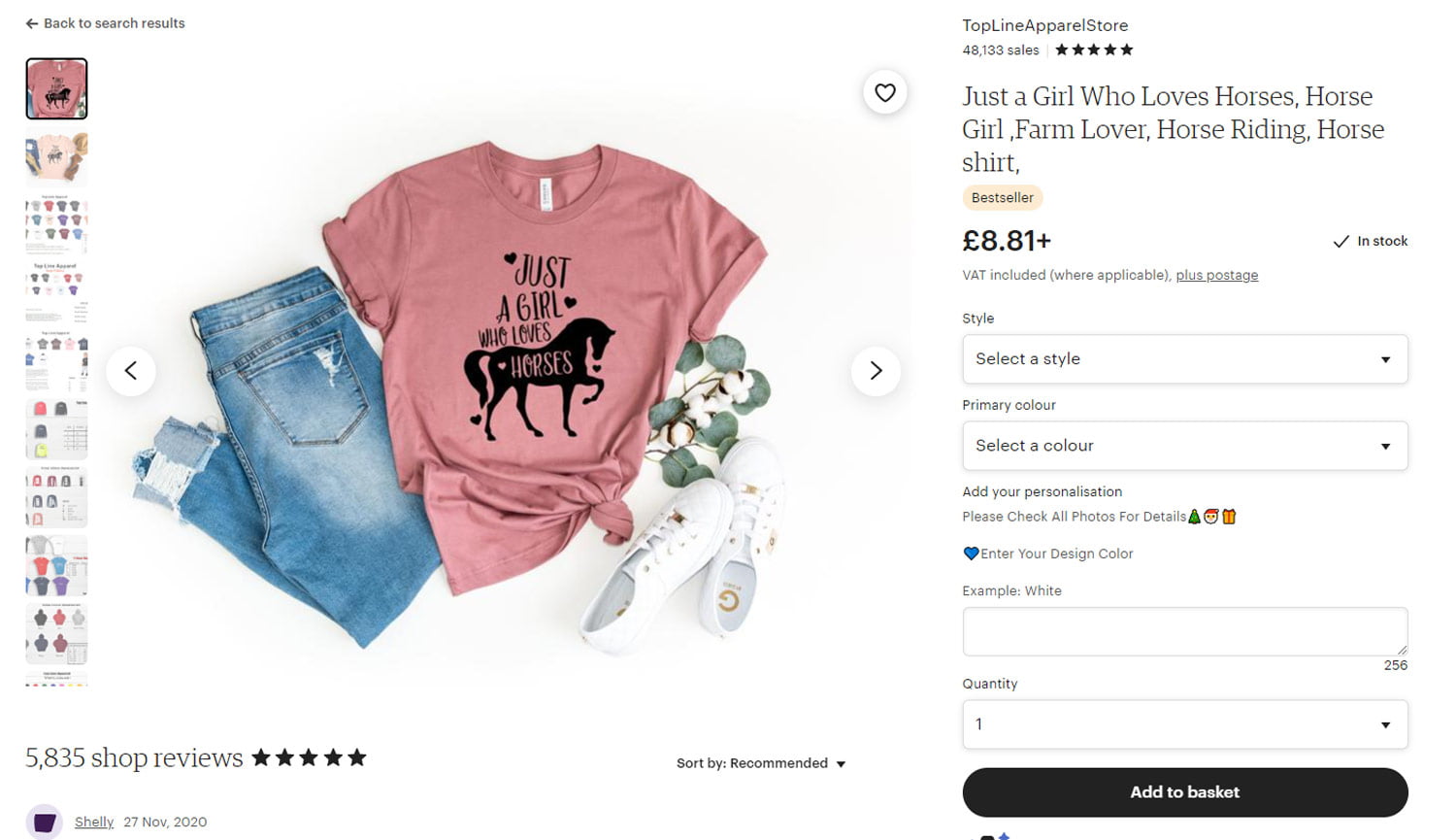 There's a lot of competition though and a lot of the prices are very reasonable, as we can see from the Etsy search results for 'horse lover shirt', with nearly 5000 hits: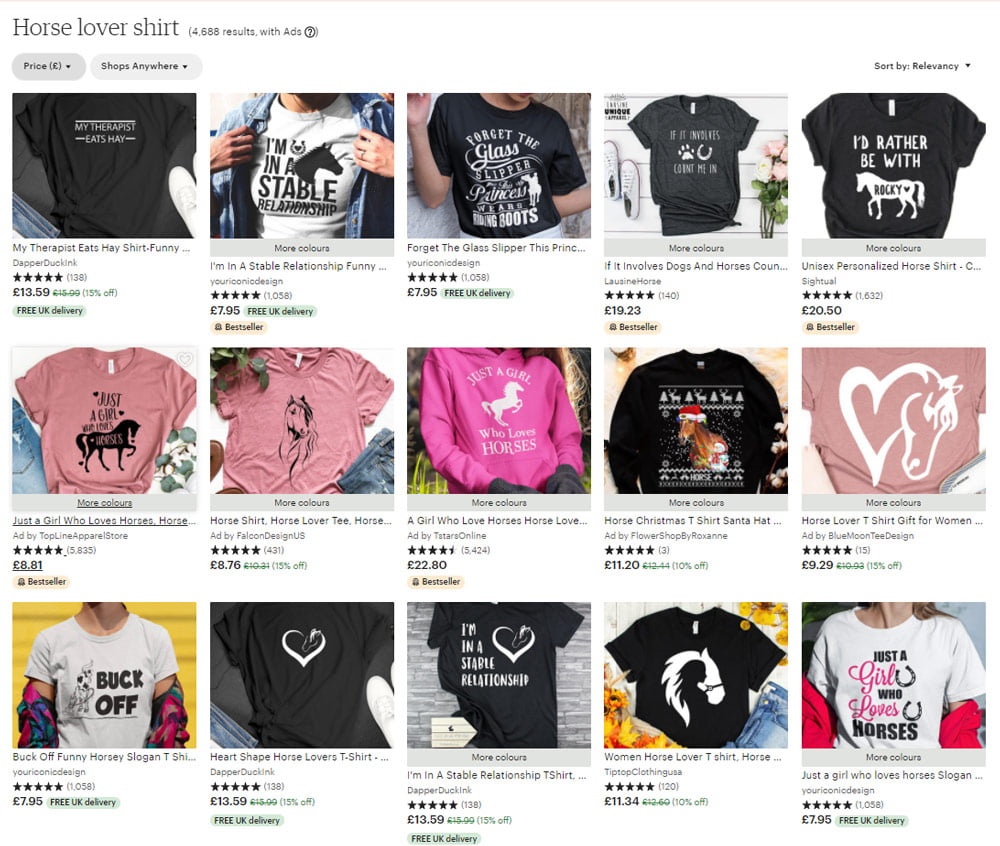 So in our equestrian t-shirt example, you may conclude this market is going to be too competitive, certainly on Etsy at least — unless you feel particularly confident in your design.
Capitalise on market trends
Looking at overall market trends can also be a useful part of the research process. Are you seeing an increase of big brand retailers offering pet related apparel? Perhaps fashion trends are starting to include animal prints? Look for trends in related markets to get inspiration.
In the case of our equestrian t-shirt business idea, seeing an article like this in Vogue would be a good indicator you might be onto something: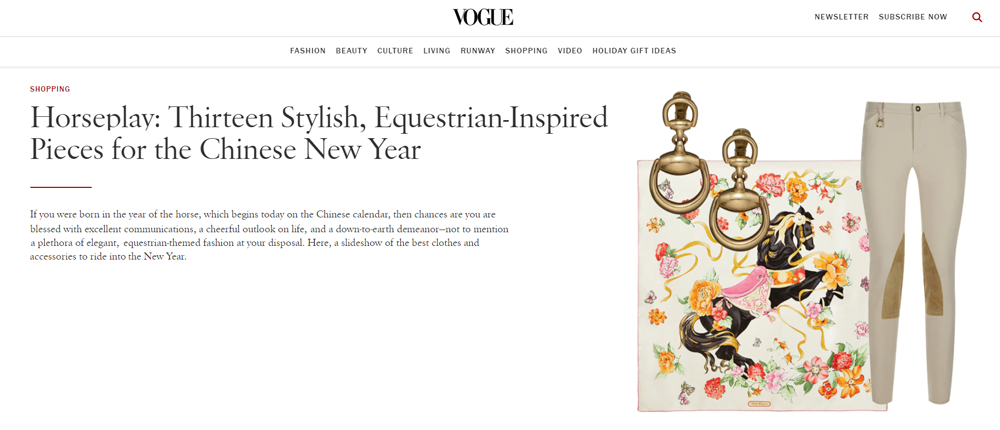 Horseplay: 13 Stylish, Equestrian-Inspired Pieces for the Chinese New Year, Vogue
Look for a point of difference
If you end up choosing a print on demand niche that is super-competitive, then you really need to consider how you might stand out from the crowd. Perhaps you look for a design style that hasn't previously been done well, or offer a product that is more unique. In our example above, we might decide that we definitely want to sell something to horse lovers; however, if t-shirt sales are saturated, there might be something that isn't. Typing 'horse thermal mugs' into Etsy for example, doesn't reap very many results:

What about the why?
You should also consider whether there is a problem your audience has that you might be able to fix? Unrelated to print on demand but nonetheless a great example of this, is the baby food brand Ella's Kitchen. Founder Paul Lindley saw that new mum's wanted 'all natural' baby food due to the market trend for organic products. As no-one else was offering what this niche wanted, he created his own range. Ella's Kitchen now accounts for 20% of the global baby food market.
Sanity check your SEO
One final but crucial part of your research journey is to take the time to look at SEO for your chosen or shortlisted niches. You can do this either within your chosen marketplace — as per the Etsy example above. Or, if you are setting up your own website, you can use an SEO tool such as Moz, to help you to understand the keywords related to your particular niche, and to further investigate the volume of customers searching for the items you want to sell.
If your budget doesn't stretch to a paid SEO service, there are a number of free tools out there, such as Answer The Public, which allows you to interrogate what prospective customers might be asking about topics relevant to your theme.
Also, don't be afraid to use Google itself as a research resource. Google knows what your audience wants, so our top tip is to start typing and see what Google suggests is the number one customer request. If we start typing 'horse lovers' for example, Google is clearly showing that lots of people are looking for advent calendars, hoodies etc.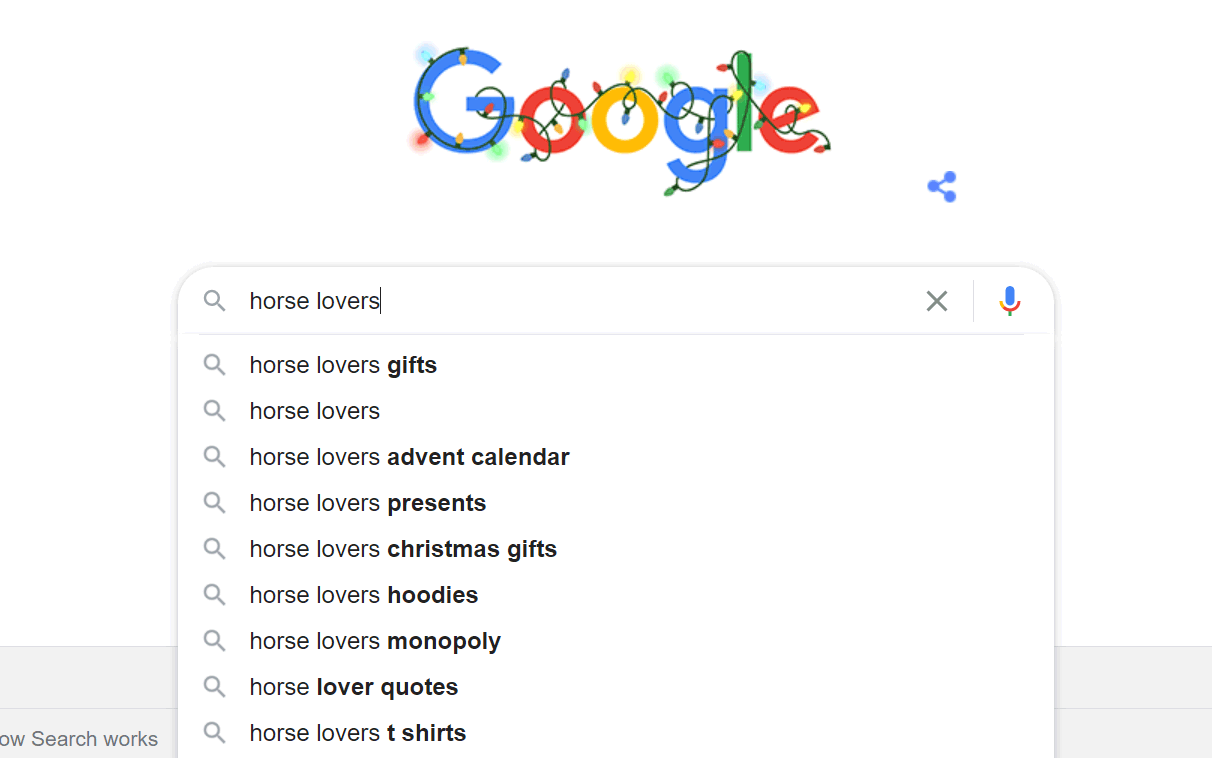 Ultimately, it's all a question of balance. Find a niche that you understand, look to what the audience wants, and research the prospects of this as a viable target market. If you feel it is, make sure you deliver a good quality, appropriate solution that hits the right price point. And don't worry about a bit of trial and error too. The primarily benefit of chosing a print on demand model is allowing yourself the flexibility to test ideas, without having the hassle of pre-purchasing and storing stock.
Want some more inspiration? Check out our extensive product catalogue for ideas on what might appeal to your potential niches.