10 steps to a perfect print on demand product launch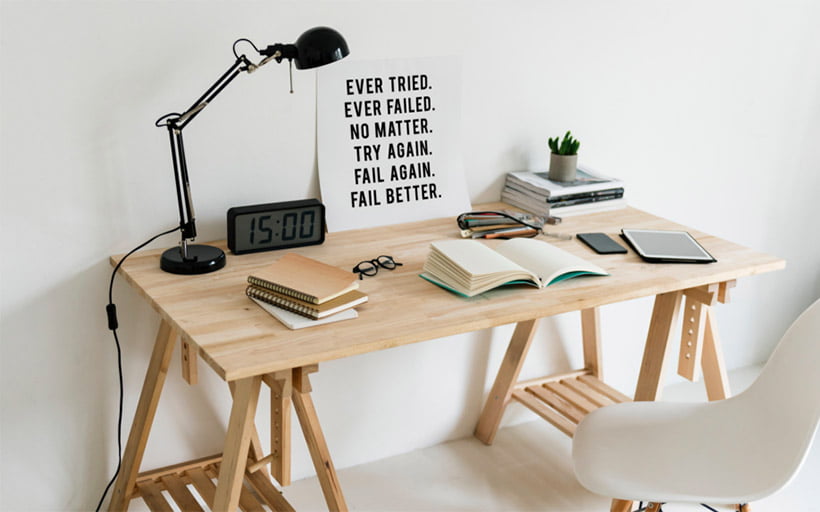 Tags
Interested in joining the world's leading print on demand platform?
One of the (many!) beautiful things about print on demand merchandise is flexibility.
Using a dropshipping model with no minimum order quantities, and no need to order stock in advance, you can be really experimental when it comes to trialling new products and designs.
If they sell in volume, great! If they don't, no big deal, you can try, and try again.
With that said, there are things you can to maximise your chances of success. If you're simply uploading a design or product and throwing it on your store in the vague hope that somebody will find it, you're potentially missing a big opportunity to give that new product the best chance of success.
So, let's talk product launches.
A product launch can be a series of quick and simple steps designed to give your new product a little extra visibility — think of it as a 'kick start' to sales success!
In this article, we'll run through 10 steps to a quick, simple, and effective print on demand product launch.
Step 1: Order and photograph samples
We've talked at length about the importance of product photography. It plays a pivotal role in selling would-be customers on your products.
It's possible, of course, to drum up interest in your products using lay-flat product mockups, but you give yourself greater flexibility over style and product placement by ordering and photographing samples yourself. Showing the product in real-world use often makes it seem more tangible and authentic.
If you'd like to place a sample order for one of your Prodigi products for your photoshoot, and only pay the wholesale and shipping costs, here's how to do it:
Login to our manual order form
Add the product(s) you want to sample
Add your address as the delivery address
Pay for your order
Let us know the order number so we can discount your first sample order by 50%
Step 2: Generate some pre-launch buzz
This may seem counterintuitive, because it flies in the face of one of the benefits of print on demand product development (namely, the fact that you can have products live and ready to order within minutes).
However, there's a powerful psychological impulse behind pre-ordering. As customers, we always want the things we can't have — even if that restriction is temporary and artificial.
There's a reason why companies don't simply announce new video games or mobile phones on the day they're released. They're announced months, if not years, in advance, building buzz and excitement along the way. A product that's "Available soon!" is just as exciting (if not more so) than one that's "Available now".
PreOrder Me is a Shopify plugin that lets you add a 'preorder' option to your products. Just install the app, navigate to your chosen product and hit the 'Enable Pre-Order' button.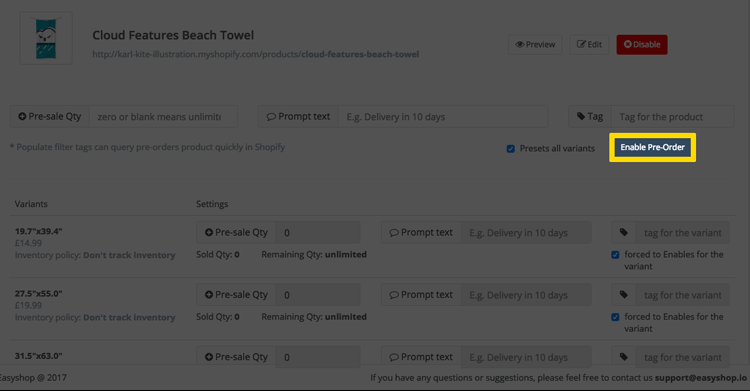 When your customers then land on your product page, they'll see a 'Pre-Order Me' button that lets them order the product.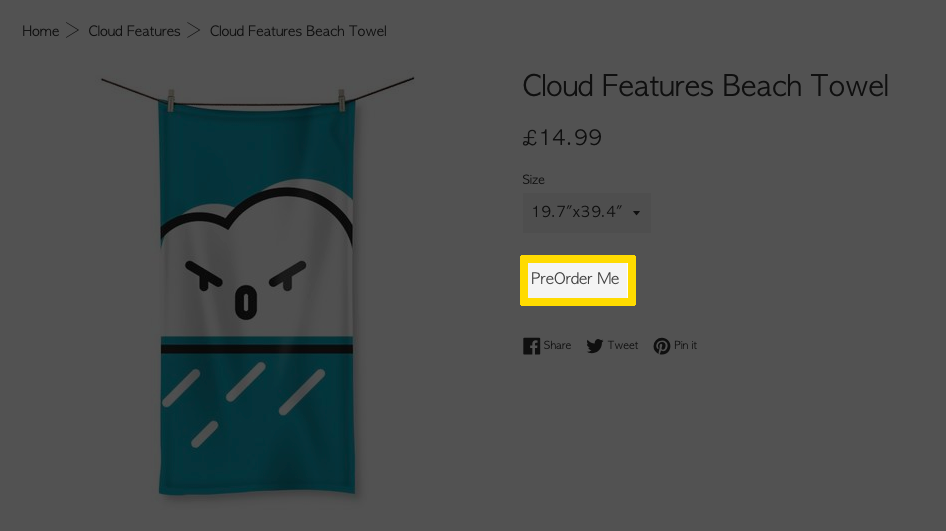 Step 3: Start spreading the news
The golden word for new product launches is 'visibility'. If you're an established seller — and particularly if you're an influencer — your audience is already there. You just need to let them know about your new products. This often means auditing all your customer touchpoints to identify potential avenues to get the word out there.
As a minimum, you should really look to create some content around your new products. These examples from George Ezra and GameGrumps are funny, entertaining and shareable: great at raising awareness.

Another of the 'low hanging fruits' is your social profile imagery. And the good thing is, even if you lack the latest design software or pro designer skills, you can use tools like Canva to drag-and-drop your way to amazing, eye-catching artwork.
Search for the specific image type you're looking for — whether it's a Facebook cover, Twitter header, or anything else…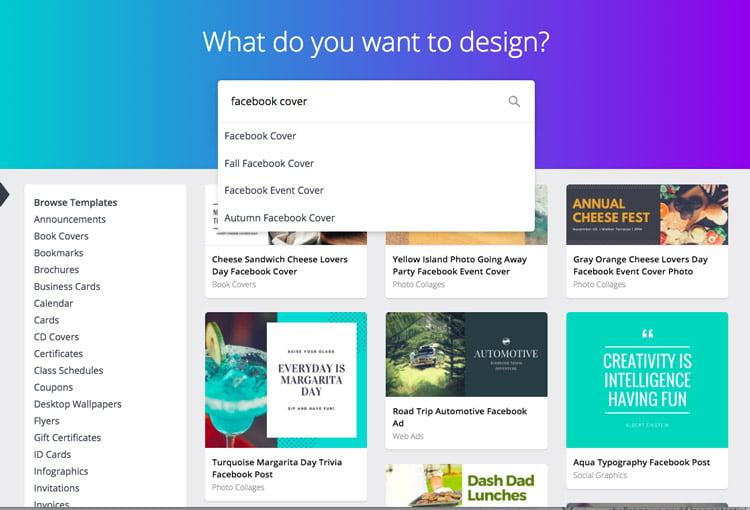 Choose a template you like, then use the straightforward editing tools to make it your own. You can change colours, edit text and imagery, to create something beautiful that doesn't look like a template at all.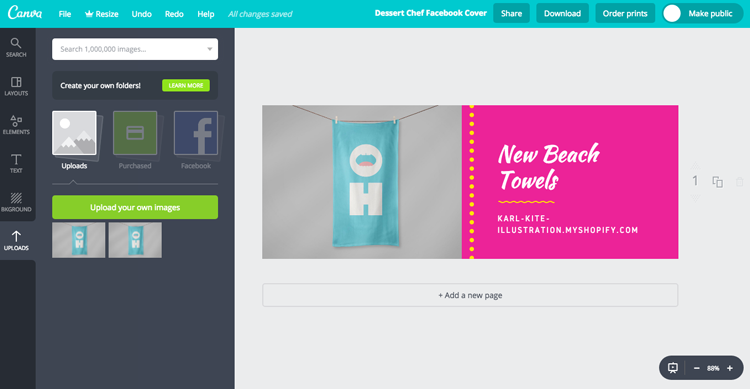 Step 4: Introductory offers
As an online seller, you can never underestimate the persuasive power of a temporary discount! In a world where 'cold customer feet' are the enemy, limited time discounts help create FOMO (fear of missing out). It's a powerful stimulus pushing people towards completion. All this makes discount codes a must-use tactic. After all, research suggests that around 93% of customers use a coupon or discount code throughout the year.
What's more, according to Shopify figures, merchants with an active discount code are 8 times more likely to make a sale.
Discount codes also happen to be incredibly easy to set up on Shopify. Just hit the 'Discounts' option from your Dashboard.
At the 'Create discount code' menu, you can specify the code you can share with your customers, and determine how much discount they should get. For new product launch discounts, check 'Applies to Specific Products', before selecting your new product.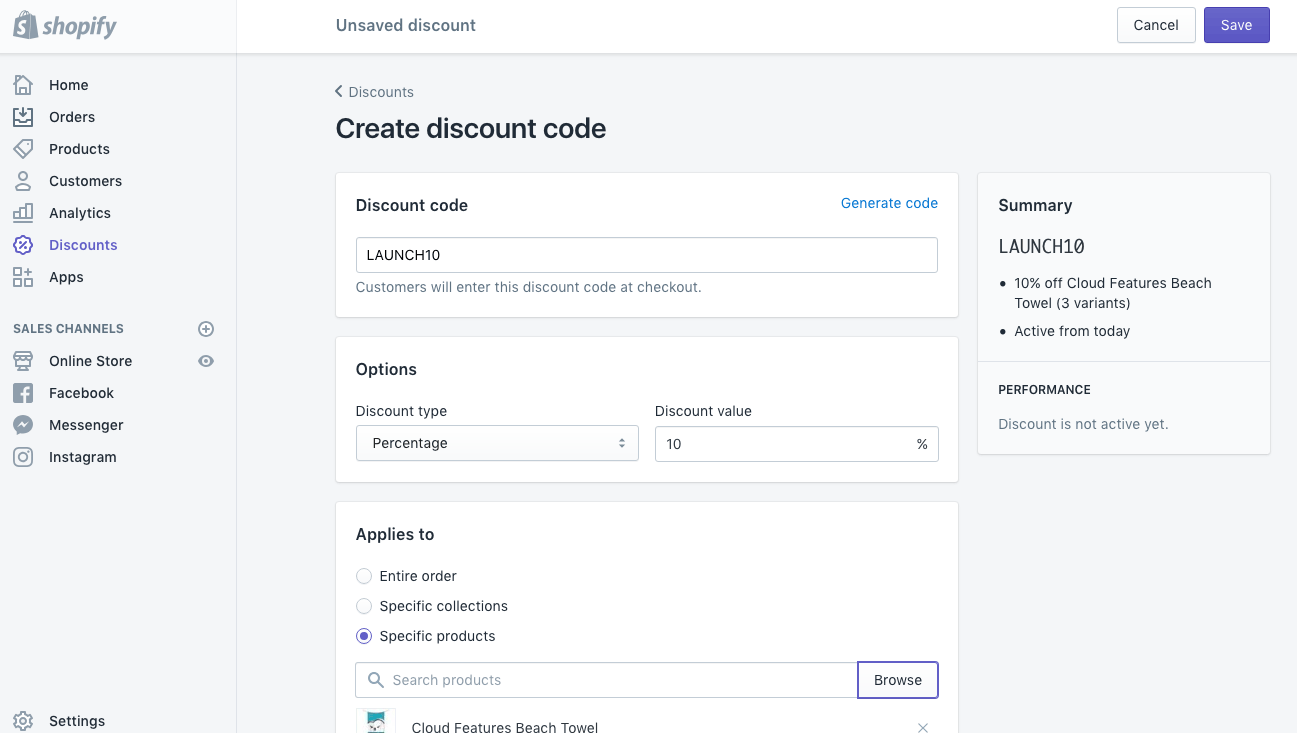 By default, your promotion will begin immediately, but you can also tweak the start and end dates, and promote these dates accordingly. If your customers are hesitating over purchasing, the knowledge that a discount code is set to expire soon can be a good incentive to push them over the line.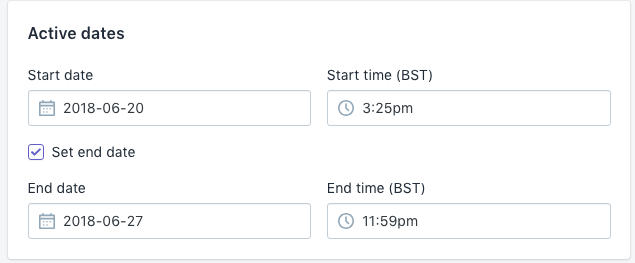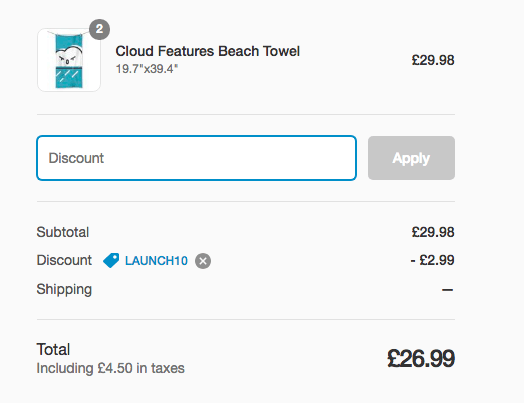 Step 5: Contact existing customers
Once you've created your discount code, spread the word! Your email list is probably full of people who'd be interested to find out more about your products (and, particularly, snag a discount.)
What you actually say and how you position your product depends largely on your personal brand and the style in which you usually interact with your customers. Check out this Appcues blog for some inspiration from some of the brands who have introduced products well.
If your products are discounted, this is definitely something to include in the subject line. It's been suggested that 75% of consumers will scour their inbox just to look for relevant discounts.
If you check out the email below from influencer Stephen Sharer pushing his print on demand merch, you can see that there are two key themes: discount and exclusivity. You want to create emails that beg to be clicked, but also that give the recipients the sense of being part of something special.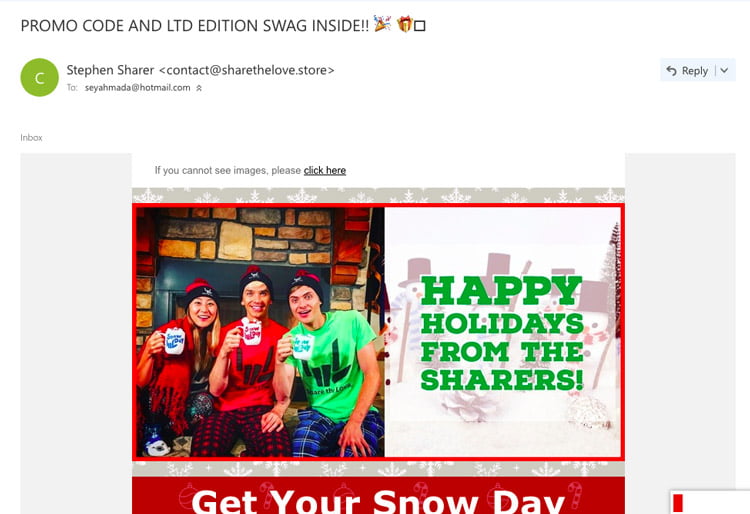 Step 6: Top-and-tail your Youtube videos
This is an absolute essential for YouTubers.
We've talked at length about the importance of boosting the visibility of your products among your existing audience, wherever they may be.
And if you've already got an audience of people digesting your content on YouTube, why not tap into that potential by creating a short 5-second intro and outro for each of your videos?
You don't need to reinvent the wheel here. It could be as simple as a video of you wearing the product and saying: "Check out my new <product name>, right now by clicking the link in the bio!" You can even use YouTube annotations to create a clickable hotspot in the video that leads right to your store.
Step 7: Set up some advertising
For influencers, reaching your existing audience is often the easiest and most efficient way to generate sales. But there are a number of circumstances in which paid advertising would be an integral part of a new product launch.
It may be influencers looking to grow their audience or reach new people; or maybe your design is targeted towards a particular customer type. So, let's say you're releasing a new design like this one from Dadmin Store…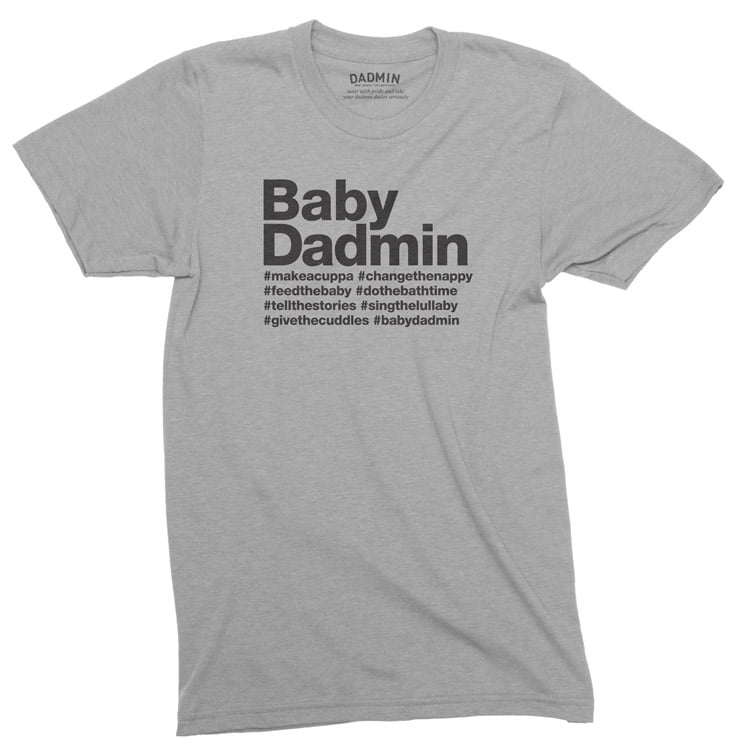 Clearly, this is a piece of merchandise with a defined target audience: dads! Dads wouldn't need to have any particular relationship with the store or business in order to be attracted by the product.
You could therefore target your ad campaign specifically at fathers. In Facebook Ads Manager, for example, under 'Detailed Targeting,' we could run a simple search for 'parent', and target our ads towards those who either list parenting among their interests, or simply are identified as 'parents' by Facebook's demographic data.
As you can see, you can even target based on the age of the kids — and, given that the design features hashtags such as #changethenappy and #singthelullaby, we can probably surmise that the target should be dads with younger kids.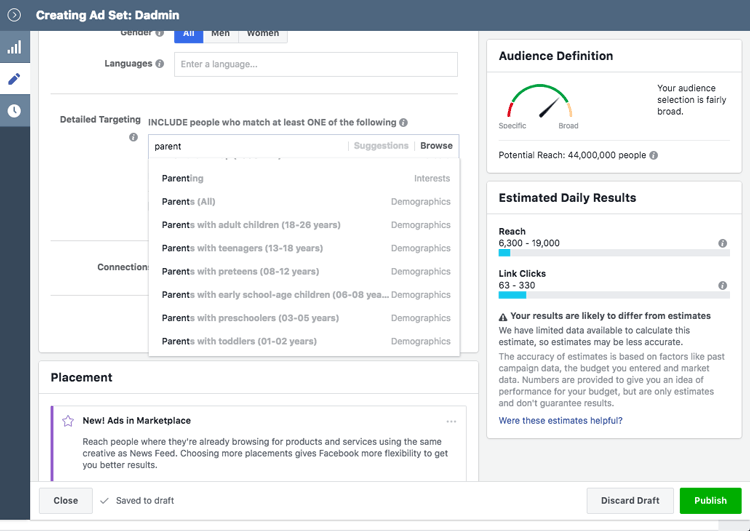 When you start adding in these targeting options, you soon realise how focused and granular your ads can be.
Check out our post on Facebook marketing tips for more information.
Step 8: Launch events
Just because you're selling online, doesn't mean your product can't make a splash in the real world! Some influencers such as Logan Paul make a conscious effort to bring their merch 'offline', whether it's turning a first class airline bathroom into a merch store or shooting merch out of a cannon (don't try this one at home, kids!).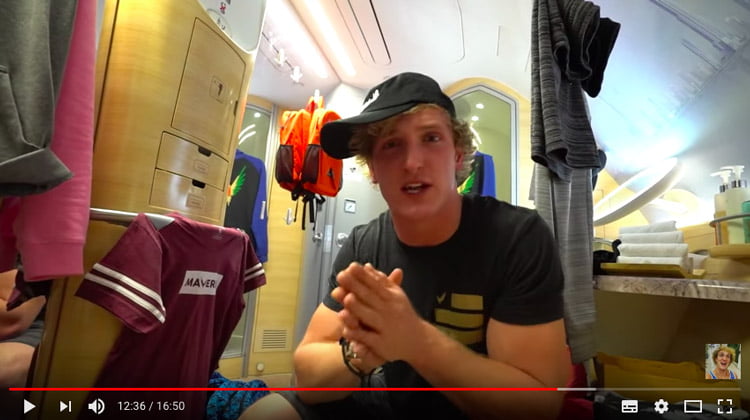 Either way, while we wouldn't necessarily advocate something that far out there, there's no reason you couldn't hold a physical launch for your products, particularly if you're in an easily accessible location. This gives your fans and followers the chance to meet you and, of course, with the merch being the focal point of the event, it's likely to sell like hot cakes.
Just like the #logang examples above, these events can also feed back into your digital profile, generating cool pieces of content for you to upload and share. Win win!
Step 9: Contests and giveaways
Much has been written about the value of contests and giveaways, and there's plenty of evidence to suggest that they can achieve great things across a wide range of industries and niches.
They're a particularly good way to build buzz ahead of a new product launch. Why? Well, there are a bunch of barriers to any purchasing decision. Contests and giveaways remove many of those barriers by saying, "Hey, what if you could have it for free?"
You can run a contest through Facebook using an app called Contest
People enter contests and imagine themselves with the prize.
Step 10: Get feedback
What if you could harness the opinions of your potential customers, and let them tell you what they want to wear? Polls and votes are a really effective way of bringing a different angle to your print on demand merchandise marketing.
If you're mainly making videos, you can add a poll on YouTube to collect thoughts and feedback from your viewers.
Simply head to your Creator Studio and select the video in which you want to create a poll. In the Video Editor, click 'Cards > Add Card > Poll (Create),' then build out the question and potential options you'd like to ask.
It's just as easy to create polls through Facebook; click 'Write a post' like you normally would, then hit 'Poll' under your list of post options.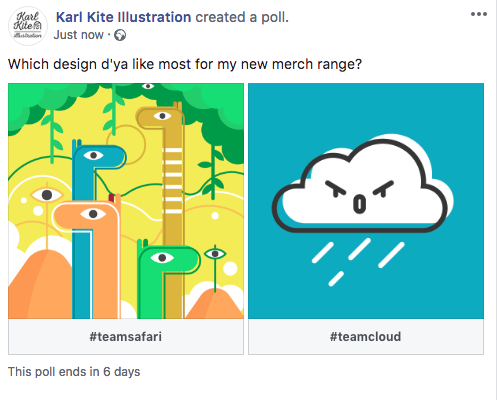 Write out a post…select the voting options…and you're all set.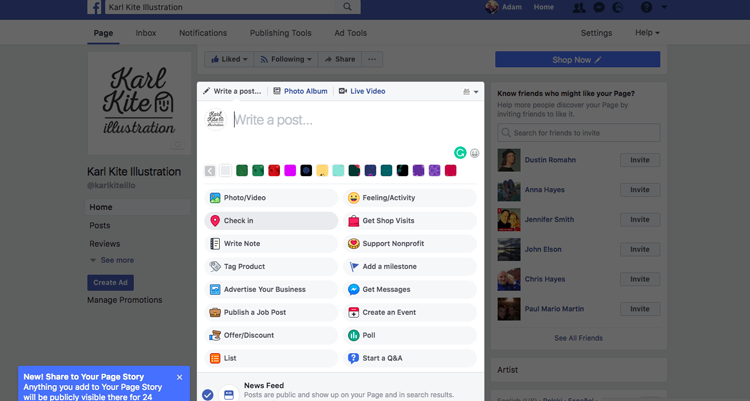 You can assign hashtags to your voting options to get a little buzz going on social media. And, if you don't have a clear winner…go ahead and sell both options; make the people happy!
Check out our huge range of print on demand custom merchandise products.