Are you stocking the right eco-friendly products in your online store?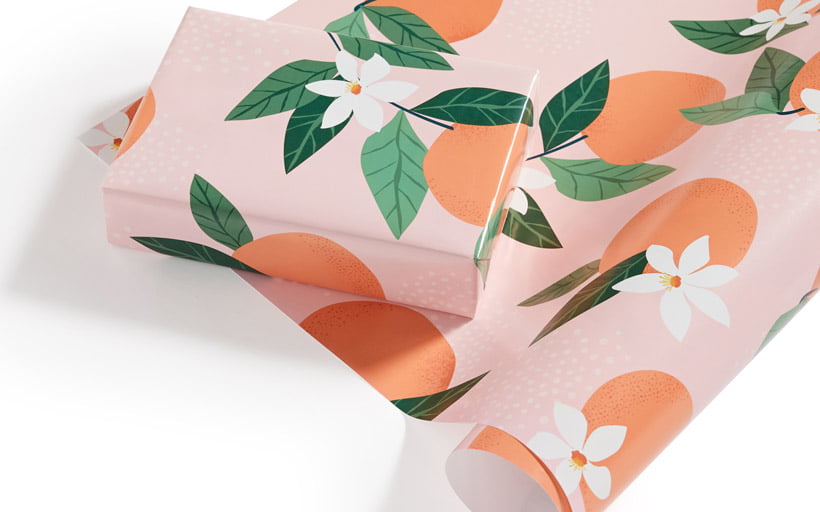 Tags
Interested in joining the world's leading print on demand platform?
The preference for environmentally friendly products is clearly increasing. Over half of all online consumers state that ecological concerns impact their purchasing decisions. And more than 60% of both Millennials and Generation Zedders say they would pay more for eco-friendly products. That's a good chunk of the most adept online shoppers actively looking for green alternatives.
For any ecommerce retailer, it's a big audience that you really can't afford to ignore. This gives store owners good reason to develop new products and position existing ones in ways that align with this growing market trend.
While it's usually not necessary to overhaul your store and then paint it green, it's probably worth considering whether your product range offers the right mix to satisfy any would-be eco purchasers.
And of course, it's not always just a commercial decision, but a must for any business that genuinely wants to build an enduring sustainable brand.
But how green is print on demand?
The beauty of print on demand is that the physical printing only happens once an order is placed. This minimises carbon in production, physical product consumption and materials waste.
Buy less, choose well.
Advances in ink technology and the use of energy efficiency printers and materials also help to boost eco credentials and reassure consumers.
Coupled with intelligent routing and localised manufacturing, print on demand drop shipping ensures a leaner, greener and faster production process.
So what are the greener print on demand options?
At Prodigi, we offer a wide range of eco-friendly print on demand products. From recycled t-shirts and phone cases to sustainably sourced wall art products, we aim to provide a diverse range perfect for any ethical trading brand. Here are just a few of our top sellers!
Eco-friendly phone cases
Our eco phone cases offer a unique and beautifully designed, eco-friendly, protective phone case for all the latest iPhone models. Composed of a flexible yet tough 100% biodegradable bioplastic and bamboo fibre mix.
This stunning eco case is free of environmentally damaging phthalates, BPA and cadmium, and will biodegrade fully in compost.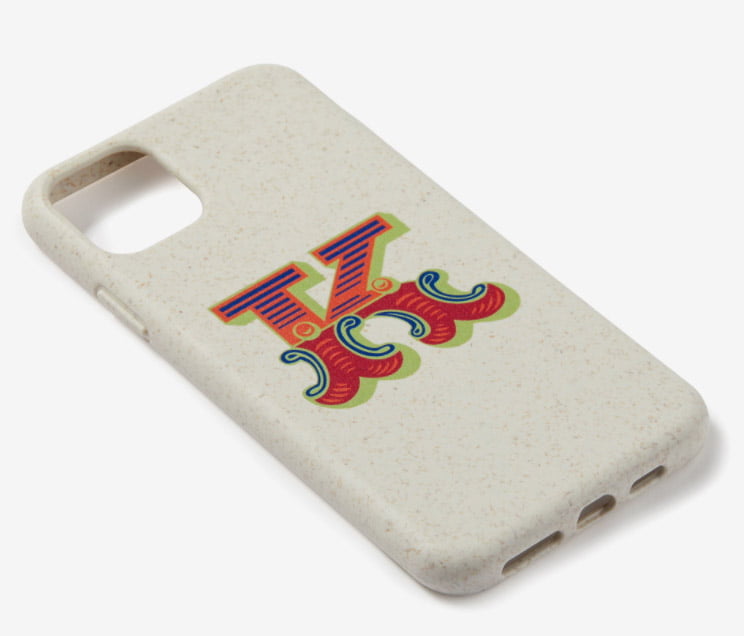 Eco-friendly watch straps
Brand new to the market, our 'eco leather' range represents a major development in sustainable materials technology. It's a superior alternative to other faux leathers, which contain plastic that's harmful to the environment.
Compatible with any watch that has a 38mm or 42mm strap, including all Apple models, the straps attach securely to the customer's watch with quality-engineered lugs.
Polymers made from a plant-based paper combine with cotton fabric to deliver a delicately textured, water-resistant material with superb antibacterial properties. All fibres are from sustainably managed forests, and our eco leather is also fully biodegradable.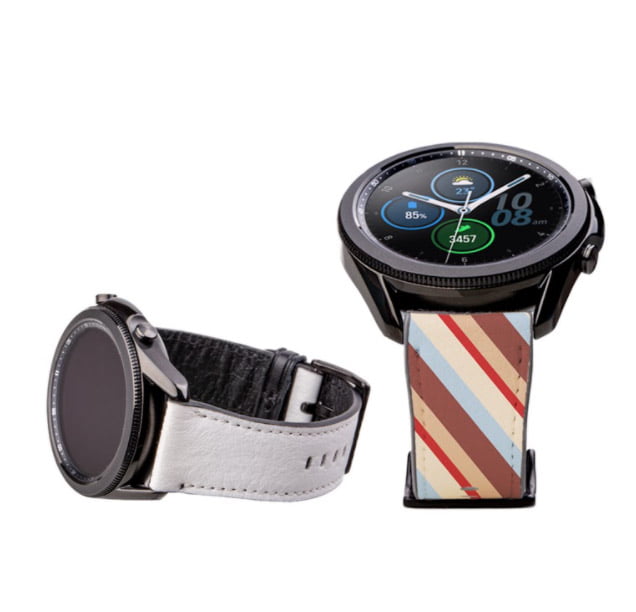 Eco-friendly folio pouches
Also made from cutting-edge eco leather material, these customisable folio cases protect your customer's iPad against bumps and scratches. Featuring a magnetic pen holder and stitched pockets for extra storage. This unique case also doubles as an iPad stand.
Maple wood prints
If you'd like to offer something that's a bit different in your online store, these striking prints are a great eco-friendly wall art option, made from maple wood board sourced from sustainable forests.
Each of our maple wood custom panels is printed directly on to 1/2" thick maple surfaced wood, giving a warm and natural-looking print.
The stunning wood grain shows through the light or non-printed areas of the image, producing a natural warm tone and retro vintage feel.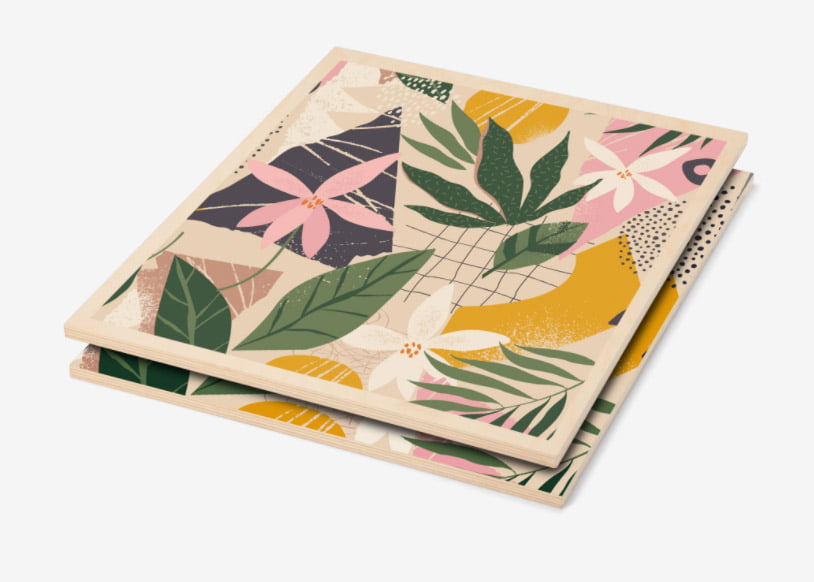 Eco-friendly tote bags
Our custom printed canvas tote bags are perfect for all eco shoppers wanting a durable tote for everyday use. These easy to fold bags are made from a hard wearing 360gsm canvas, and feature 26" sturdy black handles.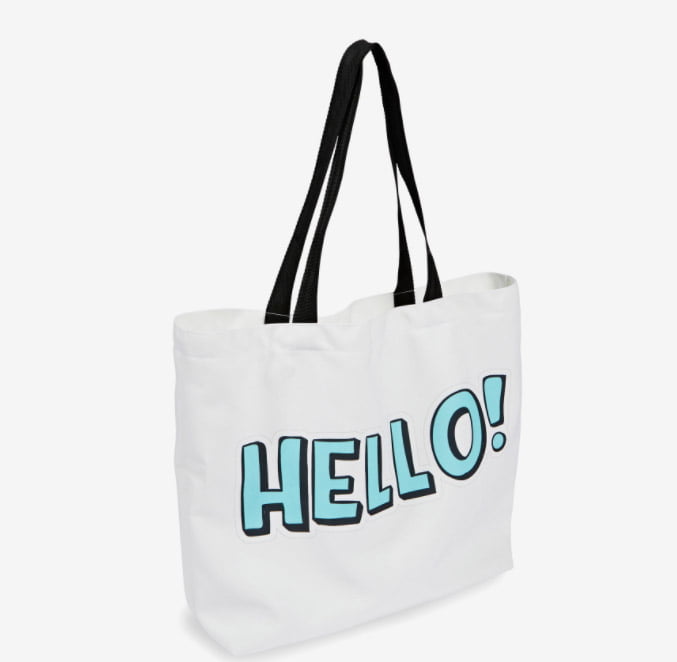 Art print with hanger
Encourage your customers to replace their prints, but not their frames, with these unique print on demand poster hangers. Available to purchase either with or without a fine art print, these slimline wooden poster hangers come with a discrete magnetic fastening to keep prints perfectly secure. Hand-crafted from beautiful, solid wood, our picture hangers are ideal displaying prints using a simple, contemporary design.
Your artwork is Giclée printed onto our premium Enhanced Matte Art paper, finished and supplied to your customer with a hand-crafted solid wooden hanger.
Eco-friendly patches
Consumers can repurpose worn clothing using these print on demand patches. Fabric patches are versatile and hard-wearing, perfect for enhancing apparel or accessories such as bags, hats, jackets and t-shirts.
Made from high-quality spun polyester, our custom badges are both heat sealed and overlocked, to protect against cracking, peeling and fraying.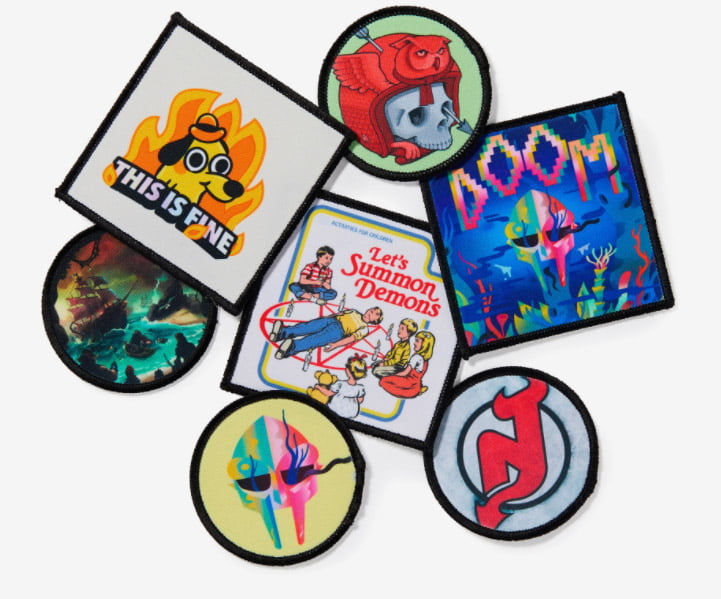 Eco-friendly wrapping paper
If you're running an online gift store, why not offer complementary environmentally friendly wrapping paper? Our custom gift wrap is printed on sustainably sourced paper using water-based inks — which are 100% non-hazardous, toxin-free and vegan friendly.
With a beautifully smooth and silky finish, our print on demand wrapping paper has a truly premium feel. It's quality and strength means it cuts smoothly and folds easily making for very easy wrapping.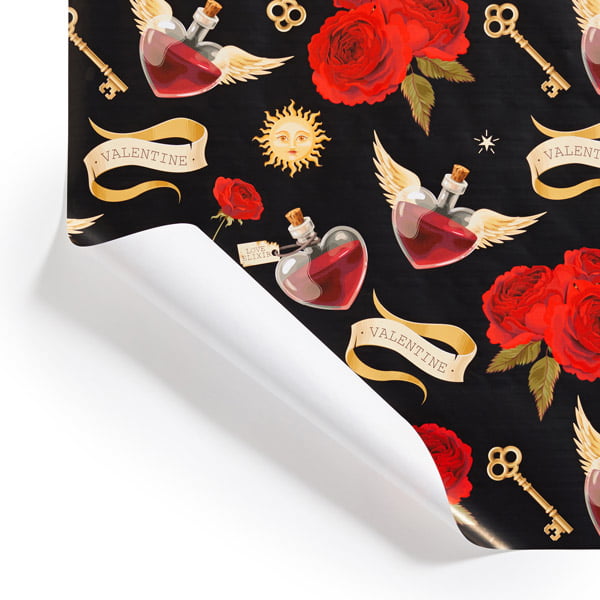 So that covers the products, what about the business?
As well as offering a range of eco-friendly product options, there's more you can do as a business to promote your sustainability credentials.
Consider writing a sustainability statement or policy, and include some clear KPIs that you can measure your performance against. When drafting your policy, think carefully about the areas of business you can control directly — such as choice of printing suppliers, staff transport and so on. Keep your measures manageable and achievable.
A less formal option you could consider is to add a blog or opinion piece on your website, stating your environmental position or outlining any measures you might be taking to improve — from charity donations through to carbon offsetting, there are a plethora of schemes online to help businesses make a difference.
Climate Care offers an online calculator for calculating carbon use, as well as the option to invest in offsetting.
You can also grab some free digital business sustainability guides from The Sustainable Business Toolkit.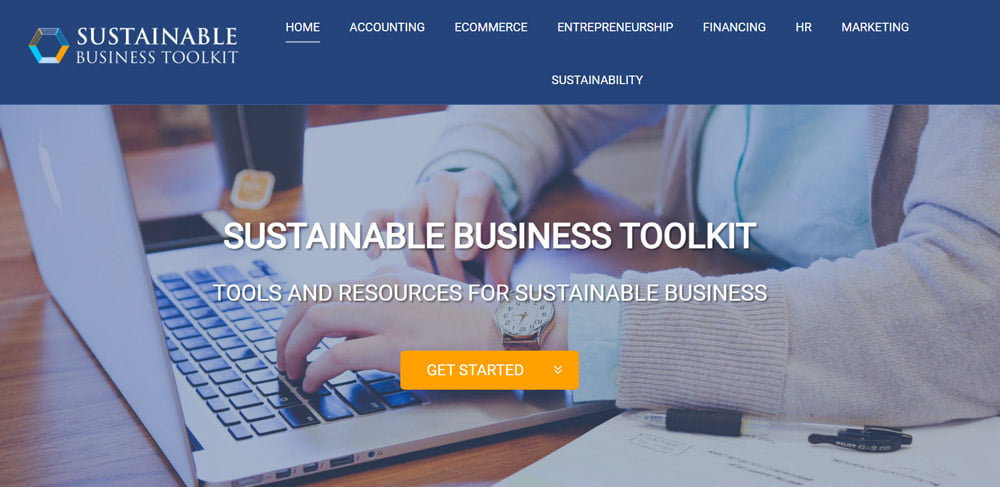 However in-depth you decide to make your approach, there are plenty of resources available.
Find out more about how Prodigi tackles sustainability through our approach and policies.
For more information about our eco credentials, or to make an enquiry about our eco-friendly product ranges, contact sales@prodigi.com.