Best t-shirts to sell in your Shopify store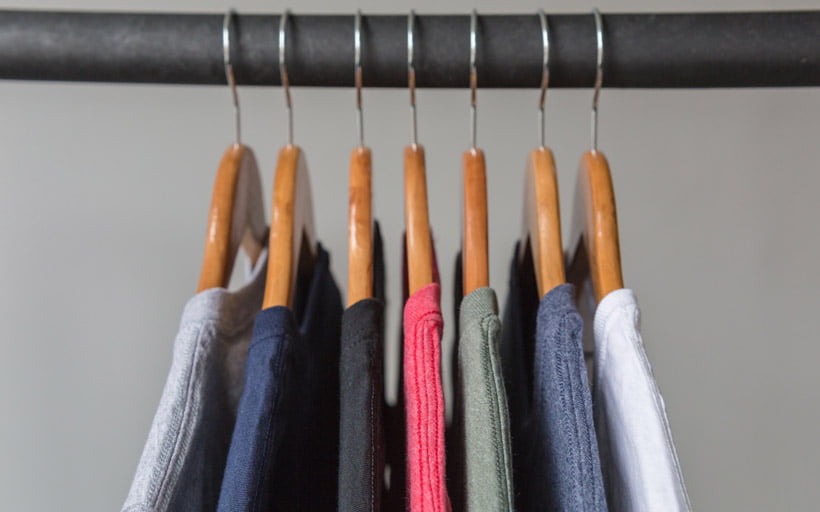 Interested in joining the world's leading print on demand platform?
There's no debating the fact, custom branded apparel sales are booming! By far the fastest growing category for print on demand businesses globally, personalised clothing is expected to be worth more than $10bn by 2025 (ComCap Market Report, 2019).
Coupled with this, there is a real trend towards personalisation, with custom branded apparel customers willing to pay — on average — 25% more for bespoke apparel. Food for thought for any prospective Shopify store seller considering what products are best to generate online sales.
Whilst hoodies, sweatshirts, hats and socks are very popular, t-shirts are by far the most in demand of all apparel items. As a result, the choice of potential custom t-shirts to list in your Shopify store are seemingly endless, with every possible colour and style permutation at your fingertips.
So this begs the million dollar question, which t-shirts are the best to sell in your Shopify store?
The answer of course, lies somewhere between how you want your brand to be perceived (for example cheap designer t-shirts or best in class premium quality apparel), what t-shirt styles lend themselves best to your designs, and your price point for maximum return on investment.
Below, we've cherry-picked some of the best-quality print on demand t-shirts around, to help you find the right custom apparel options for your ecommerce store.
Eco-friendly t-shirts
If your brand is all about sustainability, there are some truly fabulous eco-friendly options available in both men's, women's and children's personalisable tees. The front runners for us have to be the Gildan 64000 and the Continental SA01.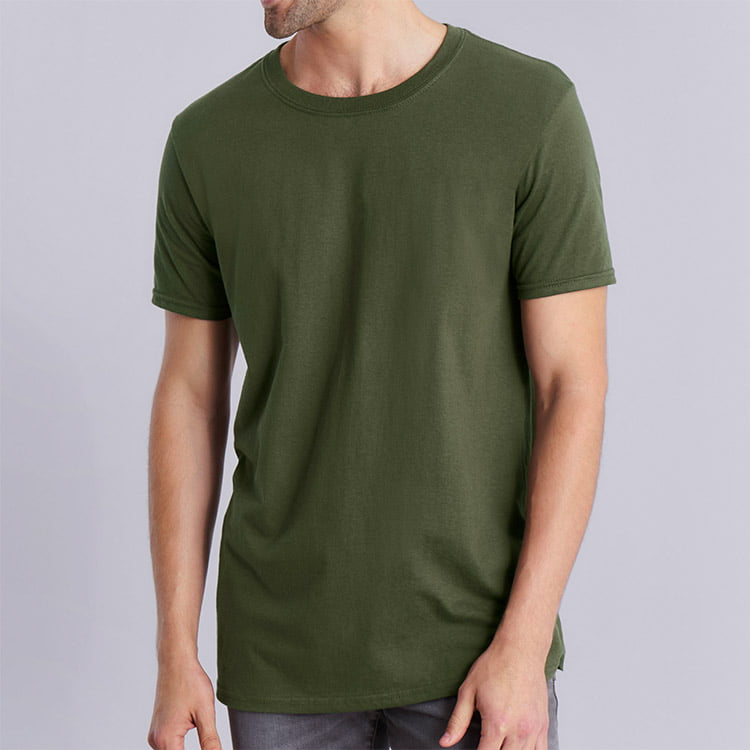 Gildan 64000 eco t-shirt
The Gildan 64000 is an easy to wear, fitted soft spun shirt available in a range of sizes and colours to suit your design needs. This crease resistant, custom tee is a premium quality, preshrunk jersey knit shirt that's 100% cotton. Its classic crew neck offers a timeless design with a round, tapered neck and shoulders, seamless double threaded 1.9cm collar, sleeve and bottom hems, plus a rolled forward shoulder detail.
The softstyle fabric has a high stitch density creating a smooth surface. It's an excellent base for our direct to garment print technology, so you can expect great results every time.
From an environmental perspective, Gildan clothing is accredited via the Worldwide Responsible Accredited Production (WRAP) scheme. The cotton yarn itself is also ethically sourced from a Sedex audited supplier.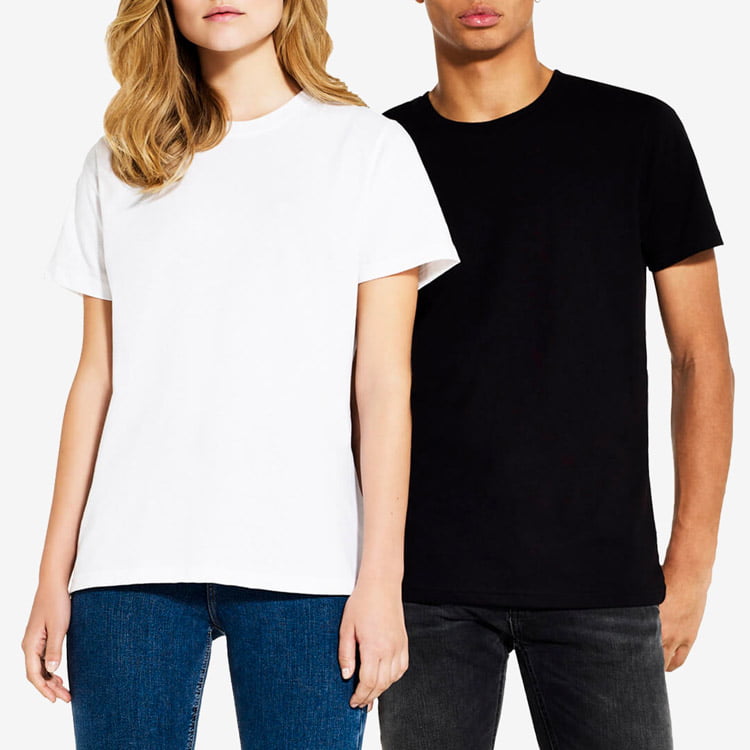 Continental SA01 eco t-shirt
The Continental SA01 tee goes one step further, being made from 100% recycled material. It has a modern fit and makes an excellent addition to sustainable apparel collections.
Part of the Salvage Range at Continental Clothing, this classic fit t-shirt provides a perfect fashion choice for ethical clothing brands. The cuttings from organic cotton textile production are salvaged, shred and turned back into soft cotton. Fibres made from locally recycled plastic bottles are added and spun to obtain a soft, comfortable cotton and polyester fabric yarn. Each tee contains 5 large recycled bottles!
Continental Clothing has both Fair Wear Foundation and Global Recycled Standard certification.
Cheaper t-shirts
If you're looking for a cost effective, durable, heavyweight cotton t-shirt with a classic fit, look no further than the Gildan 5000.
One of the most popular Gildan branded custom t-shirts, this classic fit top features a crew taped neck and shoulders. It has a relaxed style that's ideal for everyday and casual wear. Our price starts from £5.02 per finished unit, which makes the Gildan 5000 a good option for those wanting a cheaper tee to sell at a more competitive price on Shopify.
The tee is made from 100% preshrunk cotton and makes an excellent base for direct to garment print. With heavy cotton material and double-needle stitching the Gildan 5000 will last wash after wash. Available in a vast range of 36 stunning colours, with 8 sizes to choose from.
Premium t-shirts
We offer a range of premium print on demand t-shirts — our top recommendations for Shopify sellers include the AS Colour 5001 classic fit tee and the Gildan 3800 polo tee.
AS Colour 5001 t-shirt
The AS Colour 5001 is a 100% combed cotton shirt, the perfect addition to any premium custom apparel range. The 5001 has a crew neck, short sleeves and regular fitting, brought together to create a simple, classic style which has a soft and luxurious feel. Side seams and shoulder-to-shoulder taping help the t-shirt retain its shape. Double needle stitching and neck ribbing is used for added durability.
At 180gsm, this classic shirt is midweight and comfortable. Available in a suite of monochrome shades, with 6 different sizing options.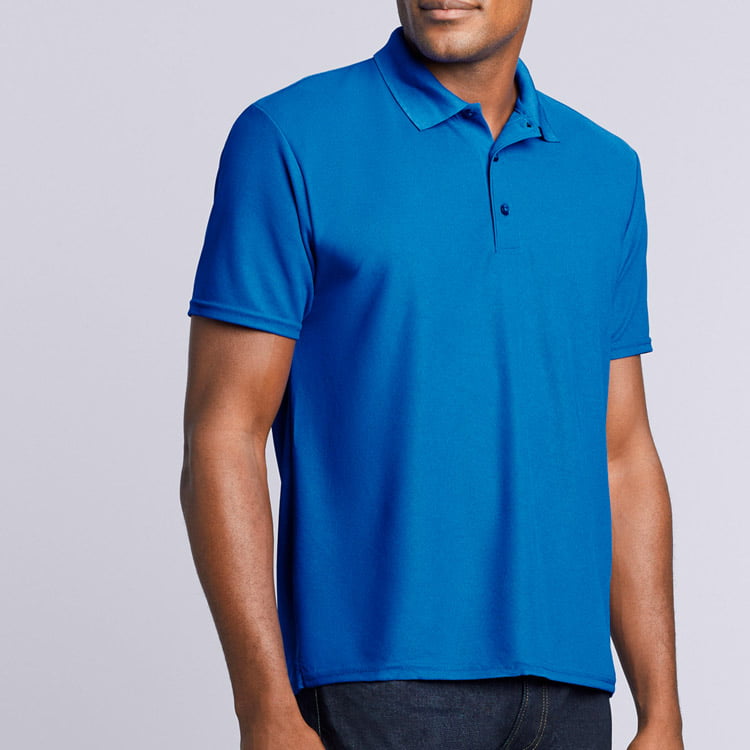 Gildan 3800 polo shirt
If a polo style is what you're after, you'll be hard pushed to find a better quality option than the Gildan 3800. This polo shirt is made from premium ring-spun cotton and woven in a piqué knit to give fantastic performance.
This shirt has a polo design with a clean finished placket, reinforced bottom box and 3 stylish woodtone buttons. A contoured welt collar and cuffs with side seam construction give the shirt a structured classic fit. It's been quarter turned to eliminate centre crease and preshrunk to minimise the risk of shrinking in the wash. Double needle stitching has been used at the bottom hem to ensure last lasting durability.
Urban style t-shirts
For urban style streetwear with a relaxed fit, the Bella+Canvas 3006 long-bodied tee is the perfect addition to any lifestyle brand.
Inspired by the growing streetwear trend, this modern tee features side seams and a rounded drop-tail hem. The jersey shirt is available in premium 100% airlume combed and ring-spun cotton (white and black tees) or a cotton polyester blend (heather grey tee).
Available in 5 sizes and 3 colours, the Bella+Canvas 3006 custom tee is printed using our advanced direct to garment print technology, and ready for dropshipping to your Shopify customers in just 48 hours.
Vintage style t-shirts
We highly recommend triblend t-shirts when creating vintage style apparel. A blended material mix gives both depth and fade to your customised tees, which is ideal for achieving a retro look.
Our most popular vintage option is the Bella+Canvas 3413, a unisex print on demand triblend shirt with a looser, modern fit — it's the perfect fashion tee.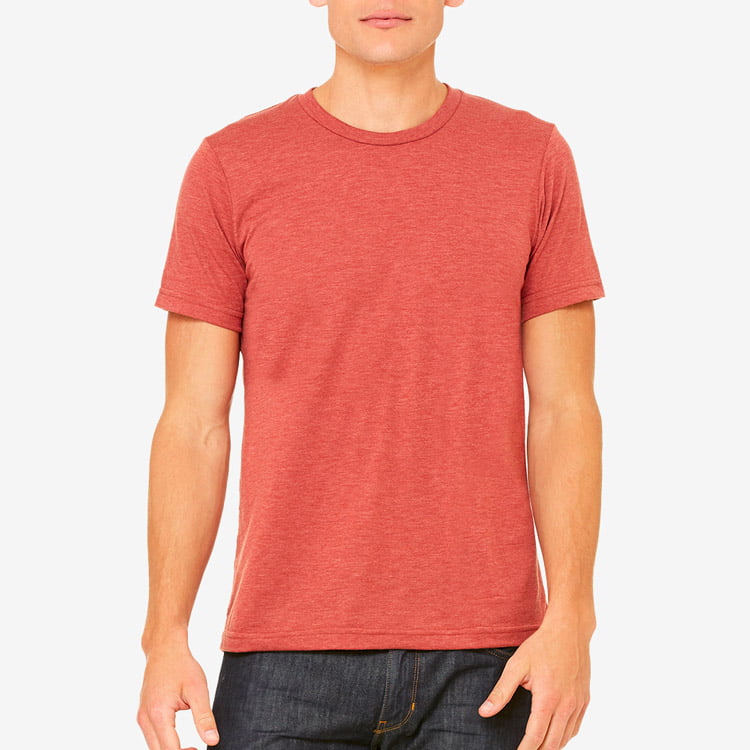 Bella+Canvas 3413 triblend
It's also affordable while maintaining great quality and comfort. This long wearing and durable t-shirt features a uniquely soft triblend fabric made up of 50% polyester, 25% airlume combed and ring-spun cotton and 25% rayon.
You can choose from a range of 5 sizes plus 21 classic colours perfect for vintage style apparel design.
Classic t-shirts
Finally, if you're looking for staple tees for every occasion, we offer a range of good quality, well priced classic t-shirt options. The most popular all rounder has to be the Bella+Canvas 3001 customisable t-shirt.
It's a modern shirt made from a soft and lightweight superior airlume combed and ring-spun cotton. The Bella+Canvas 3001 has classic fit with short sleeves and a crew neck, and offers just the right amount of stretch. Featuring side seam construction and shoulder-to-shoulder taping to help the t-shirt retain its shape.
This classic unisex tee is a well loved favourite, being one of the most popular print on demand t-shirts in the global bespoke apparel market. It offers a great combination of affordability, comfort, good quality and fit.
Available in a very large selection of more than 70 colours from pastels and monochrome shades through to bright summery hues. Plus with 8 unisex sizes to choose from, you can be sure to find the right combination to make your bespoke design stand out from the crowd.
Not quite found what you're looking for? No problem, if there's something more specific that you need for your sales niche, we have one of the largest print on demand clothing collections, with more than 70 options to choose from.