Why print on demand merchandise is a no-brainer for bands and musicians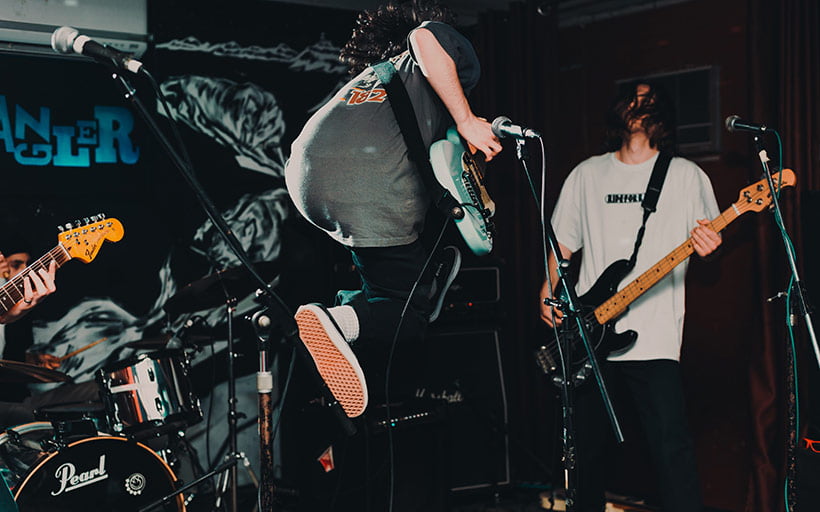 Tags
Interested in joining the world's leading print on demand platform?
Freddie Mercury once said "We don't do it for the money…we do it for the music."
He was at least half-right but most musicians would probably agree that you'd rather have both!
Unfortunately, the past couple of decades have not seen a great time when it comes to the former, as the global recording industry has struggled to adapt to the digital age. From 1999 to 2014, the industry lost nearly 40% in revenue in what seemed to be the beginning of a terminal decline.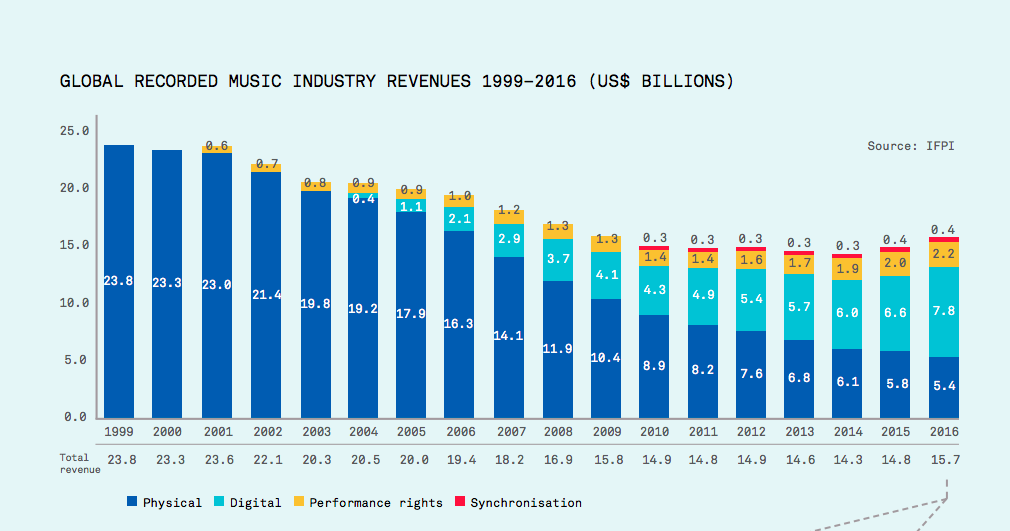 The industry has managed to slowly slowly reverse the trend, with technology now actually helping supplement musicians' incomes via streaming, downloads and other innovations.
Plugging the gap
In the meantime, some musicians have looked to 'plug the gap' and make money in other ways.
Merchandise such as band tees, buttons, posters and stickers have proved to be enduringly successful among artists who have sold them.
The Licensing Industry Merchandisers' Association reported that the global music merchandise market was worth $3.5 billion in 2018. To put that in perspective, the gross revenue from live music worldwide during 2018 was circa $30 billion. To make more than 10% revenue again in merch alone doesn't seem too shabby.
The message here is simple: when bands and musicians sell merchandise, it really works.
Of course, traditional merchandising is notoriously hard work.
You're a musician, not a retailer, and you want to focus on making music — not buying, printing and shipping t-shirts all over the place, and certainly not incurring the usual up-front cost and financial risk of getting started.
Of course, if you're selling merch at your gigs or events, you'll still probably need to have physical product in your hands. But selling online…that's where things get interesting.
Because, just as technology has transformed the way we listen to our favourite music, it's transforming the way bands and musicians can sell merchandise too.
Print on demand
Print on demand is a merchandising model, which, in very simple terms, works like this:
You set-up an online store, upload your designs and drag-and-drop them onto a range of different products. These products are added to your store in a matter of minutes.
Your fans head to your store and (hopefully!) order those items.
The orders are printed and fulfilled by a print on demand partner, without you needing to even look at the product.
You only pay the wholesale price for the product after your customer has purchased and you charge your customer enough to make a profit on every sale. All you're responsible for is uploading the design and marketing the products to your fans. Of course, you remain the face of your brand — and your customer never needs to know that a third party was involved!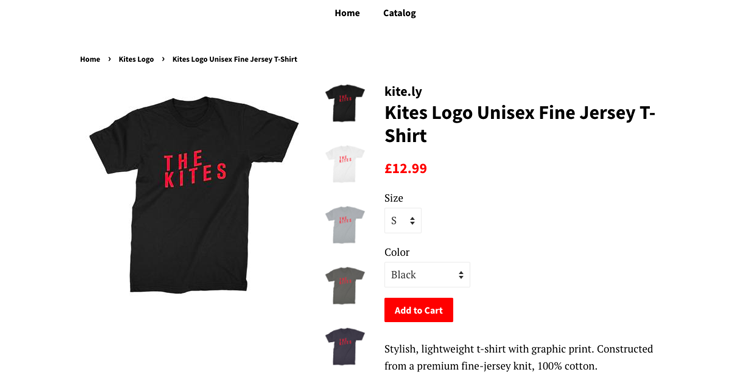 The benefits of print on demand
A global audience
Selling online gives you a huge advantage in terms of potential audience. You're selling to a handful of your most committed fans at gigs, whereas taking your products online exposes you to a potential audience of millions.
Targeting
Even better, there are lots of highly granular and very powerful ad targeting tactics you can use to push your products to your fans where they hang out online.
Growing your existing audience revenue
It's one of the most commonly repeated marketing soundbites, but it's true: selling to existing customers/fans is much easier than discovering new ones.
Flexibility over design
With no up-front or setup costs, you can be totally experimental in terms of the designs you choose. You can roll out new designs almost instantaneously — and, should that design not be quite as successful as you hoped, there's no harm done! You simply try, and try again.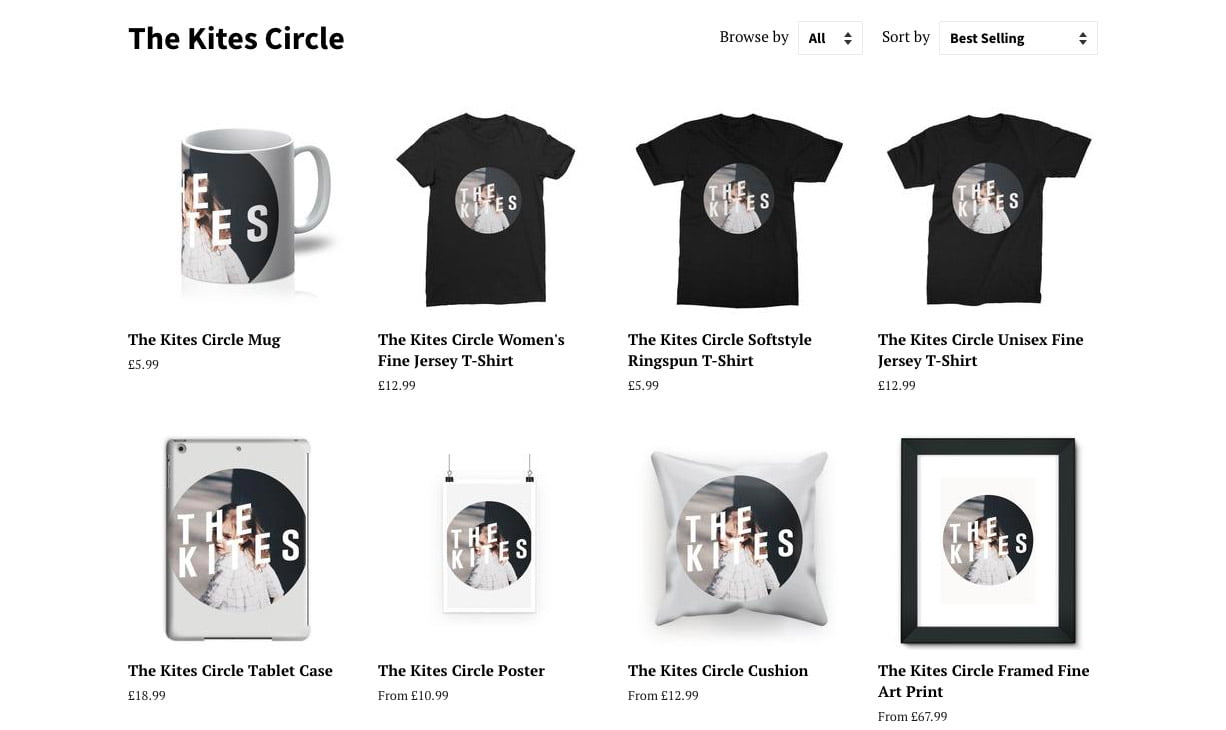 Merchandise reimagined
The products we mentioned earlier in this blog — t-shirts, pins, stickers, posters — have been the staple of band merchandising for years. But print on demand merchandise opens the door to other products you've probably never considered. Yes, you can still fall back on those staples, but you can also get phone cases, gym towels, cups, bags and more. (Check out our full range of products.)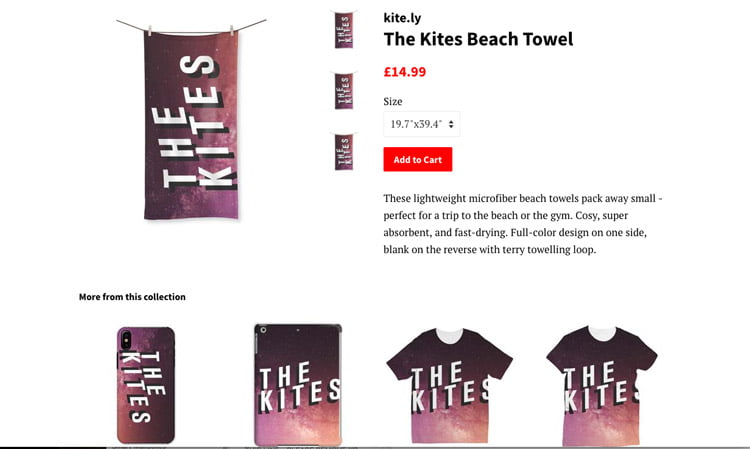 Closing Thoughts
If you're interested in an additional revenue stream that has less of the usual pitfalls you'd associate with traditional merchandising, then print on demand is definitely worth considering. It lets you concentrate on doing what you love, and what you do best: being creative, making great music and sharing it with your audience.
If you'd like to learn more then check out our blog on The Real Success Factors to Selling Custom Merchandise
If you're interested in setting up print on demand merch for your brand - take a look at our Shopify app or contact us for more information.