10 ways to improve the customer experience for your print on demand clients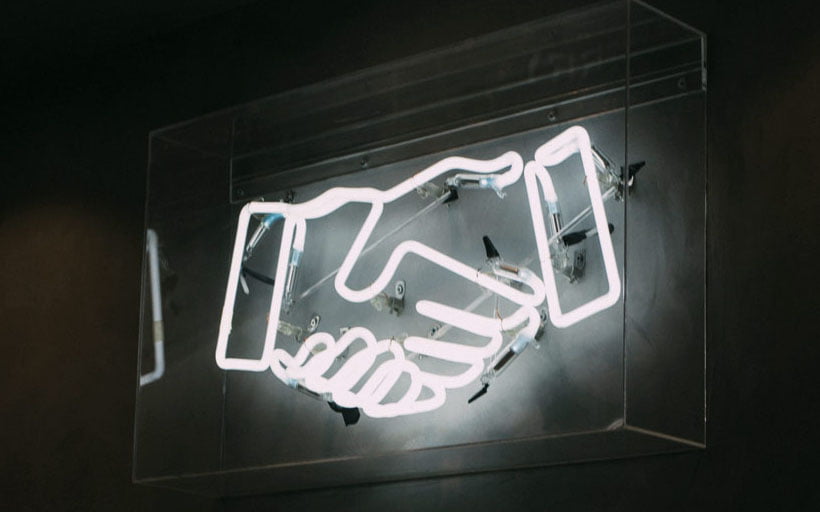 Tags
Interested in joining the world's leading print on demand platform?
Creating an outstanding customer experience is not as simple these days. High quality products and prompt shopping times just won't cut it anymore — your customers want more!
Customer experience is really important. 86% of buyers are willing to pay more for a better customer experience, and it's been suggested that, by 2025, customer experience will overtake price and product as the key brand differentiator.
What's more, 81% of companies who offer an 'excellent customer experience' outperform their competition, and 70% of buying experiences are based not on objective considerations like product quality, price or management of expectations — but simply on how a customer feels.
Customers are not particularly tolerant of poor experiences in a physical store location — and they're far less forgiving when it comes to buying online with print on demand stores. With less of a personal element to the transaction, customers simply expect an outstanding experience every time. No ifs, no buts, no excuses.
That all sounds a little scary, but there's good news. Enhanced customer experiences can lead to…
Your customer's print on demand retail experience starts from the moment they discover your products and ends well beyond the moment they hold them in their hands.
In this article, we'll share some actionable tips for you to really bolster your customer experience, delivering extra value and helping you to delight your customers.
1. Exceptional Customer Service
Everyone aspires to deliver 'exceptional' customer service and a lot of companies claim to achieve it. But what does that really mean? What does it look like?
With ecommerce personalised print, consumers have more choice than ever before. How you treat them could be the differentiating factor that turns customers from just simply shoppers to loyal fans of your brand.
So make sure you are implementing everything you can in order to connect with your customers:
Chatbots/Live chat
Live chat helps you because you can connect with the customer during the shopping process rather than after the purchase. This reduces the number of future customer service requests.
We know; it's unlikely you're going to be available around the clock to answer customer questions. But technology is starting to bridge this gap. Take Shopify app mmuze for example; it's a virtual personal shopping assistant for Facebook Messenger.
mmuze responds to your customer's questions to deliver a personal touch based on social intelligence. The customer is essentially talking to a robot but it doesn't feel like it.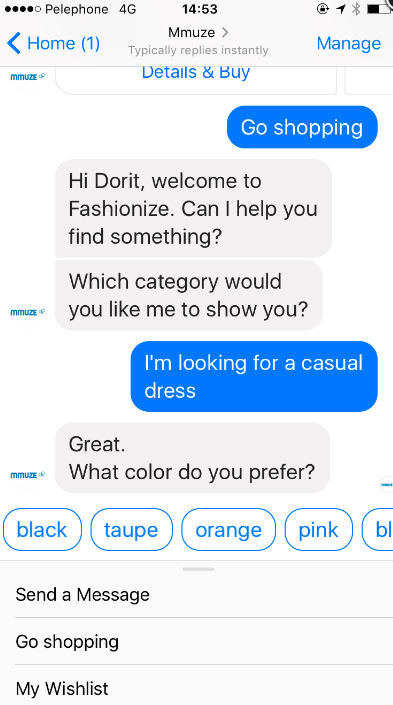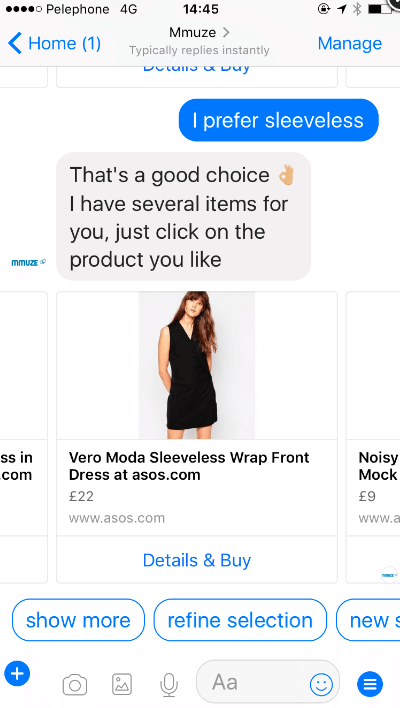 Help ticket system
A ticketing system is a software that collects all customer support requests from a wide range of sources and manages them in one location. Software like Zendesk can help you implement this.
Virtual assistants
The idea of 'virtual assistants' really took hold after the publication of Timothy Ferris' The 4 Hour Workweek. It's essentially the idea of outsourcing basic or repetitive tasks to another, remote person — like an extra employee but without the commitment.
You can hire these people through Upwork and similar freelancer platforms, and then give them the basic knowledge they need to fill a number of roles within your organisation. Not just customer service, but social media management, research, store management, data-entry, cold-calling or even personal errands!
Check out How to Hire a Virtual Assistant (And Take Back Your Life) via Shopify for a more detailed introduction to this model.
2. Manage your customers expectations
It's important to make sure you're managing your customer's expectations by having all important information clearly displayed on your site. Especially shipping policy and delivery times, as provided by your suppliers or print on demand partner.
Shipping times are particularly important to communicate clearly for print on demand products, since it can take longer than 'off the shelf' products.
Unlike pre-printed merchandise, print on demand products are made to order, and then dispatched using a dropshipping model. This could potentially take 2–4 days prior to dispatch, and then shipping times (which will depend on location) needs to be added on top of that.
Communicating this information to your customers will help reduce bad feedback and complaints. In our experience customers generally don't mind waiting as long as they are aware upfront how long the wait will be.
Accurate product descriptions are another thing that you need to get spot on in order to prevent customer disappointment.
All our Shopify products come with pre-written product descriptions, but we always advise our partners to invest time and effort into creating your own.
This can really help differentiate your product offering, clear up any customer misunderstandings, and ultimately create a better overall experience with realistic expectations. You can edit product descriptions in the Shopify admin or use a tool like ginnie (originally called Kopigin), a plugin for your store that helps to generate professionally written descriptions. There are also service providers that specialise in writing perfectly optimised product descriptions.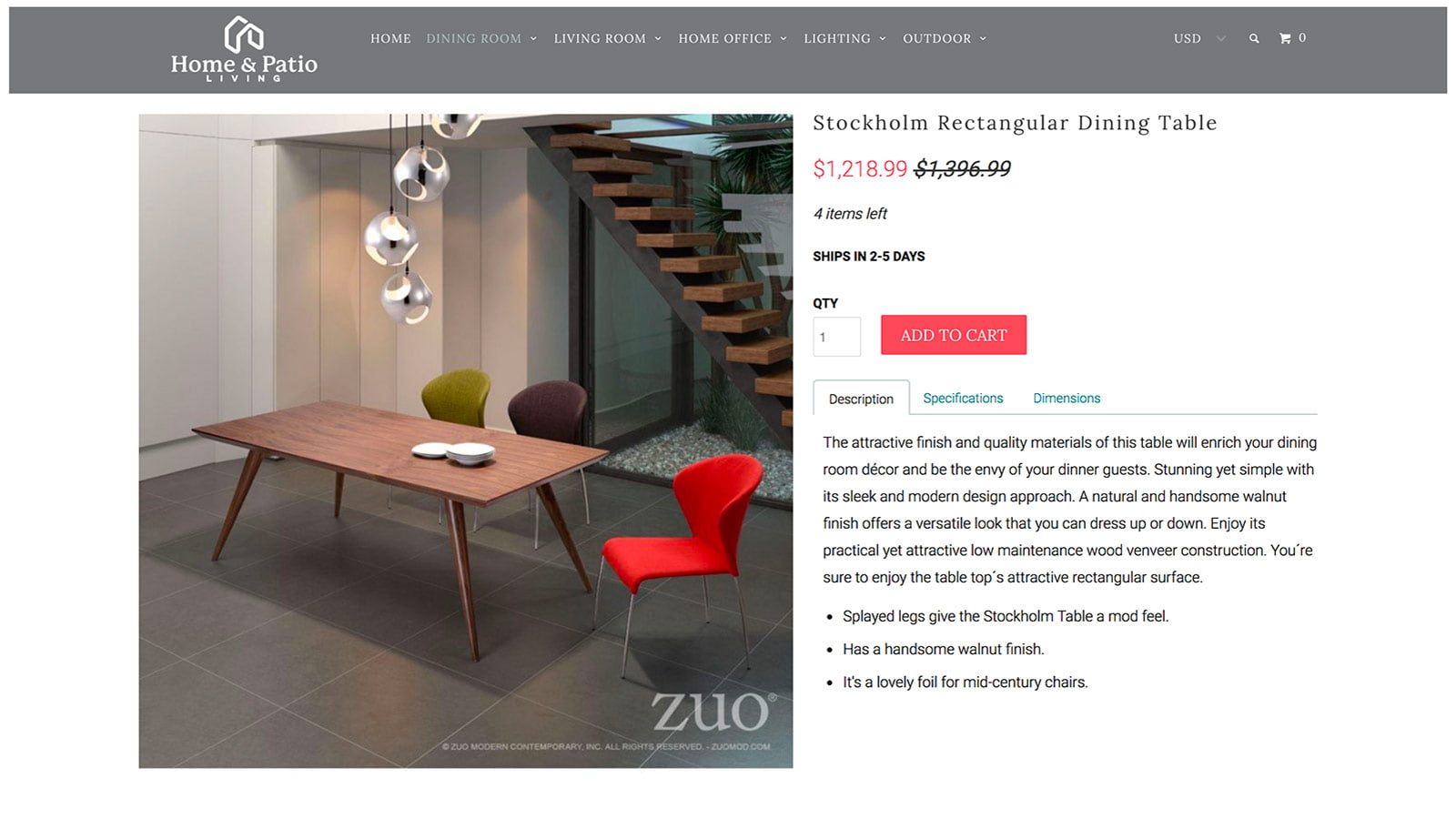 3. Order samples
Can you say, hand on heart, that you're happy with the product you're selling? This is a complex question, particularly when your orders are being fulfilled by a third party and you don't hold any product yourself.
You can do all the research possible about your print on demand providers, but until you hold that product in your hand, you can't truthfully say that you know exactly what your customers are getting.
Ordering samples eliminates that mystery. Even if you have a good idea of how the print will look on the final product, seeing something on screen can never compare to handling it in real life.
You may be dubious at first because you're going to have to fork out for the samples. But it will pay off in the long run.
Ordering samples (especially with digital printing on fabric) can flag up any quality control issues. You can contact your supplier to resolve these — before they get in the hands of customers!
Receiving samples can also reveal things that you may need to change, like colour choice and contrast — while giving you an opportunity to snap eye-catching product photographs.
4. FAQs
There are many frequently asked questions that crop up when it comes to ecommerce, such as:
Where is my product?
When will my product arrive?
Can I cancel my order?
Can I get a refund?
The FAQ app is designed especially for ecommerce stores to easily create FAQs to help answer customer questions and boost conversions.
Being able to quickly answer customers' questions is so important, since customers generally don't like waiting, especially online! Give them the tools they need to answer their own questions. While it's not something they'll rave about to their friends, it removes a potential source of friction.
5. Behavioural targeting
Behavioural targeting isn't as scary as it sounds! It's such a useful tool in helping create a great atmosphere for your customers to shop. It basically means personalising your website for different customers.
It can be as simple as just welcoming customers that are new to your site, like this example from Topman: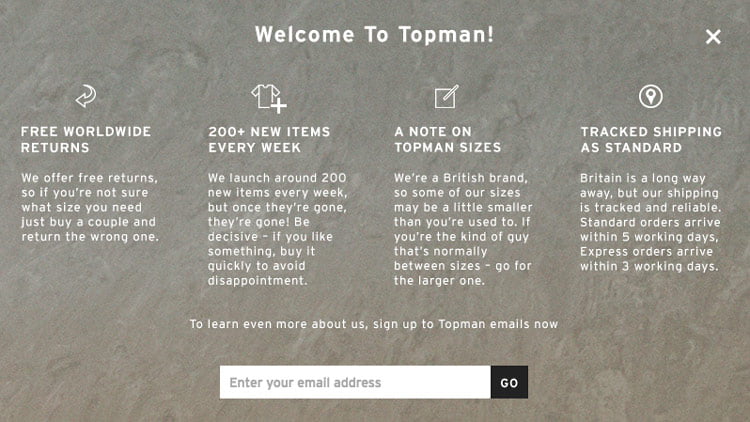 Plugins such as Segmently and Welcome Header Bar can help you to implement this on your online store.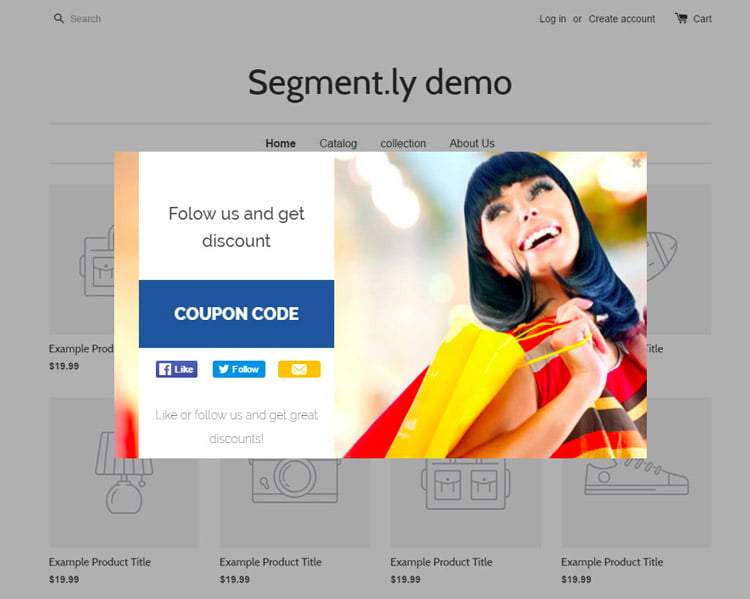 You can also add extra features:
Offer a discount if a customer spends a certain amount
Run limited time offers with a countdown bar
An email subscription form pop-up.
These little bells and whistles don't just increase your average order value and boost revenue. They're little things that your customer expects and, again, can subconsciously enhance how they feel about their experience.
6. Loyalty programmes
Loyalty programmes are a great way to keep customers coming back for more. They offer great benefits to the customer, but they also send out a great message about your business; that you appreciate your customers and deeply value their experience. Ultimately, you're giving something to your customers in return for their order — that's, in the most natural and obvious sense, an improvement to their experience.
There are a variety of customer behaviours you can reward with loyalty schemes; purchases, of course, but also customer referrals, social media shares, and even special occasions like birthdays and anniversaries.
A fabulous example of a loyalty scheme is from ecommerce giants ASOS. They offer different levels that make up their loyalty scheme The ASOS A-List :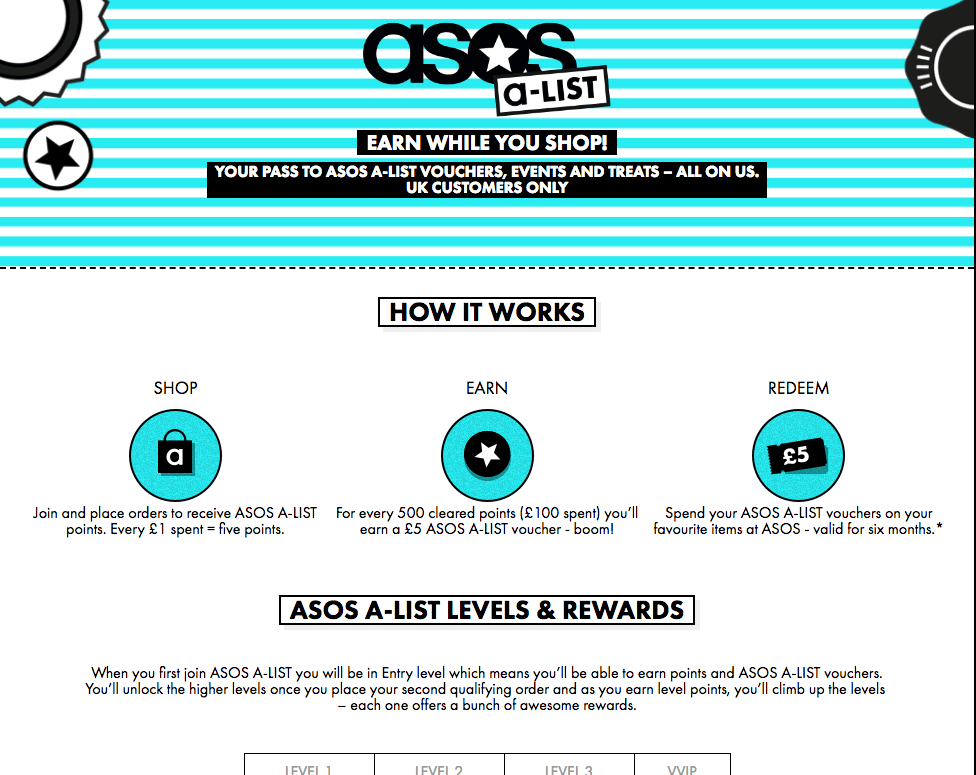 Shop, earn, redeem is the basic model — but they offer four levels of commitment: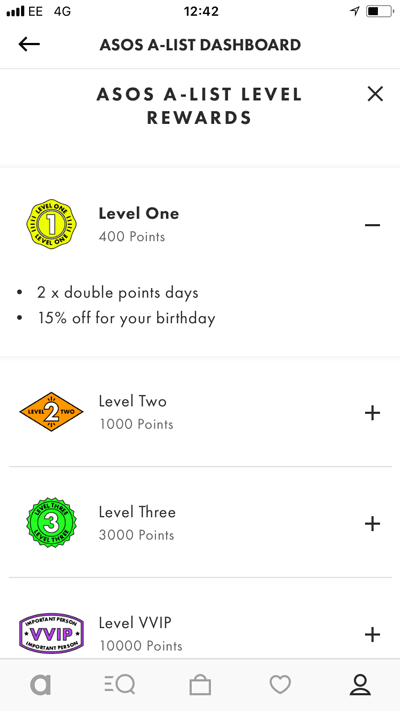 The higher the level you are, the more rewards you get, ranging from £5 vouchers, double points day, a percentage off on your birthday and advance warning of sales.
An example of a typical dashboard looks like this: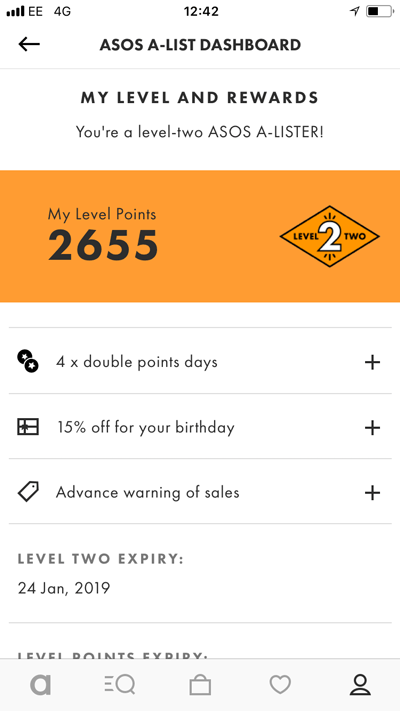 So when customers log into their account they can see exactly what they've got!
Shopify offers an app Smile: Rewards & Loyalty for ecommerce & POS as a plug-in for your online store. It's easily customisable and offers a good number of redeemable options for customers.
7. Upgrade your confirmation emails
We all know how important it is to say 'thank you.'
For online businesses, it's even more important. The online shopping experience can be impersonal. Showing gratitude to your customers will help build relationships.
Of course, we live in the age of marketing automation, and we don't technically need to say thank you anymore. A computer will happily do it for us! But, with that said, automated messages that are clearly automated can actually have the opposite effect. So why not tailor your email copy to say a creative thank you?
A good example of an 'out there' thank you is the email you receive when you purchase a product from the artist Chris Simpsons For the uninitiated, he's a somewhat unusual, avant garde digital artist! In a fashion consistent with his darkly surreal, childlike art style, you receive a confirmation email from his 'mum':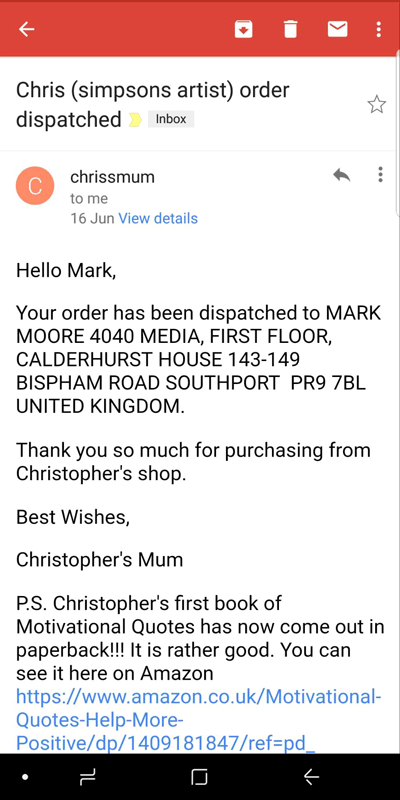 This not only gets a heartwarming laugh, but comes across as really genuine, and it's definitely a little out of the ordinary.
Moosend lists the types of emails you should consider sending, these include, thank you for your order, thank you for your referral, thank you for feedback — the list goes on!
Adding a quirky concept to these emails could be the difference between a customer just reading them, or coming back to purchase again. The goal at every customer touchpoint is to make a memorable impact on the customer.
It could be a video, an animation — or the email could unlock some exclusive content on your website. It's all about trying to go that extra mile.
Emails can also be used for seasonal thank you messages — Christmas, birthdays, Easter, summer, etc. Use it as an opportunity to send a heartfelt thank you to customers. If you're feeling generous, pop a little discount code in there to encourage some extra sales. You can easily create discount codes through the 'Discounts' section of your Shopify store. Why not give all existing customers a 10% discount with a code like THANKYOU10 just to show your appreciation and generate a little extra business?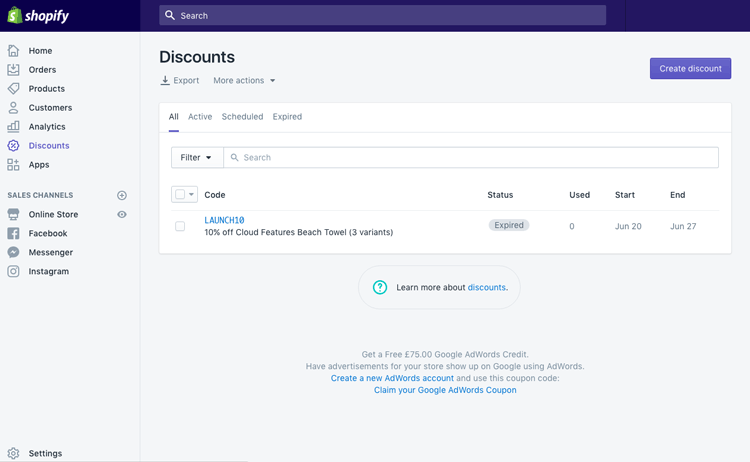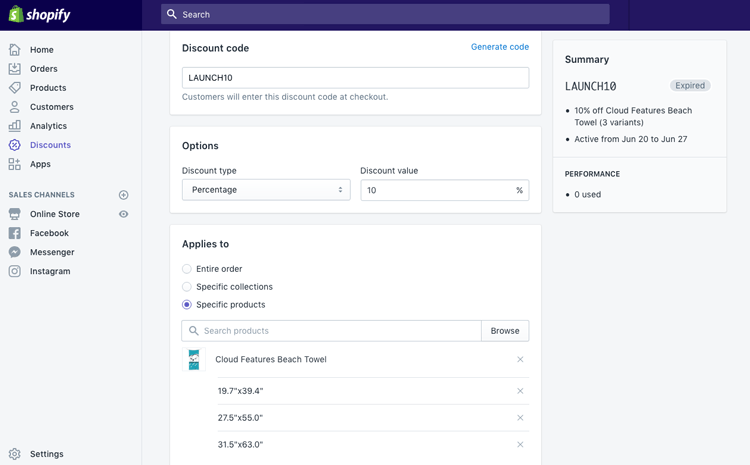 Just make sure when it comes to emails, you are GDPR compliant!
8. Saying a personal thank you
Another way of saying thank you is to create a handwritten note. They work even better today than they did 20 years ago, the reasons being:
They are rare and unique enough to be special, turning customers into loyal brand ambassadors.
Social media has created a bigger audience. Back in the day, if customers had a good experience they would tell a couple of friends. Nowadays, they're taking a picture of the thank you note, putting it on their Instagram/Twitter/Facebook and telling their whole network!
So if you have the time to do so, it's something you should definitely consider!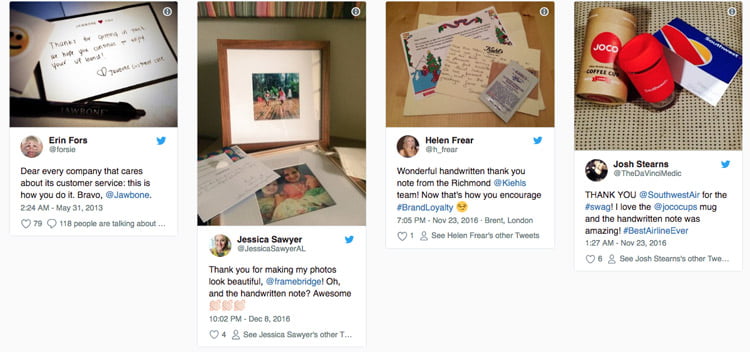 It doesn't have to stop at sending emails and notes. For example, podcaster Bruce Prichard used to call every single person who bought a t-shirt from him! He was selling 300–400 t-shirts a month, so it's no mean feat, but a personal call from him will mean so much to his audience.
Now, we know something like this isn't possible for everyone, but it's something to aim for. If you're lucky enough to be selling huge volumes of product, why not pick a few customers a month (particularly repeat customers) and give them a quick call?
9. User-generated content
Another tactic is to encourage some user-generated content. Whether that's customer reviews, a hashtag or encouraging customers to post pictures of themselves with the product. There's arguably no better way to show your appreciation for your customers than to give them the spotlight on your channels. It's a meaningful statement, not just to those customers, but to the rest of your audience.
A great example of this is from women's clothing brand Missguided. They're very active on social media, especially Instagram. They encourage their customers to post pictures of themselves wearing their purchases, using the hashtag #babesofmissguided: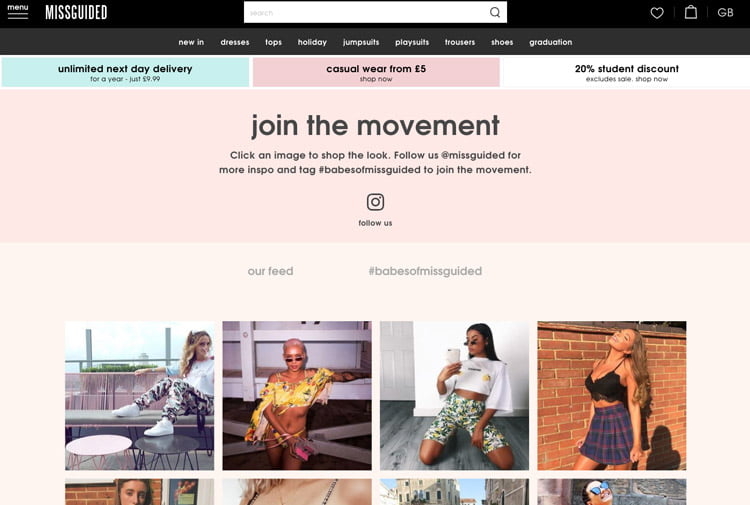 Encouraging customers using the emotive join the movement tagline, makes their customers feel a part of a community in a genuine way.
10. Satisfaction Check
One of the great puzzles for businesses is dealing with dissatisfied customers. Why? Because 91% of customers who aren't happy with their experience will simply just leave, and won't come back.
In other words, the majority of disgruntled customers aren't going to give you the chance to make things better. They won't invest the time in writing a complaint, or sending you hate mail. This sounds like a good thing but when your repeat business levels flop, you'll quite likely find yourself wondering: "What went wrong?"
A customer satisfaction check is an essential step to get your customers opinions without encroaching on their experience too much. In fact, it will most likely help improve the experience by demonstrating a commitment to customer care.
Asking a series of simple questions in a survey-like format, allows customers to provide their answers quickly, so they are more likely to do it.
The Customer Guru plug-in allows you to add customer satisfaction surveys to your online store, and once you have set it up, it's completely automated!
You can also use it to embed positive customer testimonials to your shop and to track all your feedback easily.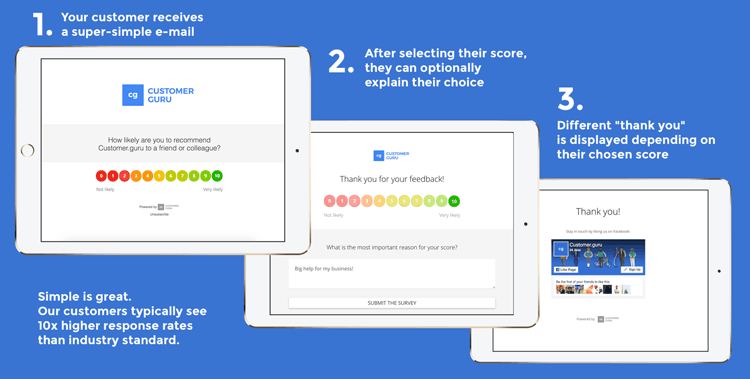 Final Thoughts
At the risk of stating the obvious, it isn't easy to attract traffic to your store.
It's even less easy to convert those people into leads, and it's trickier still to close them into customers.
The last thing you want to do is to undermine all that hard work by delivering a poor customer experience.
And if that sounds negative, then it really shouldn't. Because the good news is that when you deliver great experiences, customers respond. They remember their dealings with you, they're more likely to buy again, and more likely to tell their friends.
It's a virtuous cycle that improves your business bottom line, your reputation, and your pride in your product offering.
The beauty of this is, it isn't some incredibly difficult thing to implement.
Creating an excellent customer experience simply involves a sense of mindfulness. Have a laser-like focus on each and every touch point with your customer to identify simple, easily actionable opportunities to make things better.
We've shared a few in this article today, but hopefully it inspires you to go away and explore your own systems and processes to identify ways to improve things for your customer — and, in doing so, your business!
Interested in setting up your own Print on Demand site? Checkout our Shopify app.