How to dominate Black Friday as a print on demand retailer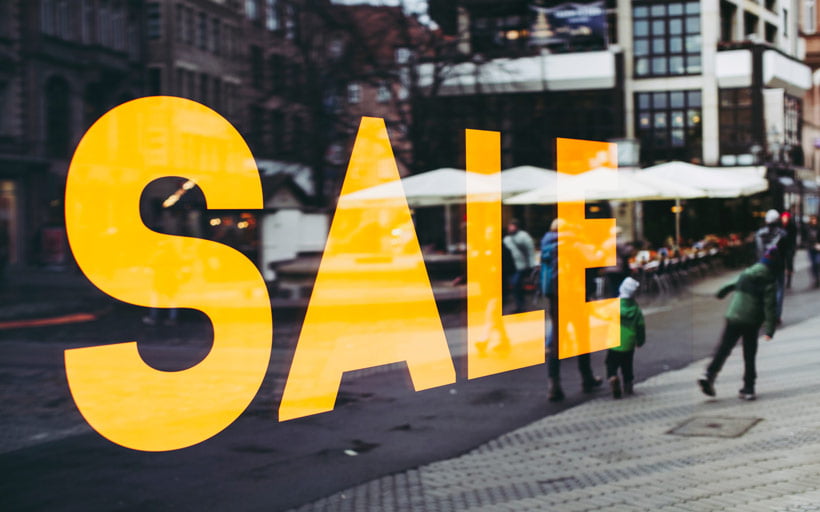 Interested in joining the world's leading print on demand platform?
Ever wonder where Black Friday got its name?
The day after the US Thanksgiving celebration has always been a busy one for holiday shoppers and retail stores alike, but it wasn't until the 1950s that the term Black Friday first appeared. It originates with the Philadelphia police department, who used the term to describe the chaos that their officers had to contend with during seasonal sales. They had to work extra-long shifts over the holiday weekend to deal with the additional crowds and traffic, and also of course shoplifters would try to take advantage in the rush.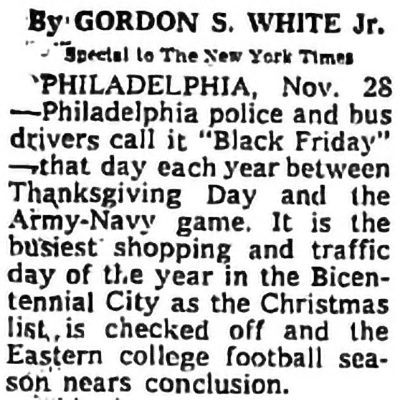 Today, Black Friday is a very different affair. Of course, you can still go out and jostle your way through the crowds to grab some bargains. But, most people prefer to do their holiday shopping online, from the comfort of their sofa.
That's great news for print on demand retailers!
Black Friday sales have been increasing dramatically year on year. Last year was the biggest rises to date, especially for online retailers. In the US alone, online sales during the Black Friday period rose 14% from 2018 figures, seeing revenue of more than $7 billion.
As a print on demand retailer, you have an advantage over other ecommerce stores because you don't need to prep your inventory or worry about running out of stock. But competition of course is still fierce.
This year, Black Friday is on 27th November, so it's definitely time to start finalising your plans! In this article, we'll go through everything you need to know to dominate Black Friday as a print on demand seller.
Create hype
Consumers are actively on the hunt for Black Friday deals, so don't be shy about promoting yours. In the days and weeks leading up to Black Friday, you need to create hype about your offers to encourage people to visit your site.
To do so, you should target people across as many different platforms as you can.
1. Social Media
Of course you're posting about your products on social media already, but when Black Friday comes around you need to step up your game.
This doesn't necessarily mean posting 10x more than you usually do — in fact, this could frustrate your followers and send them packing. Instead, you need to post smarter.
Take advantage of holiday-specific hashtags, like:
#BlackFriday
#BlackFriday2020
#BlackFridayDeals
Consumers will use these to search for deals, so by tagging your posts with the right hashtags you can promote to the right people: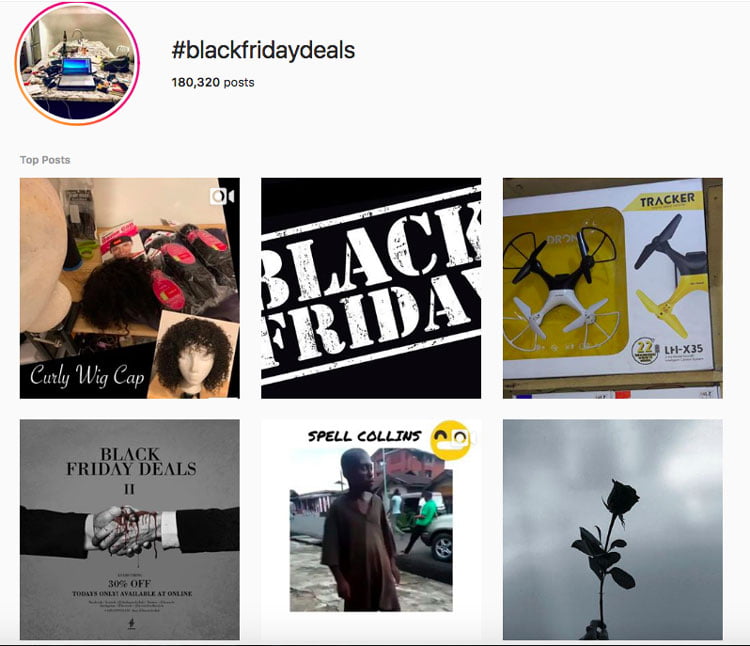 You can also go ahead and ask your fans and followers what they want to see on offer for Black Friday. Use an interactive feature, like Instagram Polls, to get potential customers involved:
People love interacting with their favourite influencers and brands on social media, and Instagram is one of the best platforms for user engagement: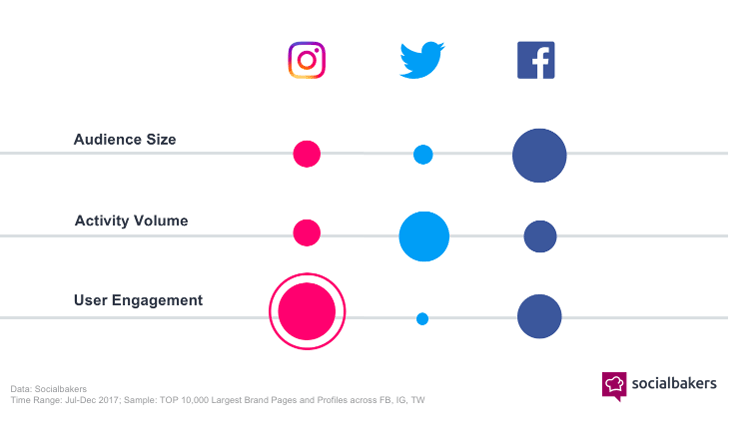 Image source
Polls are a feature of Instagram Stories. To get started, simply create a story post as normal and then click on the sticker icon at the top of the screen (the smiley face):
See that 'POLL' image in the bottom-left corner? Click that!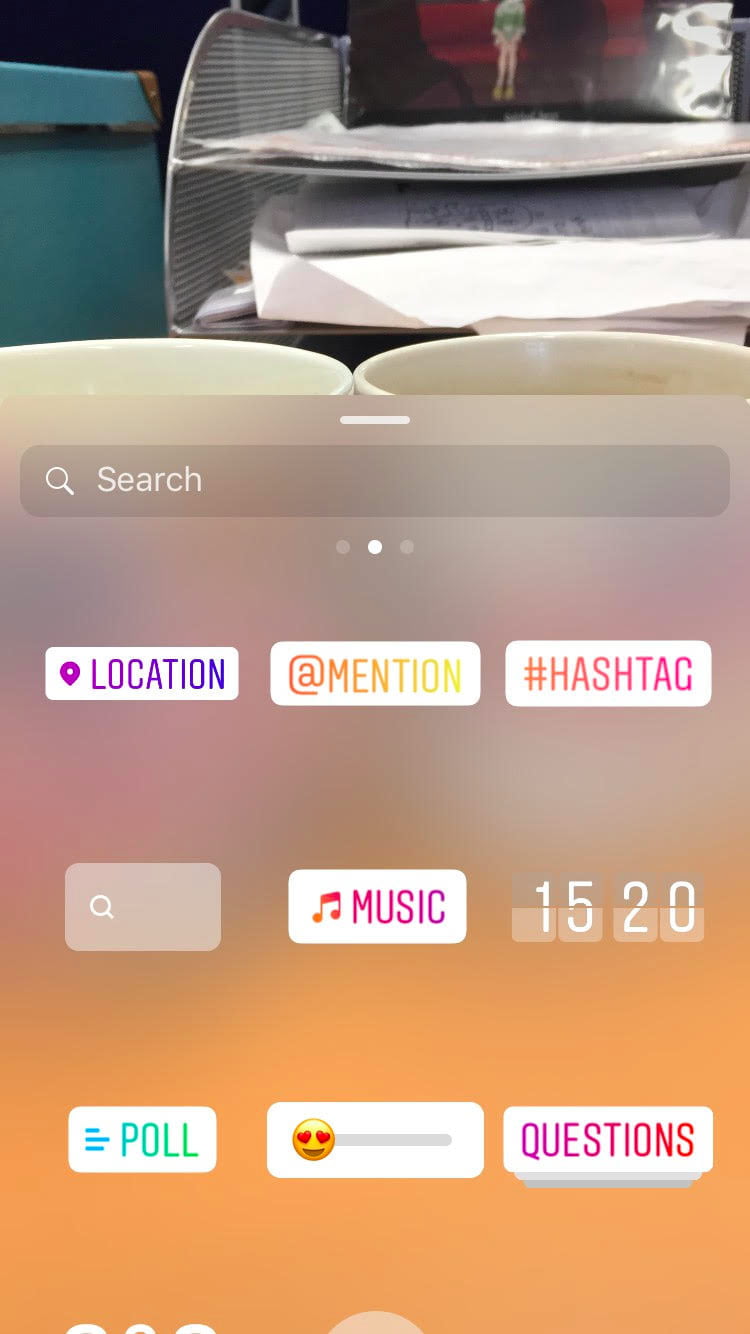 You will then be prompted to fill out your question: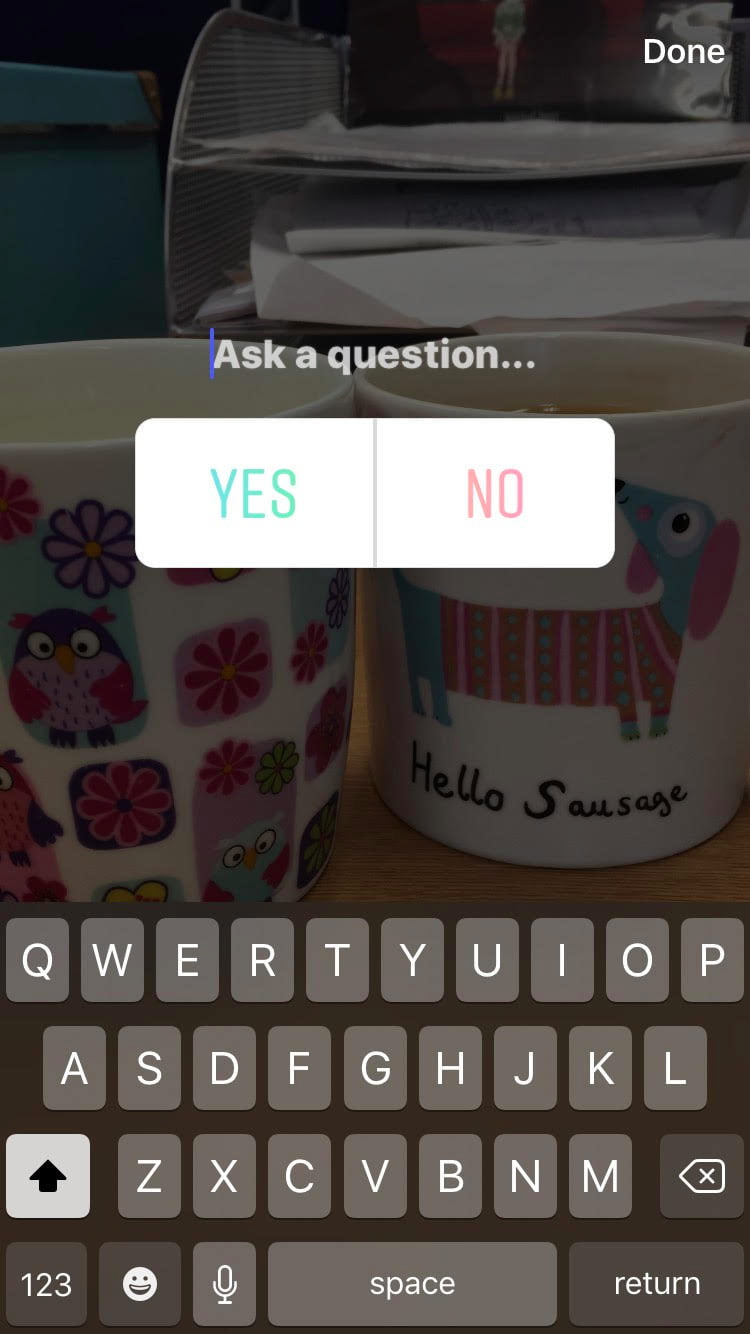 Make it Black Friday related to create hype with your audience and to get their input on the best offers. Brands get as much as 37% of their overall Instagram impressions from Stories, so it's clearly a format that users actively enjoy interacting with.
2. Email marketing
In addition to posting on social media, let your existing customers know about upcoming deals via email.
You can create some buzz by sending out countdown emails to inform your customers of a new deal, or by offering them exclusive discounts as a thank you for being a subscriber.
When it comes to email marketing, be sure to take notes from the King of online Black Friday: Amazon.
When people buy products from Amazon–or even if they are just browsing–Amazon follows up with an email that lists similar items the customer might be interested in: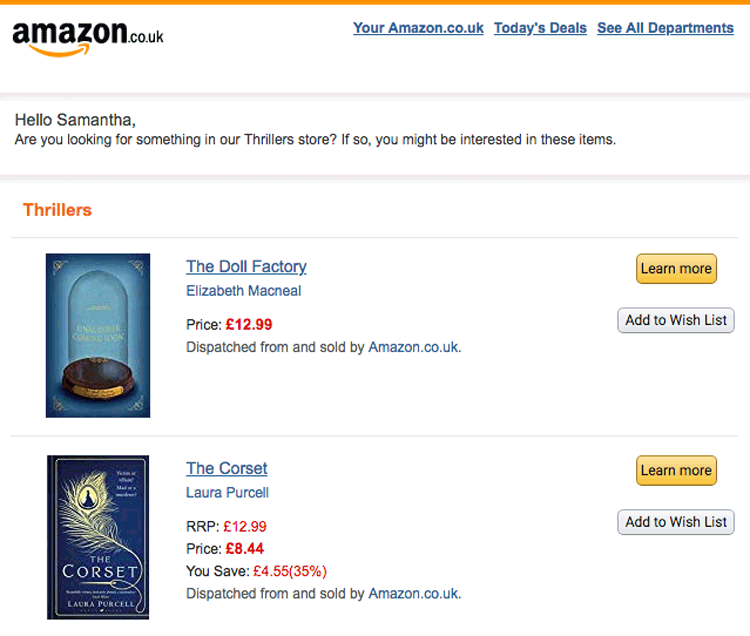 You can do this to for your Black Friday deals too. For example, if you have customers who have bought a hoodie from you and you have a Black Friday offer on hoodies, let them know about it.
Also, don't underestimate the power of subject lines. 47% of email recipients open emails based on the subject line, so by including the most important and urgent information in your subject lines you can hugely increase the open rate of your emails.
3. Paid ads
To give you an even better chance of boosting sales, add paid ads to your organic social media posts in the week leading up to Black Friday.
Instagram, Twitter, and Facebook have really advanced targeting options that make it easy to whittle users down by gender, age, interests, income, and more. Before you place your ads, you can view your audience size, potential reach, and estimated daily results: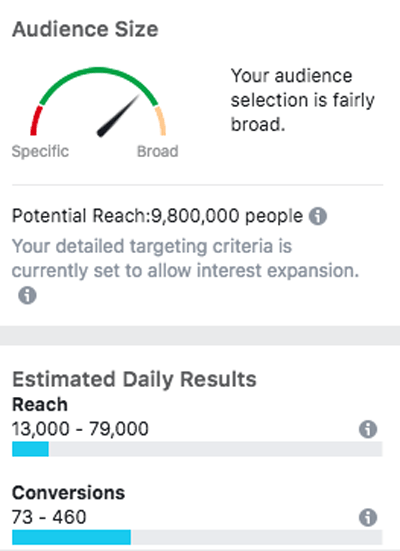 You can also use retargeting ads on Facebook, which is a great way to encourage people to convert!
Don't risk losing those people that visit your website either before Black Friday or just at a time when they aren't ready to convert. By creating a 'Dynamic Product Ad' within Facebook's Ad Manager, you can create a campaign that targets people who have visited your website recently. These ads are so intuitive that they show the potential customer the exact product(s) they viewed on your website. Here's a diagram of how it works: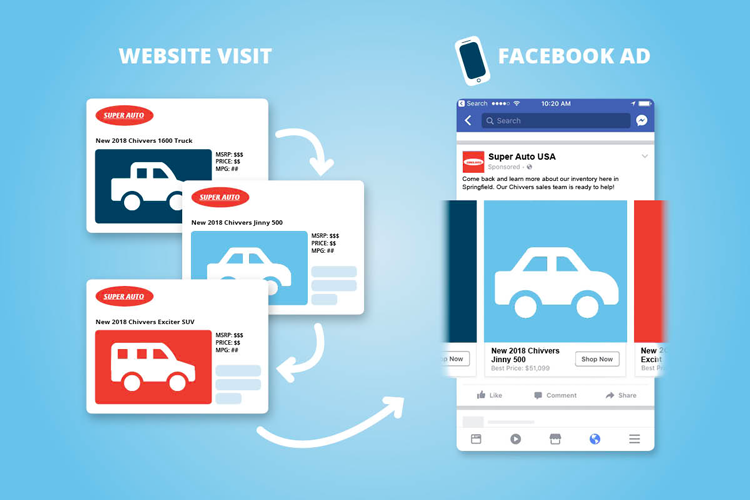 Image source
Prep your website
On Black Friday, you can expect a huge surge in your website traffic so it is important to be ready for that. It was found that 47% of online shoppers expect web pages to load in two seconds or less. And even just a one second delay can result in a 7% drop in conversions.
As an online merchant, it's likely that you are hosting your site on a big, reliable platform like Shopify or BigCommerce. In this case, website speed and uptime should not be much of a problem for you. But it's still important to make sure your site is optimised for all of the traffic you can expect on Black Friday.
First things first, check the speed of your site. You can do this with a free tool like Pingdom: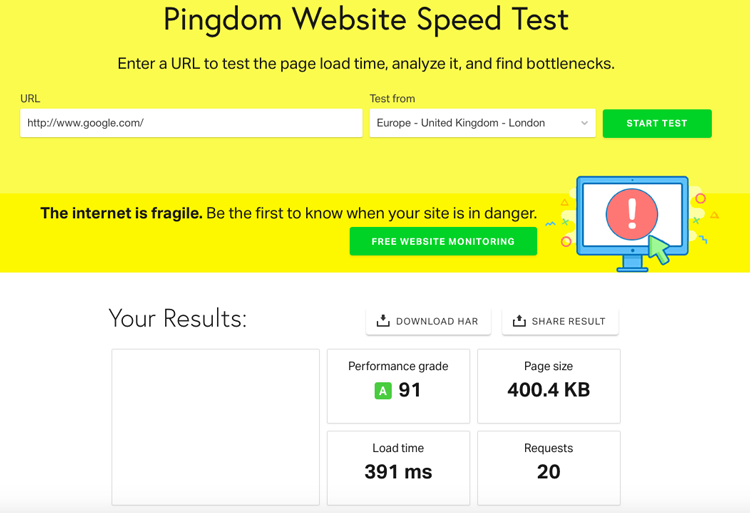 Almost 40% of ecommerce purchases during the 2018 holiday season were made on a smartphone. Use Google's Mobile Speed Test to find out how long it takes your site to load: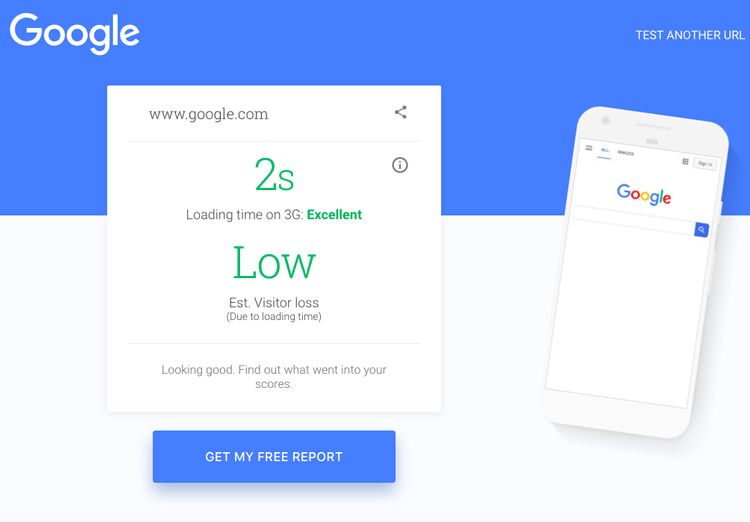 Now you have this information, you can start making changes to optimise your site (if you need to).
If you want to optimise uptime, and you're using Shopify, one of the easiest options is to upgrade to Shopify Plus. Thanks to its cloud-based infrastructure, Shopify Plus maintains 99.98% overall uptime and storefronts load 2.97X faster than other SaaS platforms.
If uptime isn't your concern, look at the navigation of your site–particularly on mobile. With so many people using phones to shop, you need to make it as easy as possible for them to navigate your Black Friday deals and convert.
Offer the best deals!
People shopping on Black Friday care about one thing, and one thing only: deals. To win their custom ensure your prices are competitive. A sure-fire way to do this is to reduce your profit margin to the lowest possible point you can. It might seem counterintuitive at first, but the volume of sales should compensate for your lower profit margin.
It's also a good idea to check out your competitors and see what offers they have on for Black Friday. Head to their website and social media sites and make a note of the products they have on sale for Black Friday and the price reductions they have made.
Sign up for their email list to make sure you get their offers delivered straight to your inbox. Then make your offer better!
If your competitor is offering 20% off, you might offer 25% (assuming you maintain some profitability of course!).
If they offer free shipping with orders over $30, you offer free shipping with orders over $25 and so on.
The great thing about being a print on demand retailer is that you can head to the backend of your site and change the price of your products in just a few clicks. Prodigi allows you to see at a glance exactly what your profit margin will be: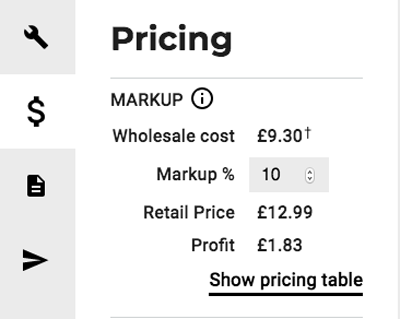 Create Black Friday specific deals
Print on demand also gives you the freedom to quickly create and sell new products. Why not use this to your advantage and start selling a special Black Friday product to encourage people to visit your site?
If you pair this with a 'loss leader' pricing strategy, you can sell the product at cost price to further encourage people to your site. The idea behind this is that if people visit your site for this amazing deal, they may stick around and buy more products. So you end up making a profit.
But even if customers only buy your 'loss leader' product, you still breakeven and will also have those customers' contact details which you can use for marketing in the future.
It may seem like we're saying Black Friday is all about quantity of customers over quality. However, it's important that you don't just rely on one-off purchases from people looking for a quick money-off deal.
As an online retailer, you know how tough it is to get people to your site. But with Black Friday sending customers to you in droves, you need to take advantage of those extra eyeballs on your products. Create offers to upsell your customers and encourage them to spend more, like 'Buy Two Get One Free', and 'Free Delivery on orders over £X'.
According to Invesp, orders with free shipping average around 30% higher in value!
Treat your existing customers well
Another way to differentiate yourself on the biggest shopping day of the year is to take good care of your existing customers.
According to a report by Adobe, 40% of revenue comes from only 8% of loyal, repeat customers. By offering exclusive deals to these people who already love your brand, you can encourage them to spend even more. Take a look at this email sent to BaubleBar promo's VIP customers last Black Friday: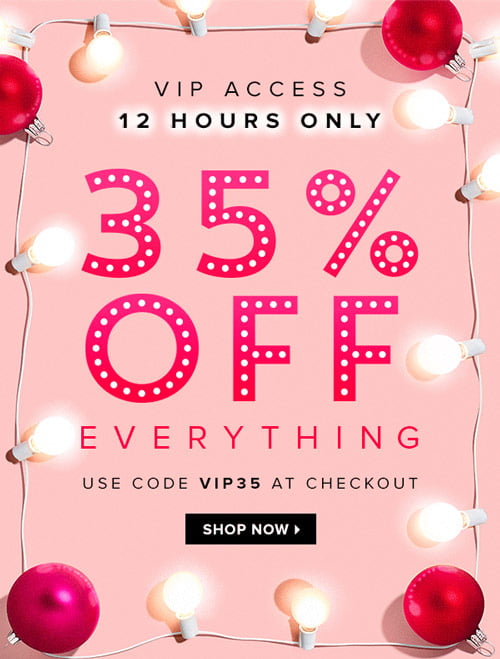 By using your email list to send exclusive deals and coupon codes like this to your best customers, you can encourage them to purchase from you on Black Friday.
You don't always need to give them money-off deals either, exclusivity is an offer in itself. Get your best customers excited for Black Friday by letting them know what your deals will be before anyone else!
Go native on social media
So far, we've looked at different ways to encourage Black Friday shoppers to your site. But what if you cut that part out?
By creating shops on social media sites, like Instagram and Facebook, you can get your products instantly in front of more people and make it easy for those people to convert in just a couple of clicks.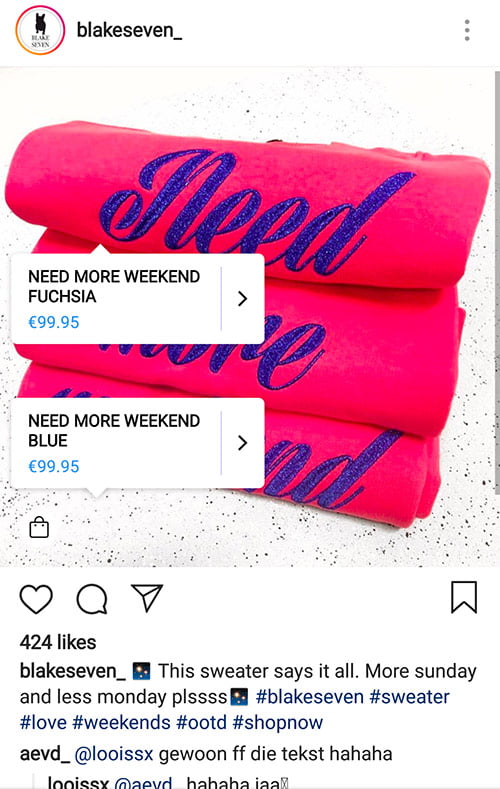 Getting people to your site is a real hurdle, especially as they are constantly bombarded with content designed to distract them. By actively taking your products to the places your customers spend most of their time online - social media - you make it easier for them to convert. According to Social Media Today, 30% of all time spent online is allocated to social media interaction.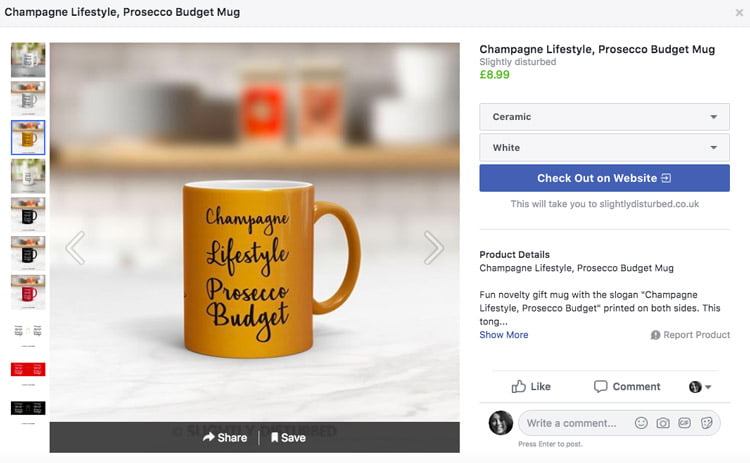 We think this is an incredible way for print on demand retailers to increase sales, not just on Black Friday, but all year round.
Final thoughts
Black Friday is an exciting time in the world of retail. It marks the start of the busiest season of the year, and of course, the most lucrative. In 2019, shoppers in the US spent an average of $168 each on Black Friday.
By preparing your print on demand store for the upcoming storm you give yourself the best possible chance to dominate Black Friday in your industry.
Interested in setting up your own print on demand store with Prodigi? Create an account today