Choosing the best fine art paper for your print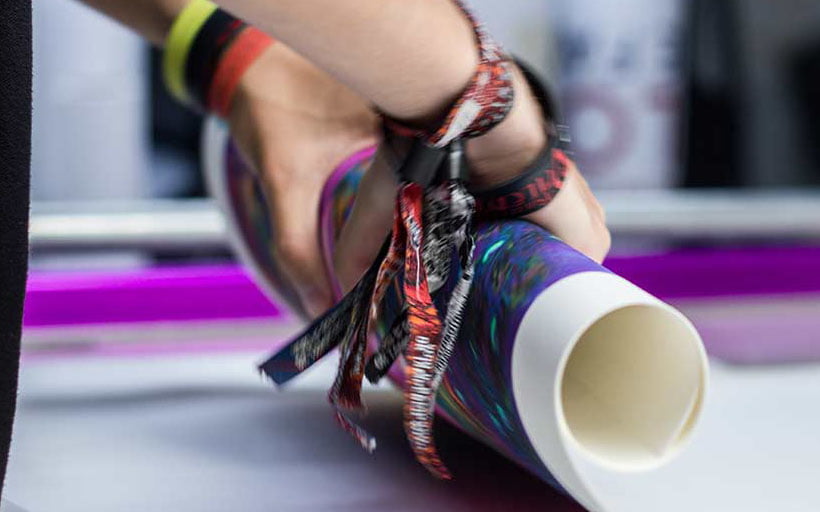 24 July 2018
Updated 12 June 2023
Interested in joining the world's leading print on demand platform?
With a wealth of substrate types to choose from, it's unsurprising that one of our most commonly asked questions from customers is "which paper should I go for?"
Of course, when choosing the right paper, personal preference is paramount. It depends entirely upon the look and feel you want to achieve with your print. But in this guide we will help you navigate the important properties to consider and terminology to understand in order to choose the right paper for your print.
Paper types
First things first. Paper Types.
At Prodigi, we offer three main paper types across our fine art and photography prints.
Alpha-Cellulose Papers
Alpha-cellulose is a high grade wood pulp made from trees. They are matte papers that have been refined to remove acid and lignin. This paper is usually used for fine art prints. It is often less expensive and has a sturdier feel than cotton rag. Alpha-cellulose provides a sturdy, durable paper.
Cotton Rag Papers
Cotton rag paper are usually higher grade with fantastic strength and durability. It's made from cotton linters or cotton rags, or a combination of the two. They are great for fine art reproductions as the texture really emulates the appearance of an original work. They can also add great depth and character to photographic prints.
RC Photo Papers
RC, otherwise known as 'resin coated' papers traditionally refers to wet processed photographs. Historically, laminate was added on both sides of the sheet to reduce processing times. RC today extends to inkjet photo papers. In this case, alpha cellulose based papers are encased in plastic polyethene, usually coated with microporous inkjet receptive emulsion. They allow for a glossy, satin, lustre or pearl surfaces and are fairly scuff resistant. We also offer a metallic coated paper which had a multi-laminate base that provides durable prints. The metallic coat offers a 3D-like finish and accurate flesh tones.
Weight
Paper weight is measured in gsm which stands for 'grams per square meter'. The weight of the paper isn't something you need to worry about too much. All of our fine art papers and photo print papers are a suitable weight for professional printing.
Generally however, artists prefer a heavier paper as it offers rigidity and a more substantial feel. A heavier gsm is also preferable if you are creating a large print for display as it is easier to mount.
A guide to gsm levels:
60-100gsm is standard for most household print paper. This is the weight you would expect to feel for a typical A4 piece of print paper.
110-140gsm is the weight typical of most traditional poster papers. It's sturdy enough to withstand a little wear and tear but too thin for a fine art print. Think flyers and posters.
170-200gsm is a more weighty and sturdy paper. This is the minimum gsm we'd recommend using for fine art print.
210-300gsm is generally the weight for a more premium fine art paper. It is a little more like card with a tactile feel but still has a bend to it.
310-400gsm is a much thicker, card-like paper. This is the weight you'd likely feel for greetings cards and wedding invitations. The highest gsm we offer across our photo and fine art paper is 315gsm. This is for a premium, heavyweight paper that offers the look and feel of original artwork.
Texture
Substrate texture, again, is really down to personal preference.
It is however worth considering how your print will be displayed. Generally, smooth textured substrates will look better when exhibited under glass than highly textured papers. Smooth paper also allows for excellent detail and contrast.
A print with more texture feels pleasant when handled and can help enhance image depth and reality. Certain textures suite particular art reproductions. For example our Cold Press Watercolour Paper has a look and feel similar to etching paper.
Finish
With risk of sounding like a broken record — choosing the finish for your paper is a personal choice and a question of artistic style. There are however a few things to bear in mind with each substrate finish.
Here are your options…
Matte
All of our fine art papers have a matte finish. Matte finish papers have a smooth and natural looking surface without the sheen that comes with a glossy paper. Even matte papers described as 'smooth' will have a slightly grainy texture compared to a gloss paper.
A matte finish can help emphasise different colours and tones and offer an authentic look for art reproductions. It is often favoured for black and white photography.
Generally matte is the best choice if your print will be hanging in glass as there is no glare. However, it may make some images look grainy and colours may not appear as bright.
Glossy
Glossy paper generally has a smooth, reflective surface created by a resin coating. Glossy finishes are great for bringing out contrast, detail and radiant colour in your image. The smooth, shiny surface allows for pin-sharp detail.
A glossy finish is popular for posters and consumer photographs. Bear in mind that if you are displaying your image on glossy paper you may have trouble with glare at certain angles. It also has less resistance to fingerprints than a matte finish which may be a problem if your print will be handled.
Lustre/pearl
Lustre papers offer a happy medium between glossy and matte substrates. They have deeper colour saturation than matt papers.
They are more resistant to fingerprints and glare than glossy paper due to the subtle pearl-like texture. Lustre finishes often tend to be preferred by professional photographers.
Metallic
Metallic paper has a distinctive glossy finish and metallic appearance. Metallic paper gives almost a 3D effect and has a durable surface. It offers a large colour gamut and clean, sharp detail.
A metallic finish works brilliantly for black and white prints.
Paper whiteness
Whiteness refers to the shade of the sheet of paper.
Lower or 'natural' white levels are more of a yellow/creamy colour.
Higher or 'bright' white levels are seen as bluer whites.
Lower or cream whites absorb the blue light. They tend to work better for yellow based and lighter toned images. Softer, lighter tones may be washed out by a high-brightness paper. Images of natural settings also tend to favour warmer paper because colours appear more natural.
Higher or 'bright' white tones reflect blue light and tend to be more vibrant. The whiter the paper, the higher the contrast in colours and therefore you get a richer colour gamut. Colour gamut refers to the entire range of colours and tones achievable by an imaging system. Bright white papers tend to be favored by photographers for their deep blacks and great dynamic range.
NB C-type papers are not measured by their whiteness as paper changes as it goes through chemistry. However, silver halide C-type paper offers vivid colour reproduction and brilliant whites.
Print method
All of our in-house fine art and photo prints are manufactured through "giclée" printing, except for our C-type prints.
Giclée is French for "sprayed ink". Today, the term is used to describe a sophisticated inket printmaking process which creates the highest quality fine art reproductions. Giclée printing offers extra-fine image resolution, helping retain a higher degree of detail from the original fine art or photographic images.
The archival nature of the print varies according to the type of inks used, as well as the archival properties of your chosen paper and the conditions in which the print is displayed or stored. Current scientific opinion is that our recommended papers and giclée printing process will produce a print that lasts between 100 and 200 years in good conditions.
C-type printing is a traditional photographic print method that uses the latest LED technology to expose your image onto silver halide paper, before going through a conventional chemical developing process.
C-type photographs also offer archival quality, vivid colour reproduction, distinct highlight details and brilliant whites. Generally photographers use C-type prints while illustrators and artists favour giclée prints.
Overview
Fine art papers
| Paper Name | Acronym | Finish | Texture | Whiteness | Weight | Quality | Ideal for | Paper Type |
| --- | --- | --- | --- | --- | --- | --- | --- | --- |
| Budget art paper | BAP | Matte | Smooth | Bright White | 180gsm | Budget | All-purpose | Alpha Cellulose |
| Smooth art paper | SAP | Matte | Smooth with a fine grain texture | Bright White | 240gsm | Budget | Contemporary illustration, photography | Alpha Cellulose |
| Cold press watercolour paper | CPWP | Matte Cotton Rag | High texture, tight (resemblant of etching paper) | Mid/Natural White | 315gsm | Budget | Premium portraits, gallery exhibitions | Cotton Rag |
| Hahnemühle German etching | HGE | Velvety matte | Textured | Warm White Hue | 310gsm | Premium | The look and feel of original artwork | Alpha Cellulose |
| Enhanced matte art | EMA | Matte | Smooth | Natural White | 200gsm | Premium | Large full colour graphics or illustrations. | Alpha Cellulose |
Photographic papers
| Paper Name | Acronym | Finish | Texture | Whiteness | Weight | Quality | Ideal for | Paper Type |
| --- | --- | --- | --- | --- | --- | --- | --- | --- |
| Lustre photo paper | LPP | Satin Lustre | Subtle pearl-like texture | Bright White | 240gsm | Budget | Event photography | RC (Resin Coated) |
| Hahnemühle photo rag | HPR | Matte | Soft with a lightly defined felt structure | Natural White | 308gsm | Premium | Fine art photography, art reproductions | Cotton Rag |
| C-type gloss print |   | High Gloss | Smooth, no texture | Vivid Colour Reproduction | 220gsm | C-Type | Professional photography | RC (Resin Coated) |
| C-type lustre print |   | Lustre | Pearl-like texture | Vivid Colour Reproduction | 246gsm | C-Type | Professional photography | RC (Resin Coated) |
Posters
| Paper Name | Acronym | Weight | Quality | Ideal for |
| --- | --- | --- | --- | --- |
| Budget poster | BLP | 170gsm | Budget | Artwork, photography |
Specialist prints
| Paper Name | Finish | Texture | Whiteness | Weight | Quality | Ideal for |
| --- | --- | --- | --- | --- | --- | --- |
| Metallic foil | Metallic | Smooth with a lustrous surface | Natural white | 350gsm | Premium | Illustrations |
Prodigi recommends
Although we support a huge range of papers in order to meet any specific requirements, the right paper choice for most people is actually very straightforward.
We strongly recommend our EMA paper for the vast majority of our clients.
EMA is our global fine art paper which we've cloned all over the world and thus offers the very best combination of quality, pricing, coverage and customer satisfaction. It's a beauty.
EMA offers the highest quality fine art paper at the most affordable price and therefore allows you to maximise your own profit margins.
The smooth, matte, natural paper offers a fantastic base for fine art and photographic reproduction. It has excellent durability and contains no optical brightening agent (OBA) that can damage the longevity of the print.
Our global range of products can easily be located in the manual order form by typing "GLOBAL" into the search. The following shortcut will give you our global fine art prints which are all made from our EMA paper: GLOBAL-FAP.
We hope this guide has offered some insight into choosing the best fine art or photography paper for your print.
At Prodigi, printing is at the heart of everything we do and every product we create. Each substrate is individually profiled for our printers, ensuring fantastically accurate and consistent reproduction.
If you're still unsure, we recommend sampling some different papers to see what works best for you. Click here to order our sample pack which includes all our key substrates.