Using social media channels to increase ecommerce sales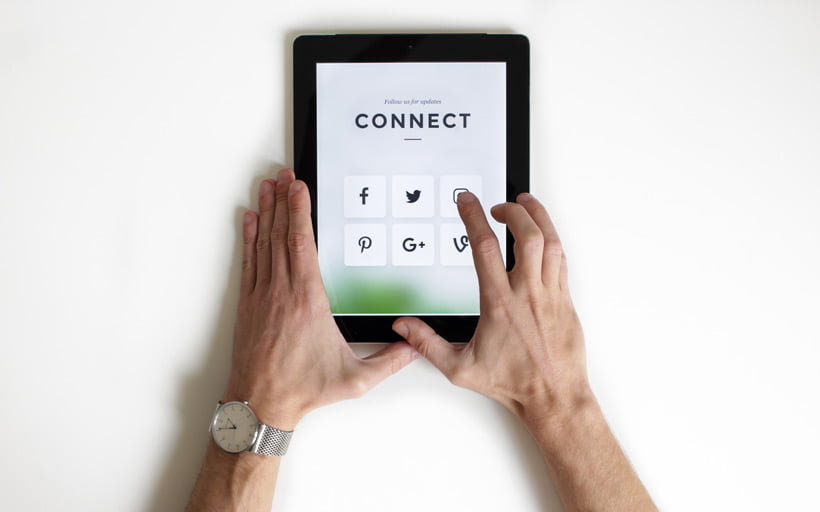 Interested in joining the world's leading print on demand platform?
The statistics for social media usage might be surprising — or perhaps even shocking — to some.
There's no doubt that the average time spent on socials is increasing year on year, from 90 minutes a day in 2012 to 153 minutes per day in 2019. Indeed the latest projections show that the average adult will now spend 6 years and 8 months of their life on social media.
Given this clear trend, it's tempting to ask whether ecommerce entrepreneurs can afford NOT to be present on at least the most popular channels?
Of course using socials is not just about promoting your brand, but actually securing sales too. More and more shoppers are using platforms such as Facebook or Instagram to make spontaneous purchases, as well as researching future purchasing decisions.
Which channels should you use?
The top three in terms of popularity — Facebook, Twitter & Instagram — are where we would recommend you spend your time. There are other interesting platforms out there of course (Youtube, TikTok, LinkedIn, Reddit, Quora to name but a few) that might also warrant some attention, but often, especially when you're starting out, it's better to focus your energies to achieve better results.
What should I post?
For your own social pages, try to set a posting cadence that feels appropriate for your audience. Once or twice a week is probably all that is needed. To keep things simple, you can use the same content for all channels, although you'll need to adapt the information to suit. Tweeting, for instance, limits you to 280 characters, whereas with Facebook, posts can be much longer. On Instagram of course, content should be image led.
By way of example, here you can see a Prodigi 'new product' alert on both Facebook and Twitter, for our Jacquard blankets and eco phone cases respectively. You'll see that on the first Facebook post, there is a much longer product description, and multiple images. On Twitter, the new product information is much lighter and to the point. It's a snippet of information rather than detailed prose.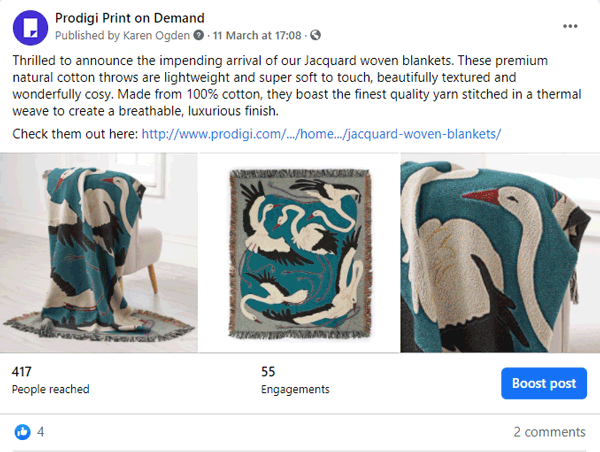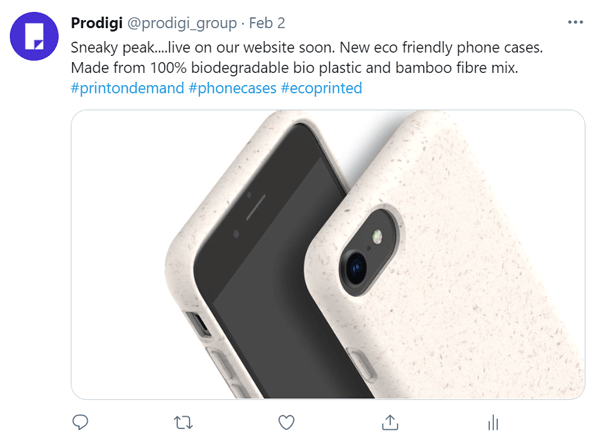 As well as product information, social media is a great platform for talking about your business, plus any personal information that helps to build your brand. It's also a great place to start creating a community of like minded people. For this reason, you should also try and share content that might be of genuine interest to your audience.
Here's an example from the Prodigi account again. Given that our followers tend to be creative and enjoy arts, from time to time we'll share art-related content. The below post is one example. Clearly stunning pencil drawings of Morgan Freeman have little to do with the world of print on demand dropshipping, but we thought our followers would enjoy it, so onto our page it goes.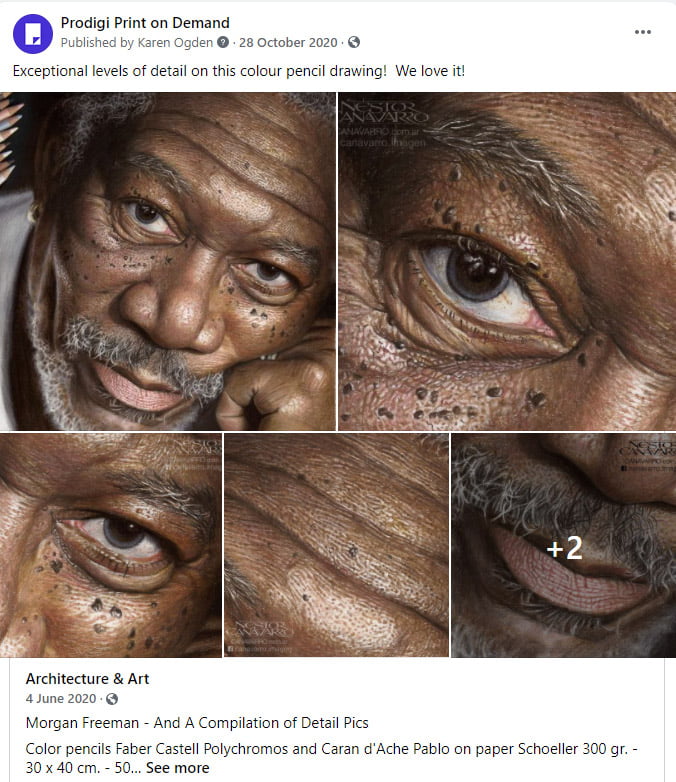 The golden rule of social content is, think like your audience. Would they want to know this? If the answer is yes, then post it.
What about paid advertising?
As well as using social platforms for general promotions and to build a following, nearly all social media channels also offer targeted paid advertising. The 'big three' are no exception, and by using the tools available to you, you can start to boost your sales.
Facebook
Facebook is still the biggest social media site on the planet, with 2.2 BILLION active users. While it's great to know that there is a place online full of people you can promote your products to, the reality is that the huge majority aren't going to be your ideal customers. You need to find and target those special people that fit your buyer persona.
There are two ways you can approach this:
Create your merchandise first and target people you think would be interested
Find ideal target groups first, then create merch specifically to advertise to those people
Whether you are creating your merch before or after, head to Facebook and type a topic, subject, or interest into the search bar — something that closely relates to the products or niche of your business.
Let's say you're making merch that has cute cocker spaniel puppy designs on it and you're looking for dog lovers. You could head to Facebook, type 'dogs' into the search bar, and find a group: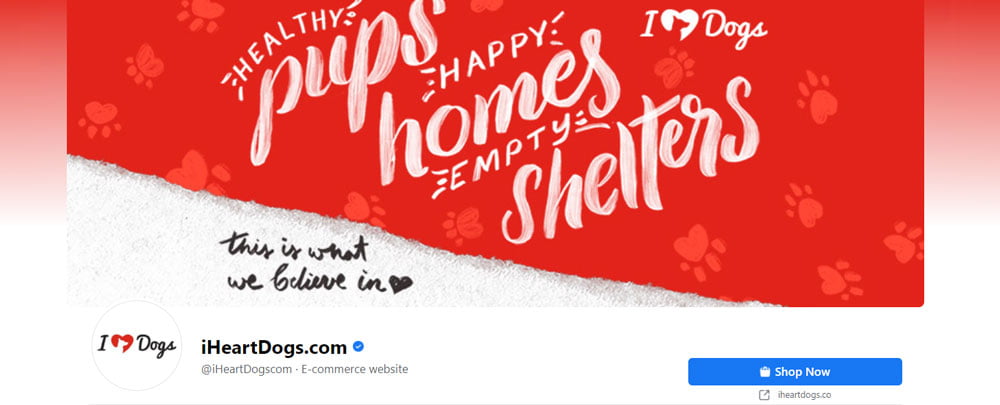 This group is clearly relevant to your merchandise, but it has over 4,000,000 members, and your posts could get lost in the crowd.
To avoid this, make your search more niche. Here's an example of a group called 'Cocker Spaniel Owners & Lovers':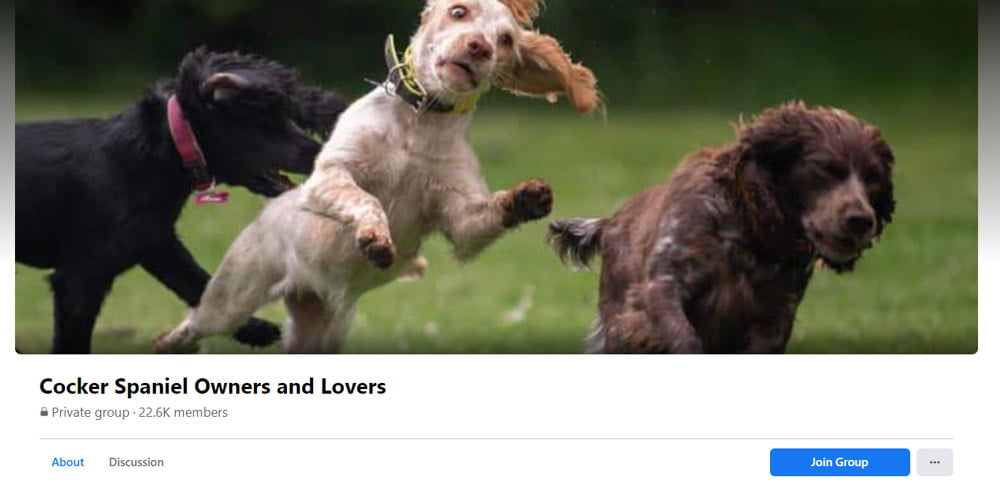 As you can see, the group has just over 22,000 members who are all very enthusiastic about this dog breed. This would be a great place to advertise your merchandise. Just be sure to read the group rules first as not all groups allow posts of a promotional nature. If in doubt, you can contact the group admins.
Of course in addition to advertising on community groups, you can also utilise Facebook advertising. To see what the options are, click the 'Promote' button on your Facebook homepage, and you can review all the options available to you. With Facebook ads, it really is trial and error to find out what works for the best return on investment.

Twitter
These days, one of the main uses of Twitter seems to be customer service. In fact, 85% of Twitter users say it's important for businesses to provide customer service using the network. But that doesn't mean you shouldn't promote on Twitter — it just means you need to think of new ways to market your business there.
Twitter is an amazing source for collecting data about your ideal customers and also your competitors. By keeping a close eye on your competitors' Twitter activity, you can strengthen your own promotional techniques.
The first step towards doing this is studying your competitors' profiles for valuable data. Your competitors' Twitter profiles can tell you a lot about your ideal customers: what they're tweeting about, what tweets interest them, and how they interact with brands.
To find conversations that mention your competitors', search for their handle and then click on the 'latest' tab. You can save the search to make it easier for you to keep up with what's happening with your competitors and their followers.
By keeping abreast of issues, you can be proactive with the information you see. If for example, competitor customers are complaining about delivery costs, you can promote your merchandise to them with a 'Free Delivery!' offer.
You can also create an ad campaign on Twitter with any tailored lists. Head to the Ads section, click 'Tools', and then 'Audience manager':

Click on 'Create new audience', then you can either 'Upload your own list' or choose customers with the demographics you think are most suited to your merch.
With print on demand, you have the freedom to test many different audiences without having to buy stock first. Once you know which products perform the best and which audiences are most responsive, you can double down on promotion.
Instagram
According to social media management platform HootSuite, Instagram users are 70% more likely to make mobile purchases. This could be the reason for Instagram's recent shift towards being more ecommerce-friendly.
A few years ago, Instagram introduced Shoppable Posts that allow users to purchase products from directly within the app. While this is amazing for increasing sales, user-generated content is still one of the most effective promotional techniques on Instagram.
According to a study by SproutSocial, user-generated content (UGC) has a 4.5% higher conversion rate than all other posts on the platform. This is the type of content that will appeal to 'digital natives' who have become accustomed to ignoring branded advertisements. In fact, 76% of individuals surveyed in a recent report said that they trusted other consumer's content more than branded content.
The most lucrative form of UGC is content created by influencers, also known as IGC (influencer-generated content). Influencers are social media users who have a large following and are trusted in their niche.
To the layman, IGC looks exactly like UGC, but it is always focused towards a clear call to action and usually receives a lot of engagement from the influencer's followers. Here are some examples: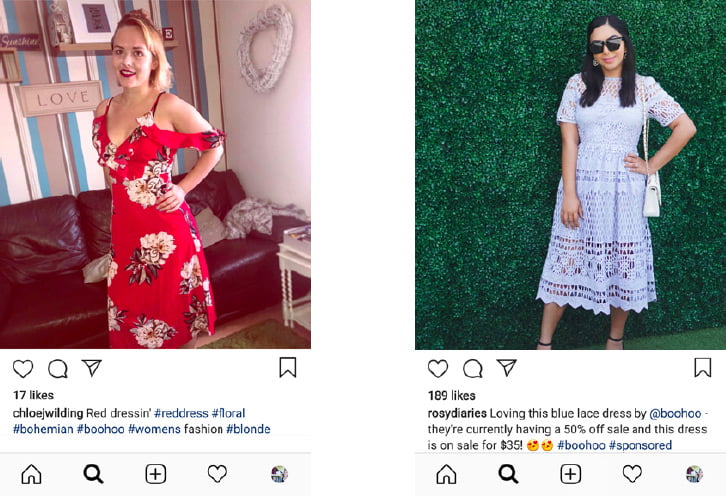 User-generated (left) and influencer-generated (right) content
Both of these posts feature the hashtag #boohoo for the clothing brand boohoo.com, but the UGC is more natural, has less likes, and does not direct people to the boohoo site or page. The IGC, however, looks like a professional photo, it has more likes, and it is clearly directing users to boohoo.com to purchase the dress in the post.
To get your merch featured in IGC, you should contact influencers that are relevant to your business. Some influencers have contact details in their Instagram bio, like this: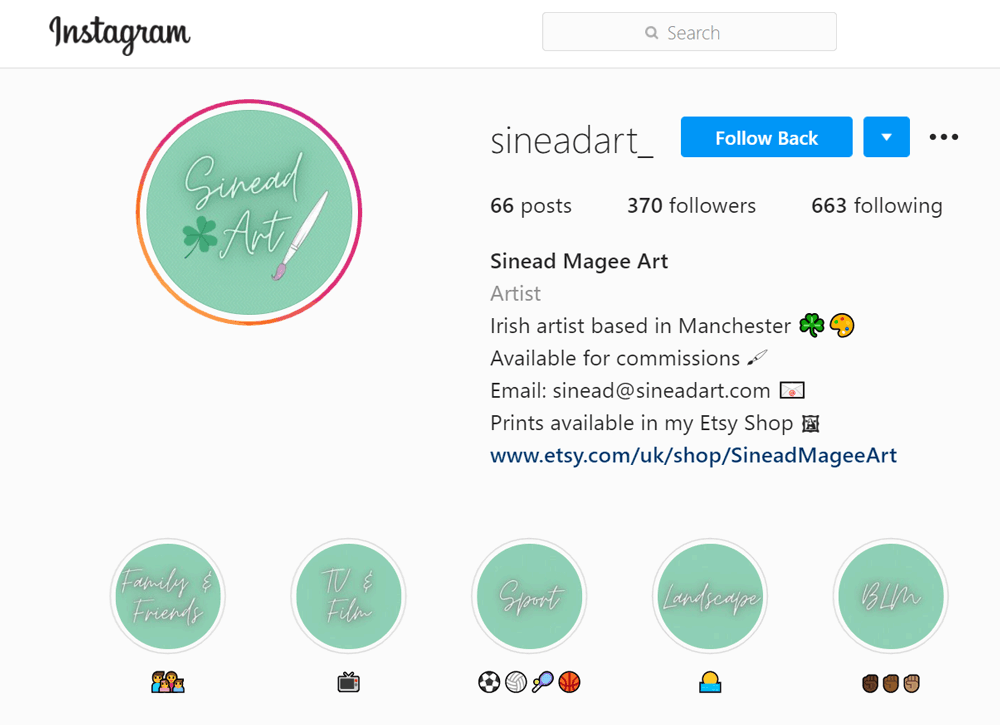 If they don't, then send them a message directly within Instagram. Just remember to make your message personal so it doesn't feel like spam!
As with Facebook groups, it is important to find an Insta account that is closely related to the type of merchandise you create. You should also make sure that you aren't aiming too high. It's unlikely that you'll be able to persuade Kylie Jenner to promote your merch, so start with small influencers who have strong, targeted audiences, and move upwards from there.
To read more about influencer marketing, head on over to our blog The Rise of Influencer Merchandising.