How social media influencers monetise their personal brand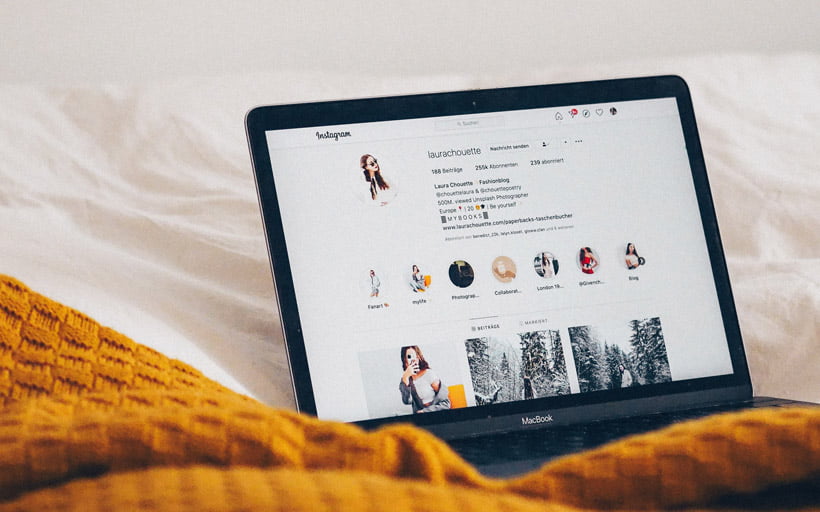 Tags
Interested in joining the world's leading print on demand platform?
Big brands like Apple, Coca-Cola, Samsung and Google have been showing us for years the impact that branding can have. Each of their brands is instantly recognisable, and have become a part of our everyday lives.
Creating a strong connection between your audience and yourself is essential. In the influencer world, you are your brand — and it's you who your audience will buy into. Influencers are fantastic at building strong relationships with their audience, but how can you use this connection to earn money?
It's easier than you think, and in this article, we'll look at a few of the ways you can monetise your personal brand…
1. Release merchandise
Chances are, as an influencer, you've got a reasonable audience who connect with you, engage with your content and consider themselves fans. If that's the case, you're in an incredibly strong position to sell merchandise.
People enjoy wearing things that represent their interests, hobbies and the communities they're part of. In fact, 85% of people have said they've bought some sort of branded merchandise. Plus, you're likely to have a number of followers who would buy your products simply to show their support.
Merchandise is the perfect way to please your followers and monetise your online presence at the same time.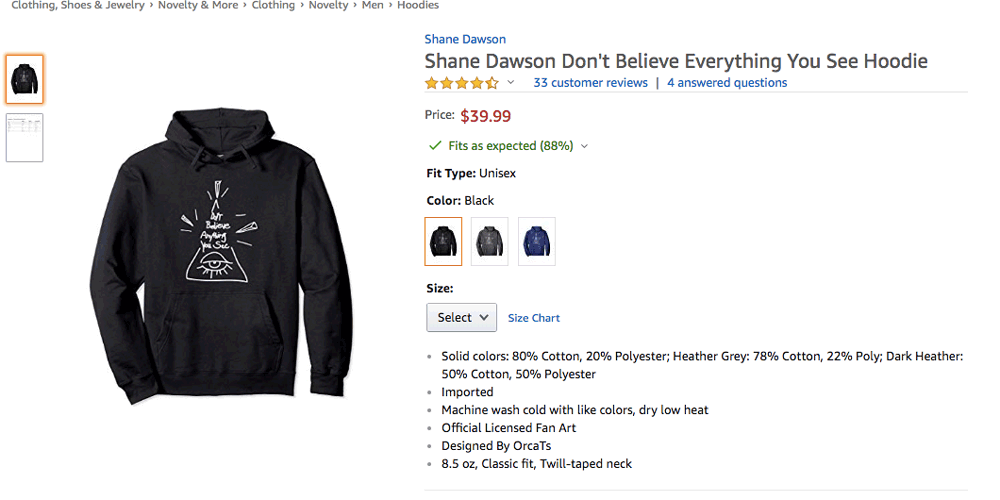 Merchandise isn't a new idea. Musicians and bands have been doing it for years! But today, even with the smallest of followings, you can release a range of merchandise — and manage it from your laptop at home.
Your audience follow you because they're interested in you. If you can create a product that reflects your individuality, it will resonate more strongly than promoting an external brand. Merchandise is beneficial as it gives your followers a way to show their support — 57% of people state this as the reason they buy branded items.
Print on demand stores allow you to release merchandise without having to store all the stock at home. Using a print on demand app on your online store, you can upload your branding onto t-shirts, mugs, posters, etc. and have these available to your fans in minutes! They're then printed and shipped by a third party, without you lifting a finger.
There are a number of print on demand apps you can download for your Shopify store. At Prodigi, we offer a free to download app that integrates your store directly with our global fulfilment network. All you need to do is upload your designs, choose your products and set your prices.
Orders from your shop will be automatically routed to one of our production facilities and delivered to your customer with complete white-label fulfilment. All order and shipping information will be updated in Shopify. Check out our Shopify integration tutorial for detailed, step-by-step guidance.
2. Affiliate links
Using affiliate links is a great way to monetise your Instagram account — but first, you'll need to sign up for an affiliate program.
An affiliate program is hosted by a company that wants to use marketers (influencers) who are not employed by the company to promote their product or service. These influencers and their social media accounts are usually related to the product or niche in some way.
For example, a beauty blogger may sign up for an affiliate program promoting makeup lines. Once you're enrolled in an affiliate program, you can use affiliate links to promote the product and service. These links ensure the influencers earn commission on each sale, so every time someone clicks the link or purchases the product or service through that link, you'll earn a percentage of the money from the sale.
There are different types of affiliate programs for different companies. Some may pay per lead, others may pay per sale. It all depends on what a particular company is trying to achieve — generating more site traffic or selling more products.
Affiliate marketing is an art, and perfecting it will take some time. Here are some tips to get started:
You don't have to have a huge following — but working on building your following should still be a priority.
Hashtags are really important! They'll put your posts in front of lots more people.
Research affiliate programs, especially their rates.
Add the affiliate link to your bio to keep it accessible for your followers.
Promote your affiliate product in your posts, e.g. take pictures of you holding the product, create posts that show the effect of the product, before and after posts, etc.
Zoe Sugg (Zoella) is an example of an influencer who works as a brand affiliate. She shares and promotes branded products to her 11 million subscribers. For every purchase made through the links she posts, she will make commission.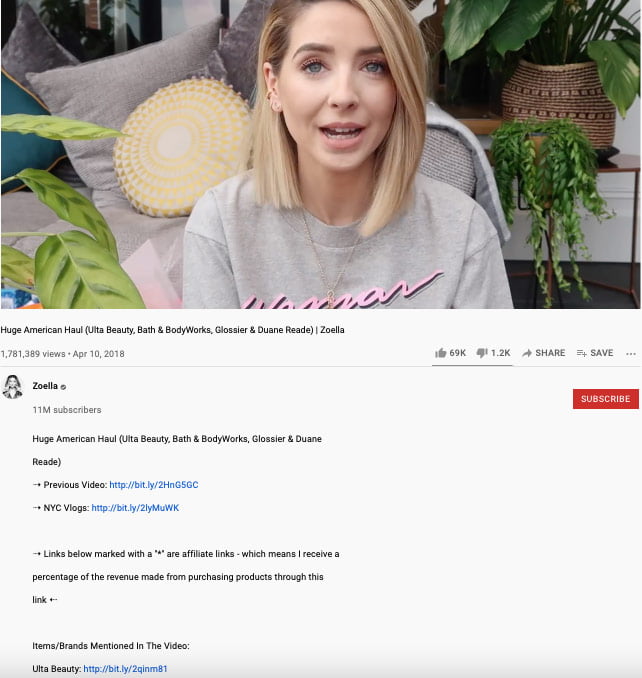 Zoella
3. Brand collaborations
Mainstream brands have become wise to the fact that influencers are the key to engaging more customers. Traditional celebrities are no longer the go-to stars for brand campaigns, with marketers increasingly looking towards today's social media stars.
There are a few different types of influencer and brand collaborations:
Sponsored social media content This is where a brand will give you guidelines and campaign objectives, and you then create content based on the brief in exchange for a fee.
Gifting This is simply when a brand gives you a product for free. If you like it, they'll ask that you share your opinion.
Sponsored blog posts If you have a blog, brands may reach out (or you can reach out to them) and ask you to write a guest post. This can be a post solely about a brand or product, or just incorporating those into your general content. These posts may also include exclusive discounts.
Takeovers It's popular for brands to allow influencers to 'take over' their social media channels and post content on their behalf.
Brand ambassador programs Brands are known to ask popular influencers to be their 'Brand Ambassadors'. This is where influencers become 'the face' of a brand, rather than just publishing a couple of posts.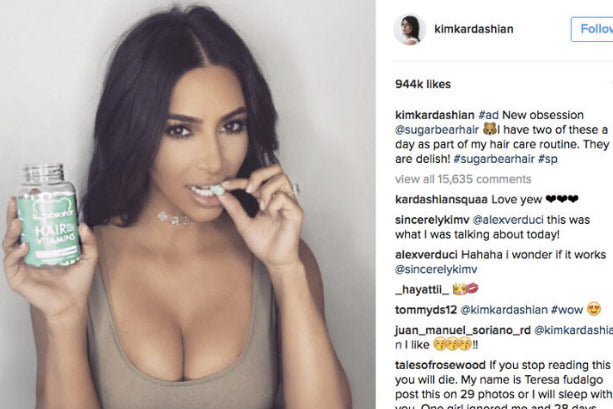 A quick note about points 2 & 3. There are strict rules when it comes to ad posts, sponsored posts and posting affiliate links, and you can land yourself in hot water if you don't adhere to them. Be sure to check out The Advertising Standards Agency's handy guide on what's what when it comes to monetising your social media posts.
4. YouTube ads and product reviews
Doing product reviews, especially on YouTube, is a sure-fire way to attract followers, and in turn, attract ad revenue.
You have to meet some requirements: "On January 16, 2018, we announced new eligibility requirements for the YouTube Partner Program. Once a channel reaches 4,000 watch hours in the previous 12 months and 1,000 subscribers it will be reviewed to join the program." (Google Support)
But if you do, there are massive potential earnings! Once you meet these requirements, you'll have to follow these steps:
You'll first need to meet the minimum eligibility requirements, and have an account in good standing.
You'll need to have a Google Adsense account.
Once accepted into the program, YouTube will run ads on your videos which can earn you a small amount of income when viewers watch them or click on them.
You don't have to have millions of followers — just be consistent and authentic, and the views will hopefully start rolling in.
Product reviews are popular because people like to do research before they buy things, and watching an influencer's video is one of the easiest ways to do this.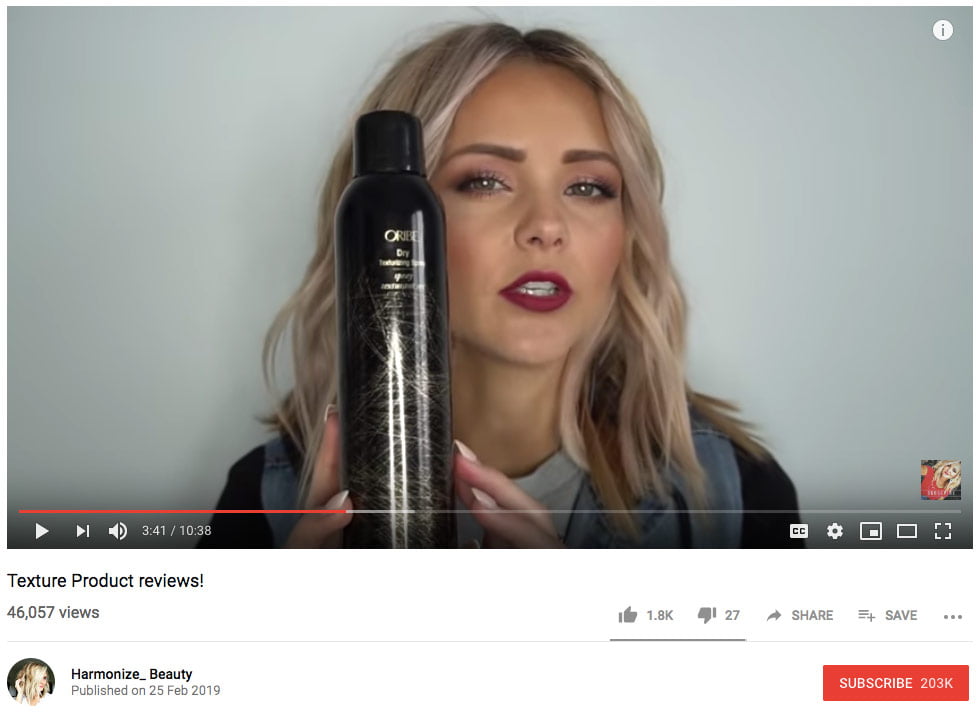 Harmonize Beauty
There are plenty of other avenues to have a successful and growing YouTube channel. Niches that have seen particular success include tech videos, gaming videos, tutorials, vlogs, fashion and food channels.
YouTube have also tightened regulations on the type of content that will be demonetised to include 'profound language'. Using swear words in the first 30 seconds of the video, in the title or the video thumbnail is a pretty sure fire way to get your video demonetised. Even if swearing is bleeped out or used for comedy, documentary, news or educational purposes, it can still lead to demonetisation, so make sure you steer clear.
5. Offering courses (e-books, coaching, mentoring, etc.)
A new trend has emerged: influencers teaching other people how to be influencers. Over the last few years, it's become an acceptable career goal to make it as an influencer — and it's what a lot of young people are aiming for.
As a successful influencer, it's a really feasible idea to offer your services as a coach or a mentor in exchange for a fee.
One successful example is Rachel Ritlop who offers a range of services including, general advice, business advice and her service as a partner for your online business.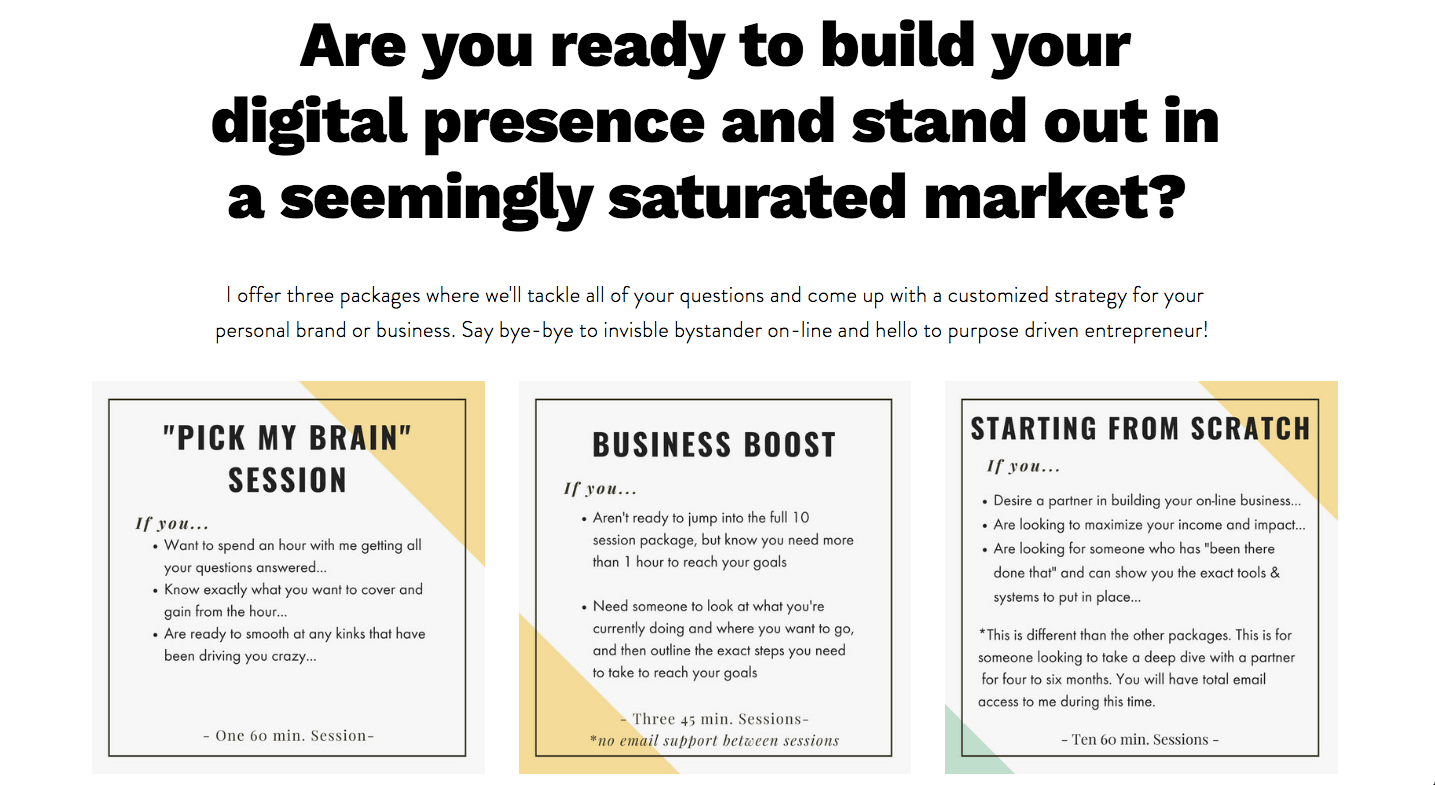 All of these types of services are highly sought after, and it could be a great chance for you to earn extra revenue.
6. Patreon
Patreon is a platform that helps creators and influencers build membership businesses and take ownership of their relationships with their fans. The platform allows fans or "patrons" to pay creators for their work. In return, influencers offer perks and tiers — offering exclusive content and access to their work in exchange for financial support.
Creators can set up payments on a per-project basis, or their fans can pay monthly subscriptions. Chapo Trap House (political podcast) is said to a a creator with one of the highest number of patrons, contributing £117,070 per month to his income. Not too shabby.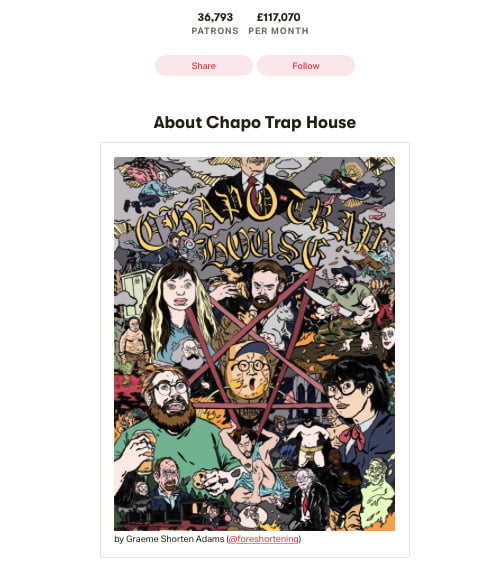 To close…
Whether your online presence is your main job, or just a way of earning extra cash on the side, it's good to be savvy about how and where you can monetise your personal brand.
The demand is out there, so take advantage of it — and make all of your hard work worth it!
Interested in more useful tips to help you run your print on demand business? Check out our blog post on why you need to sell print on demand tote bags in your ecommerce store.