Building a Brexit-proof supply chain for your dropshipping business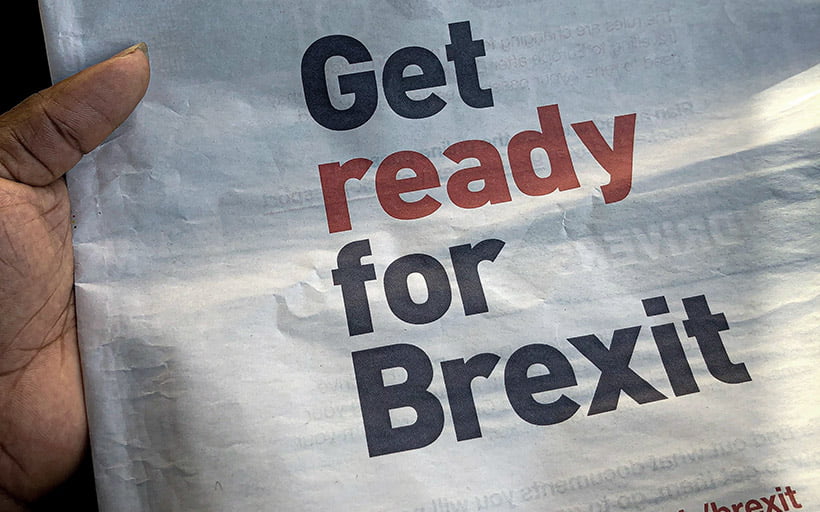 Interested in joining the world's leading print on demand platform?
Many small business owners are struggling to navigate the waters around the UK's impending exit from the European Union (EU). For ecommerce firms in particular, it's even more important to be aware of the potential business impacts, given the global nature of print on demand dropshipping.
The major concern is around imports and exports — will products still be seamlessly couriered between borders, especially in the event of a 'no deal' exit? This is a valid concern, but there are several steps you can take to mitigate any risk, whether you're a UK based dropshipper, or currently selling print on demand products from mainland Europe to UK customers.
There's no doubt that the best way to protect your business is to look closely at your supply chain. If you're working with providers who rely exclusively on single source production, consider a back up print on demand supplier with multiple manufacturing facilities, based both domestically and internationally.
As a case in point, Prodigi has both UK-based and mainland European print labs, with more than 50,000 square feet of manufacturing capacity. From the start of 2021, we will proactively minimise exports between the UK and mainland Europe by producing as many orders as possible at the customer's country of origin.
For any print on demand products not locally produced, read on to find out more about the key issues and their associated impacts.
Print-on-demand pain points & how to navigate them
Global consistency from local production
Moving from an export or import driven model to one which focuses on localised production in multiple geographies, brings with it a unique set of challenges. Your brand and business image are paramount, and you want to know that customers who order your products in Berlin or Paris are getting the same consumer experience as those who order in London or Rome.
Most global print on demand providers like Prodigi offer a global product portfolio to address this issue. Global ranges include products that are specification matched or 'cloned' to guarantee the same quality regardless of production origin.
Minimising import duties
For exports from the UK from 1st January 2021, ecommerce businesses will need to ensure customs declarations are included with any despatched products. If a declaration isn't included, it may severely impact lead times and could result in your customer being charged duty on delivery.
If you're a current Prodigi customer using our API or online ordering tool, we'll request the necessary customer information from you and then include the declaration on your behalf. If you're using our Shopify App, you don't need to do anything, as our software handles the transition automatically.
Reducing Government taxes & tariffs
Currently, no customs duties apply to products transferred within the EU and movements of goods between the UK and EU member states are covered by special VAT regimes. After the transition period ends however, the UK becomes a 'third country' from an EU perspective. Businesses transferring goods will need to pay duties and VAT, and adopt new compliance processes.
The UK Global Tariff will also take effect from 1st January 2021. Not all imported products will be subject to a UKGT surcharge — printed clothing for instance incurs a tariff of 12%, whereas wall art is zero rated. You can check whether your print on demand products are subject to this tax on the UK Gov Tariff Checker.
If you're working with Prodigi, you don't need to act, as we'll automatically calculate any taxes and these will be included in our prices to you.
Mitigating increased logistics costs
All couriers are implementing Brexit related surcharges on 1st January 2021, regardless of any trade deal. We currently estimate this will increase shipping costs between the UK and EU by around £3–5 (€3.30–5.50) per parcel. It's important for online store owners to factor these increased costs into shipping calculations.
For Prodigi customers, we will absorb all associated increases throughout the start of 2021, whilst we continue to work on optimising logistics and streamlining processes to alleviate any additional cost burdens.
Cost effective routing
There's also an issue of balance to consider. What if — despite the extra tariffs, taxes and surcharges — one particular product SKU still happens to be cheaper to produce abroad then ship to your customer?
That's where intelligent routing comes in, and why the software that operates silently in the background of any successful print on demand supplier is key. With literally thousands of SKUs offered in multiple variants to 195 countries globally — plus dozens of potential courier and postal services available — it would be an impossible task to make the calculations manually.
Instead, we rely on our software platform, developed over more than a decade, to calculate the most cost effective production and shipping models for your specific product offering. We've been working on optimising for Brexit since 2017, and we're confident that we can deliver the best possible combination of quality and cost effective print on demand to your customers, delivered on time.
Other red tape
In terms of other administration, from January 2021 EU EORI numbers will no longer be valid in the UK. The EORI (Economic Operator Registration and Identification Number) is a code that's used to track and register customs information. Previously, the same EORI number could be used for tax authorities across the EU. Moving forwards, there will be new UK EORI numbers issued by HMRC.
For Prodigi clients you will not require an EORI number as all imports and exports will be handled by us. For other importers, you can find out more about GB prefixed EORI numbers at gov.uk.
What is Brexit and why is it having such an impact?
Brexit — a portmanteau of the words 'British' and 'exit' — refers to the withdrawal of the United Kingdom from the European Union. The UK is the first and only country to formally leave the EU after 47 years of membership. After giving formal notice on 29 March 2017, the UK is currently in a transition period which will end on 31 December 2020.
From 1st January 2021, the UK will also no longer be part of the European Customs Union and Single Market, and this will have a major impact on cross border trading.
Protecting your print on demand business post-Brexit
For more information on any of the above points, you can visit our Brexit FAQ.
If you need support or to find out more, you can set up an account or view our global product portfolio. This includes our complete range of products, quality assured to the same high standards wherever in the world your customer is based.
Why Prodigi?
Established in 2015, Prodigi has grown to become one of the largest print on demand providers, helping businesses to localise the manufacturing and distribution of printed products around the world. Founded in the UK, we've rapidly expanded, setting up our own manufacturing both locally and in mainland Europe, as well as partnering with more than 50 external print specialists to offer a truly global service.
We make print on demand simple, providing everything you need to launch and scale a global dropshipping business. Using our advanced software, we help companies selling print on demand products to simplify their logistics and maximise their profits. From product sourcing to fulfillment, we deal with all the background noise, leaving you free to focus on building your business and brand.
Why not set up your free account today?