A guide to the most successful discounts and promotions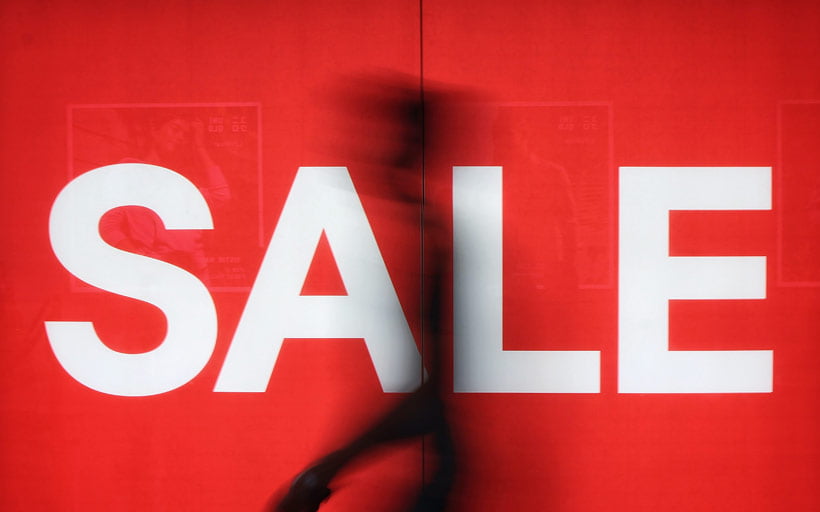 Interested in joining the world's leading print on demand platform?
Everyone remembers the magic and excitement of Charlie Bucket winning the fifth and final Golden ticket in Roald Dahl's Charlie and the Chocolate factory after stumbling across a coin in the street. Although modern commerce has changed significantly since that time of writing, there's no denying that there is something intrinsically inviting about getting something for nothing, whatever your age.
People love a bargain. This is evident when you consider the increasing popularity of sales bonanzas like Black Friday, Boxing day sales and Cyber Monday to name a few. According to Forbes, 2018 alone Black Friday brought in $6.2 billion in online sales, a growth of 23.6% over the year before.
Discounts are powerful. As consumers, we're more inclined to buy from somewhere if we feel we're getting a better deal.
In this article we'll run through a complete guide to the best discounts and promotions for your print on demand store.
In an increasingly competitive marketplace, brand loyalty is everything in relation to retention of customers. Seasoned shoppers who come across an unfamiliar brand, generally won't buy something first time at full price. Retailers know this, hence the popularity of first-time buyer discounts.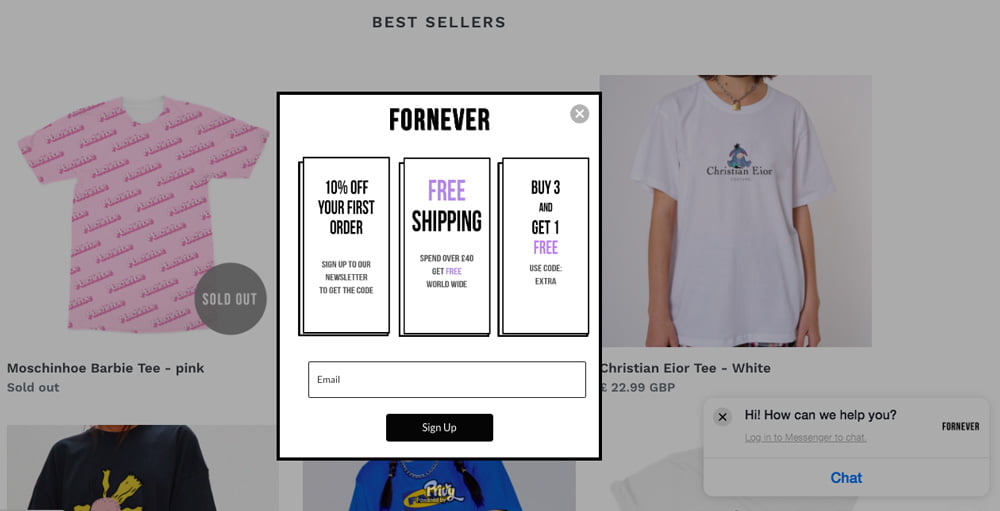 Incentives like these can lead to positive customer experiences that come to be associated with your brand, encouraging one timers to become loyal returning customers. Sometimes, that slight nudge is all it takes to reassure an online shopper.
When considering offers and discounts as a modern online retailer, it can be trial and error figuring out what works best for your store. Be sure to weigh up options and ensure your choices are right for your business as discounts/offers that work for one, don't necessarily work for another.
Having a clear pricing strategy is key for improving profit margins in the long run. Slashing prices haphazardly is counterproductive, however, when done right, deals can in fact boost online revenue. According to a recent Global survey by RetailMeNot, two-thirds of consumers "have made a purchase they weren't originally planning to make solely based on finding a discount".
So how do you know which types of deals to apply to your store? We've put together a run down of potential discount strategies that any ecommerce store owner worth their salt should be considering in the current climate:
Increase average order value (AOV) with bundling
The higher your AOV the better, as this determines how much you are getting out of every customer, while taking into account every bit of money spent on acquiring those same customers in the first place.
There's a simple equation any online retailer can do to calculate their AOV:
AOV = revenue / # of conversions
For example if your revenue this month was £2500 and you had 100 sales transactions (conversions) then your AOV would be £2500 / 100 = £25 per order.
If you could increase your AOV by just £5 per customer, you would've made £500 more!
To achieve better AOV, items that go well together should be offered as a bundle package on your store, to encourage customers to spend more overall. The perfect way to do so is by using apps and plugins such as BestUpSell — this allows you to upsell and create bundling deals easily.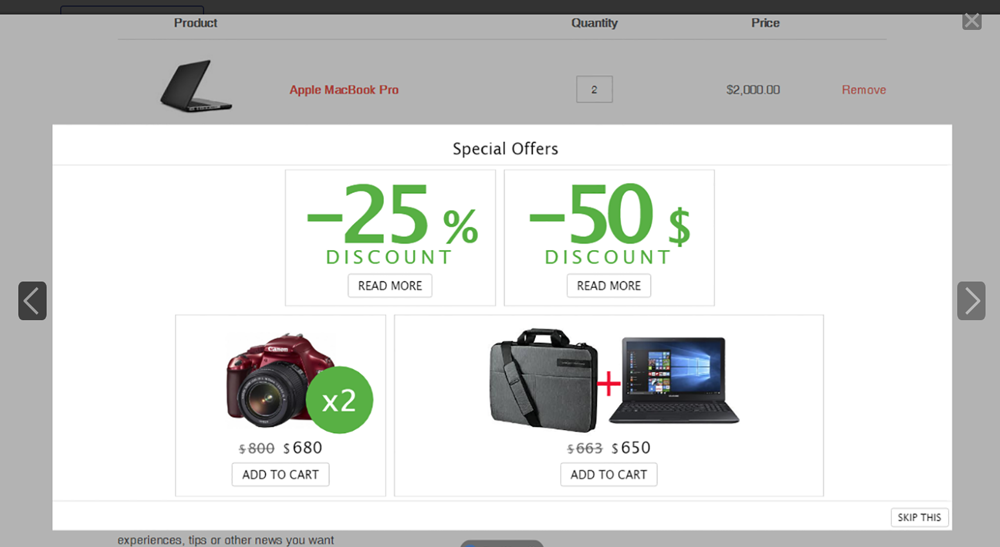 Free shipping
This is perhaps one of the most common offers you see on sites of all sizes. You'll find it used universally across the ecommerce landscape. Why? Because it works!
Free shipping is a simple but effective technique which can be an absolute deal breaker between a customer choosing you over a competitor site. Even better, free shipping is known to reduce cart abandonment.
According to the National Retail Federation, 47% of online buyers in 2018 said free shipping was the deciding factor when choosing to buy online.
Clever ways to integrate free shipping deals into your store include bundling the shipping price into your product pricing, setting a minimum spend, or applying a regional-only cap, to ensure better ROI and to prevent potential profit losses.
You can easily set up and manage free-shipping promotions natively through Shopify and BigCommerce. Through Shopify, simply select Discounts > Create Discount and fill out the form with "Discount type" and set to "Free Shipping".
Here you're able to set the threshold at which this is activated, for example, get free shipping if you spend £20, or buy 5 items. You can even set how many times a single customer can use the code.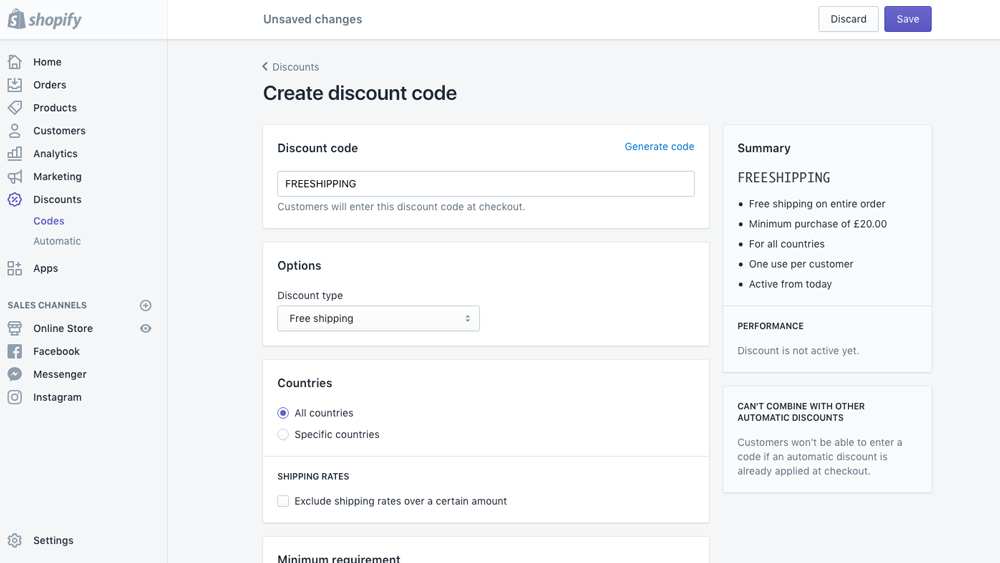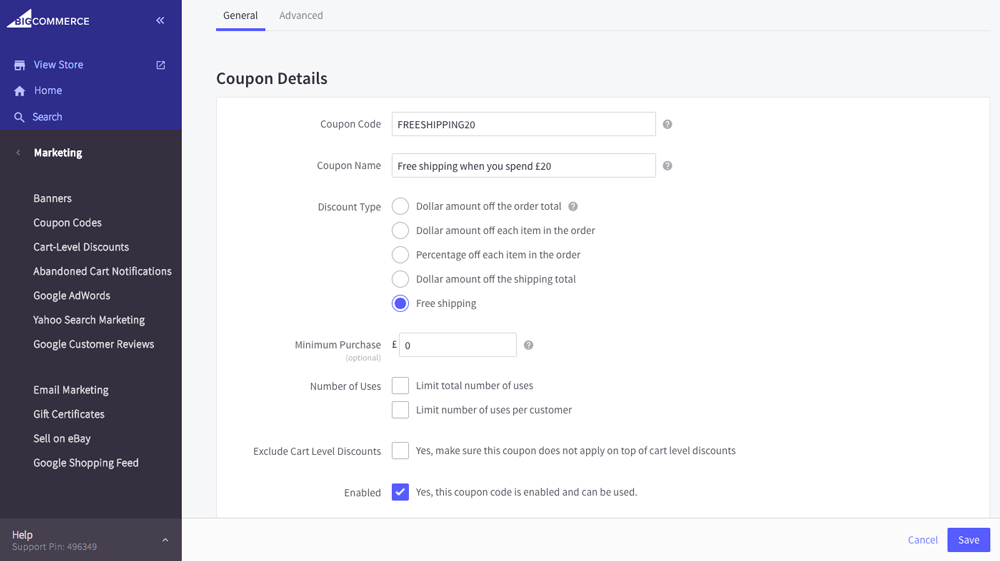 Percentage discounts
These are a great way to encourage new interest, while also getting customers to spend above a specified minimum order total.
Although these are effective in the long run, it's important to consider what size of discount percentage is in the best interest of your business. Too small a discount and you may not drive any additional sales, too large a discount and you could damage your brand.
When managing these types of discounts, one of the main advantages is that you can apply them to multiple collections, products, and locations — for example as can be seen here in Shopify: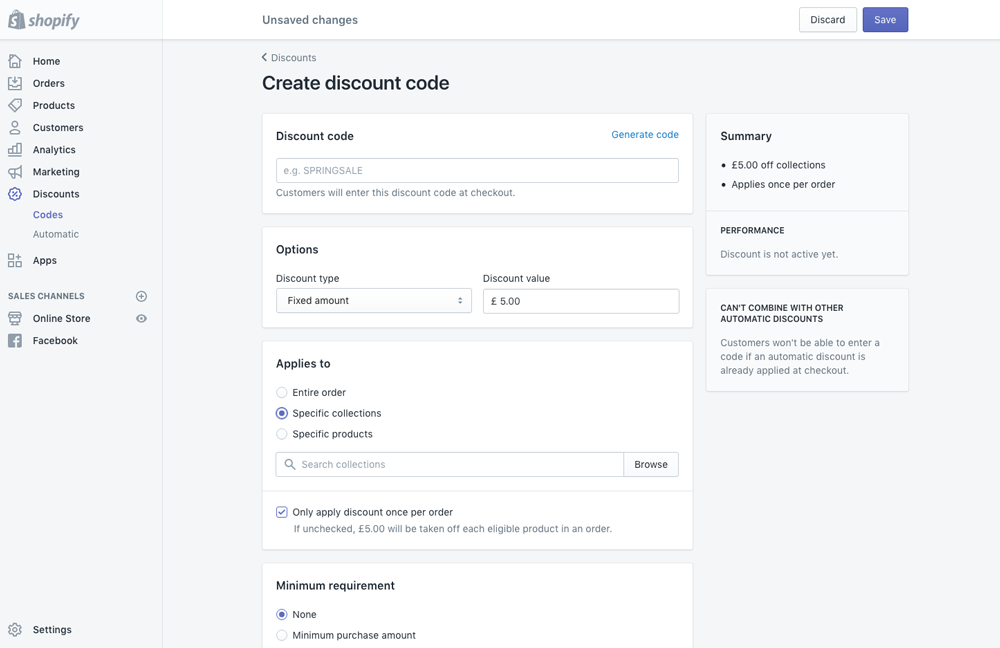 Owner of Funnels Agency, Ryan Turner finds percentage discounts particularly useful:
For new customers who have not purchased before, we see excellent results offering 20% off the first order. That is usually given on site in return for the customer's email address. Yes it's a big discount, but long term it can be a great strategy because you're getting new customers in the door, which is always a challenge for retailers. Taking the initial hit is worth it for many brands, because of future sales from the customer.
For existing customers, we recommend being more conservative and only offering promotions a few times per year around key dates. Putting a minimum spend in place works well, so 10% off orders over $100 for example.
Buy x get y free
Often known as BOGOF promotions — these are known to convert better than other discounts because customers feel like they're getting something for nothing.
Studies show that when consumers are presented the choice between money off or a free item, the freebie option has a tendency to win every time — simply because of the psychology behind the word.
This simple trigger quite literally evokes an emotional response. Customers see 'free' and are immediately programmed to believe this is the better deal, so the use of the word shouldn't be underestimated by any means!
Another important thing to remember is that customization can be key when driving customers to your site and maintaining a unique customer experience. When using BigCommerce, it's easy to personalise the process by setting categories, products, and storewide discounts for your varying customer groups:

Next we'll cover clever ways to then promote these deals to your customers.
Newsletters
The benefits of using newsletter are twofold:
Providing an offer in exchange for a new visitors' email address allows you the opportunity to build a relationship by delivering personalised email updates straight to their inbox, in turn growing your mailing list and reach.
Meanwhile, regular newsletters establish consistency and brand familiarity with existing customers. They can also be super effective at announcing your discounts and promotions resulting in repeat purchases from existing customers.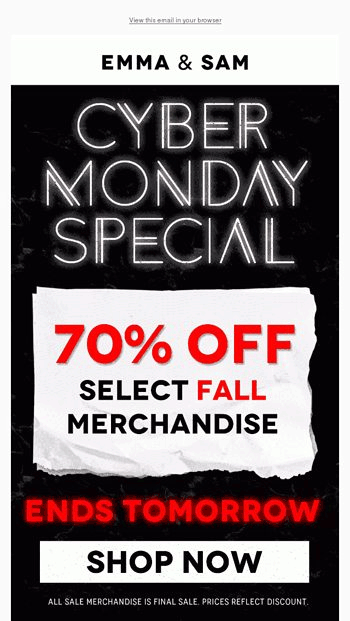 Exclusive social media offers
This type of offer is perfect for encouraging potential new customers to engage with your online store (by following and subscribing) whilst also tempting them to buy. It offers an element of exclusivity for those who already follow you, but not so much so that it alienates any new customers.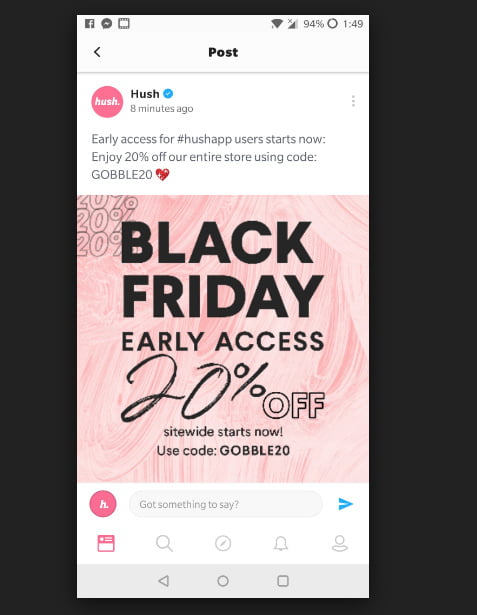 Members-only customer loyalty offers via email
Members only offers can be an effective way to incentivise customers to sign up and engage more. This can help invite more long-term investment to your brand. According to Adobe, 41% of revenue comes from only 8% of customers who are loyal and repeat purchasers. So it's well worth your time looking after customers and rewarding loyalty.
You only need to take a look at brand giants to see how they take time to invest in their customers and ensure they're always offering a little extra.
Members of Nike's loyalty program gain access to freebies such as meditation services and music on Apple which keeps customers coming back for more. While the likes of beauty and fashion brands often offer 'first look' deals and early access to sales and offers.
Show your loyal customers some love — you can use automated email marketing apps such as Klaviyo to craft and send specific email offers.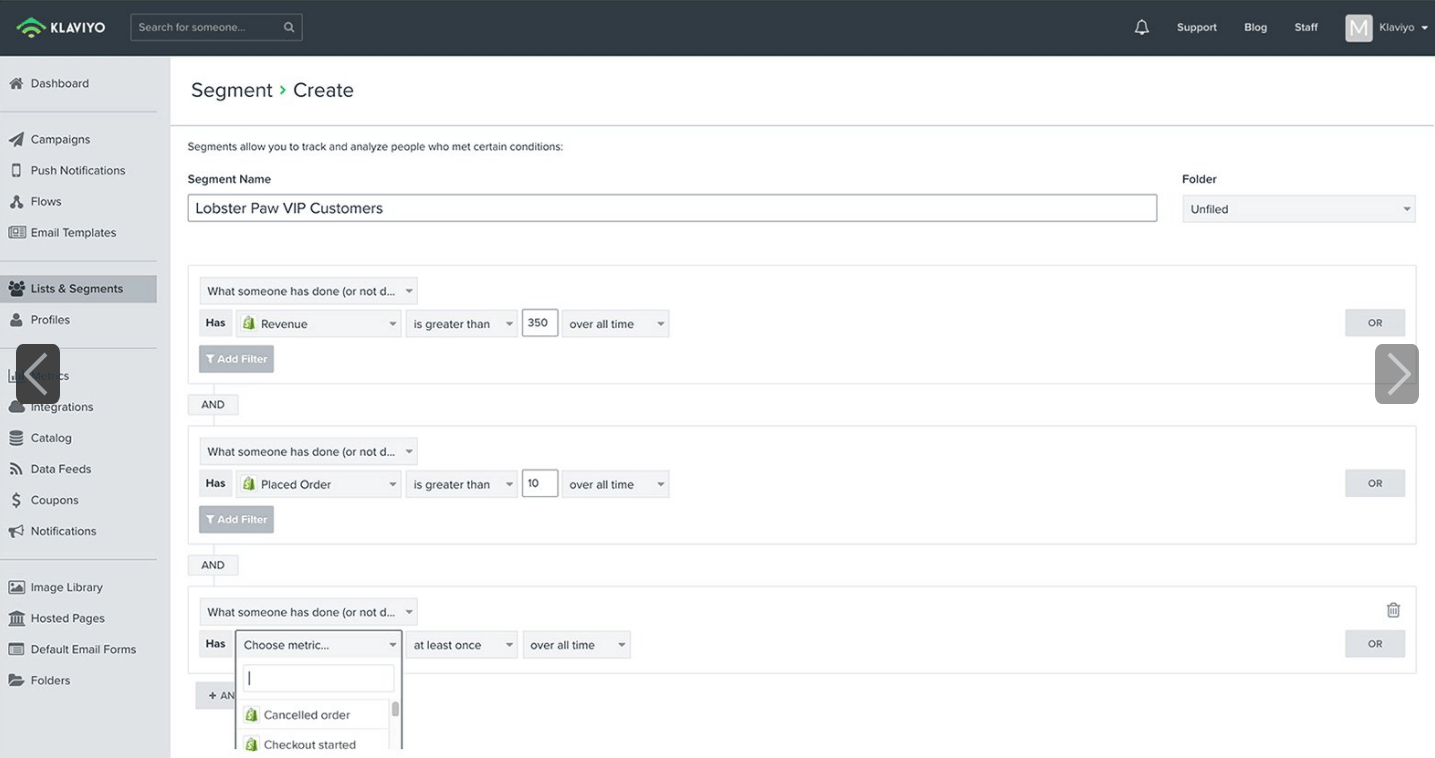 Retargeting promotions
Retargeting promotions are useful when you're looking to hone in on and attract specific groups of customers. This type of offer can be easily applied using BigCommerce by downloading free apps like Shoelace or the likes of ReTarget on Shopify.
It's worth mentioning here that retargeting means they will only be shown to people who have already visited your site before. Measure interest levels and track which kinds of customers are taking action, to gain a better understanding of who you need to be targeting in the future.
Influencer offers
One-time influencer offers are a great way to get potential customers to try your brand. Join forces with an online influencer (e.g a successful blogger) and expand your reach in the process!
Offers like this involve providing influencers with a unique offer code to share with their specific followers and subscribers. This is a great way to expose your products to the right audience that you otherwise wouldn't have access to.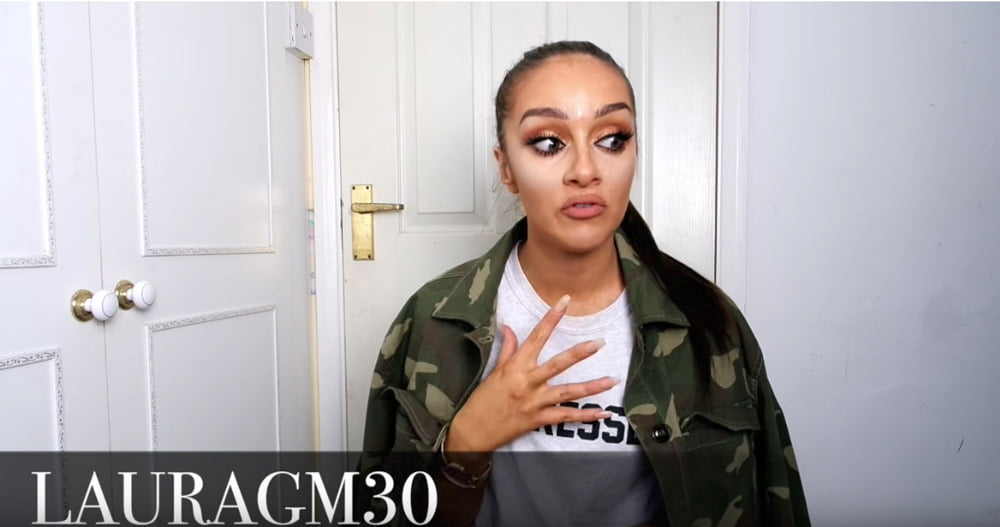 When it comes to successful promotional offers, the most effective offers will differ depending on the brand. Harrison Doan, Director of Analytics at Zenhaven advocates seasonal offers and adverts:
In the past, we've experimented with holiday-themed landing pages. Our bounce rate drops and our engagement increases whenever we choose to use these. I highly recommend this method to increase engagement through the holiday season.
Ultimately, discounts and promotional offers can be powerful tools to help drive purchases online, particularly among Millennials. Use this guide wisely and work towards making incremental improvements that can lead to bigger overall gains for your print on demand ecommerce store over time.
Good luck and thanks for reading!