Six custom phone cases to add to your ecommerce store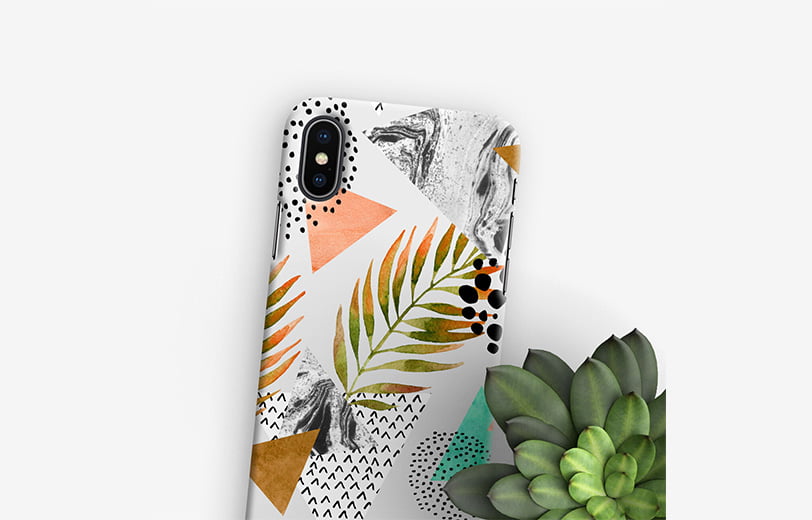 Interested in joining the world's leading print on demand platform?
If you're not already selling custom phone cases in your online store, you might want to get on the, er, case. Why, you ask? Well, according to recent research, the market size for mobile phone protective covers is projected to reach $35.81bn by 2028. That's a lot of phone cases…
Keep scrolling to check out our range of customizable phone cases, and find out how you can start selling them in your store today.
Snap case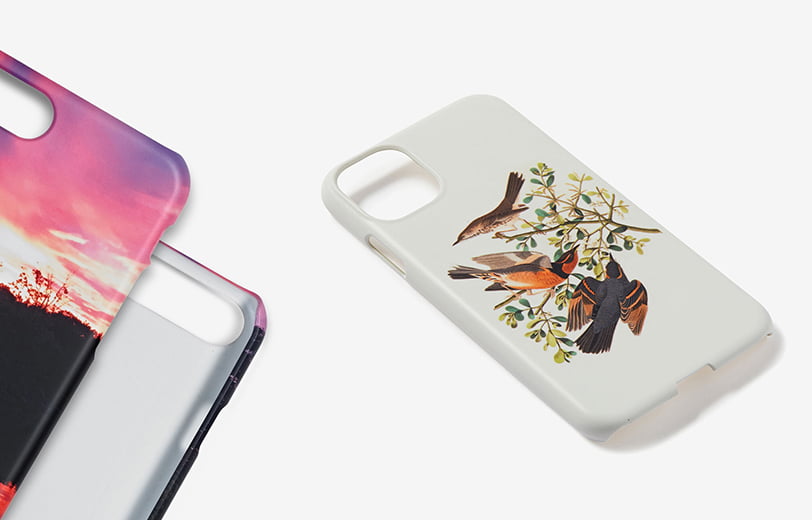 Great for anyone looking to save on space, our snap case is made from lightweight, impact-resistant plastic for durable protection without the bulk. Slim and compact, this custom phone case is available in a matte or gloss finish and printed edge to edge. Plus, let's face it, nothing beats that satisfying snap.
Compact
Slim
Lightweight
Impact-resistant
Matte or gloss finish
---
Tough case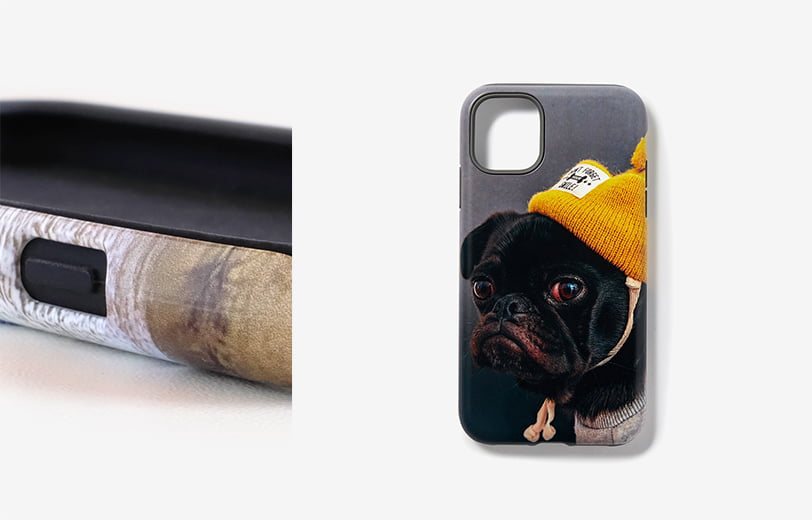 Don't be fooled by its tough exterior. Our dual-layer tough case is just as lightweight as it is strong. With an impact-resistant plastic outer shell and TPU lining for added shock absorption (good news for all the droppers out there), this personalised phone case comes in a matte or gloss finish with a 3D-wrapped print.
Lightweight
Impact-resistant
Shock-absorbing
Matte or gloss finish
---
Clear case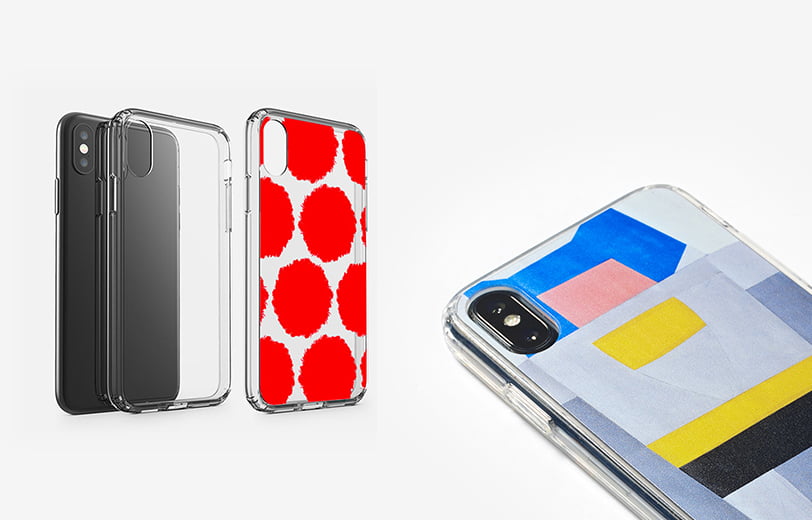 Slim and lightweight, our co-molded clear phone cases are made from shock-absorbing TPU and durable, transparent plastic to help protect them from bumps and scratches. These customizable phone cases feature a 2D custom printed area that covers the entire back of the device for maximum impact. Two words: sheer genius.
Slim
Lightweight
Durable
Shock-absorbing
Clear finish
---
Flexi case
Finished with a flexible clear coat layer, our flexi case is both slim and lightweight. Manufactured using shock-absorbent TPU, this print on demand phone case helps shield your device from impact damage and is available in a smooth, satin finish. Now that's what we call a solid all-rounder.
Slim
Lightweight
Flexible layer
Shock-absorbing
Satin finish
---
Folio case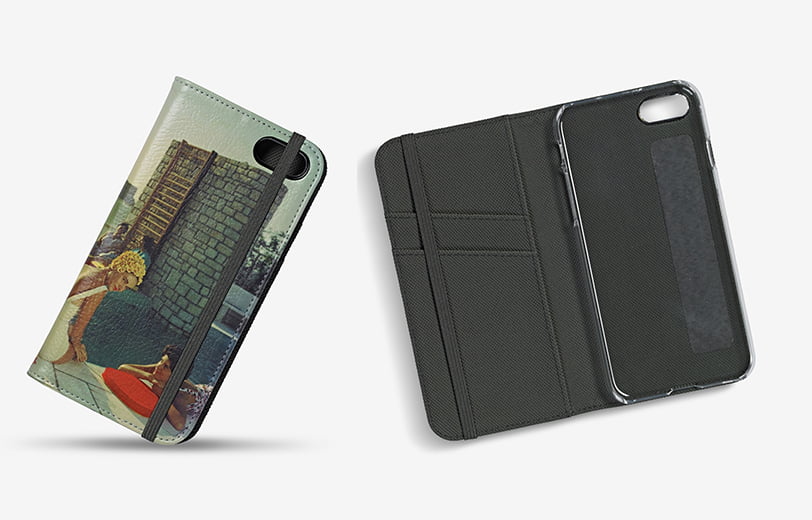 Our folio phone case is perfect for the ultra-organised. Providing storage for your cards and cash as well as holding your phone, it has three inner pockets, a stand feature for watching videos on the go and an elastic strap fastening. Made from faux leather with a satin finish, this custom phone case is as practical as it is stylish.
Faux-leather outer
Three inner pockets
Space for cards and cash
Built-in stand
Elastic strap fastening
Satin finish
Eco case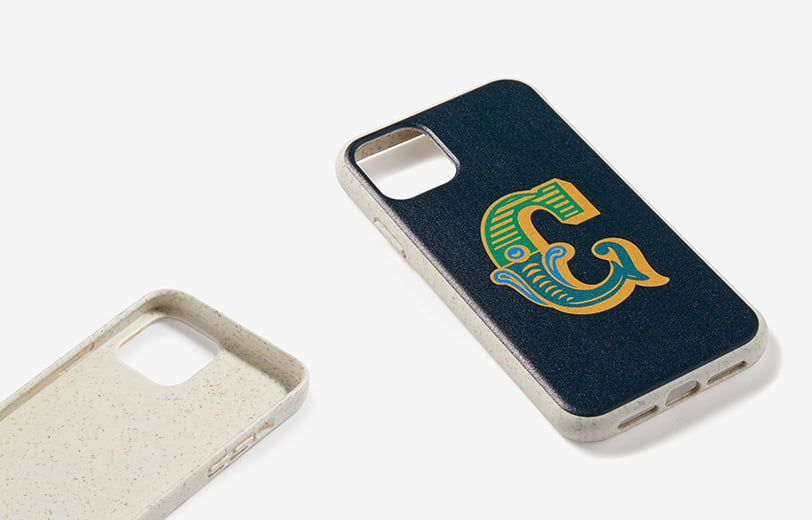 Sustainable phone cases are having a moment – our own eco case included. 100% biodegradable and free from environmentally damaging phthalates, BPA and cadmium, these eco-friendly phone cases break down naturally in compost after approximately six months. Composed of a flexible but tough bioplastic and bamboo fibre mix, they're shock absorbent, scratch resistant and have an all-natural aesthetic.
Eco-friendly
Scratch-resistant
Shock-absorbing
Natural finish
---
Start selling custom phone cases in your store
All of our customizable phone cases are available to order through our Manual Order Form and Print API, with our snap, tough and eco phone cases also available to order via our Shopify app.
New to Prodigi? Sign up for a free account and get access to a virtual inventory of print on demand products and our global fulfilment network. You design and sell; we'll do the rest – from picking and printing to packing and shipping. Order a sample pack today to see and feel the Prodigi quality for yourself.
For more techy print on demand products to sell in your online store, take a look at our selection of tablet cases, laptop cases and watch straps.