Shopify vs Etsy: Which platform is best for online sellers?
Tags
Interested in joining the world's leading print on demand platform?
Planning on starting your own ecommerce business? Firstly, congrats! Secondly, if you are thinking of setting up shop online, chances are you'll have heard of Shopify or Etsy — or both.
But what is Shopify, and how does Etsy work? The simple answer is that they're both ecommerce platforms that enable e-tailers to market and sell their products online, but that's pretty much where the similarities end.
So what's the difference between Etsy and Shopify, and which platform is best for online sellers? Before you make your decision, keep reading for a comparison of the two.
Shopify vs Etsy: What's the difference?
Shopify describes itself as "a subscription-based software that allows anyone to set up an online store and sell their products". Its platform gives online sellers the opportunity to launch their ecommerce business and sell to customers all over the world. What's more, Shopify's app offers both free and paid plug-ins for customising your Shopify store, meaning you can go as big or small as you like when it comes to personalising your brand — from setting up a basic store to creating an all-singing, all-dancing bespoke shopping experience.
Referring to itself as a "global marketplace for unique and creative goods", Etsy's platform connects online sellers with buyers looking exclusively for custom-made products. Instead of monthly or annual subscriptions, Etsy charges its sellers a small listing fee per item. Sellers can also subscribe to Etsy Plus in order to gain access to advanced customisation options for their Etsy shop. You can even set up your own website for your brand through Pattern — Etsy's website creation tool.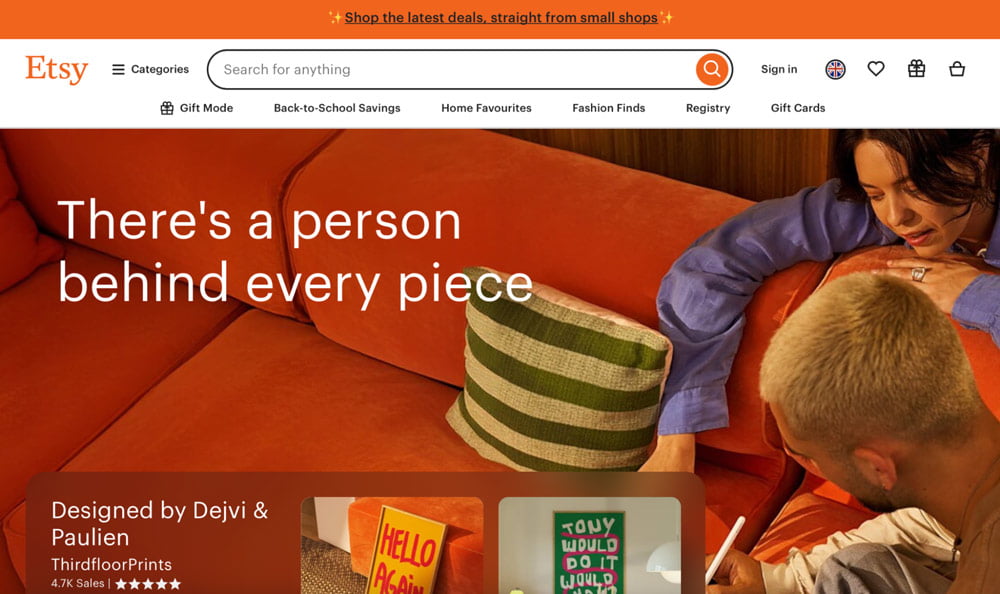 So now that we've established the difference between selling on Etsy vs Shopify, let's get into the specifics and weigh up the pros and cons of selling on each platform.
Shopify vs Etsy: Pros & Cons
Shopify pros — the advantages of Shopify:
Usability: Despite its wide range of amazing ecommerce tools (we'll get to those in a minute), Shopify is surprisingly user-friendly. Met by an uncomplicated interface, users are guided through everything from setting up a store to adding products and managing orders — no tech skills required.
Customisation: We really can't fault Shopify's personalisation options. Offering a huge selection of Shopify store themes designed to help build your brand's identity, you can choose from more than 60 (including 10 free themes and 50+ paid ones), all categorised by industry — think art and photography, food and drink, etc. Plus, all themes are editable and compatible with both desktop and mobile.
Domain: If obtaining a domain name isn't at the very top of your checklist when it comes to setting up an online business, it should be. Paying for a custom domain means your website address is completely unique to you and helps build brand recognition. The good news is that you can buy your own domain through Shopify. Even better, Shopify will automatically configure your domain so that your customers see it as your website address.
Ecommerce tools: Shopify offers a whole suite of slick ecommerce tools to help scale your online business, as well as an app store for adding all kinds of functionality to your Shopify store. You can sell unlimited products of any kind — both physical and digital — across all of Shopify's plans too, which include features such as multichannel selling, abandoned cart recovery and inventory management systems.
Fees & prices: Other than credit card charges, there are no transaction fees when you sell through Shopify. In terms of subscription costs, you can choose from three price plans, ranging from $29 per month for a basic plan to $299 per month for an advanced plan. Alternatively, you can try before you buy with Shopify's free 14-day trial. So while you do pay a monthly subscription, you get what you pay for, and then some.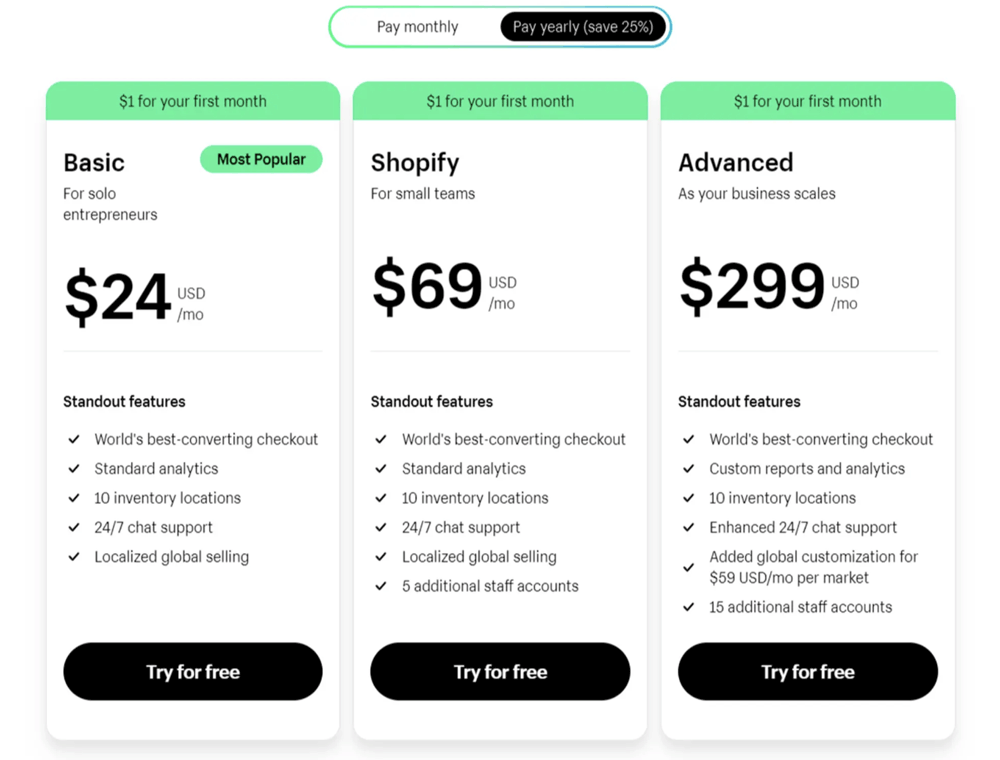 Shopify cons — the disadvantages of Shopify:
Marketing: For all its positives, there is one thing that Shopify falls short on, and that's exposure. Having an arsenal of ecommerce tools and resources at your fingertips is great, but no matter how attractive your virtual shop window is, it's meaningless without paying customers. There's no denying that you get a lot of bang for your buck with Shopify, but driving traffic to your Shopify store is solely down to you, so having a marketing plan is essential.
Etsy pros — the advantages of Etsy:
Usability: Not a developer? No problem. Setting up an Etsy shop is super easy. In fact, we'd go as far as saying that it has one of the easiest interfaces of any ecommerce platform we've ever encountered. Users have their hand held throughout the process, from creating an account right through to adding their first listing.
Marketing: Unlike Shopify, Etsy does some of the hard work for you in terms of marketing your online store. Referred to as the 'Etsy community', the hugely popular platform is essentially a bustling marketplace of sellers and buyers. The customer intent is already there, meaning you don't have to put as much effort into promoting your Etsy shop through traditional marketing tactics. That being said, Etsy is highly competitive and standing out from the crowd can be tricky.

Fees & prices: Aside from an individual product listing fee of $0.20 and transaction fees, there's nothing else to pay when selling via Etsy's standard plan. You can, however, choose to upgrade to Etsy Plus, which would set you back $10 a month. This is currently Etsy's only paid subscription package and gives you access to features like customer restock requests, additional customisation options and advertising credits.
Etsy cons — the disadvantages of Etsy:
Customisation: We're not saying that Etsy's product pages don't look good, because they do! The platform's pre-defined layout just means that you can't really put your own brand's stamp on there besides adding a logo. On the plus side though, you can use your own images and write your own product descriptions.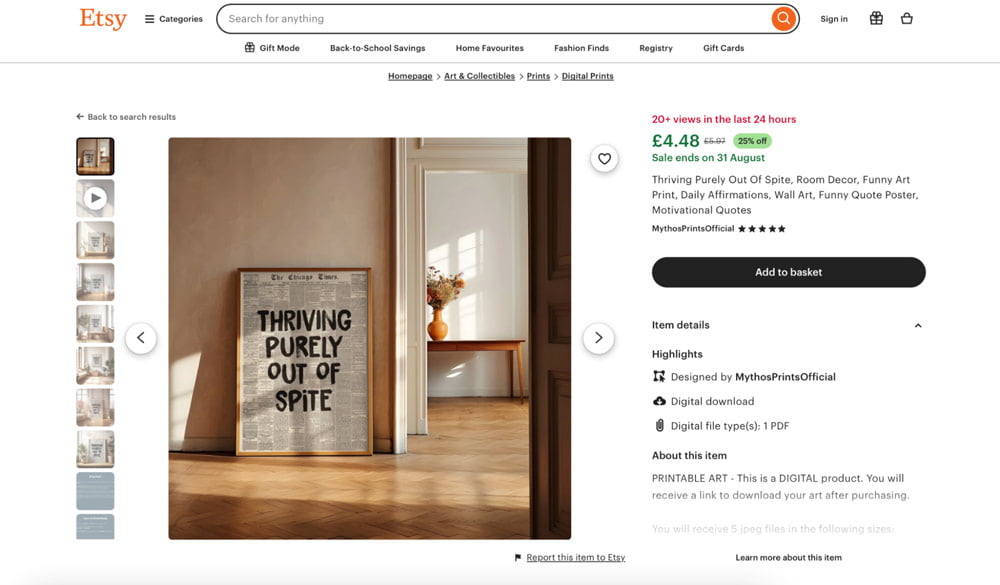 Domain: Something else that Etsy controls is your domain name. Although that means your website address might not be as memorable to customers as a custom domain, you could argue that Etsy's popularity makes up for it, since your Etsy shop has a better chance of being found organically than a Shopify store — it just depends on how you look at it.
Ecommerce tools: Etsy only offers a handful of ecommerce tools in comparison to Shopify, including Etsy Plus and the 'Sell on Etsy' app, which lets you manage your Etsy shop on the go. It's not much, but they're useful tools considering the platform's low fees. You're also limited as to what you can sell on Etsy and are responsible for maintaining your own inventory. If you don't intend on selling handmade goods, craft supplies, and vintage items (which are more than 20 years old), you'll have to rule out Etsy as an ecommerce platform.
Whew! Hopefully that's helped clear things up and given you a better idea of whether Shopify or Etsy is the ecommerce platform for you when it comes to online selling.
Shopify is clearly a strong choice for scaling and customising your business, but Etsy is the authority on all things custom-made and more budget-friendly.
Whatever choice you make, just make sure it's the right choice for you.
Shopify vs Etsy: Can I integrate my Shopify store or Etsy shop through Prodigi?
Our print on demand platform offers a range of solutions for your Shopify and Etsy orders. From picking and printing to packing and shipping, we handle everything from the second we receive your order, leaving you free to focus on growing your business. The best part? Prodigi is 100% free to use.
If you're a Shopify seller looking to dropship premium print on demand products to customers all over the world, look no further. Our fully integrated Shopify app gives you access to automated order processing, an exclusive range of Shopify products and state-of-the-art product design tools. You can also process single or bulk orders through our manual order form, where you can order thousands of products and use your personalised dashboard to check production progress and track shipments.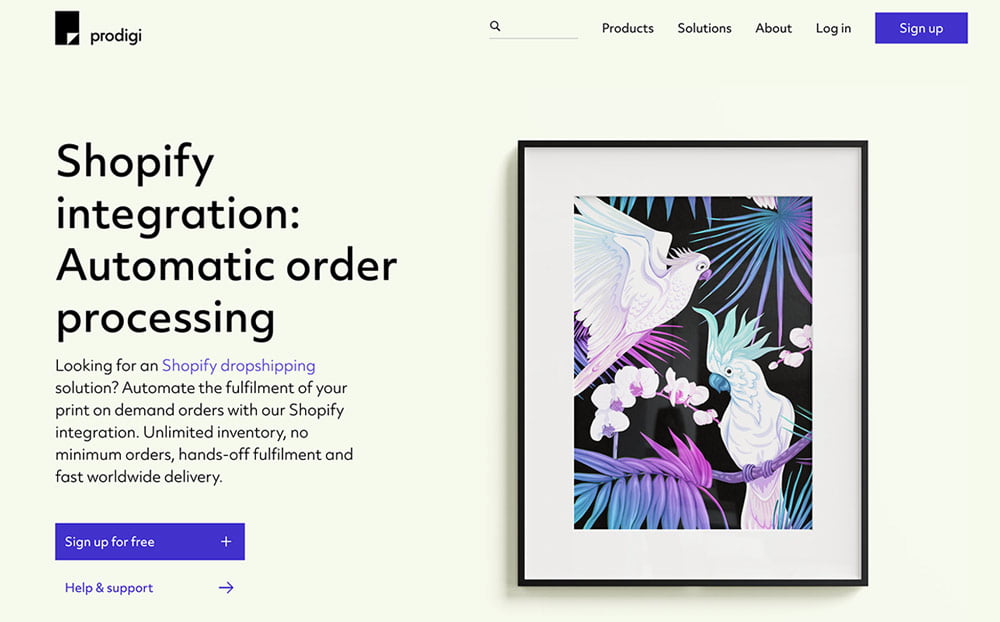 While we're not quite fully integrated with Etsy just yet (watch this space), we do provide a couple of simple workarounds. If you already have a Shopify store, you can either download our Shopify app, add all the products you want to sell and then choose from one of the many apps that allow you to synchronise your catalogue between Shopify and Etsy. If you don't have a Shopify store or just want to sell exclusively through Etsy marketplace, you can use our manual order form to place individual or multiple orders in just a few quick steps.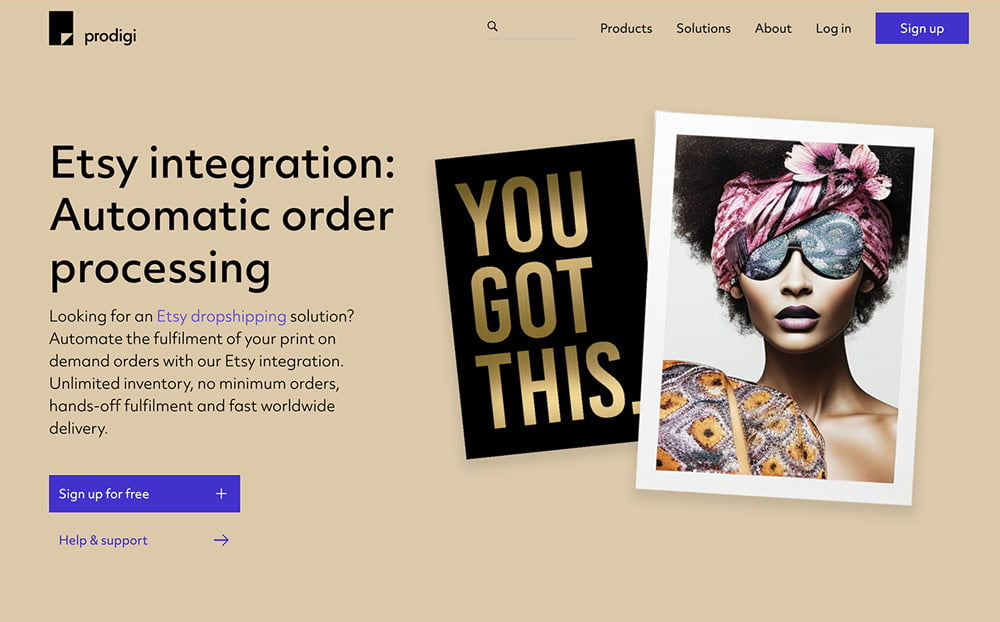 If you need a hand getting set up, our downloadable user guides are a great place to start. Alternatively, feel free to drop our amazing customer service team a line by emailing support@prodigi.com to speak to a real person, or simply click the live chat icon in either the Shopify app or manual order form.
Ready to start selling? Browse print on demand products for your Etsy shop, or check out our Shopify range for selling on our Shopify app.