Same day before midday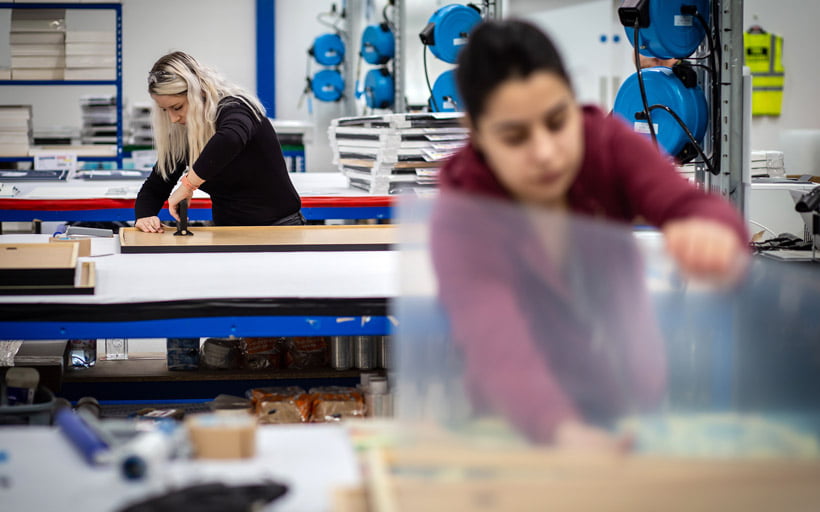 Tags
Interested in joining the world's leading print on demand platform?
Have you heard the news?
Following a successful soft launch back in March, our brand-new, shiny Same Day Before Midday service has now officially been rolled out to all of our Prodigi clients.
This means we're now able to rapidly produce and dropship global fine art prints and frames from our lab in Alton, UK, with all Classic frames and EMA prints ordered between 2am–12pm Monday–Friday produced and shipped that very same day. *celebratory mini wave*
What's more, you don't have to lift a finger in order to benefit from the service, since you can access it automatically when ordering any print on demand products eligible for Same Day Before Midday dropshipping — it's that simple.
Kevin Davies, Vice President of Commercial Operations for Fy! — a retail app curating home living and lifestyle products from a global community of emerging brands, designers and artists (and one of our clients) — reported that their click-to-ship time has reduced from 4.2 days to 1.1 days since the service launched. Not only that, the rate of customers querying where their orders are has decreased from 1.5% to 0.5%. To quote Kevin, that's pretty "impressive".
Here to explain exactly how Same Day Before Midday has been built into our Alton lab and the impact it's having so far, Group Operations Director, Greg Howford, gives us the low-down:
What steps did you take in order to accommodate Same Day Before Midday in Alton?
"First, we had to understand the volumes and file receipt times by product in order to know how best to model our shift patterns. After that, we worked with our teams to find out their preferred hours and modelled our shift patterns accordingly, focusing on additional weekend hours and night shifts."
And would you say the service has been a success so far?
"From a production perspective, yes!"
To what extent are you currently fulfilling Same Day Before Midday?
"We're currently achieving Same Day Before Midday for all global frames and approximately 80% (soon to be 100%) of global fine art prints out of our Alton facility."
Have you faced any challenges in getting the service rolled out?
"Only around disrupting the teams' shift patterns!"
Any plans to offer Same Day Before Midday for more product types in the future?
"Absolutely — we're currently looking into providing the service for all products from both our Farnham and Alton facilities, as well as products from our lab in the Netherlands (although there's quite a bit of work to do before this can happen!)."
So there you have it! Be sure to keep an eye out for more updates from us in the near future as we continue to add more products into our Same Day Before Midday offering — we think it'll be a real game-changer.
Find out more about our Same Day Before Midday Classic framed prints, EMA prints and all our other print on demand products.