How do we make print on demand socks?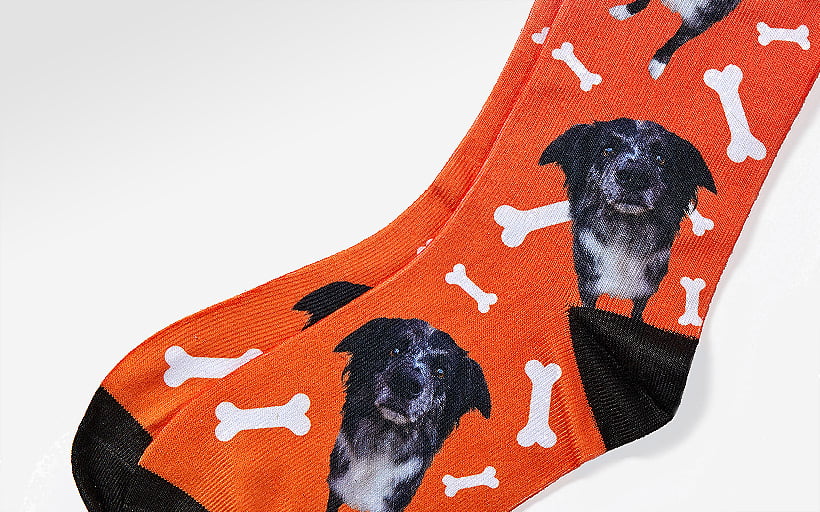 Tags
Interested in joining the world's leading print on demand platform?
Custom socks continue to be an ever popular stocking choice for ecommerce business owners. Sales across the global sock market exceeded $42 billion last year — and revenue continues to rise. Online sock sales in particular are booming, and the demand for personalised socks is increasing significantly — with customers willing to pay a high premium for custom designs.
Personalised socks with either pets or people are bang on trend right now, being perfect for seasonal gifting. Due to this high demand we've now brought sock production in-house at Prodigi, and our expert print team have been experimenting with different techniques to create what we believe are the best quality custom socks!
I went to visit our resident dye sublimation specialist Luke Willmott to find out more.
Let's start with the technology Luke, I'm interested in the print process **itself?
We manufacture our socks using a dye sublimation print method. This can come as a surprise to customers, as those familiar with print processes used for other types of custom apparel — such as t-shirts or hoodies — often expect us to be using a direct-to-garment process. There's a reason we don't though, and it's all to do with wear and tear.
Dye sublimation is a fairly labour intensive process, as there are quite a few manual steps that need to be taken and to get the best quality finish you can't automate it.
Firstly, we print the sock design onto specialist paper using sublimation ink. Then, we place a sock onto one of our bespoke jigs — a collection of 2D moulded foot shapes in different sizes — before heat transferring the artwork onto the sock blank.
Our sock printer first has to be heated to 400 degrees, to ensure the design is transferred perfectly and in crisp, vibrant colour. The design is permanently sublimated as the dye moves from a gas back to a solid state, forming a strong chemical bond against the sock fabric.
As socks are a tubular shape, how does that work, can we print one sock in one go?
Unfortunately not. Because the material has to be pressed flat, we have to print each side of the sock independently, making sure we line up the artwork seamlessly to ensure the total design is recreated with perfect accuracy.
For this reason, to create a high-quality finished pair of socks it takes approximately 10 minutes production time.
It really does sound quite complex! So why do we use dye sublimation print if the process itself is so onerous?
Put simply to get the best quality finish for this particular product. Dye sublimation is a really robust print process that produces a very high quality result. Because the dye is chemically bonded to the blank — it's a permanent transfer that gives a really long lasting result. Bear in mind of course that socks are washed again and again. Fade resistance is a key selling point for our online store owners and because a lot of the socks are personalised the end consumer is paying a premium. We need to make sure we're giving the best possible quality that reflects well on our customer's brands.
What about the sock material then, does dye sublimation work well on any fabric?
No it doesn't, and that's just one of the reasons we opt for 100% polyester socks. It's the right fabric to give a silk finish that's both durable and fade resistant. Polyester also offers good arch support and retains it's form wash after wash. The fabric protects feet whilst also helping to wick away moisture and sweat.
The other good thing about polyester is that it's both wrinkle and stain resistant. So again in terms of durability, the combination of polyester with dye sublimation technology gives the best quality, best comfort, long lasting finish.
Thanks Luke. I guess all that remains is to see you printing some bespoke socks in action!
Here's the process, step by step: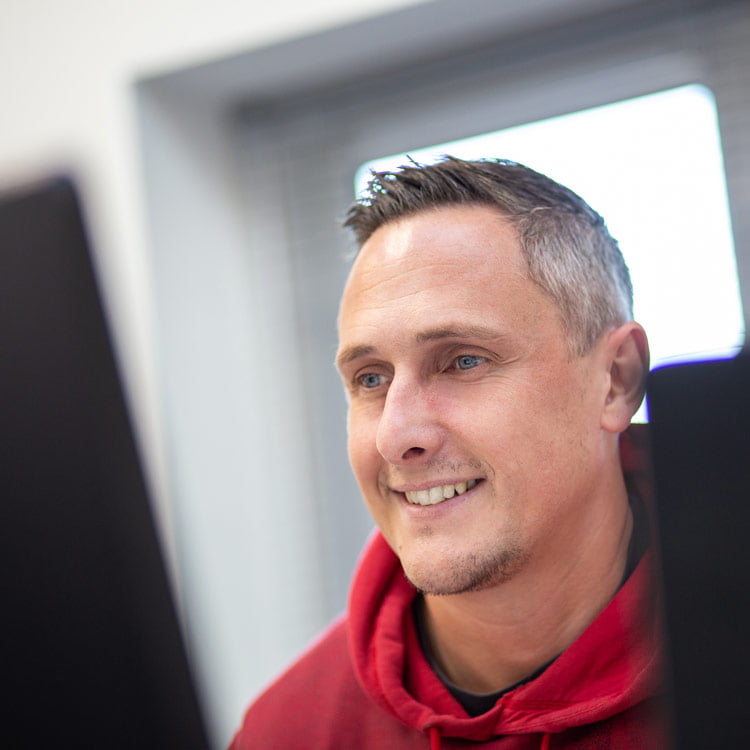 Prepping an image
Printing on specialist paper with dye sublimation ink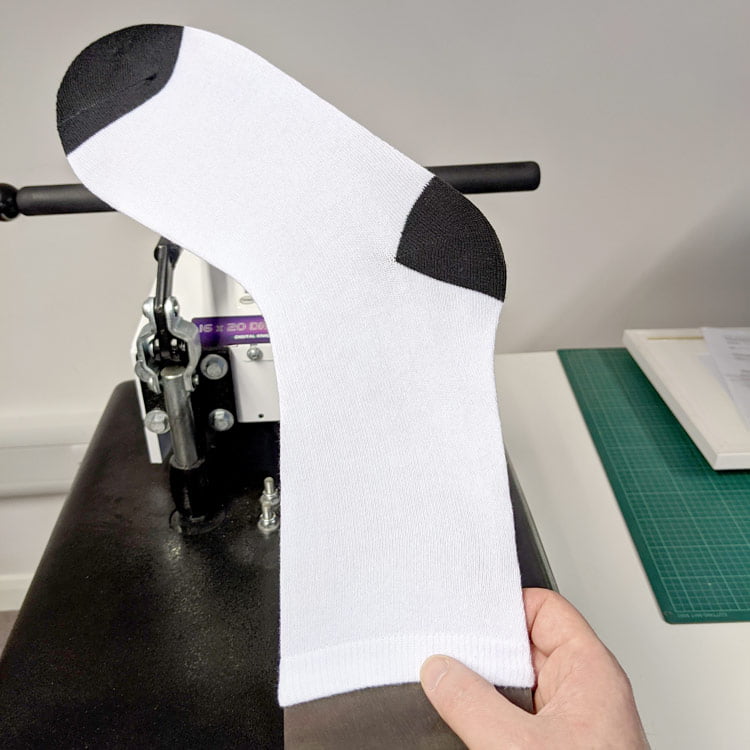 Placing on the jig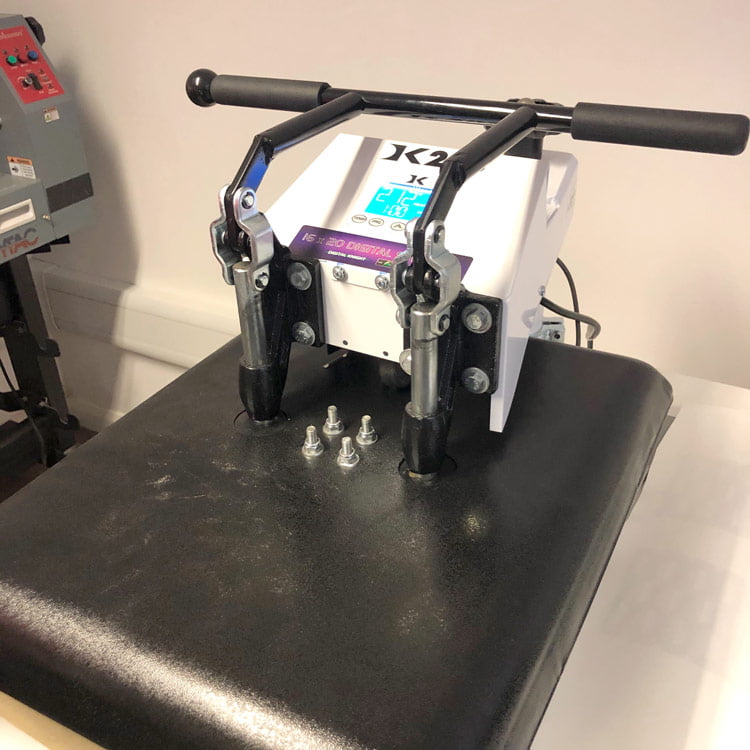 Heating up the printer — to 400°C!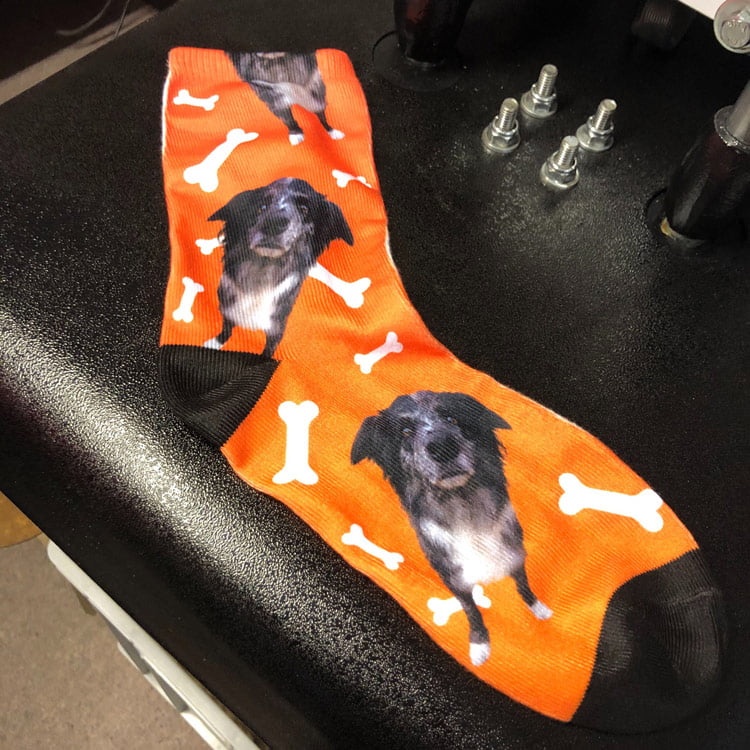 First half printed!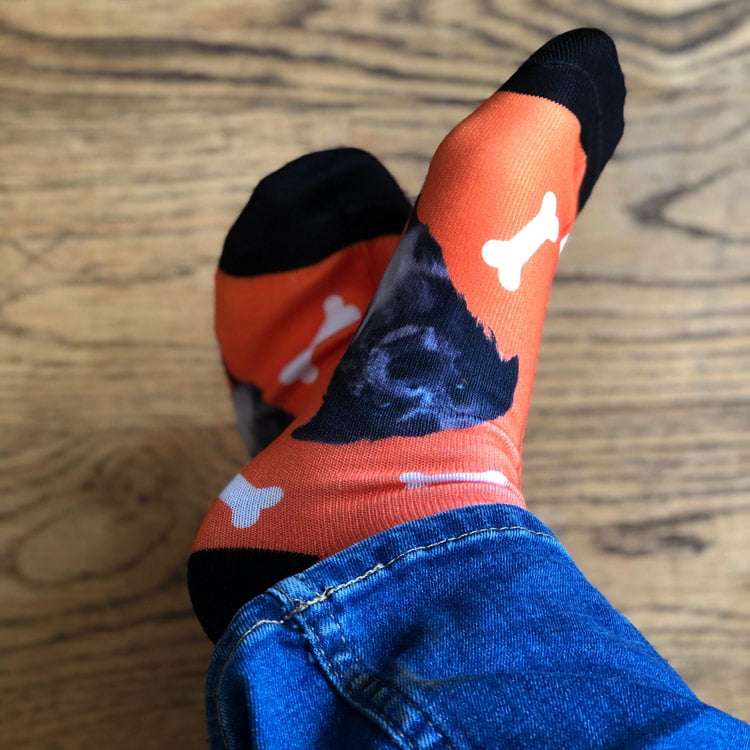 Loving my new socks! Thanks Luke!