Print on demand for artists: what's the best approach for selling your work online?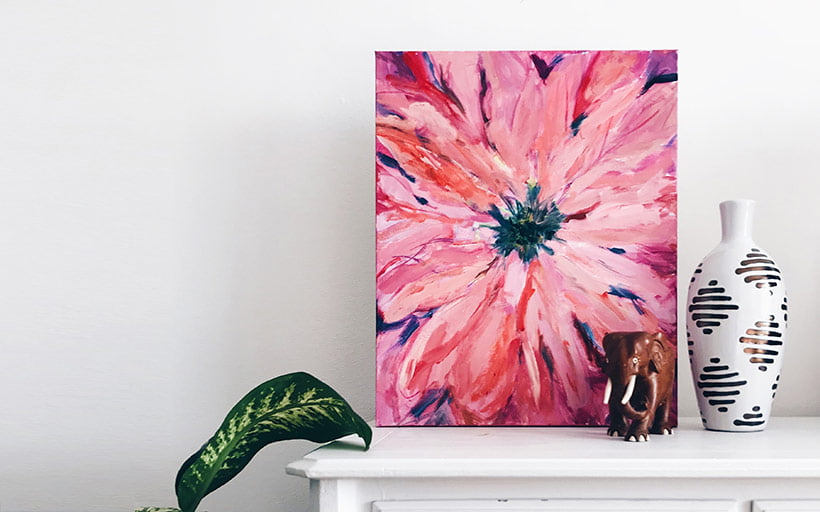 Tags
Interested in joining the world's leading print on demand platform?
For many artists — particularly those working with traditional media such as oil or watercolour on canvas — the idea of selling reproduction prints online might seem like a nebulous concept. Nonetheless, if ever there was a time to consider the benefits, now seems like a good one!
The digitalisation and sales of artwork is booming, with online business accounting for nearly 10% of all art sales in 2018, expanding at a CAGR of 31.8%. Add the global pandemic into the mix and the market is moving faster than all pre-Covid projections. Online retail in general is now the fastest growing market in the world, with sales exceeding $4.2 billion in 2020. This accounts for 16% of all retail sales globally.
In terms of the how, many artists are turning to print on demand business models, to avoid the upfront investment in large lithographic print runs plus the costs of storing artwork.
But is print on demand right for you, and if so how do you get started?
Choosing the best fit sales platform
There are several ways to sell artwork online.
Marketplaces
There are plenty of online marketplaces to investigate, from Etsy and Wayfair through to Redbubble and Society6. Each marketplace operates differently; some have upfront fees, some charge a percentage of profits to promote your products, and others have a basic monthly listing fee which you can supplement with advertising spend to boost your presence on the site.
Marketplaces are a good solution for the less tech savvy. They are quicker and simpler to use when setting up your storefront, and require minimal investment. It's definitely the option of choice for those simply wanting to 'dip their toes in the water'.
Custom online shop
For the bold creative entrepreneur who wants to go all in, building your own website is a great way to fully control and customise all aspects of your online art business.
This independence comes with a price tag however, as you'll need to engage both a designer and a developer to create your bespoke site. You'll also need to spend more time in thinking through functionality, and establishing ecommerce solutions for accepting online payments.
Ecommerce platforms
Ecommerce enablers such as Shopify, BigCommerce or Squarespace all provide a quick and easy alternative to a custom site build. With thousands of 'template' storefronts to choose from, it takes the upfront cost and hassle out of creating your online store.
Most platforms like Shopify operate on a monthly subscription basis, and you can tailor your costs based on the level of functionality you require. You'll also have the option to plug in an array of Apps to create storefront features like live chat, customer surveys, discounts and so on.
A combination of the above!
Of course, you don't need to be restricted by favouring one route over another. There are several creative entrepreneurs who sell artwork from their own website, in addition to listings across multiple marketplaces.
This becomes more admin intense as you have to manage your print orders from several sources, but can ultimately be more lucrative.
Which products are right for your art?
The increasing popularity of interior design is driving significant volume in wall art, but custom apparel and merchandise also continue to see booming sales.
Whilst many traditional artists immediately think about wall art as the go to product of choice — in the form of fine art prints, canvas or framed prints — there are so many unique products out there it's worthwhile considering whether your art lends itself to other media too.
There have been some real curve balls in 2020 that's for sure. Here at Prodigi, we've seen a very traditional portrait photographer do incredibly well with print on demand phone cases and iPad covers, for instance. Another creative client has a booming fine art style wrapping paper business — which of course has seen record sales on the approach to Christmas.
Bespoke art always does well for seasonal gifting, and customers are willing to pay premiums in excess of 20% for customised products in the wall art and homewares categories.
Apparel, though, continues to be the stand-out market leader for all POD sales, with face mask sales continuing to rise sharply throughout the year, coupled with the ongoing success of designer t-shirts.
All global print on demand suppliers offer really extensive product catalogues, so there are so many opportunities to find the right products that suit your individual artistic style.
Speaking of print on demand partners…
There are literally hundreds of print on demand providers who can assist you with sourcing products, printing and white-label fulfilment to your customer.
The great thing about working with any global print on demand provider is that it takes the hassle away from the artist. It sounds obvious to say it, but a lot of creative clients don't want to worry about product sourcing, manufacturing, quality control and logistics; understandably they want to focus on their art and building their brand.
Any good print on demand provider should act like a silent business partner. They are invisible to your customer, but work in the background to streamline the production and delivery of your artwork. Most POD providers offer a global service, so your business won't be restricted in terms of scale. You can sell your artwork to any customer on Earth.
Gone are the days of artists having to invest in thousands of prints, taking major risks over what will or won't potentially sell. Print on demand has very low barriers to entry, and also gives a near level playing field for new entrants.
When choosing a print on demand supplier, be sure to research their product specialisms — we all have them! If you are looking to print only wall art, look for experts in fine art printing and framing like Prodigi. For apparel only, there are dozens of POD suppliers who specialise in custom apparel, and these might be more cost competitive than other print on demand 'generalists'.
Whilst of course we have some bias, we have outlined some of the market leaders below, and produced a quick comparison to help you shortlist the right partner for you.
Remember to always order samples before using any POD, to ensure you are happy with the quality of product you are selling to your customers. It's your brand so you need to protect it.
Here at Prodigi, we are proud of our print quality and offer a sample pack of our most popular products. Simply set up a free account and order your no-obligation sample pack today.
Prodigi
Printful
Gooten
Jondo
Printify
Free service
Yes
Yes
Yes
Yes
Basic service free but you need to pay an extra fee to access preferred pricing
In-house print?
Specialist giclee fine art and sublimation printing
Specialist direct to garment and sublimation printing
Outsourced
Specialist giclee photo and sublimation printing
Outsourced
Product range
2000+
200+
1500+
1100+
300+
Distribution
50 global print labs
8 global print labs
65 global print labs
10 global print labs
90 global print labs
Average production time

As of Nov 2020

1–2 working days
5–7 working days
3–6 working days
5 working days
2–7 working days
Free samples?
50% off your first sample order
20% off your first sample order
No discounts available
25% off first five samples
No discounts available
Custom branding?
White label with some custom options such as flyers
White label with some custom options to add branding to products and packaging
White label with some custom options such as neck labels and packing slips
White label some custom branding options such as logo stickers for products and packaging plus flyers
White label with optional neck labels
Pricing

Most affordable t-shirt as of 1 Oct 2020)

$6.79
$7.95
$6.90
Apparel not sold
$5.25
Customer service
24/7 service, average response time <3 hours
24/7 service
24/7 service, average response time <72 hours
Monday to Friday 8am to 5pm PST. Try to respond to all enquiries < 24 hours
24/7 service