Kiss-cut stickers vs die-cut stickers
Tags
Interested in joining the world's leading print on demand platform?
Kiss-cut or die-cut stickers — which is better? If you're thinking about selling print on demand stickers in your online store, it's a perfectly plausible question. But if you've never even heard of die-cutting or you're contemplating "What are kiss-cut stickers?" then keep scrolling, because we're about to get stuck in (pun very much intended).
What is a kiss-cut sticker?
A kiss-cut sticker is essentially a sticker surrounded by removable backing material that's larger than the sticker itself. The term 'kiss cut' refers to the laser-cutting technique used to cut around the sticker while leaving the backing material intact, so that the two are effectively "kissing". Makes sense.
Some of the benefits of using kiss-cut stickers include:
You can use the backing material for branding purposes — why invest in business cards when your product can do your marketing for you?
The backing material protects the edges of the sticker until peeled away — designed to prevent wear and tear, think of it a bit like an insurance policy.
They're much less fiddly and easier to remove — having the backing material to hold on to as you peel off the sticker comes in pretty handy.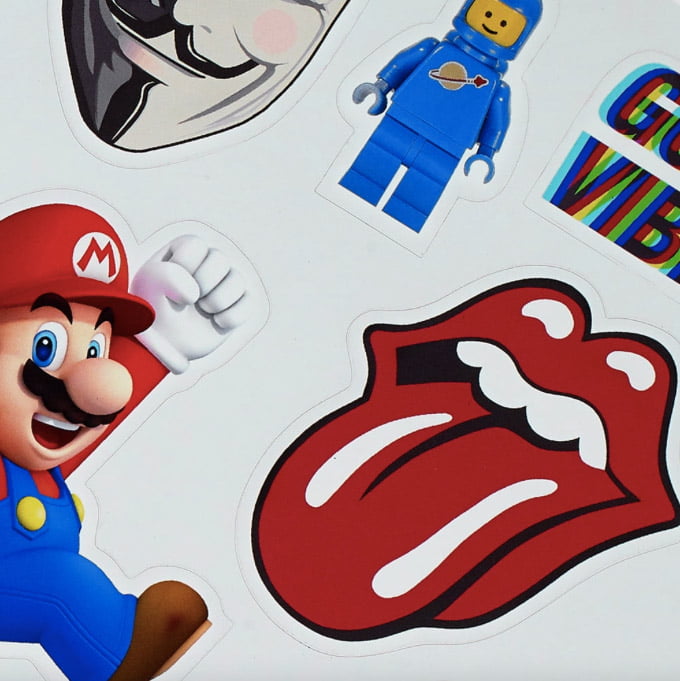 What is a die-cut sticker?
Unlike their kiss-cut counterparts, die-cut stickers are cut precisely to the shape of the design itself, so there's no removable backing material to work with. Instead, the sticker is removed by cracking and peeling it away, also known as the crack-and-peel method.
Some of the benefits of using die-cut stickers include:
They're cost-efficient — simply put, less cutting = cheaper price.
They look good. Like, really good — by doing away with the removable backing material (or waste space, as it's sometimes referred to), the finished product ends up looking a lot cleaner.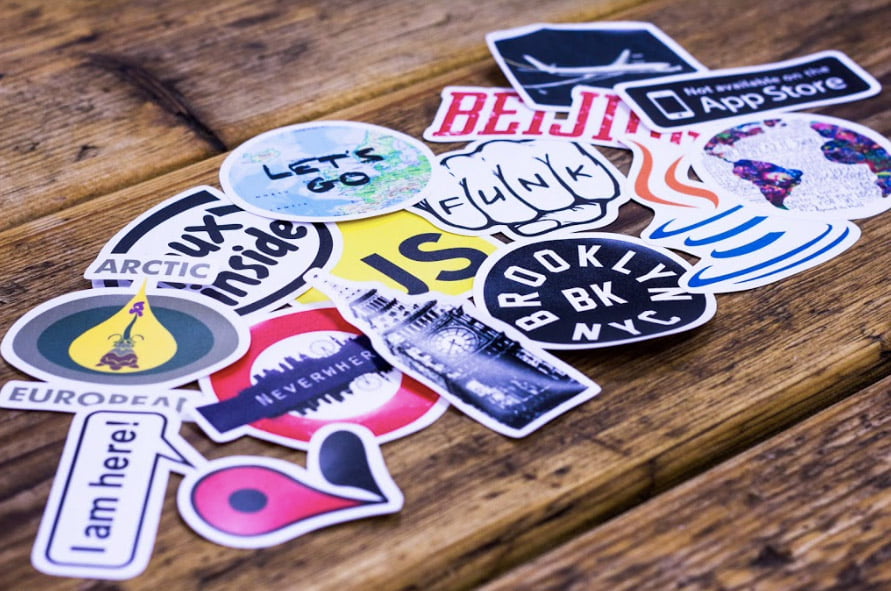 Which one should I sell in my online store?
Good question! There's really no right or wrong answer as both kiss-cut and die-cut stickers look exactly the same once applied and can be used indoors or outdoors. It all comes down to personal preference and what makes sense for your business.
You might, however, want to consider the following when deciding between the two:
Cost — if it's a question of cost then you'll probably want to opt for die-cut since there's less cutting involved in the production process, which means you pay less.
Durability — kiss-cut is your best bet if you're selling stickers with intricate designs as the removable backing material helps protect them from damage during transportation, while die-cut stickers (although technically more prone to damage) are a super-popular choice due to their slick, clean-cut aesthetic.
Usability — both kiss-cut and die-cut methods give you the same end result and can be used inside or outside, however kiss-cut stickers are slightly easier to peel, therefore may be a more user-friendly option if you're selling in bulk.
To sum up…
When it comes to selling custom stickers, there are pros and cons to weigh up for both kiss-cut and die-cut formats, such as cost, durability and usability. Ultimately, though, both are excellent options.
Here at Prodigi, we offer a range of print on demand stickers in a variety of different finishes, styles and shapes. Made from premium vinyl to ensure long-lasting stick and optimum print quality, our personalised stickers can be used for everything from signage and event merchandising to crafting, home decoration and goods personalisation.
Looking to expand your print on demand catalogue? Check out our collection of print on demand products.