Revealed: the best quality t-shirts for printing
Tags
Interested in joining the world's leading print on demand platform?
The branded apparel market is booming. From custom tees and tanktops to sweatshirts and hoodies, more and more bespoke branded clothing is being sold through print on demand ecommerce storefronts. Of all these growth items, the humble tee is the stand-out front-runner, with the global market for customised, direct to garment t-shirt printing expected to cross $5 billion by 2025 (ComCap Report 2019).
It's a lucrative business — but it's a competitive one at that. Design is the most important component to differentiate yourself from competitors. But it's also essential to consider the fabric you're going to print on to give the best print finish and long lasting quality.
With print on demand, there are plenty of options to choose from when it comes to t-shirt blanks. It can be difficult to know which product to choose, particularly without being able to see or feel the product in person. For that reason we have put together this article to guide you through the process — plus our top 5 picks for selling t-shirts online.
Which t-shirt fabric gives the best print results?
Types of fabric
When it comes to custom t-shirt printing you have a choice of three fabrics — polyester, cotton or blended materials.
Polyester
Polyester is a man-made polymer that most commonly refers to polyethylene terephthalate (PET). It's durable, quick drying and very strong yet lightweight. It has become a commonly used fabric in fast fashion.
Polyester t-shirts are best suited to sublimation printing as opposed to direct to garment (DTG) printing. We recommend DTG for most t-shirts as it offers the most precise print for your design. But if you're after an all over print, sublimation printing is definitely the way to go. We offer an all over print t-shirt range if all over printing is what you're after.
Standard Cotton
Cotton is made from soft vegetable fibres that are spun into yarn and woven into fabric to make the components of a t-shirt. When it comes to DTG printing, the higher the percentage of cotton, the more vivid the print. Natural fibre fabrics like this tend to work better for printing than synthetic fabrics and will last better through the wash.
However, not all cotton is created equal. Regular cotton is the industry standard but for a softer, more durable cotton it can be ring-spun and combed.
Ringspun cotton
Ringspun cotton is a more premium composition for high-end print on demand t shirt production. When cotton is ringspun, the fibres are twisted more tightly and thinned through the spinning process. This results in a stronger yarn and softer feel. It also creates a smooth surface which helps improve the quality of the print.
Combed cotton
This is where the impurities in the cotton have been combed out before being spun. This process creates a stronger, softer and higher quality cotton.
The most durable t-shirt fabric composition is therefore cotton that is both ring-spun and combed.
Airlume cotton
You may see the term 'airlume' cotton in the Bella+Canvas descriptions and be wondering what exactly this means. They describe it as "the highest quality combed and ring-spun cotton". It is a clean cotton that removes 2.5x more impurities than standard ringspun cotton through an extensive combing process. Long staple cotton is used, which means there are fewer stray fibres when the yarn is spun, resulting in an even smoother print surface.
Triblends
A triblend fabric is — you've guessed it — a blend of three different fabric types. Triblends are usually 50% polyester, 25% cotton and 25% rayon. They are very soft, a little more stretchy and often have a vintage effect look to them. Although cotton is generally better for direct to garment t-shirt printing, a good quality triblend t-shirt also works well, especially where you are seeking a more cost effective printing base.
Fabric weight
Fabric weight is only a really important factor to consider if you know your custom branded t-shirt will be worn in either a hot or cool climate.
Whilst many ecommerce business owners automatically assume a heavy apparel fabric is of better quality, this isn't the case, as fabric weight doesn't actually determine superiority. Lightweight and heavyweight fabrics can both be of varying quality.
Navigating t-shirt product descriptions
When considering the different options, you'll come across a plethora of technical terms used to describe custom clothing blanks, and these can be a little confusing. So here's a run-down of some FAQs when it comes to t-shirt product descriptions.
What does shoulder-to-shoulder taping actually mean?

Shoulder-to-shoulder taping creates more durability at stress points. Fabric is sewn over to cover the raw edge of the sewing construction at the shoulder and neck seams. It closes the front and back shoulders of a t-shirt and should make the tee a longer lasting under duress. This type of finish is more important for items such as custom sportswear.

What is a 'single count' and how does this affect your t-shirt?

Single refers to the diameter of yarn, determined by the number of times you twist the fibre. The higher the single, the finer the yarn and the softer resulting garment. A t-shirt with a higher single count will usually be more expensive and better quality.

What's the difference between tubular and side-seam construction?

Side-seam t-shirts have seams down each side of the shirt. They have a more structured look, and are generally considered to be more flattering. Tubular t shirts are constructed without the use of side seams and therefore have a 'tubular' — or more square — shape. They are generally more affordable and have a less fitted look.

What does it mean when a t-shirt is 'quarter-turned'?

Quarter-turning is a step in the production process of t-shirts that are knitted on a tubular cylinder. When fabric is produced in this way, it comes out as a flat tube of fabric. This creates a crease on each side of the tube of fabric. When a t-shirt has been quarter-turned, the tube is turned ¼ of the way round before the shirt's body is cut. This moves the crease to the side of the shirt under the arm, as opposed to down the centre. By doing this, it creates a smoother surface for printing.
Our top 5 recommended t-shirt blanks for printing
The great thing about print on demand is that you can stock as many different products as you like. So if want to offer a budget option as well as a more premium finish — you can! We offer an extensive range of custom branded t-shirts. Here's a round-up of our 5 favourites…
Bella+Canvas 3413 unisex triblend t-shirt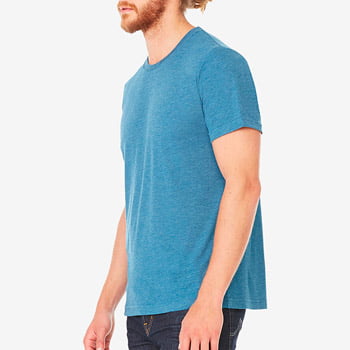 The Bella+Canvas 3413 is the only t-shirt on our favourites list that is not made from 100% cotton. It's made from a unique triblend of 50% poly, 25% rayon plus 25% airlume-combed and ring-spun cotton. This material is incredibly soft and comfortable. It has a high single count of 40. This creates a smooth surface which is great for direct to garment printing. If a soft feel is your priority — the Bella+Canvas 3413 is the way to go.
This shirt has a contemporary and modern fit. It has a great loose fitting unisex style and would make a great fashion tee. It's affordable while maintaining great quality and comfort.
Features:
Retail fit and unisex sizing
Shoulder taping
Side seams
Uniquely soft triblend fabric
40 singles thread weight
Lightweight
Crew neck
Pre-shrunk
Bella+Canvas 3001 classic unisex t-shirt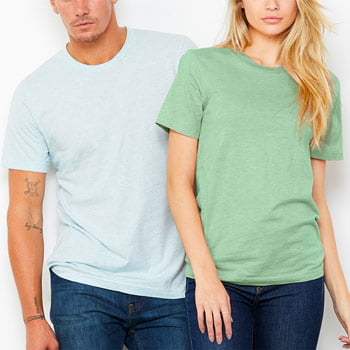 The Bella+Canvas 3001 custom print t-shirt is one of the most popular blank canvas t-shirts available. It's the perfect combination of affordability, comfort, quality and fit. This modern tee has a crew neck and side-seam construction for durability. Designed with superior airlume-combed and ring-spun cotton, it has a very soft feel and smooth surface which makes it great for direct to garment printing.
Features:
100% combed and ring-spun cotton
Shoulder-to-shoulder taping
Side seamed
Retail fit and unisex sizing
Soft and lightweight
Crew neck
Anvil 980 unisex lightweight t-shirt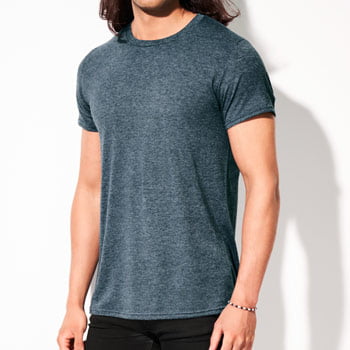 The Anvil 980 is a soft touch, relaxed t-shirt. It has a slightly more fitted look than the Bella+Canvas 3001 with shorter sleeves. The tightly woven ringspun cotton makes it a wonderful blank canvas for printing. It's fairly lightweight weighing in at 30 singles, 4.5oz. The Anvil 980 is durable, soft and is always a popular print on demand t-shirt.
Features:
High stitch density for smoother printing surface
Pre-shrunk jersey knit
Tubular construction
Shoulder-to-shoulder tape
Seamed collar
Double-needle stitched sleeve and bottom hems
Gildan 64000 unisex softstyle t-shirt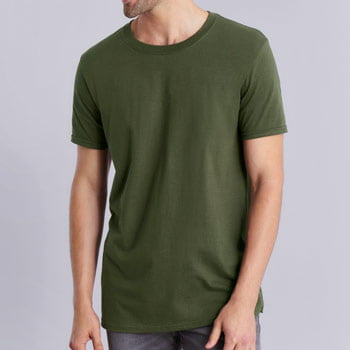 The Gildan 64000 is an affordable t-shirt with a soft and lightweight feel. It has a fairly loose fit and has a slightly longer length. The Gildan offers a great low-cost t-shirt for those wanting to maximise their profit margins.
Features:
Preshrunk
Seamless double-needle 1.9cm collar
Taped neck and shoulders
Double-needle sleeve and bottom hems
Quarter-turned to eliminate centre creases
Semi-fitted
Rolled forward shoulder
Continental SA01 unisex salvage classic fit t-shirt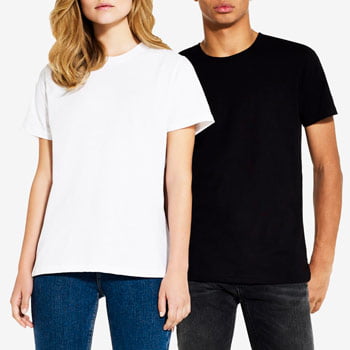 Sustainable fashion is booming. Consumers are far more conscious of how their purchasing decisions can impact the environment. The SA01 t-shirt is from the 'salvage range' at Continental Clothing. It's made of 60% recycled pre-consumer cotton that has been organically grown and 40% recycled post-consumer polyester. With a cool, modern look this tee would make the perfect base for an eco-friendly fashion line.
Features:
Recycled organic cotton and recycled polyester
Modern and relaxed fit
Part of the Fair Wear Foundation
Short sleeves and crew neck
Organic blended content standard
Global recycled standard
Overview: Best print on demand tees
T-shirt blank
Fabric composition
Fabric weight
Construction
Price

*

Bella+Canvas 3413
50% poly, 25% airlume combed and ringspun cotton, 25% rayon
40 single 3.8oz
Side seamed
From $10.00

(approx £7.80)

Anvil 980
100% ringspun cotton
30 single, 4.5oz
Tubular
From $10.05

(approx £7.84)

Gildan 64000
100% ringspun cotton
30 single, 4.5oz
Tubular
From $10.90

(approx £8.50)

Continental Classic SA01
60% recycled pre-consumer cotton organically grown, 40% recycled post-consumer polyester
4.87oz
Side seamed
From $8.90

(approx £6.94)

Bella+Canvas 3001
100% airlume combed and ringspun cotton
32 singles, 4.20z
Side seamed
From $8.07

(approx £6.29)

* Prices & conversions 1 October 2020
So which is the best t-shirt for on demand printing?
Ultimately it depends on your business, your brand and your customers. The key things to look out for are fabric material, fabric composition and a high singles count. We've given you an overview of some best print options today but there are plenty more to choose from in our product catalogue.
Quality and fit are important — but don't forget about price. Think carefully about your business and your customers. Consider your profit margins and how much your target customers are realistically willing to pay for one of your bespoke branded t-shirts.
We hope this guide has helped. If you're still unsure, why not order a few samples using our our manual order form and see which you prefer?