How to upsell and cross-sell like a pro to increase profitability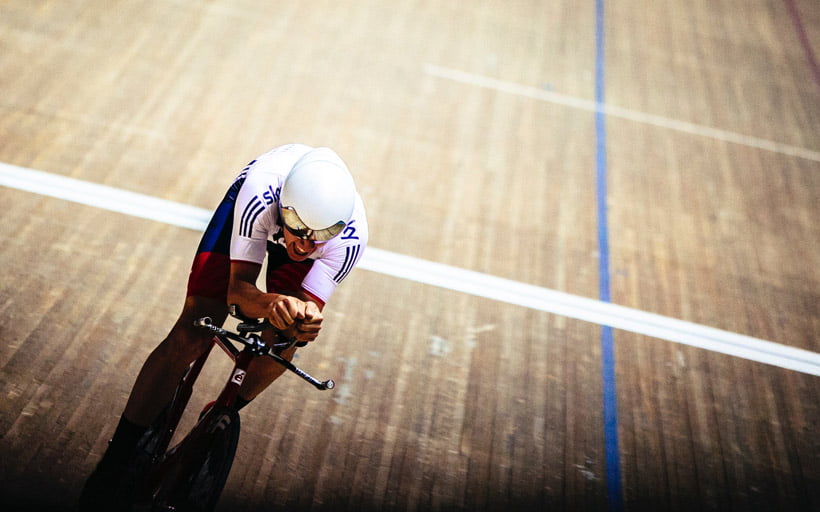 Interested in joining the world's leading print on demand platform?
Ever heard the word 'kaizen?' 
No, it's not a character from Street Fighter — it's the Japanese word for 'improvement'.
It's also a business strategy which refers to 'continuous improvement through the aggregation of marginal gains'. 
Basically it's about the way in which those little daily wins can combine to create a very big difference to the bigger picture.
One of the most famous proponents of kaizen was Sir Dave Brailsford, during his time as Performance Director for British Cycling. At the 2004 Olympics, Team GB won two gold medals in cycling — their best performance since 1908. But that almost looks like abject failure compared to what followed.
Owing largely to the marginal gains approach advocated by Brailsford, GB won a staggering 60% of the medals available at the 2008 games in Beijing, before setting nine Olympic records and seven world records at London 2012. Between 2007 and 2017, British cyclists won 178 world championships, 66 Olympic and Paralympic gold medals — not to mention the small matter of five Tour de France victories.
Brailsford credited the theory of marginal gains as being a key part of the 'secret sauce' behind these victories. These goals would have initially seemed far too ambitious. But the tiny day-by-day improvements encouraged by Brailsford and his team all added up to achieve a list of accomplishments that would have once seemed unimaginable.
Of course, ecommerce isn't cycling. But there are always plenty of transferable lessons between sport and business. And, just like in the world of sport - tiny gains that apparently seem minute, can combine to make a huge difference to the overall picture of your ecommerce store.
As an ecommerce retailer, you'll be all too aware that there are only a few levers you can pull to improve your profitability. And one of the most important is Average Order Value. In other words — encouraging your customers to spend a little bit more in each transaction.
That's where learning the best strategies to upsell and cross-sell come in.
We all know it's important to generate lots of new customers. But it's also really hard! Getting your existing customers to spend more on each transaction can help move the needle in exactly the same way — and it's much easier to market to people already on your site. 
They have their payment details ready, they're already committing to checking out — so why would they not just spend that little extra for a better product, or buy something that will go perfectly with it?
In this blog post, we'll talk about how to upsell and cross-sell to unleash the power of marginal gains in your ecommerce business.
What's the difference?
While upselling and cross-selling are broadly similar, there are some subtle differences. And it's important to make sure you're covering both angles.
Upselling is all about persuading your customer to buy something additional or more expensive.
Cross-selling is about selling different products to support or complement the original purchase. 
So, in action, let's think about a trip to your favourite burger joint. You order a cheeseburger, and one of the questions you can expect (from a well-trained cashier!) is: "Would you like to go large for just £1 extra?" This is upselling.
Now, once you've bundled it up into a deal or added those fries to your order, the cashier might ask: "Can I get you an apple pie or ice cream for dessert?" These are complementary options designed to give you additional experiences. In other words, cross-selling.
Some online examples
We've probably all been 'upsold' in an online transaction at some point.
Take Netflix for example. They offer 3 subscription packages: Standard, Basic and Premium. Anybody signing up is shown a clear side-by-side comparison of what's included in each package.
If somebody's going to sign up to pay £5.99 a month, it's fair to assume they'll probably pay at least an extra £2 a month to watch in HD. £2 a month is a relatively small amount to most customers — but that's a 33% increase in order value. Think kaizen.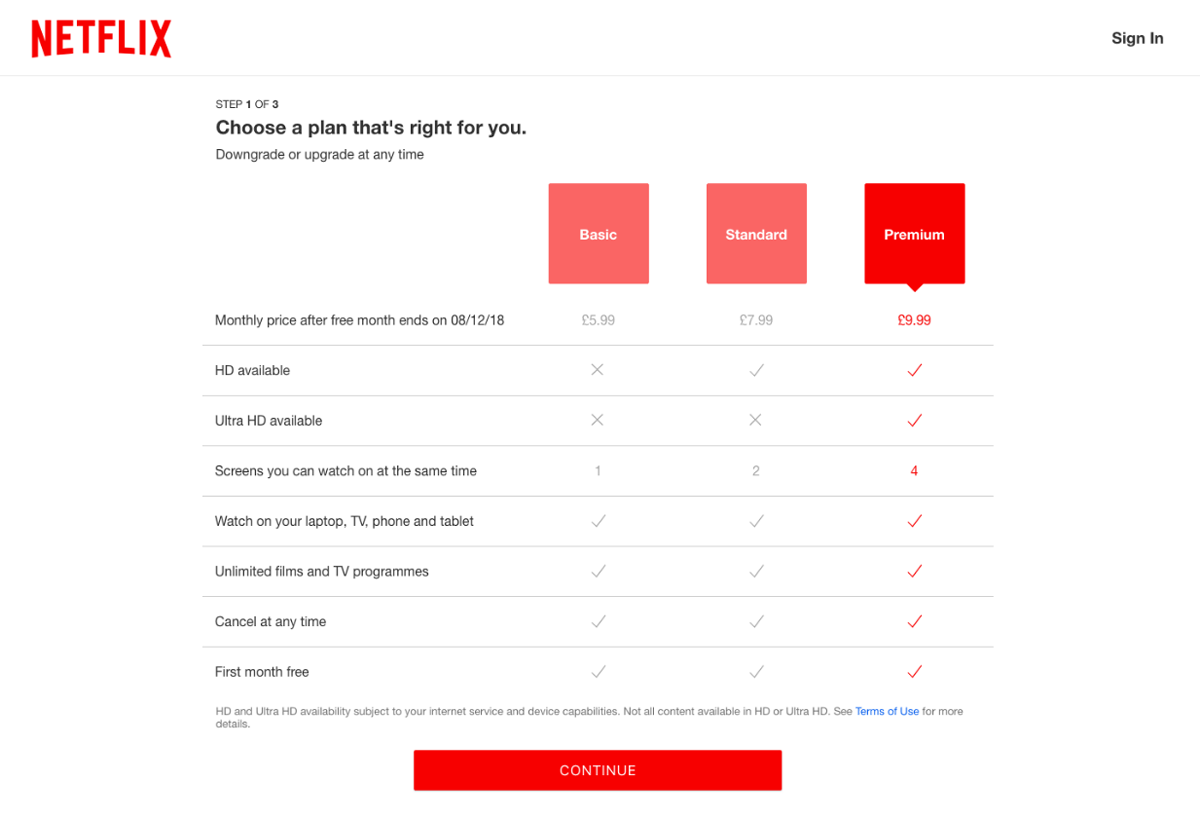 It's easy to imagine how quickly those boosts can add up across hundreds of thousands of subscribers. Netflix could have just as easily set a flat subscription fee of £5.99, and concentrated solely on generating new subscribers, but they didn't.
They added an upsell option and, if just 2 customers upgrade to 'Premium,' that alone generates more than a new 'Basic' subscriber.
Global ecommerce player QR Code Generator also offers a great example of how to combine the upsell and cross-sell. Both of these strategies are at play throughout the site.
Firstly, like Netflix, QR Code Generator offers three subscription levels. If just two QR codes will suffice for your business, the starter subscription might be right. However this only allows you up to 10,000 code scans. This cap on use is enough to encourage most users to shift up to either the advanced or professional memberships, which provide a really cost effective option for unlimited code generations plus scanning. 
Elsewhere on the site, we see a great example of cross-selling. Customers are shown a variety of printed products and prompted to print their literature via QR Code Generator. This provides an easy to use one-stop-shop for the customer, whereby code generation and the item to be displayed can be created in just a few simple clicks.
And it's a significant increase in order value for those who take up the deal. This doesn't feel particularly interruptive as a customer. It feels like a value-add of sorts — a chance to tailor the experience and get exactly what is needed. 
Popular strategies
So, we just covered a few very specific examples from the world of online selling. Next, let's look at a few more general ways of framing and presenting these offers.
Customers who bought this also viewed…
This example lets you leverage your customer behavioural data, putting that information to work to inform what other customers may be interested in.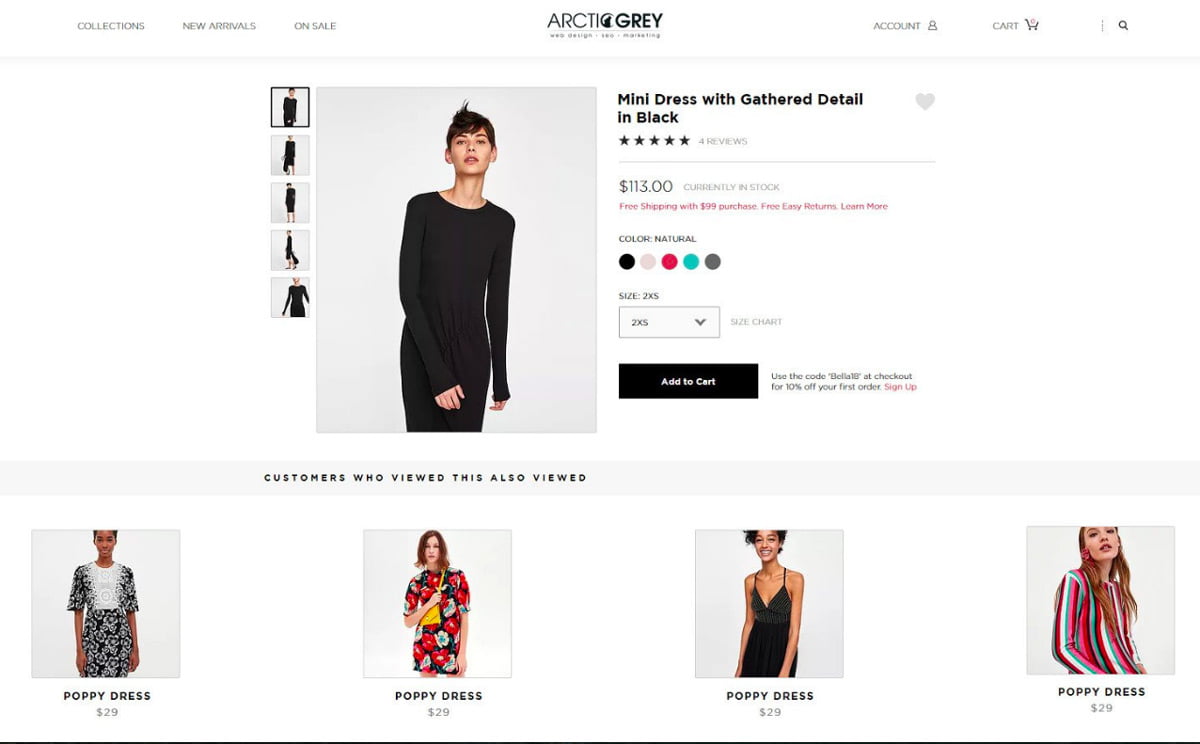 You may also love…
This is where we group related products together by trying to understand the customer intent, and serving up similar/supporting products.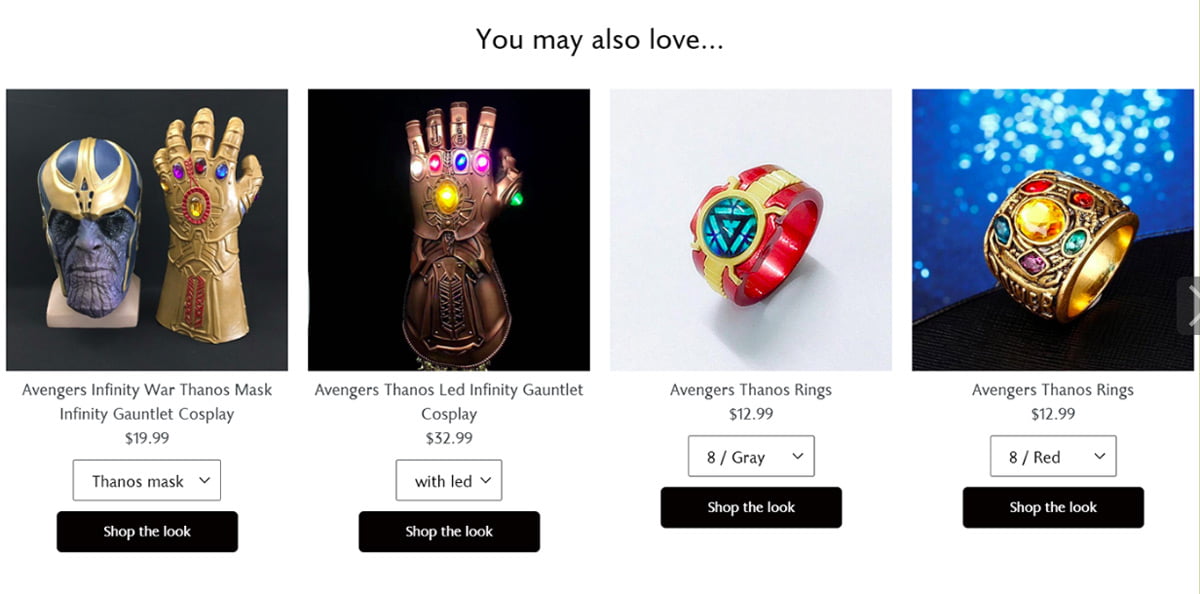 Nice X, what about Y to go with them?
In this approach, we're able to suggest products which would directly complement the one in the customer's basket. As you can see below, this might be something like "Hey, you bought shoes…how about some socks to go with them?" This requires a bit of thought about the nature of your product and how it will be used, but it can be effective.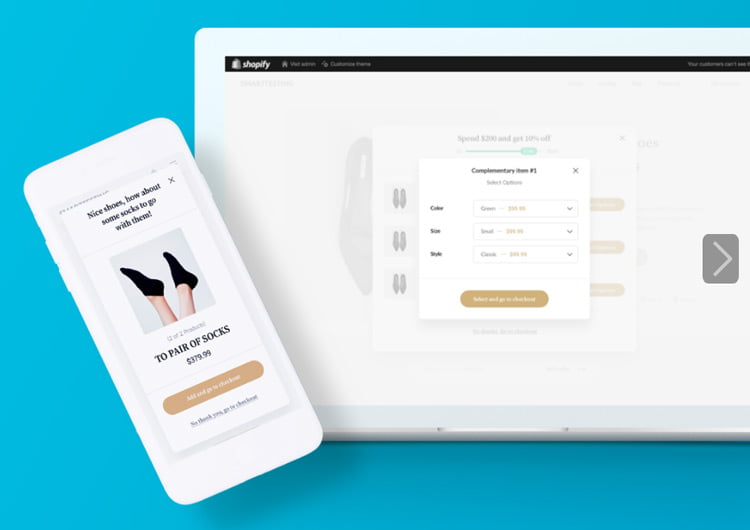 Upsell and cross-sell like a pro in your store
That's enough examples and inspiration. Let's look at how to set this up for yourself in your online store.
Whether you're selling on Shopify or BigCommerce, there are a number of different apps and tools that let you create upsell and cross-sell campaigns with just a few clicks (and no code!).
For the purpose of our example, we'll use SMART Bundle Upsell, a Shopify App. There are also a few apps that you might want to consider if you're selling on BigCommerce.
Through SMART Bundle Upsell, there are a variety of different campaign options.
Standard upsell This option lets you present products on checkout, depending on the items in the customer's cart.
Discount upsell This option lets you offer a percentage discount if a customer spends a certain amount in their basket.
Free shipping upsell Similarly, this option lets you offer free shipping once a customer spends a certain amount.
For our first bundle, let's assume you don't really want to give anything away, and create a 'standard' upsell — which, in reality, will be a cross-sell!
Let's assume we are selling a range of products with illustrations on, like Karl Kite, shown below. In this instance, one of our top-performing products is the Jungle Bungle beach towel.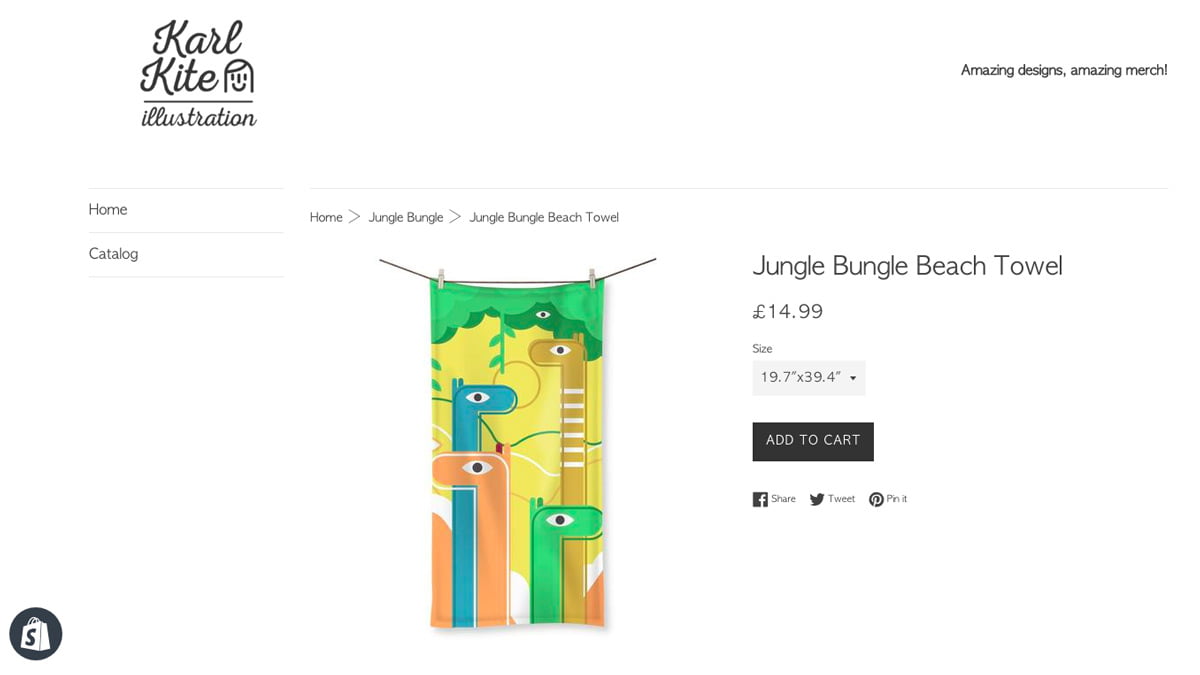 So, what products could we sell alongside this, to increase our average order value? Well, we need to think about how and where this product might be used. Presumably, it's for use in the gym, on the beach, or elsewhere on the move.
So, that being the case, wouldn't it be convenient to have a bag in which to carry the towel?
We've already used our Shopify app to create a Tote Bag that matches the towel.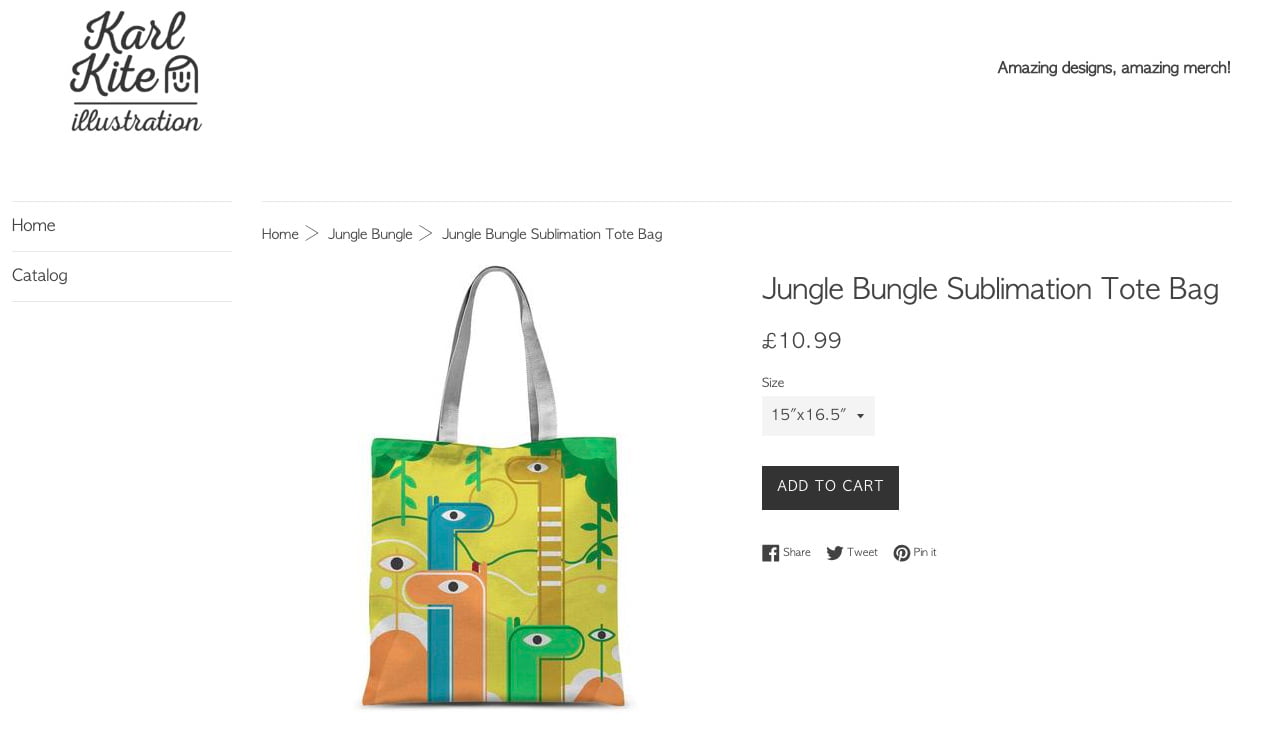 So now, we'll create a campaign where every time a customer gets to the checkout to buy that towel, they're offered a matching bag. First, we'll select 'Standard Upsell':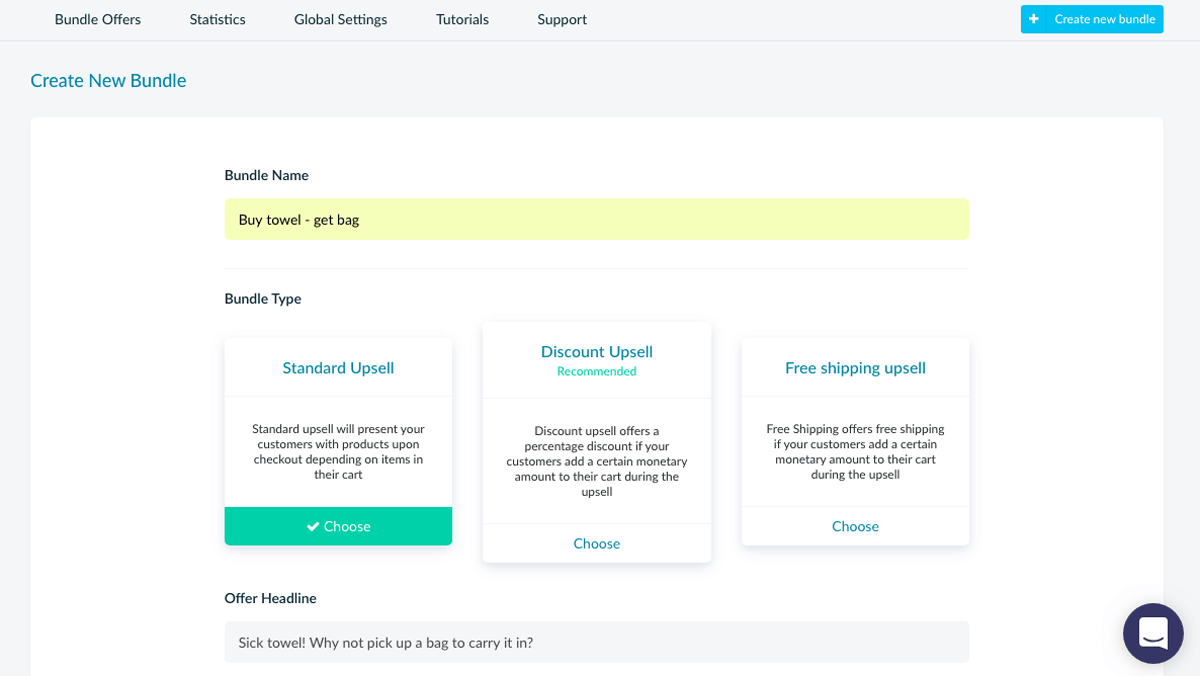 We'll name the bundle 'Buy towel — get bag,' and write a message that our reader will see when the offer pops up.
Let's go with: "Awesome towel! Why not pick up a bag to carry it in?"
Now we select our Trigger Products, which products will 'trigger' the bundle to appear. In this case it's the Jungle Bungle Beach Towel.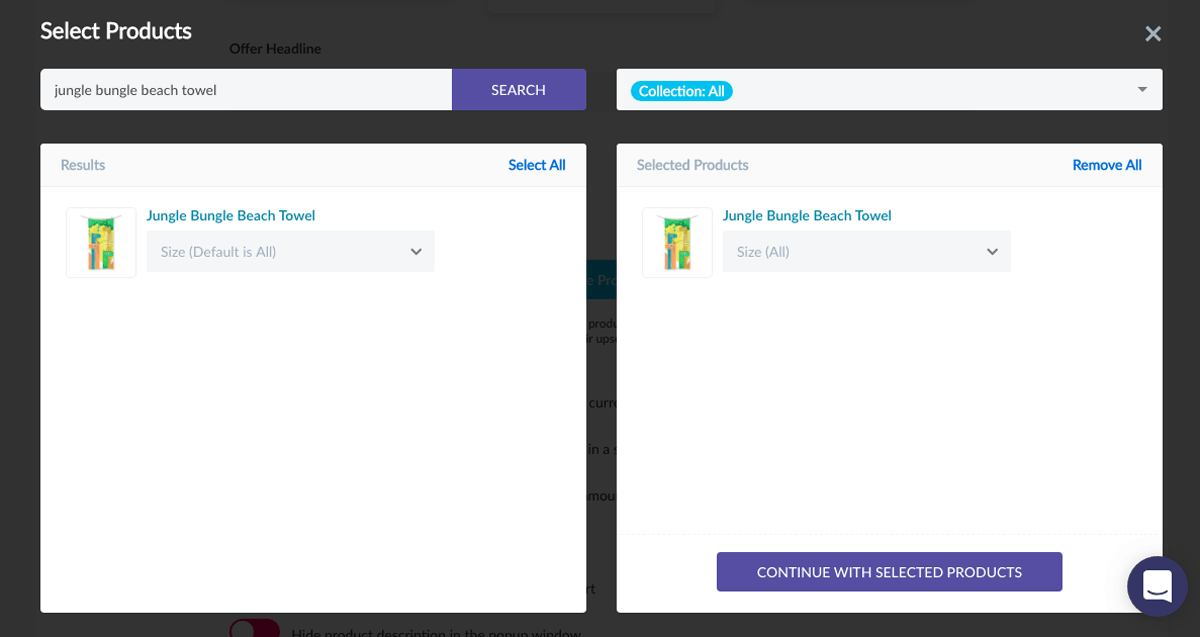 We'll then identify our 'Bundle Products': the products that will be recommended to your customers. We only need one in this case, the Jungle Bungle Tote Bag.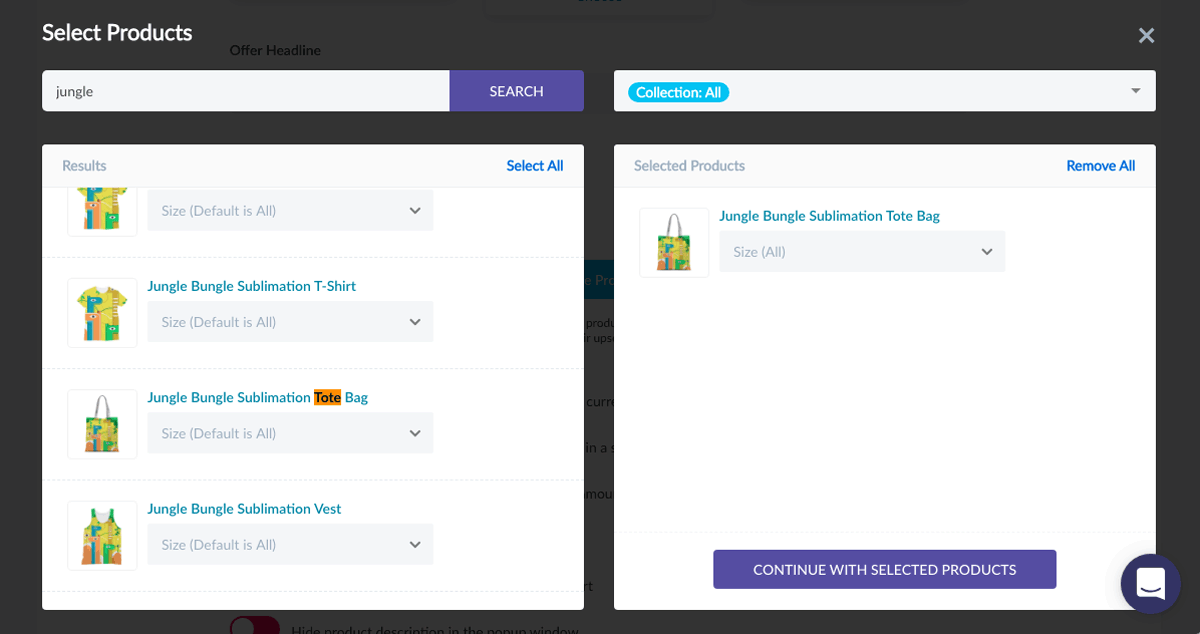 We can place this offer either before or after checkout. We're going to go ahead and position it before the checkout, since the idea of paying shipping twice might be a turn off for our customers. Note that there are also a bunch of slider options to help you customise how your campaign will look, feel and work.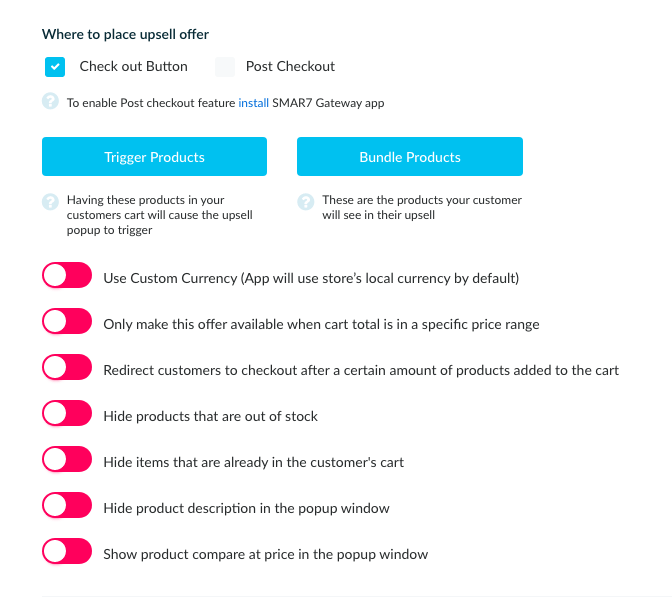 Hit 'Save' and you're done.
Anyone buying that towel will now see a dialogue like the below, and you can tweak the font/colours etc in the Global Settings tab.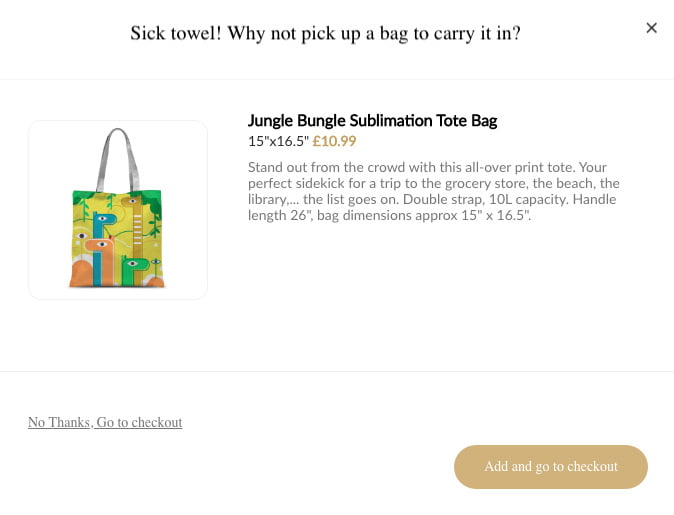 This is a cross-selling campaign. But you could use this campaign structure to create a 'pure' upsell too.
For example, say you're using our Shopify app to sell a printed canvas that's 16×12" for, say, £30. You could set that as your 'Trigger product' so that every time anybody buys that product, they're offered the same canvas, with a frame, for an extra £10 or £20. You'd set up the campaign in exactly the same way.
Incentivise spending
Using some of the other campaign options, you can really push your customers to spend more — even if it slightly affects your profit margin.
This offers them a particular benefit for spending a certain amount, whether that's a discount or free shipping. Nothing inspires a customer to really think of extra things they might need more than incentivising their spending.
If people have to spend a little more to get a nice discount or free shipping, they'll often take the plunge and do exactly that.
So let's go ahead and give our customers free shipping if they spend £100 in our store. (Not the most generous, but you can always be more generous if you like.)
Setting up this sort of campaign is much the same. You just select 'Discount' or 'Free Shipping' from the bundle type.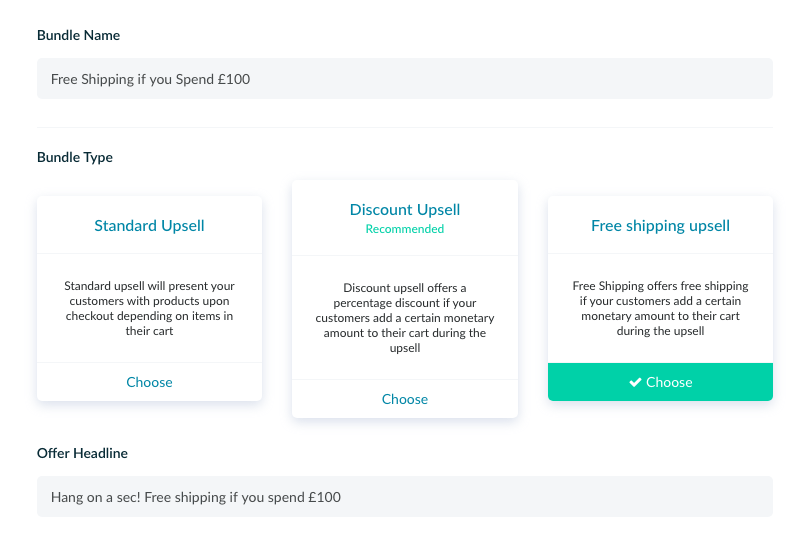 We'll select 'Free shipping upsell' and give the Bundle Name 'Free shipping if you spend £100'.
You need to select at least one trigger and bundle product, but seeing as this offer applies across your whole store, just use the handy 'Select All' option on both these screens.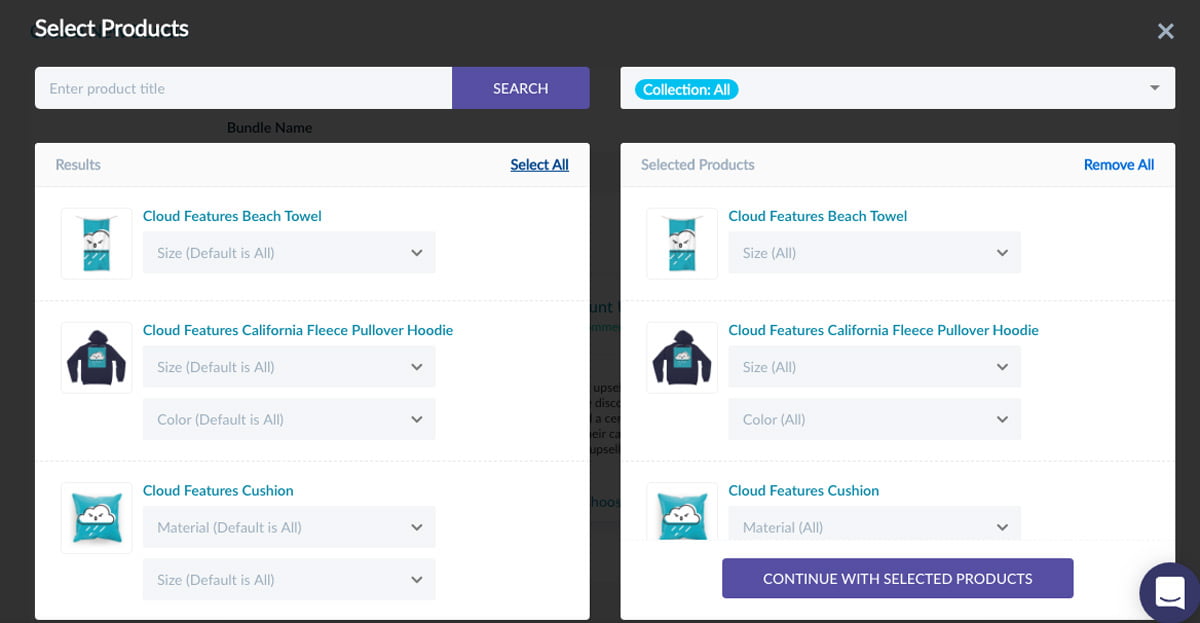 Now we'll specify how much the user has to spend to get the free shipping. In our case, we've decided on £100.00 but feel free to go lower (or higher!) than this.
When we hit save, our campaign is set up. Here's what our customers will see as they progress through the checkout process. They'll be able to see how their spending stacks up against the spend threshold for the deal in question — as well as seeing suggested products to help them get over the finish line.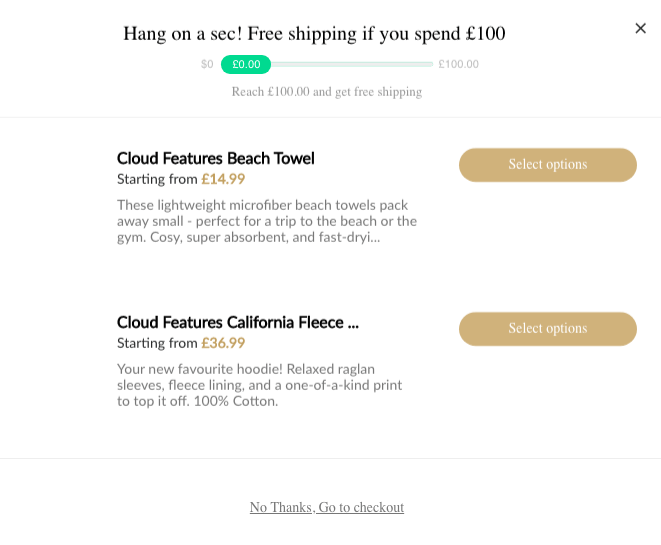 One of the beauties of print on demand merchandise is that, regardless of what you're selling, apparel and merchandise are always a great cross-sell. Buying headphones? Get a t-shirt with our logo on it! Buying a camera? Grab yourself a hoodie to wrap up against the elements while you're taking shots!
The possibilities are endless, and as always with print on demand, you don't need to worry about holding stock, or sourcing products. The whole logistical side of the operation is taken care of for you.
So whether print on demand is the bread and butter of your business, or an ancillary extra, always remember:
When it comes to increasing your store's bottom line, think kaizen.
The little gains go a long way. Happy selling!
Check out our Shopify app to take your store to the next level.