Three Black Friday marketing ideas to boost your sales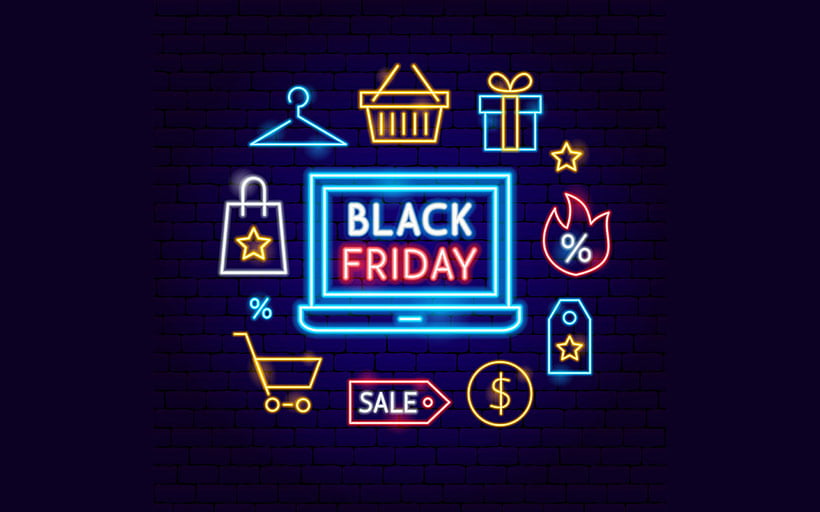 Tags
Interested in joining the world's leading print on demand platform?
Quick question for all you print on demand sellers: how's your Black Friday marketing strategy coming along? The frothed milk in your pumpkin spice latte might not be cold yet, admittedly, but Black Friday will be here before you can say "Wait, when is Black Friday again?" (it's November 25, in case you were wondering).
And if last year's figures are anything to go by, then Black Friday 2022 looks set to be busier than ever. The UK recorded its biggest ever Black Friday sales in 2021 while online sales in the US came in at a cool $8.9bn. Shopify's stats weren't too shabby either, with Shopify sellers making $2.9bn worth of global sales over Black Friday, up 21% from the same day in 2020 and more than double all of Shopify's sales for 2019.
On that note, let's talk Black Friday marketing ideas. From optimising your website to prepping your comms, here are our three Black Friday marketing tips to help boost your online sales.
1. Strategise
You know the drill: fail to prepare, prepare to fail. The same goes for your Black Friday prep. In order for your print on demand products to stand out to sale-savvy shoppers, you need to make sure you have a rock-solid Black Friday marketing strategy in place, and planning your Black Friday campaign is a good place to start.
Whether you choose to slash prices by 20 or 30 per cent, have a 24-hour flash sale or offer free shipping over the Black Friday weekend, it's all about those Black Friday deals. And the sooner you finalise your Black Friday campaign, the better. In fact, many online stores launch their Black Friday campaigns several weeks early to help build anticipation as well as reduce shipping delays by encouraging customers to shop a few days in advance.
As part of your strategising, you might also want to consider bringing in some reinforcements this Black Friday weekend. Customer support is key during peak trading periods like Black Friday, and even the most well-prepared campaigns can fall apart without it. Some steps you can take include sourcing additional cover, installing live-chat software or even adding a free chatbot to your website to ensure that any customer queries or issues are dealt with quickly and efficiently. Statistics show that 89% of consumers are more likely to make another purchase from a company after a positive customer service experience, so think of it as an investment in your future sales.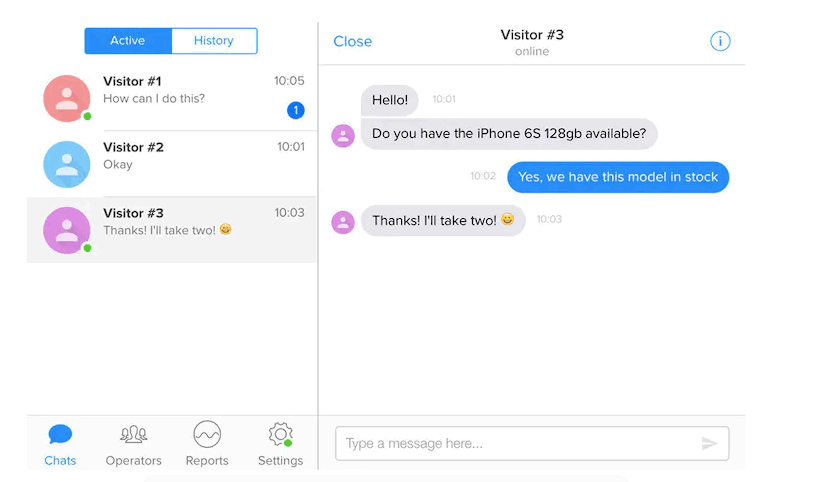 Image source
2. Optimise
Black Friday marketing strategy sorted, it's time to move on to optimising your ecommerce store. Your website's likely to experience a significant influx of traffic over the course of the Black Friday weekend, and if you're not ready for it, you could run into some problems. Online shoppers — Black Friday shoppers in particular — have extremely short attention spans. In fact, research suggests that even a one-second page delay can cause a 7% drop in conversion rates. In other words: the slower your website, the higher your bounce rate.
The good news is that if you host your print on demand store on an ecommerce platform such as Etsy or Shopify, then uptime and speed shouldn't be an issue ("shouldn't" being the operative word). However, with free tools like Google PageSpeed Insights, there's really no reason to take any chances. Great for identifying any gaps in optimisation, it analyses individual page URLs and scores their performance on both mobile and desktop devices. If the URL you enter scores highly (anywhere between 90-100 is considered a good score), then your work is done. If it scores poorly (50-89 is average while 0-49 is below average), then there's room for improvement.
And in a world where mobile is king (45% of global consumers use their smartphones to shop online at least once a day), it's crucial that your print on demand website is optimised for mobile — think straightforward site navigation, seamless checkout process, etc. Google Search Console is another handy little tool for determining just how mobile-friendly your website is.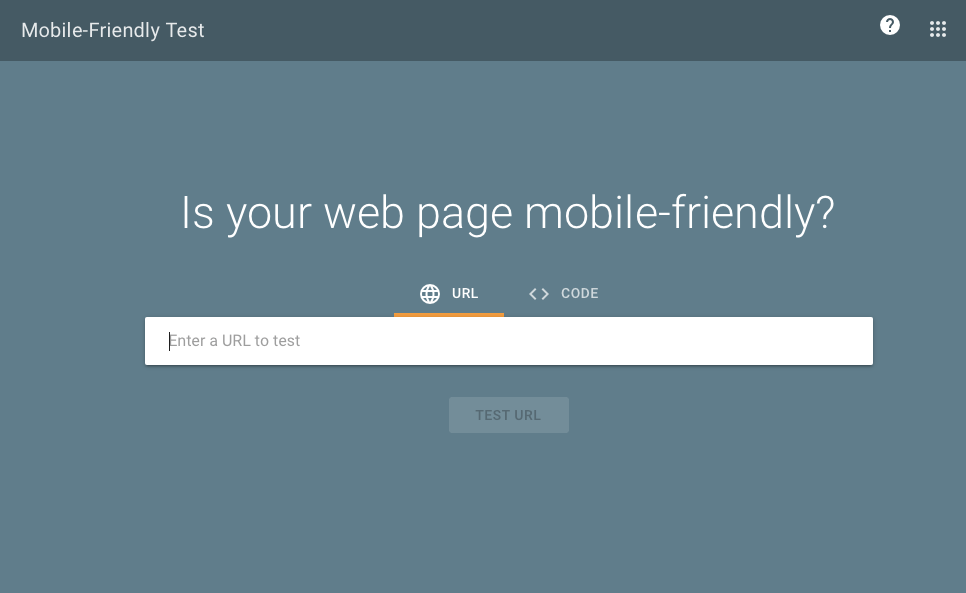 Image source
3. Advertise
Once you've locked down your Black Friday marketing strategy and optimised your website, it's time to start spreading the word and letting your customers know about your Black Friday campaign. Here are a few ways in which you can get the message out there:
Social media
If you want to promote your offers beyond your existing customer base, social media is the way to do it. Black Friday hashtags like #blackfriday, #cybermonday and #discounts are a quick and effective way to advertise your offers to a wider audience while your social feed is the perfect place to advertise things like Black Friday giveaways.
Quick tip: Countdown timers help create a sense of urgency around time-sensitive offers, with one case study finding that the use of countdown timers increased overall conversion rates of Black Friday campaigns by 200% — the FOMO (fear of missing out) is real.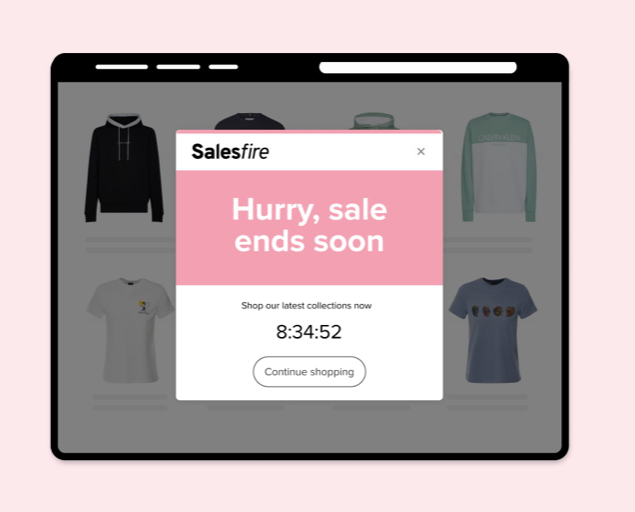 Image source
Paid advertising
If paid advertising isn't part of your Black Friday marketing strategy, it needs to be. Paid ads can help boost the visibility of your campaign, enabling you to reach high-intent customers looking to buy exactly what you're selling. Social media platforms like Facebook, Twitter, Instagram and TikTok have advanced targeting options to help you segment your audience by gender, age, interests, income and more.
Quick tip: Creating a dynamic product ad within Facebook's Ad Manager allows you to target recent visitors to your website with an automatically generated campaign that delivers relevant products or services to users based on their browsing behaviour.
Email marketing
You can't beat a bit of good old-fashioned email marketing. And while you won't be the only business making a cameo in consumer inboxes this Black Friday, there are a few ways in which you can stand out from the competition — we're talking catchy subject lines (split testing will come in handy for this), abandoned cart reminders and eye-catching template designs.
Quick tip: Studies have shown that 75% of consumers favour companies that offer rewards, and what better way to reward customer loyalty by treating your mailing list subscribers to an exclusive Black Friday discount?
Image source
To sum up…
Black Friday prep complete, it's time to put your Black Friday marketing strategy into action and start selling!
With Prodigi, all your inventory is taken care of, so you don't need to worry about running out of stock over the Black Friday weekend. And if you haven't already, make sure you check out our Trending collection to find out what other print on demand merchants are selling in their stores in the run-up to Black Friday.
Looking for a quick and easy way to make money this Black Friday? Sign up for a Prodigi account, and start selling print on demand products in your online store today.