Case Study

Amanda Heath Art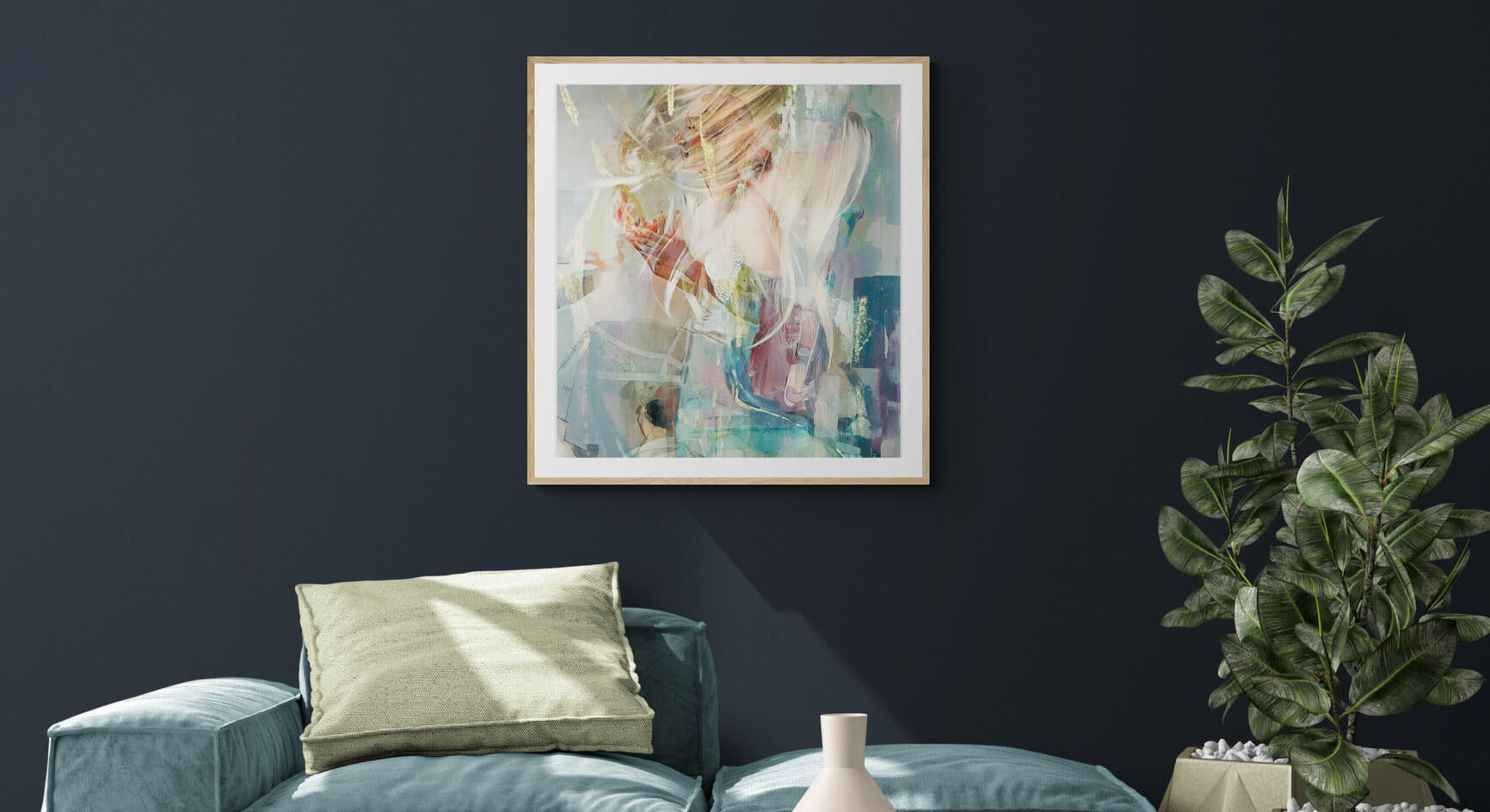 Amanda Heath's artwork is a labour of love. Sold through her namesake online art store, Amanda Heath Art, her expressive fine art prints – awash with vibrant colours and painterly brushstrokes – take passion painting to a whole new level 🖌️
About Amanda Heath Art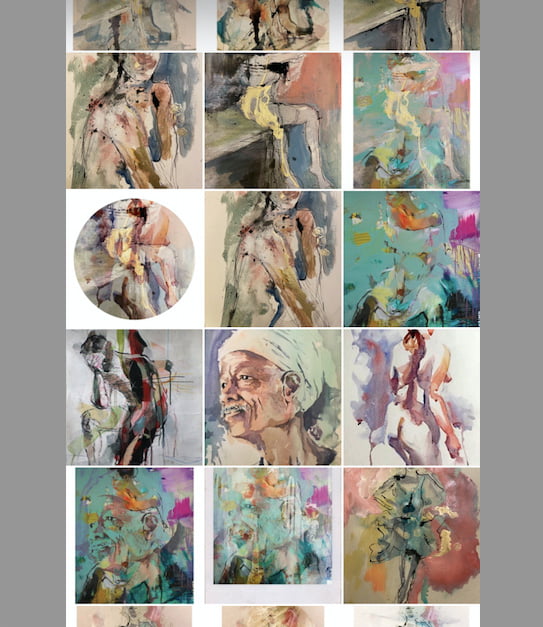 (includes work from Amanda Heath and other artists)
Artist Amanda Heath's art studio isn't just a workshop; it's a second home. It's also where she creates all of the artwork on display in her online gallery, Amanda Heath Art. Nestled in a corner of her garden, her spacious atelier is a far cry from her former makeshift workspace (a kitchen table, in case you were wondering).
Speaking about her home office, Amanda says that the time she spends there doesn't really feel like work. "I can go into the studio in a really grumpy mood and come out two hours later feeling like I'm walking on air. Getting messy and covered in paint – it's like 100 hours of therapy."
Characterised by splashes of earthy and pastel-toned acrylic paint coupled with flecks of gold and silver leaf, her abstract art is symbolic of our connection to the world around us and can be bought as one-off pieces, fine art prints, canvases, cushions and more.
It's incredibly popular, too. So popular, in fact, that her business has now reached a major milestone. "I just hit six figures yesterday, so I'm currently looking to expand my team in order to continue scaling." Call us crazy, but something tells us she's going to need an even bigger studio…
Artist, business owner & mentor
As well as being a successful artist and running a profitable ecommerce business, Amanda also mentors budding artists through her Passion into Profit programme via her online learning platform, the Thriving Artists Business School (aka T.A.B.S).
Designed to help equip her students with the skills, confidence and knowledge they need to build successful businesses of their own, the online course covers all sorts of topics – from branding and pricing to website building and traffic-driving strategies, as well as how to systemise repeatable parts of your business so that you spend less time on admin and more time creating. The course also comes with templates, done-for-you examples, cheat sheets, an incredible student support community and group coaching calls. There's even a free online masterclass for those looking to get a taster of what's on offer. "I've been on courses where there was no one there to help if you got stuck and ended up having to walk away from them, and I didn't want that to happen with my course. I love the mentoring side of it. I like solving problems and helping other people solve theirs."
Amanda's no stranger to problem-solving, either. Having been in business for more than 20 years, she's overcome her fair share of obstacles – and before painting and building six-figure businesses, there was dancing. Trained in professional dance, she underwent hours of rigorous training while growing up, and would sit and sketch on breaks. As it turned out though, she wouldn't fully explore her creativity for quite some time. "Life just got in the way, and people would tell me that I'd never make a living out of painting, so I put it to one side for several years."
During that time, Amanda began working with small businesses and academics, helping them turn their business ideas from notes on a piece of paper into fully fledged business plans. And then it struck her – why not use her skill set to launch her own business? "Seeing all these businesses get off the ground just gave me the itch." And so she went on to complete a master's degree in business, with a clear vision of how she was going to achieve her goal.
Fast forward a few years and two successful corporate businesses later, Amanda had achieved what she'd set out to do, but something was missing. "It got to a point with my second business where I just burnt out. I had all the material things I could want, but I'd never been so unhappy."
On a mission to find her happy, her soul-searching led her to get back into the dating world. She laughs as she recalls initially signing up to an art class as a way to meet someone. "I'd been single for a long time, and thought I'd meet this brooding, long-haired artist there," says Amanda. "I did all my hair and makeup, only to walk in and find a bunch of 65-70 year olds." And though she might not have found love with a tall, dark and handsome stranger like she'd imagined, she did find something else; something far better. "I felt like I blinked and suddenly the class was over, so I went back and, week by week, that unhappiness just started to disappear."
And despite being initially fearful of the starving artist trope, Amanda doubled down and sold her business to focus on pursuing her art career full-time. "Everyone thought I'd gone mad and couldn't believe what I was doing. In the end, I just had to block out the noise, because I believed it was the right thing to do." And judging by the success she's had so far, it seems her hunch was spot on.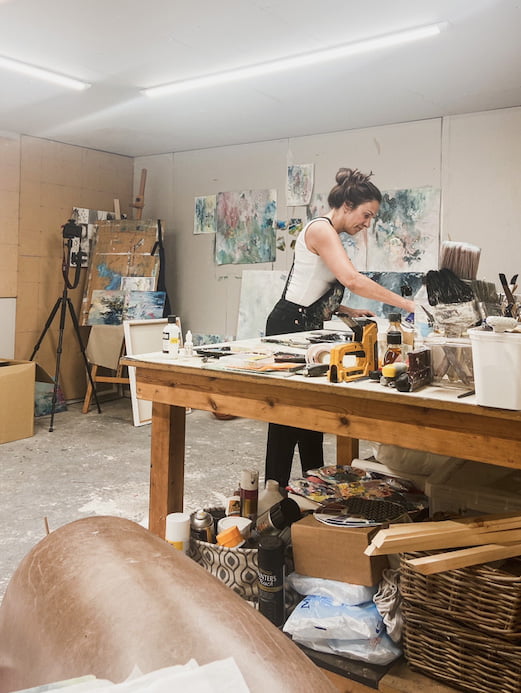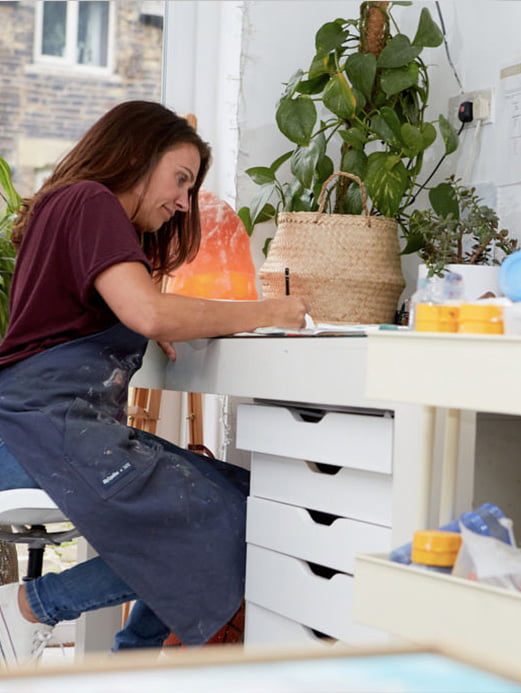 So what's next for Amanda Heath Art?
"To take my art in exciting new directions, including scaling my business by offering unique print on demand products to my customers," Amanda affirms. "And to travel more. My goal was to build a business that I could run from my laptop and that gave me the freedom to pack up my campervan and just go and explore, and I'm fortunate enough to be in a position where I'm able to do that."
Amanda's also working on a new programme to help her art students make their first few thousand in sales exclusively through social media, before they invest their time and energy into creating a website. "Seeing my students put in the work and then get the results they want is almost better than me getting the results of my own. One of my students – Lynsay Green Art – has gone from having 1,500 followers on Instagram to just under 30,000 and has orders coming out of her ears – I don't think she can paint fast enough!"
Funnily enough, it was one of Amanda's students who suggested that she try Prodigi. "I tried other print on demand companies prior to using Prodigi, but was never thrilled with their services as a whole. There was always something that fell short – whether it was the product range, the quality or the pricing model. At the time, I'd actually been recommending a different company to my students when one of them mentioned Prodigi. I was blown away by the product catalogue, pricing structure and how easy it was to integrate using the Shopify app."
Her advice to artists hesitant to chase their dreams for fear of failing? "Success has a lot to do with mindset, and a strong mindset often starts with having clearly defined goals and a plan through which to achieve them. And when you put this plan into place and start to see the results, it helps fuel your mindset. Every artist is different and your business should reflect that, but there are a lot of systems that can be automated to help you become more efficient. When that's done well, you'll save time and energy, which in turn will enable you to scale your sales to incredible levels."

"I save so much time using Prodigi. It just makes everything so much more efficient and means I can scale my business fast, which is something I could never do using a manual printer."

Amanda Heath Art